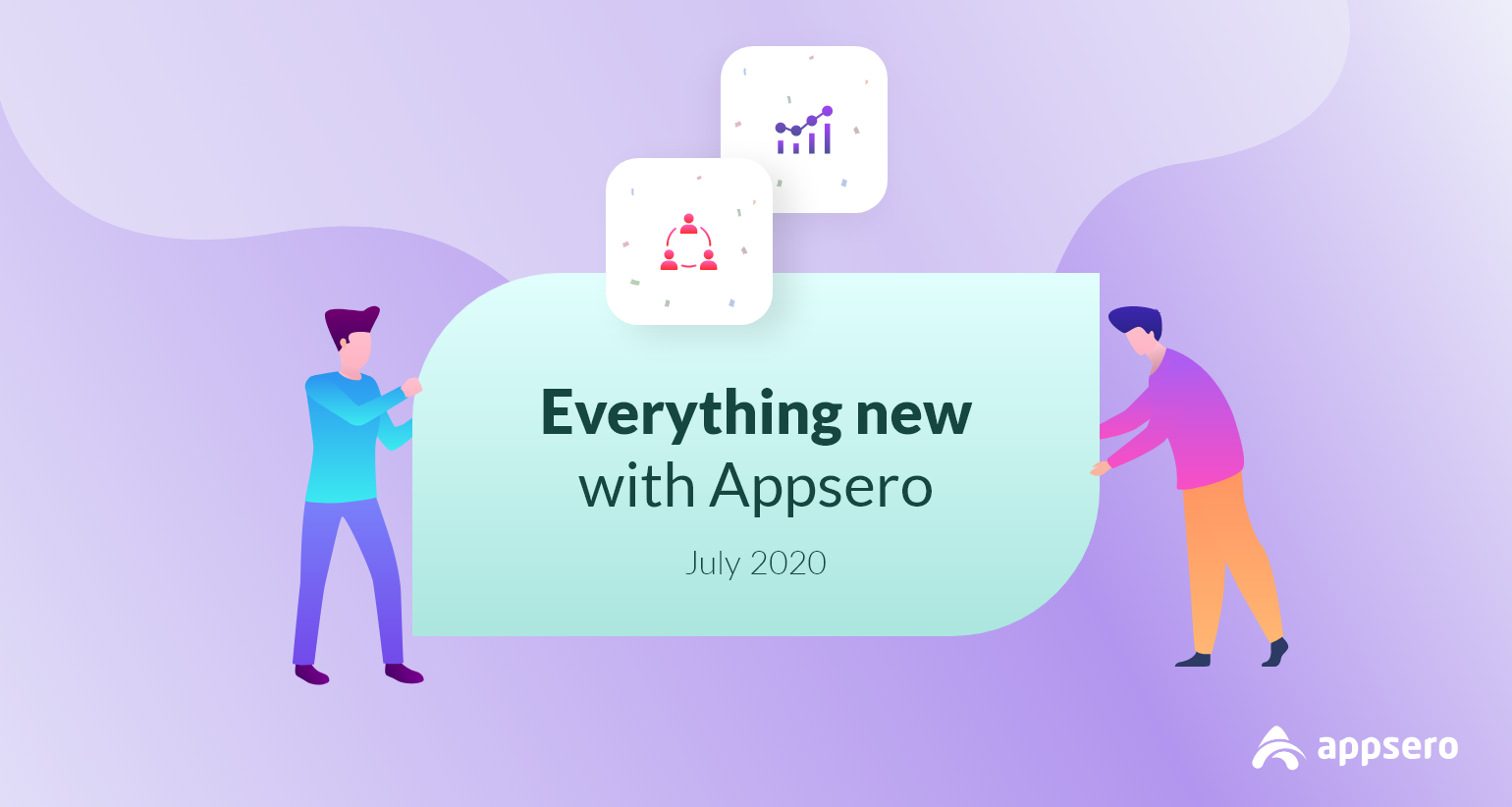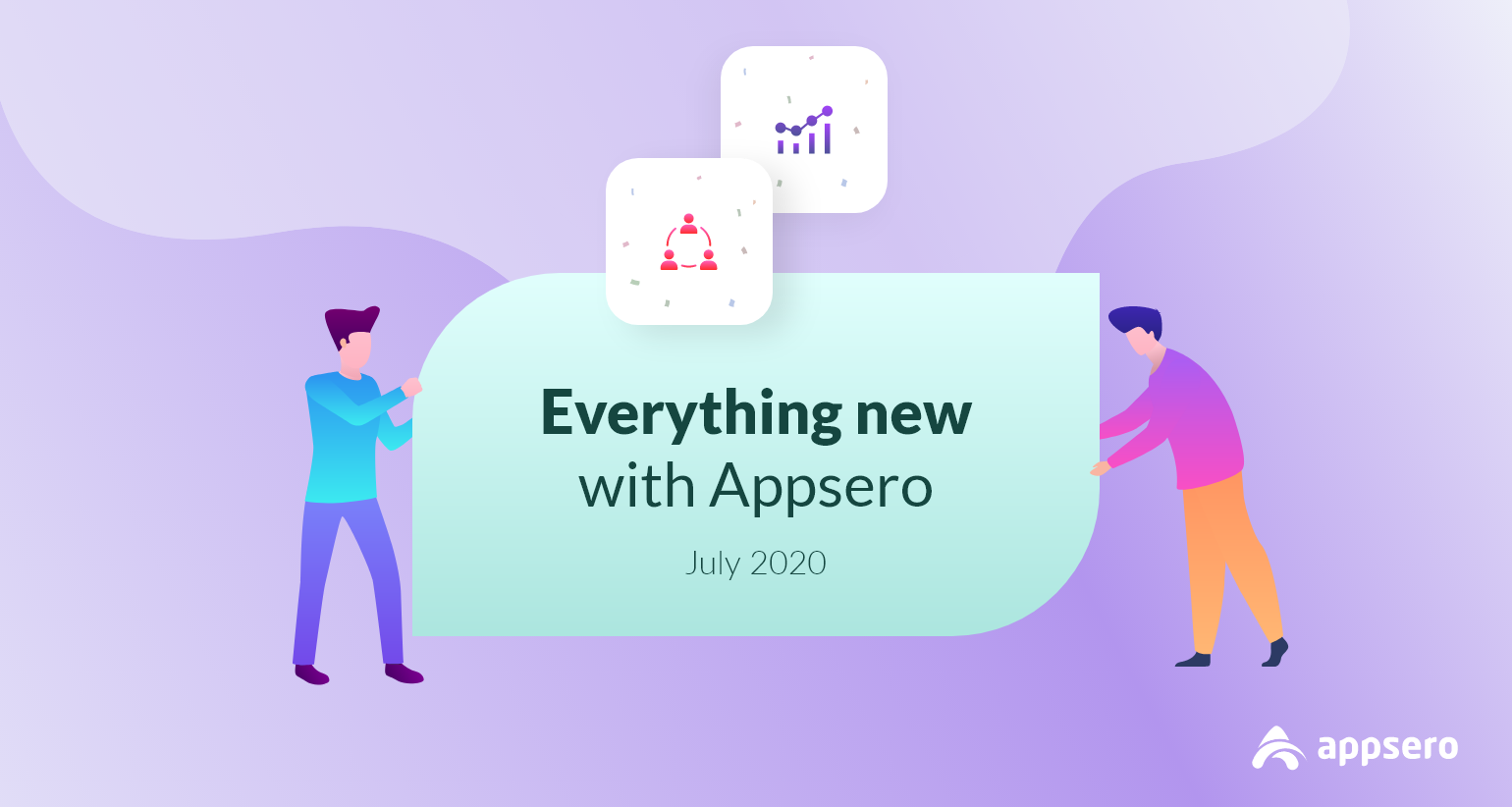 What's New with Appsero – July 2020
Today we are going to talk about the latest features we are enrolling for Appsero (July 2020)
Appsero has always been about empowering the developers. This one of a kind SaaS platform gives developers the freedom from the hassle of managing licenses, updates, support, and marketing for their plugin/themes.
So, to give the developers the complete freedom of concentrating only on coding while also taking care of everything else, we are constantly updating and bringing new features to Appsero.
However, developers were facing problems with the plugin stats. As you know, Appsero shows different plugin stats by collecting data from the users. But, users can choose to disallow Appsero to collect these data.
So, it was confusing whether or not the stats Appsero was showing for the plugin/theme was from the majority of users. That is why we came up with a solution to add an extra bar on top of the plugin stats report. Also, we added some extra features for the Deactivation and Teams feature.
Let's see these features in details shall we?
New Features Added To The Latest Appsero Update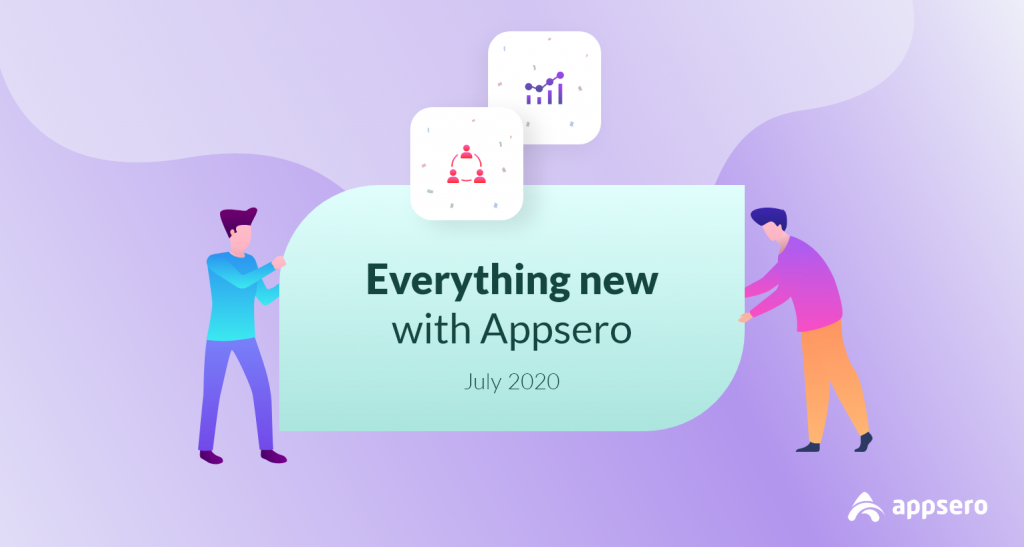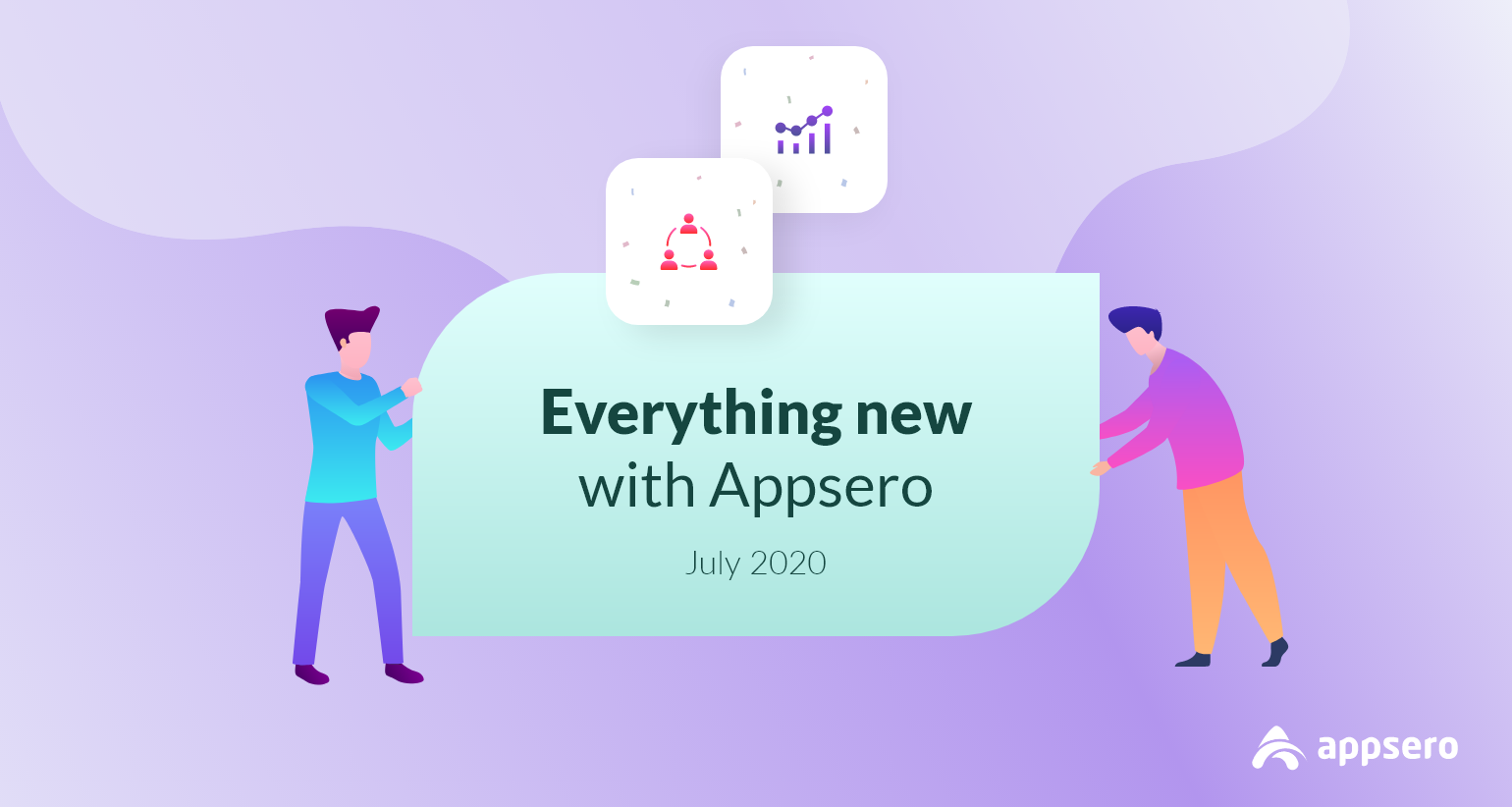 In the process of constant development, Appsero has got some new features added to the latest update. Features like,
Plugin's Stats with Dummy Data
If you signup with Appsero you will be able to view all the necessary stats of your plugin as dummy data.
We believe this will help you visualize what Appsero offers in a more meaningful way.

You'll be able to see the following data right after you sign up
Number of activation's
Multisite Installation
WordPress versions on every site
PHP versions
Server software type
MYSQL version
Language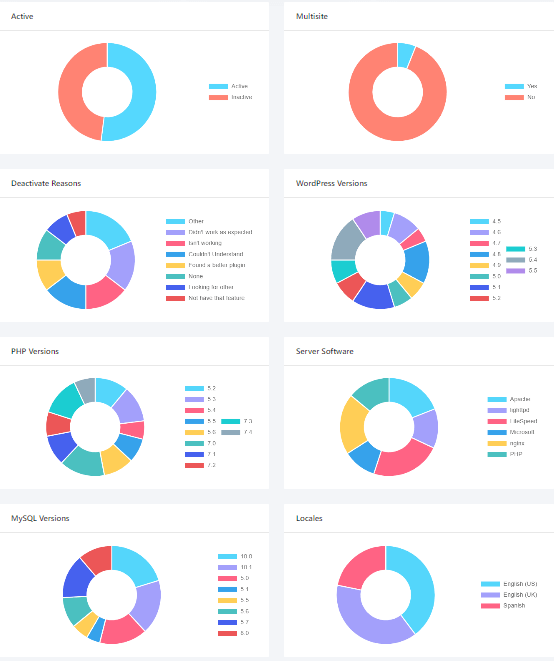 These stats made developing plugins easy. These stats come from the non-sensitive diagnostic data that Appsero collects from the plugins (only after a user allows it).
You know, when you install a plugin and there is a notice on the dashboard like the image below, the opt-in notice for Appsero.

This will help you to make sure these stats are coming from the majority of users.
Opted-in Users, Skipped Users & Deactivation Ratio
We thought about adding a feature in the new Appsero update where you will know how many users are allowing Appsero to collect these data & how many are skipping.
While developing this, we had to think of ways not to store the actual domain name in our database. What we did then, we created an md5 hash of each domain, and instead of storing the domain name, we store the md5 hash. So a user who doesn't want to give any data – we completely respect one's privacy.
If you go to Plugin -> Analytics -> Stats from Appsero dashboard, you'll experience this new feature.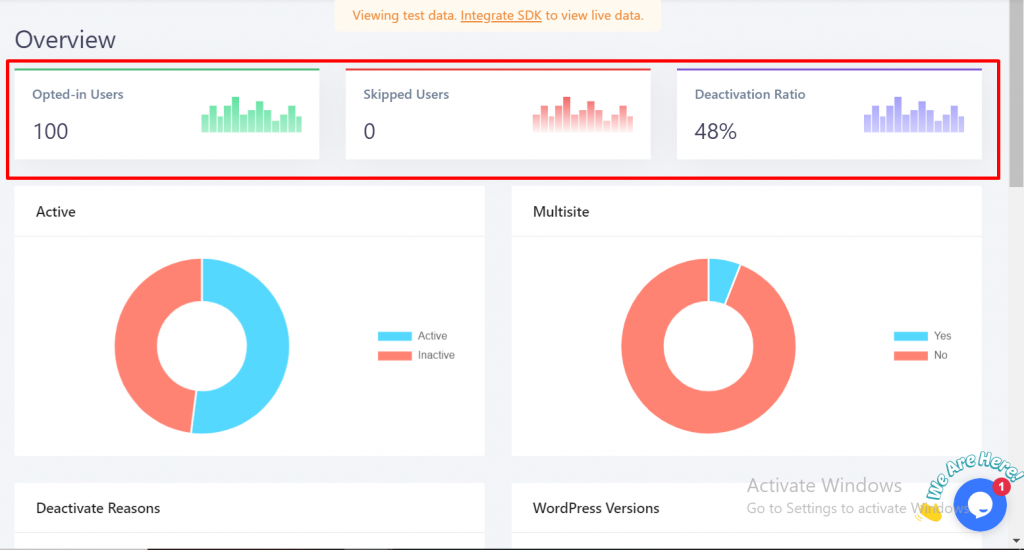 Opted-in Users: The number of users that allowed Appsero to collect the data.
Skipped Users: The users that chose "No Thanks".
Deactivation Ratio: The ratio of deactivation in terms of active installations. If we go by the image, if your plugin is installed in 100 sites, in 48 of them, the plugin is deactivated.
(By default, Appsero shows dummy data. When you integrate your Appsero SDK in your theme or plugin you will be able to view the live data)
Appsero SDK is used to collect all the deactivation data for your plugin.
Read: Introducing Appsero SDK with New Features Update
Filtering Deactivation Report
In the earlier version, the users could only see the whole deactivations part like this,
So, if a user wanted to find the statistics for a specific reason, there was no way. So, in the new Appsero update, we have added the filtering option. Now, users can filter by,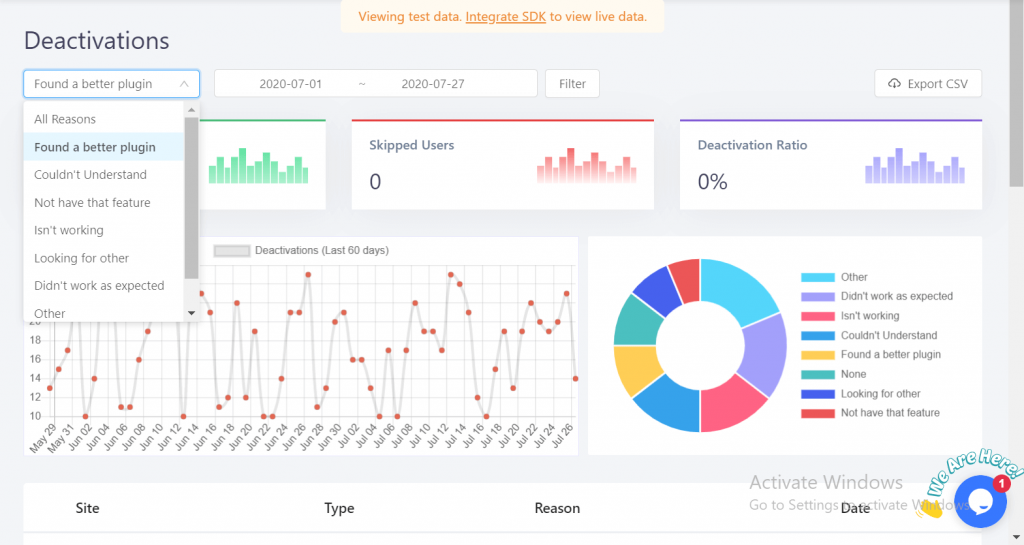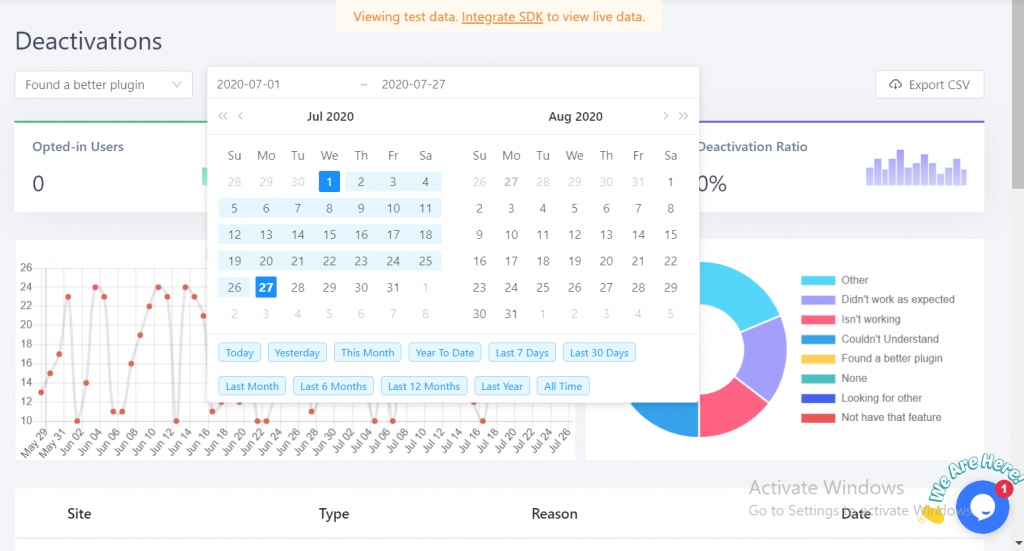 After choosing a reason or a date range or both, click the Filter button to get the stats. And yes, you need to integrate Appsero SDK here to get live data.
Change Teams Member Role
In the Appsero Teams feature you can assign roles to the team members in order to define their tasks. However, our clients were facing problem when they were trying to change any team member role after assigining.
They had to delete the team member completely in order to change their role.
However, now you can change your team member role any time you want. Just click on the "…" icon and click on Change Role option.
Select the role you want to assign your Teams member to.

After selecting the role, click on Submit to finish.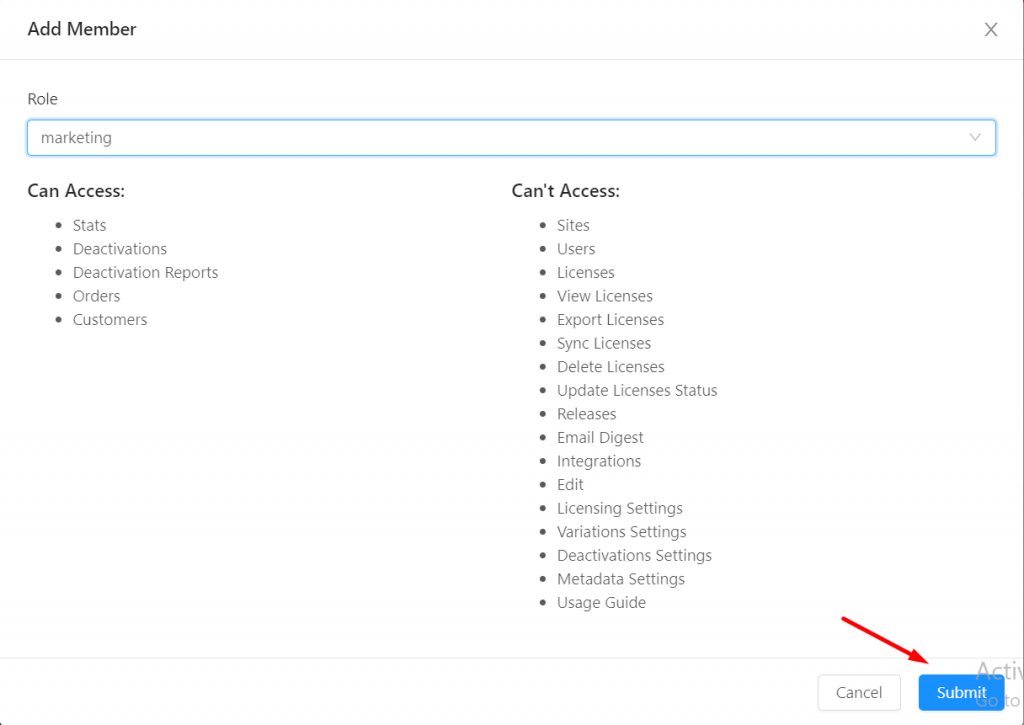 You will see the role of that particular Teams member has changed.

If you want to know more about the Teams feature, read this documentation.
Get Active Theme Data in Deactivations
It's not unusual for a plugin to have a conflict with a theme and for that reason, the user is forced to deactivate the plugin. However, this problem is often not easy to find out.
That is why we have added a feature where when a user deactivates your plugin, you will get a deactivation report with the information about the active theme, theme slug, active theme version and also which version is getting deactivated of your plugin or theme version.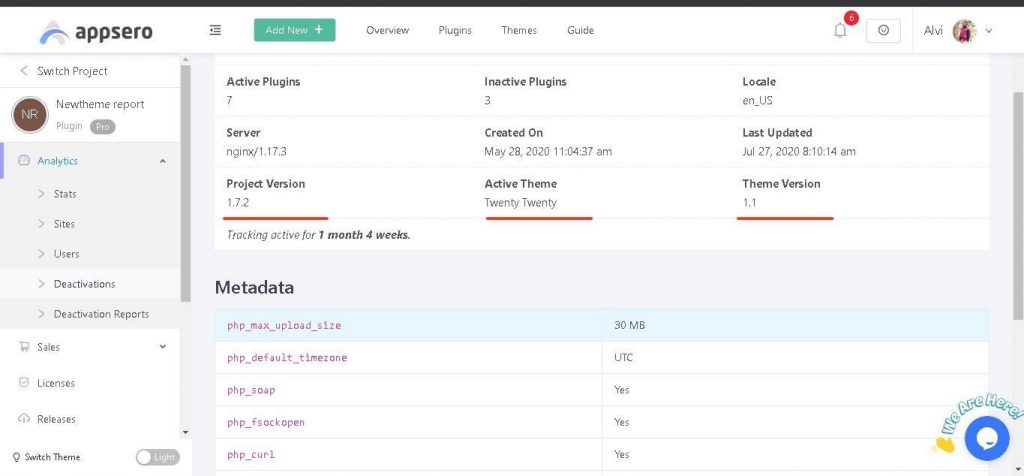 You will also get,
Active theme version
theme slug
theme author & URL
Active project version (the plugin/theme that is getting deactivated)
So, it will be easier for you to determine the cause for the deactivation.
These are the new Appsero update that is sure to make the process of plugin development more fun and time-saving.
How Appsero Has Made Plugin Development Easy
The main purpose of Appsero is to give all the necessary help to the plugin and theme developers to create better products for their users. We want to keep their necessity at our topmost priority. That is why the Appsero team is working so hard to bring all the necessary features.
Among many features, some of the key features of Appsero are,
Provide insightful user analytics data for your themes and plugins
Notify you with the deactivation reasons
Complete License Management (Whether you use EDD/WooCommerce/Envato )
Pushing new updates to your verified pro users easily and in less time
Deactivation Responder
Deactivation reports
Integrates with Other Services
Continuous deployment directly from your GitHub/Bitbucket account to WordPress.org
Teams feature to manage a plugin efficiently.
These features have made plugin or theme development quite easy for developers. Because now they can fully concentrate on the technical sides, not worrying about other things.
To All The Plugin/Theme Developers
Appsero has come to simplify the lives of plugin/theme authors. You can easily integrate your plugin or theme to this SaaS platform and easily manage your plugin/theme business.
And as a developer, you are being given the chance to fully concentrate on your coding without having to worry about all the hassles. Appsero will manage everything for you and also provide deep user insights that will help you improve your product to your user liking.
What more can you ask for?
You can check out this video as well.
Subscribe To Our Newsletter
Don't miss any updates of our new templates and extensions
and all the astonishing offers we bring for you.