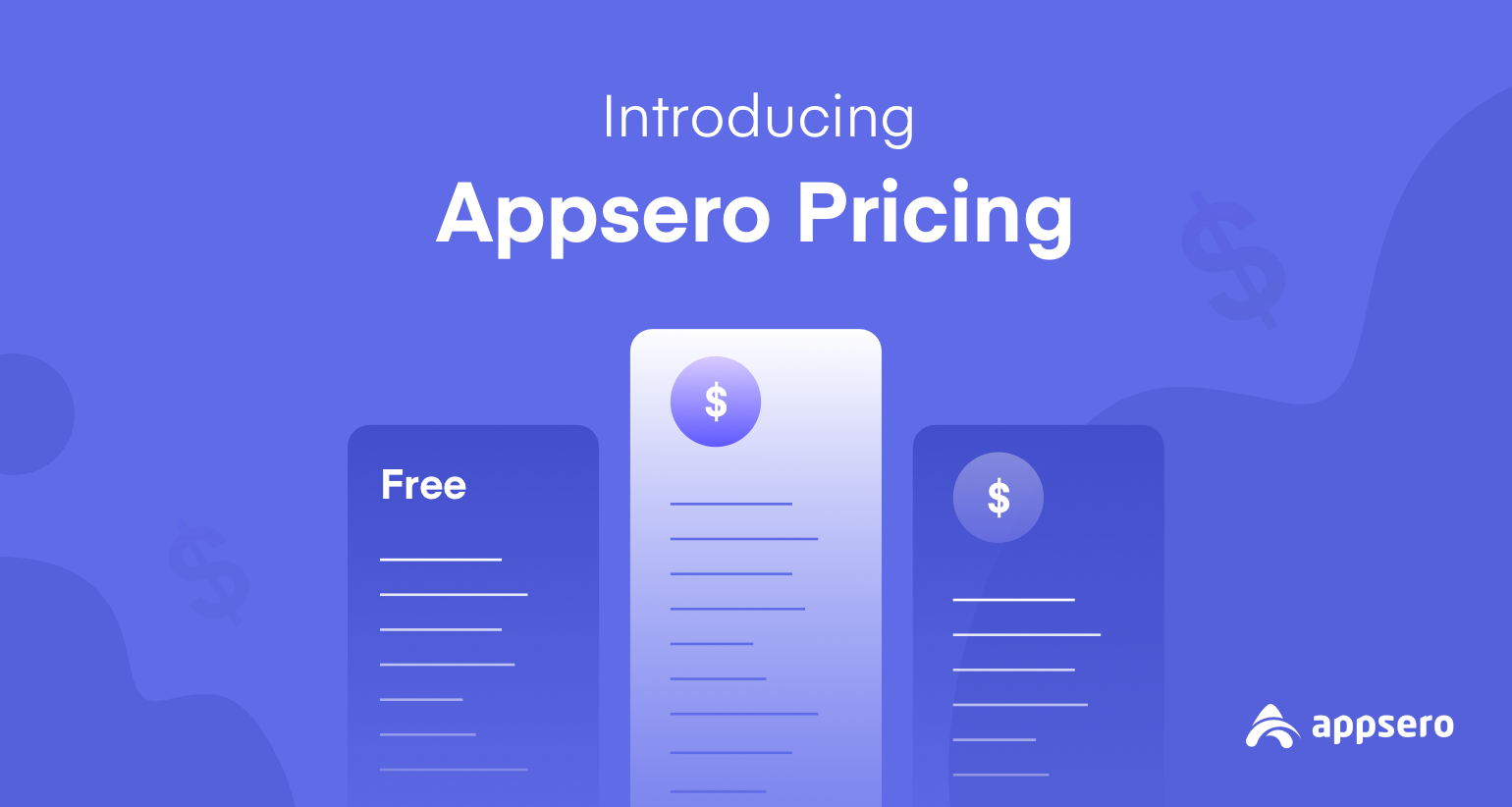 Announcing Appsero Pricing: The Most Affordable Way to Kickstart Your WordPress Business
We have been developing Appsero for quite a while and it is our pleasure to finally announce the Appsero pricing today.
Appsero is a SaaS platform that enables every WordPress developer to be empowered and to do more. Any WordPress developers can sign up to Appsero and offload many tedious and complex tasks such as managing licensing, pushing updates directly from Git, getting usage analytics, or deactivation data.
Appsero helps businesses to skyrocket their WordPress product's business growth. We had been beta testing Appsero since late February and we have received some great feedback from our users. One of the most important feedback we received from our users was how are we going to charge for Appsero
Think Different!
Since the beginning when we started working with Appsero, our focus was only one thing, "making Appsero the best platform for all WordPress developers!" So when we got our thinking cap on for Appsero pricing, we took some time and analyzed how the industry is doing it.
Well, as we explored more – we found out that the most popular services are using revenue sharing model. However, we wanted to make the Appsero pricing affordable for all WordPress developers. We heard from our beta users that they want to have the freedom how they want to sell their plugin/theme; so we listened. We enabled selling from WooCommerce, Envato, EDD or directly with FastSpring.
I am proud to announce that Appsero will be fully free for managing all WordPress plugins and themes!
Appsero will be fully free for WordPress.org plugins
.
You can use Appsero for free for all your free WordPress plugins As long as you don't manage licensing, you can use many premium Appsero features for free. This includes
Usage analytics
Deactivation feedback
Deactivation reasons
Push to deploy from Git (Continuous Deployment from GitHub/Bitbucket/)
Exporting reports
Performance Digests and more.
Yes, Appsero will stay free forever for free plugins & themes.
We had to think and come up with a pricing model that developers want and love and it doesn't focus on only making revenues.
Appsero Pricing
While coming up with a framework to charge Appsero premium users, we thought about WordPress developers deeply. Since weDevs is a WordPress plugin company and has been doing business in the WordPress industry for the last 10 years – we already had a considerable amount of experience and feedback.
Since we are a developer-first company, we knew the more popular "revenue sharing model" is not going to cut it for us. If we are not satisfied with ourselves, how can we impose this on our users?
That is why Appsero is introducing a completely different pricing model than other competitors in the industry.
The Problem with Revenue Sharing Pricing Model
There has been a few in the WordPress Industry who provide similar services like Appsero. However, the pricing model Appsero is ushering today is very different than others. Usually when companies charge for every sale you make, you probably think "Hey, it's just a small percentage! It doesn't matter." But slowly you understand that you're spending way too much money while sharing your revenue.
While it looks very lucrative that a small percentage of your sale helps you to grow, but in the long run you pay at least 5X more.
For example, you have a product that you sell for $49/year and you sell an average of 15 products each month.
So you make a total of $49 x 10 x 12 = $8820 per year. Here's how much you'd be paying to a revenue sharing company who manages your license, vs how much you pay to Appsero per month.
When you are using revenue-sharing pricing you give up a lot more. If you look at the above chart – you can notice that Appsero can save you almost 25X cost. Appsero costs on how many licenses you sell, not how much you earn.
(This is why a popular email service like Hey.com has been protesting to save every penny from each sale)
Introducing Appsero Pricing
When coming up with the pricing plans – we thought like developers. And instead of charging for each sale – Appsero will be charging a flat fee for each license you manage.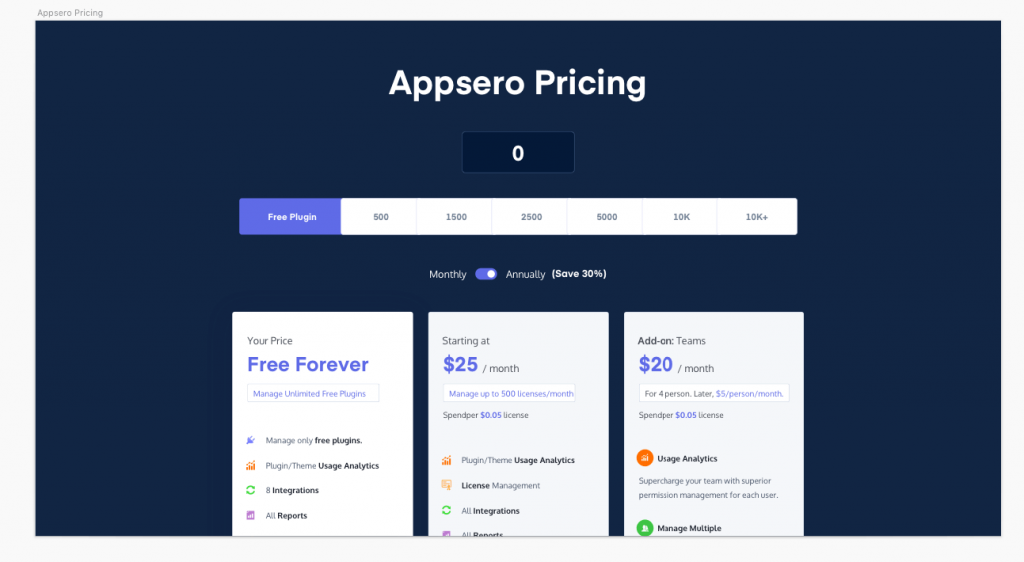 We have 5 different tiers that one can subscribe to.
| Licenses per mo | Cost per month |
| --- | --- |
| Up to 500 licenses | $25 |
| Up to 1500 licenses | $69 |
| Up to 2500 licenses | $99 |
| Up to 5000 licenses | $189 |
| Up to 10K licenses | $349 |
Appsero has 5 different tiers that you can subscribe to. All tiers include all Appsero premium features including license management, automatic deployment, usage analytics, deactivation feedback, and more.
Appsero Pricing Comparison with Revenue Sharing Model
You can save up to 25X cost when you switch to Appsero.
If we take the same plugin that we mentioned before and do a side by side comparison, considering your average growth is 25% (YoY).
| Quantitity you sell per year | Total Revenue Per Year (25% YoY growth) | How much you pay to Revenue Share Companies (Yearly) | How much you pay to Appsero (Yearly) |
| --- | --- | --- | --- |
| Y0 – 180 | $8820 | $617.4 | $250 |
| Y1 – 225 | $11025 | $771.75 | $250 |
| Y2 -281 | $13781 | $964.68 | $250 |
| Y3 – 351 | $17226 | $1205.85 | $250 |
| Y4 – 439 | $21533 | $1507.32 | $250 |
| Y5 – 549 | $26916 | $1884.15 | $690 |
As you can see, the more you grow, the more the revenue share companies charge you. On the opposite, Appsero saves you a lot of money because we don't charge based on how much you make.
Why Appsero Pricing Makes Sense for Developers
In the above graph, you can see your cost as a developer increases 20% each year when you choose a revenue sharing company, whether you like it or not. On the contrary, With Appsero, you can pay the same cost until you sell enough to go to the next tier.
As for the example, you can notice that the company only needs to upgrade to the next tier in Appsero after 4 years of business and you still pay 173.04% less.

Get Started today with Appsero
We wanted to give back to our precious beta users who helped us to think differently. As a token of gratitude, we are offering special coupons to all Appsero beta users.
All Appsero beta users will get an additional free month when subscribing to any of the tiers. Also, we'll be offering free access to Appsero for two months when you pay annually.
So what are you waiting for? Start using Appsero and start saving money.
Subscribe To Our Newsletter
Don't miss any updates of our new templates and extensions
and all the astonishing offers we bring for you.