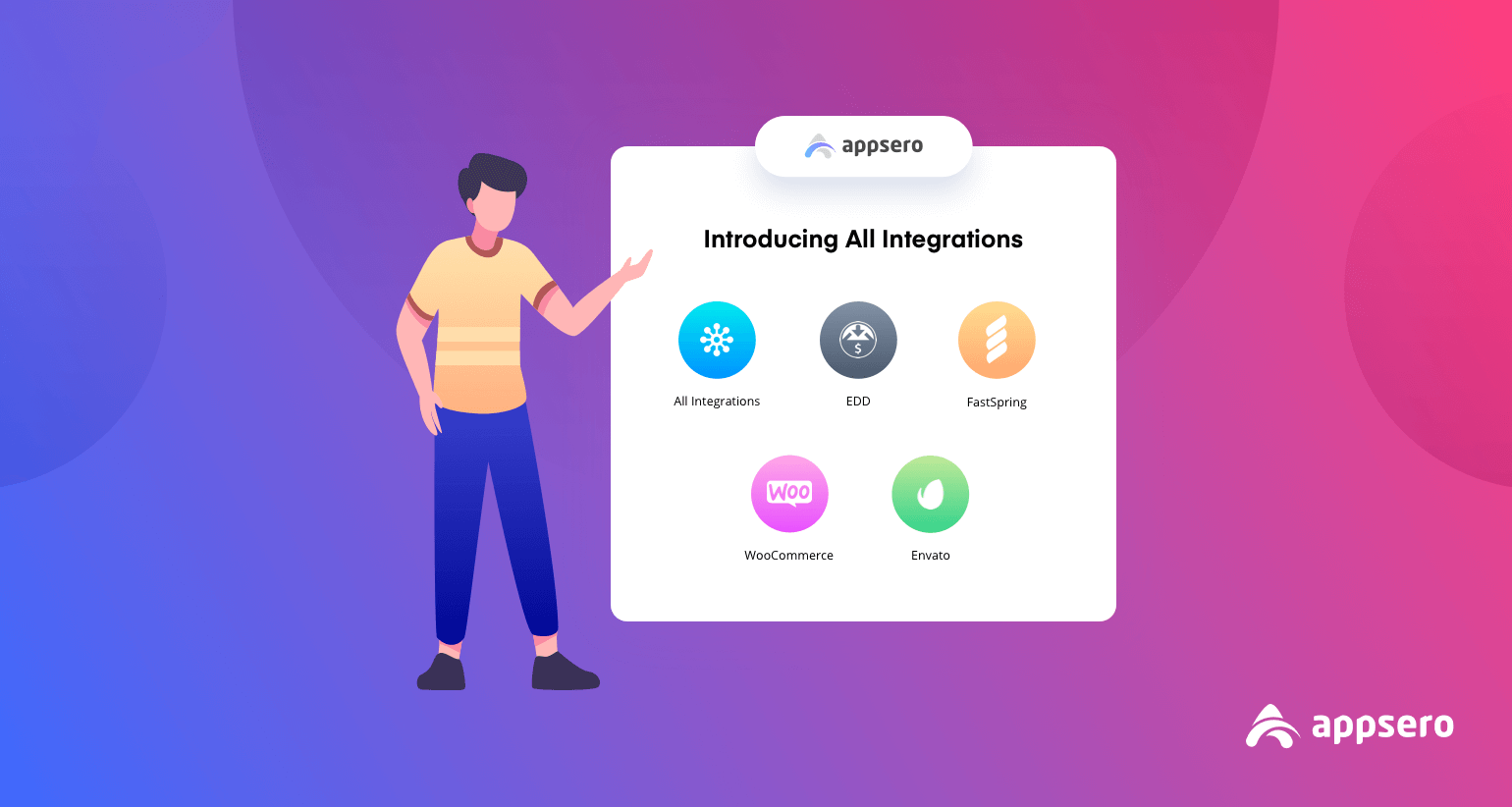 A Detailed Introduction to Appsero Integrations
How to build better WordPress products? Appsero continues its journey by keeping this question in mind. From plugin and theme licensing to faster automatic deployment, this SaaS platform got you covered in every aspect.
Since the beginning, it's been always a remarkable place where WordPress professionals can support each other. Thus Appsero helps WordPress themes and plugin authors to create better products for their users.
With the help of experts, Appsero integrates all the professional tools to make your product ready, launch it in the marketplace, then sell successfully.
Here in this blog, we will show you all the crucial Appsero integrations that let you do everything you need to turn your WordPress products flawless and profitable.
How Appsero Integration Help You to Get More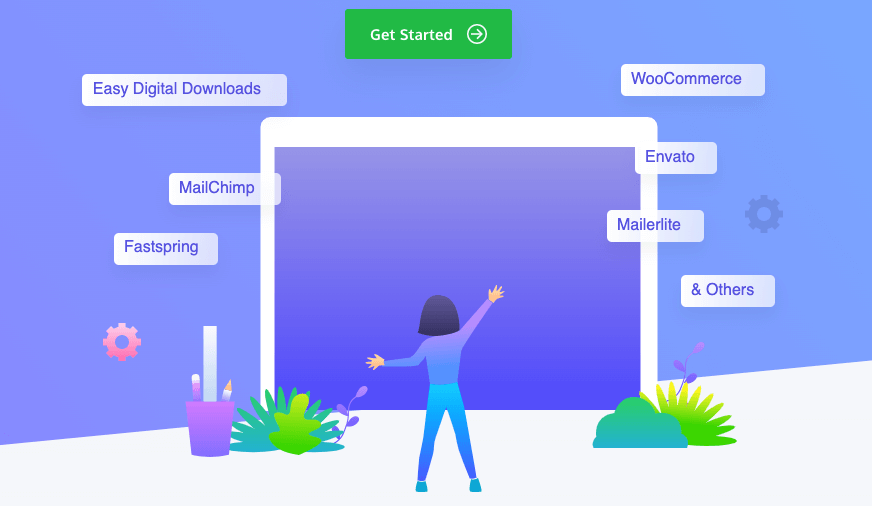 WordPress people are putting their trust in Appsero for many reasons. One of the strongest of them is its easy integration into popular tools designed only for WordPress professionals.
In every step of developing your themes and plugins, you are going to require a lot of technical hands and platforms like WooCommerce, GIT, EDD, or Envato, etc. When you have Appsero, you will get all of these aids ready for your product. There's no need to be scattered and running for help all the time.
You may have already used some of these tools. But with Appsero, they bring you everything in one place. Therefore it will save you extra effort, investments, and time.
For example, if you connect your Easy Digital downloads website with Appsero Integrations, it can enforce new licenses and sync previous ones, and then manage your sales with more efficiency. Does that sound exciting?
Well, let's have a closer look at them one by one.
Appsero Integrations to Increase Your Sales
This WordPress analytics, licensing & deployment tool will take every bit of your complexities and turn them into simple things. These integrations are bound to skyrocket your sales more than 5 times than usual.
Each of the below integration takes care of your licensing and syncing, and give you an enhanced experience while making a profit out of them. Furthermore, they will cost strikingly less investment compared to the usual cut you need to provide the selling platforms nonetheless.
Easy Digital Downloads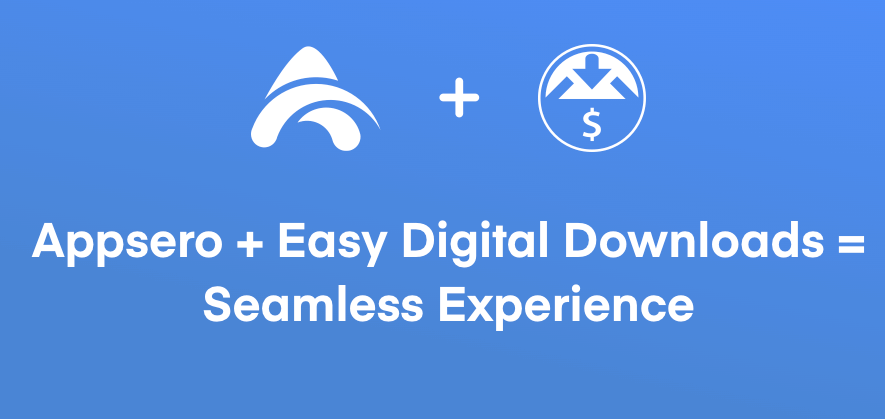 After you add your site to EDD (Easy Digital Downloads) website with Appsero integration, it will turn your process into a powerhouse. The first thing it will provide is to build you a single place where you can manage all of your themes or plugins licenses.
Top Features
Sell your plugins from Easy Digital Downloads
Appsero Helper plugin manages everything on your behalf
Appsero will take care of new orders and generate new licenses from EDD orders
Sync all the previous licenses
Add any code and Appsero API runs a check for the license
Either you like to EDD+Appsero Licensing, or want to manage your EDD+Software Licensing, you can do both from Appsero at ease. Hence it's possible for you to eliminate the EDD licenses anytime you want.
WooCommerce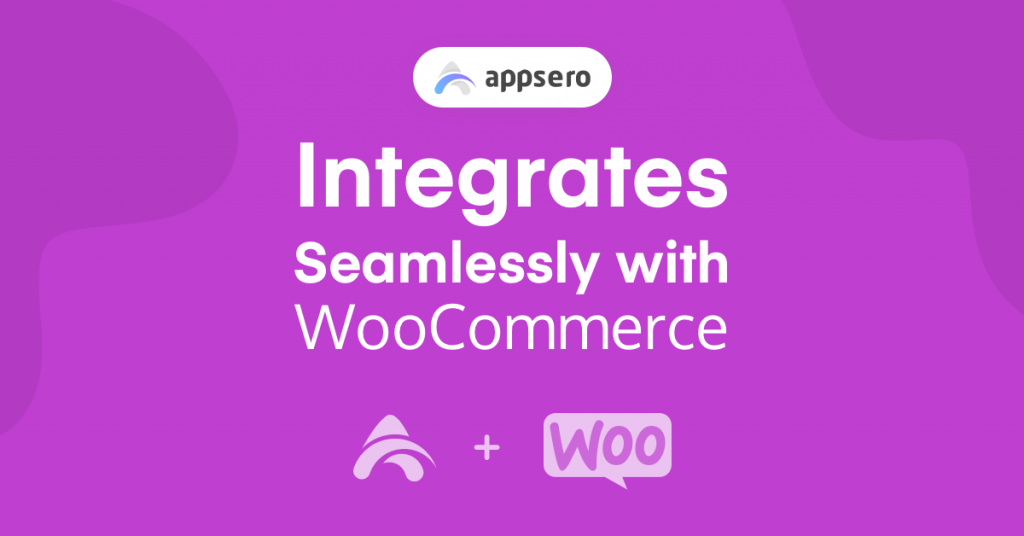 If you are already using WooCommerce to sell plugins and themes, why do you bother to migrate into Appsero? Well, the answer is simple. Appsero is more affordable. It will take all the hassle you face while managing your WordPress products to develop, market, and sell. You just add your WooCommerce site into Appsero, and WooCommerce Appsero Integration will assure the rest.
Top Features
Sync all the current and previous orders
Appsero will generate new licenses for you
Control the whole user experience from your Appsero dashboard
Keep using the Woo API manager if you are already used to it
Auto-sync all the existing and new licenses from Woo API manager
Flexible to go on with using Woo Software Add-on
However, you can choose either option directly from your Appsero dashboard. Furthermore, appsero enforce license checks for your WordPress products, generates them, and provides activation limits also. And you can migrate Easy Digital downloads to WooCommerce at ease.
Envato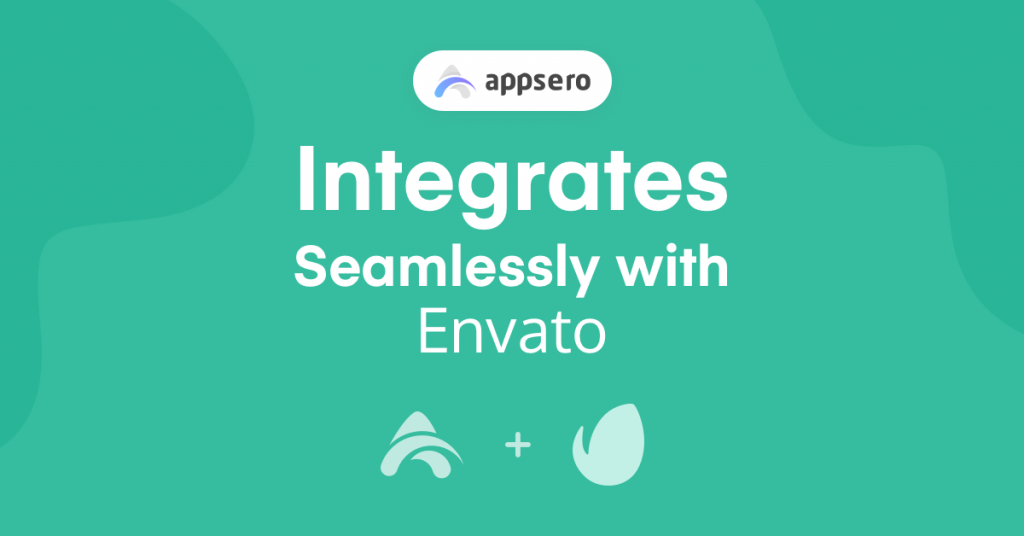 Bigger marketplace like Envato or ThemeForest has several problems. For example, your users can't preview a theme, or they may get unnecessary elements in the dashboard and many more.
Moreover, the pricing issue seems like an eternal concern. Hence, if you still want to use them, Envato Appsero integration has simple solutions for you. It just erases all the trouble within the ones we've mentioned above.
Top Features
Manage your licenses and you can get proper usage insights
Send automatic updates to your premium user
Saves a huge chunk of your profit where Envato cut of up to 67% on each sale
Apply coupons and discounts through this Appsero integration
So you can see. Your process will be easier and more customizable with Appsero. Hence, it's simple to connect your Envato store with Appsero anytime. Then it will generate licenses and sync all of your current and previous sales into one single Appsero dashboard. Isn't it so fascinating?
FastSpring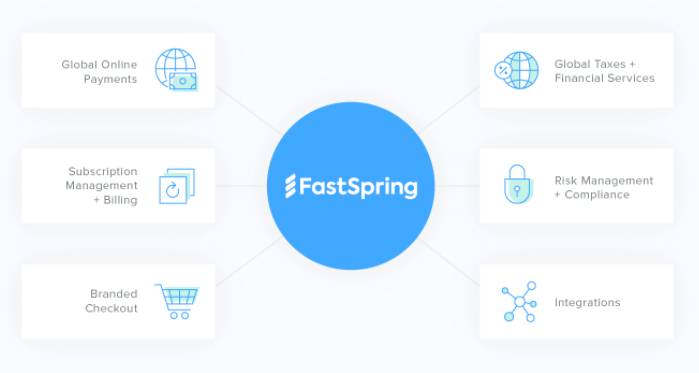 FastSpring is one of the global payment gateway services like Paypal, Payoneer, or Stripe. It's particularly popular for eCommerce services. Many top software companies and tech giants are using this platform for Worldwide transactions.
FastSpring Appsero Integration makes your selling process easier. You can add your FastSpring account with Appsero. Therefore, with each sale you make, all of the complexity of the payment procedures will be gone. It will manage all of your Taxes, VAT, or govt. charges from your Appsero dashboard.
Top Features
Generate licenses for every theme or plugin sell
built-in sales analytics
Customer can find their history of activities (sales and licenses) on the customer account page
Customize your license activation limit
Manage your subscription license from Appsero
Send automated license renewal emails
Handle EU VAT and license expiration
So when you integrate FastSpring with Appsero, you will be able to sell your WordPress product without further hassle. Your FastSpring account will be merged with Appsero expert service. Hence you don't need to handle a bit of workload. This WordPress services platform will do everything from your end.
Paddle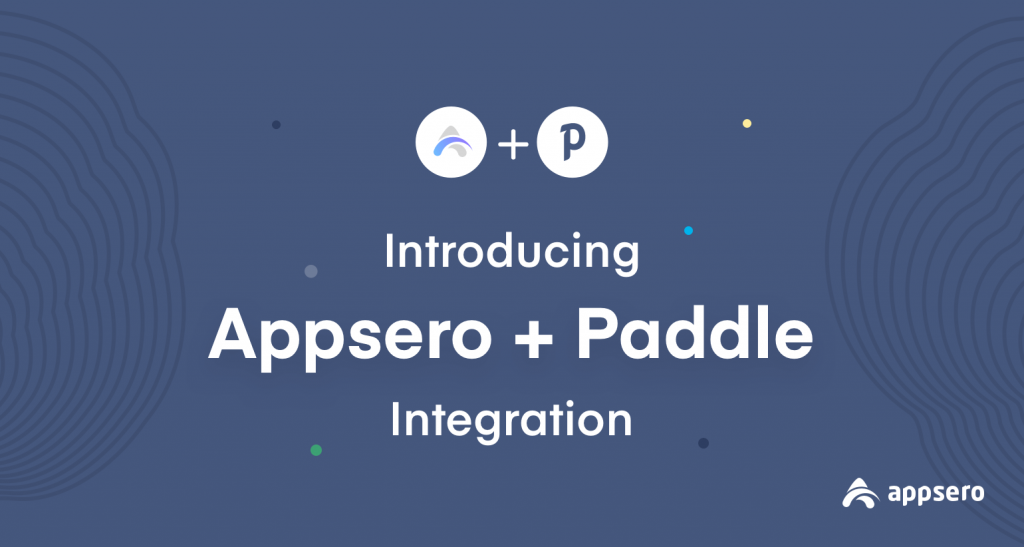 PADDLE is one of the very popular revenue delivery systems for both B2C and B2B. It is designed to help businesses to increase global conversions, reducing churn rate, make your product compliant, and gives you a faster scale-up. This platform is specialized for SaaS.
Hence, the Paddle Appsero Integration brings you more flexibility to manage your software. If you are very fond of Paddle, Appsero only makes your license management, renewal, GDPR compliant, and selling easier.
Top Features
A renewed experience of easy payment processing in a SaaS commerce platform
Automatic EU VAT handling, license renewal email, and management
After customers checking out, they will be automatically signed up for your WordPress website
With the help of Appsero Helper, your customer can see their license and purchasing history on their account page
You can sell any type of customer of any numbers with a native invoice system
Therefore, this powerful integration will provide your customers a remarkable user experience nonetheless.
Appsero Integrations for Marketing and Emails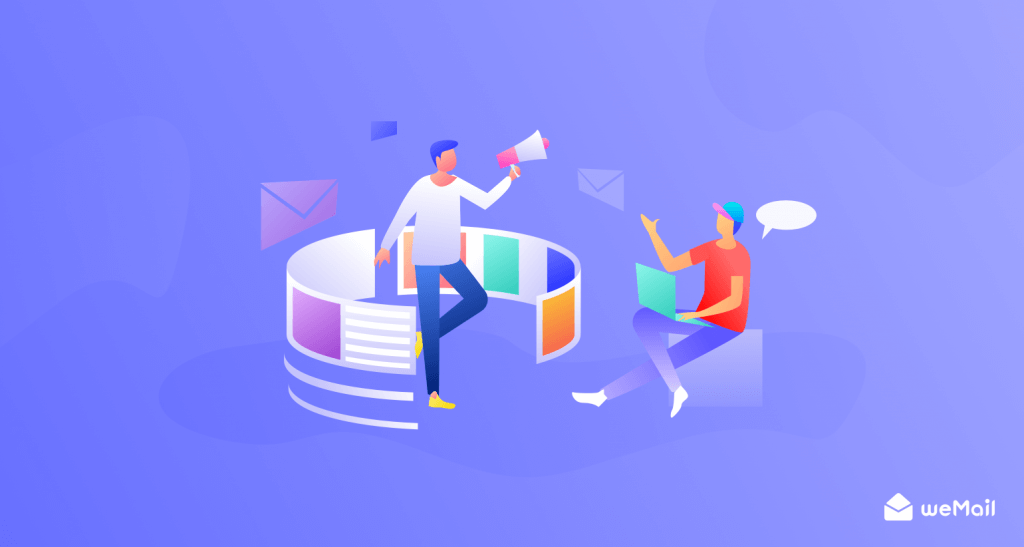 As a WordPress product author, marketing is the key arsenal to spread your goodwill. In this regard, appsero is bound to deliver a seamless email automation experience. The Appsero email marketing integrations let you send highly customizable emails to your clients and partners simultaneously.
weMail
weMail is a powerful email marketing platform for WordPress. After you connect weMail with Appsero, it will be just creating and sending marketing emails from your appsero account. It's affordable than any other email automation service. The most popular feature of weMail is it offers to use a wide array of sending API like amazon SES, Mailgun, SparkPost, or any SMTP provider you may choose.
Mailchimp
You can sync all of your Mailchimp data into the Appsero database. Thus you can handle your email marketing right on from your Appsero account. All of your Mailchimp email subscribers will be manageable with this Appsero integration. For example, after you've connected your Mailchimp account, you won't need to go there anymore. You can perform every email sending feature from Appsero.
Mailjet
So are you a Mailjet user? If you want to expand your email marketing arsenal with another email automation service like Mailjet, this Appsero integration lets you do that effortlessly. Just connect your Mailjet account with Appsero. Hence manage and execute smooth email campaigns without any trouble.
Git – Effortless and Faster Deployment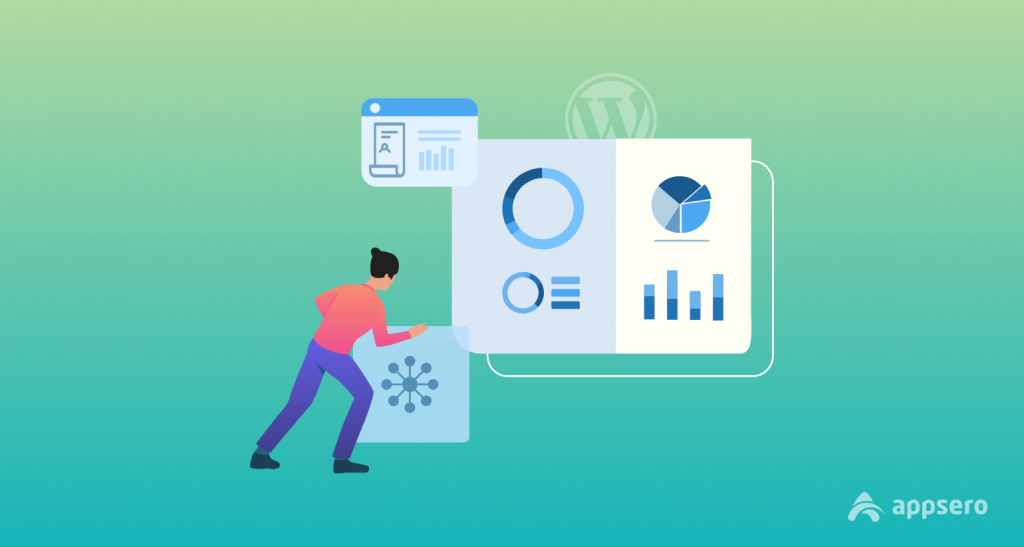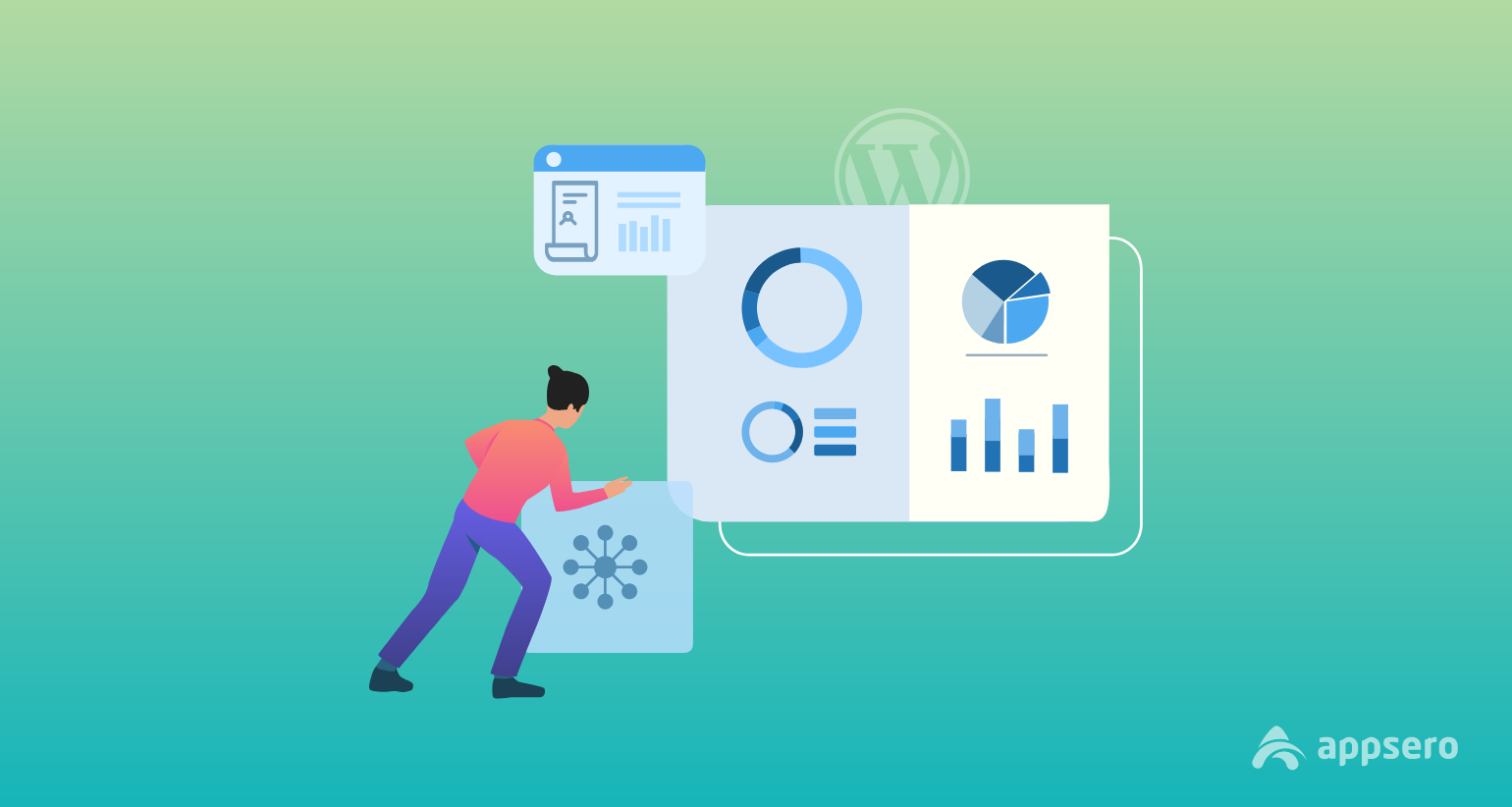 You won't find a better deployment assistant than Appsero. The Git integrations let you release a new version or update of your software automatically in the popular Git platforms. It means you can utilize these deployment tools from your Appsero account seamlessly. Currently, Appsero supports three popular options. They are-
Top Features
Release a new version of updates and they will be rolled out to users
Deploy updates directly from Appsero
Deliver your updates safely to every user
The choice is up to you. You can choose any of these Git platforms or try all of them whenever you feel necessary. Hence you can provide the newest updates for your premium themes and plugins.
Final Thoughts on Appsero Integrations
We believe it's pretty clear to you now. As a WordPress product developer you need full supports from experienced WordPress professionals. Hence, Appsero is promised to give you that. And the beta version is absolutely free.
You can see that all the Appsero features are highly connected to each of the integrations we have mentioned above. As for the pricing issue, they are not expensive rather than affordable compared to the other platform.
You may need to pay a one-time for a year but then you are free to enjoy all the profit. On the other hand, most of the WordPress product marketplace cut a hefty amount from any single sale.
So, that's all for now. Do you have any particular questions regarding the Appsero integration we've discussed? Let us know in the comments section.
Subscribe To Our Newsletter
Don't miss any updates of our new templates and extensions
and all the astonishing offers we bring for you.