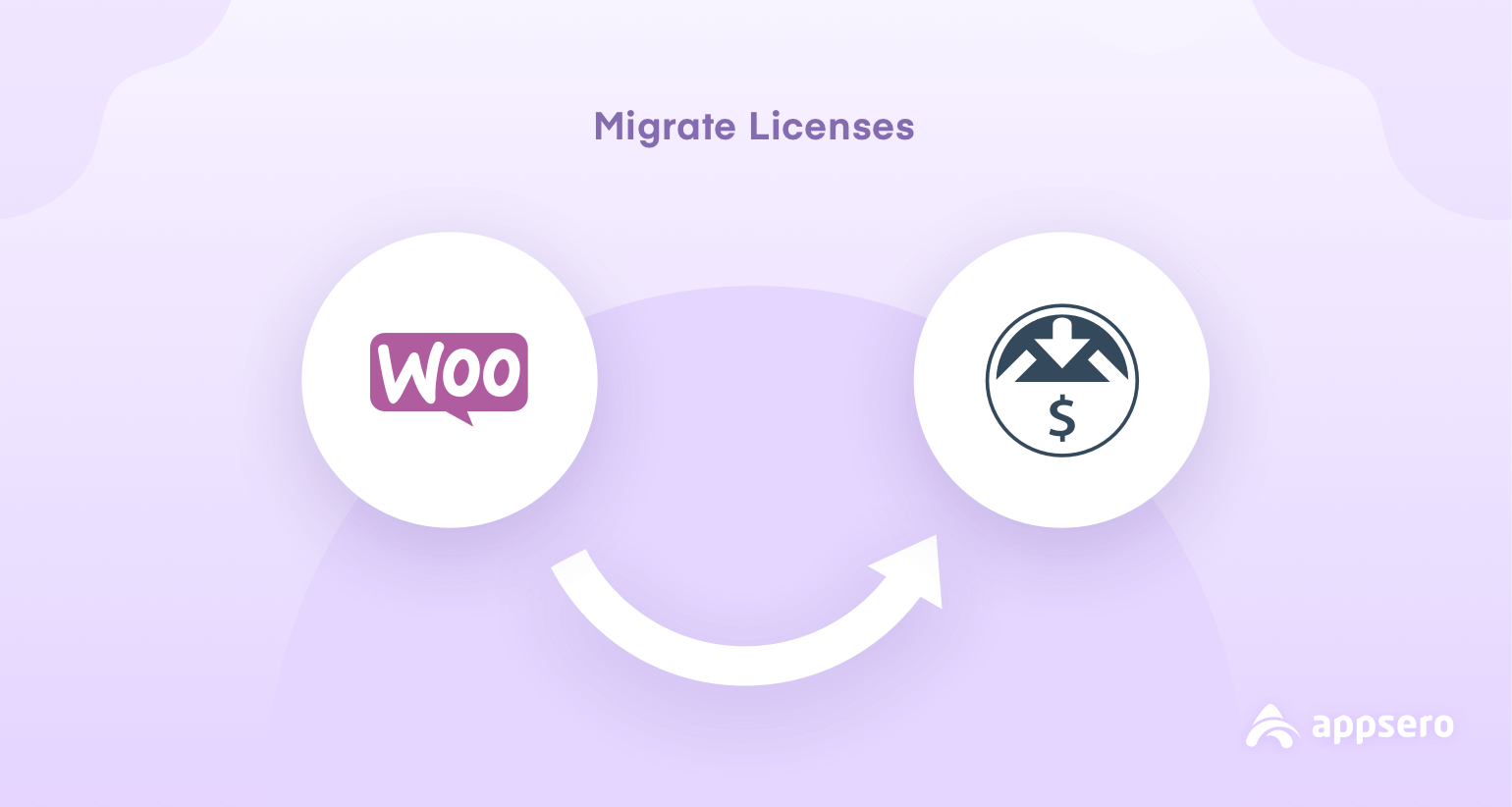 How To Perform WooCommerce to Easy Digital Downloads License Migration In 6 Easy Steps
WooCommerce and Easy Digital Downloads(EDD) are two of the most renowned plugins to sell digital products. Both of the plugin will help you create an eCommerce store where you can sell your digital and downloadable products exclusively.
However, if you are a WordPress plugin or theme developer you may face a series of challenges along the way while developing a plugin. You can face problems while deployment, marketing, selling, pushing updates or even migrating licenses. And that's where Appsero comes in.
It will help you reduce the time, effort and stress by giving a boost to your plugin release processes.
The most important part is that it has integration with WooCommerce and Easy Digital Downloads. While you can manage these plugins licenses through Appsero, you can also migrate your licenses from one store to another as well. Yes, we are talking about WooCommerce migration.
So, today we are going to show the steps on you how to migrate WooCommerce to Easy Digital Downloads using Appsero.
How To Migrate WooCommerce To Easy Digital Downloads
WooCommerce and Easy Digital Downloads(EDD) are both renowned plugins for selling plugins and themes. Appsero can integrate seamlessly with both of them. Therefore, you can manage your WooCommerce and EDD licensing through Appsero as it handles it quite easily.
But if you are looking to migrate WooCommerce to Easy Digital Downloads then here is good news, as you can do that easily with Appsero. As a matter of fact, after the migration, the old licenses from your WooCommerce plugin will still be functional. But the process is a little complex. So, sit back as we will guide you through the steps below.
Step 1: Sync Your WooCommerce Store With Appsero
To begin the migrating process of your license to EDD, at first you will have to sync your WooCommerce licenses with Appsero, assuming you have already connected Appsero with your WooCoomerce store. That means you need to let Appsero manage your WooCommerce licensing as it will work as a mid-management specialist.
To sync your license you need to navigate to Tools and click on Sync Orders. This will automatically sync all the previous orders from your WooCommerce store.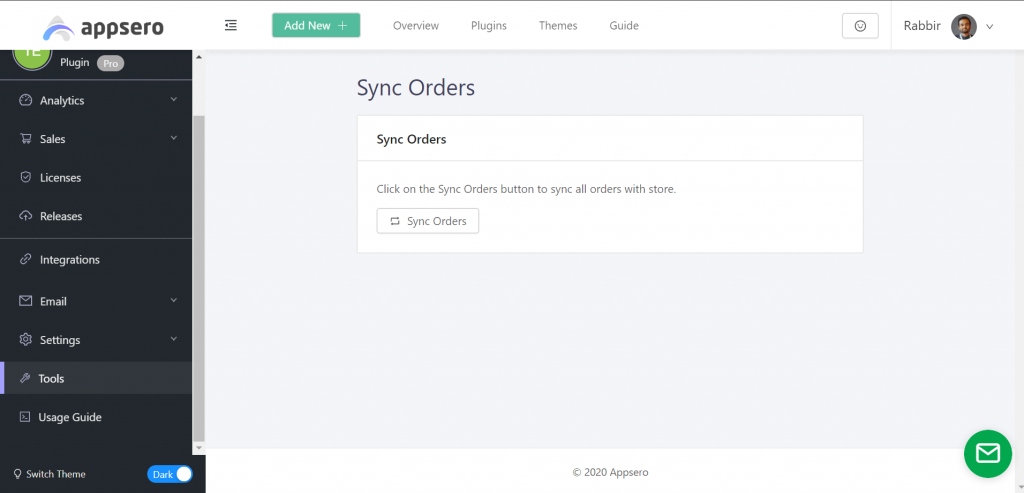 After you have successfully done that, we can move on to the next step.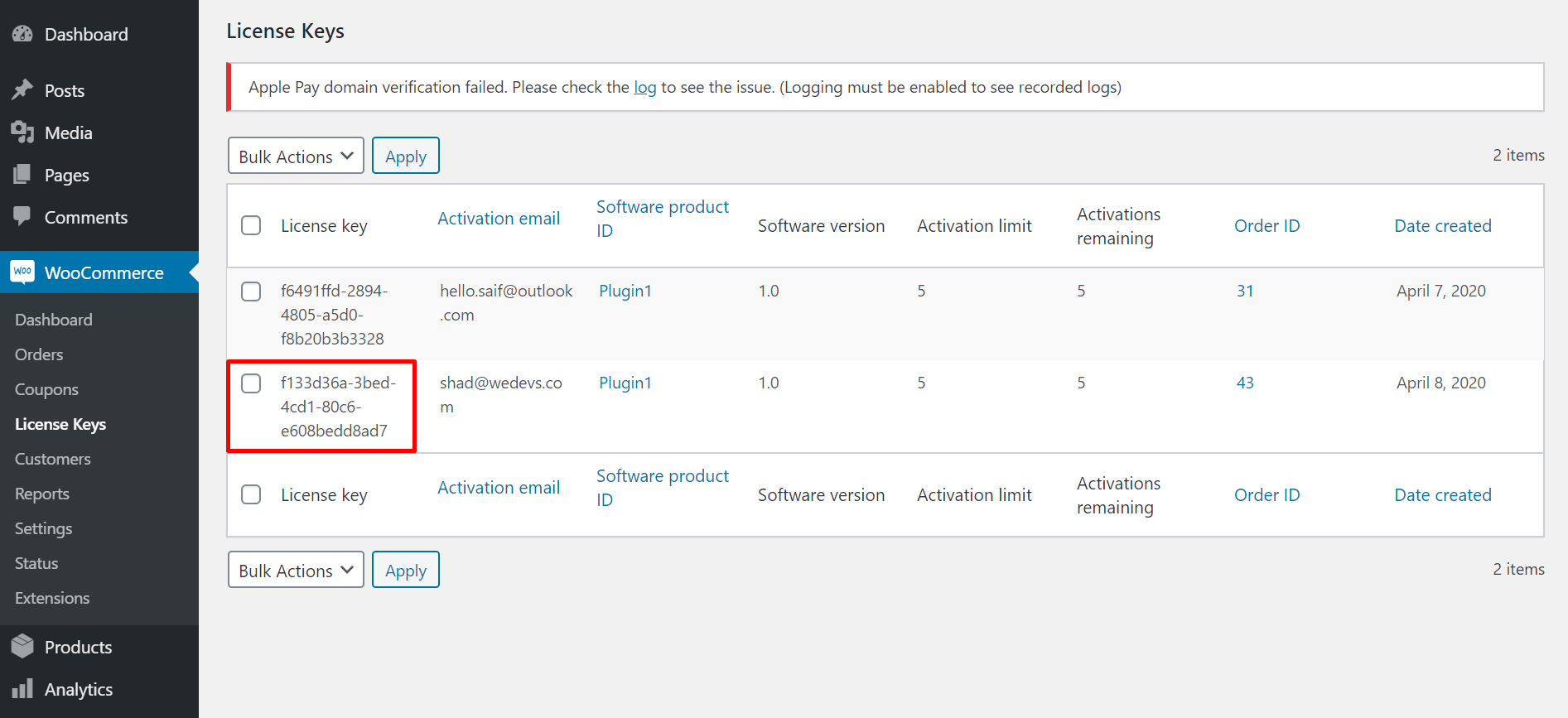 Step 2: Install & Activate Easy Digital Downloads Plugin On Your Site
After you have completed the first step, now you need to install the Easy Digital Downloads plugin from the WordPress repository. After installing, activate the plugin. While you are at it, deactivate the WooCommerce and WooComerce Software-add on plugin from your site.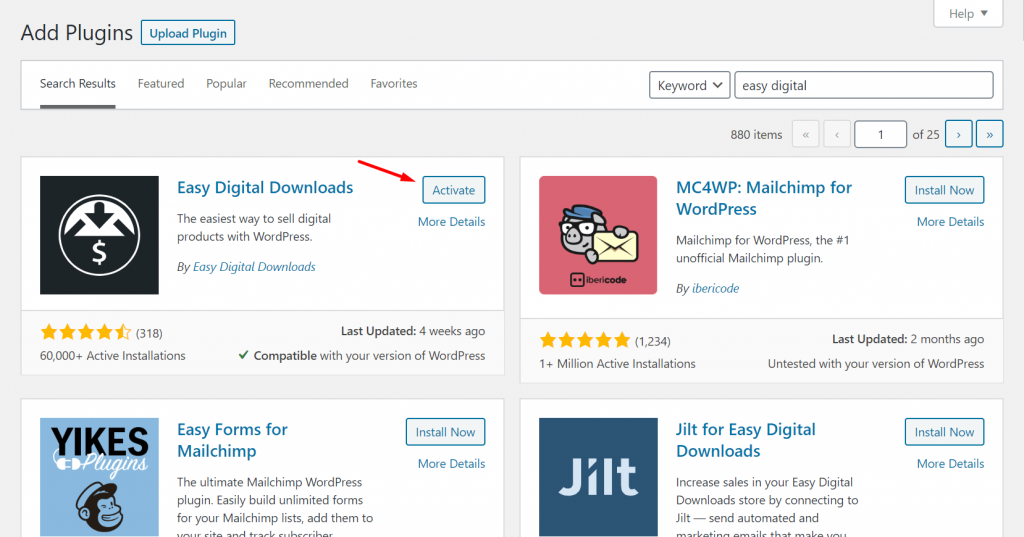 Step 3: Create New Products For Easy Digital Downloads
The third step in the process to migrate WooCommerce to Easy Digital downloads is you have to create a new marketplace to sell using EDD. First, you have to create products. To do that, navigate to Downloads->Add New on your admin dashboard.
Second, set the name of your plugin or theme, set the price, download limit and hit publish.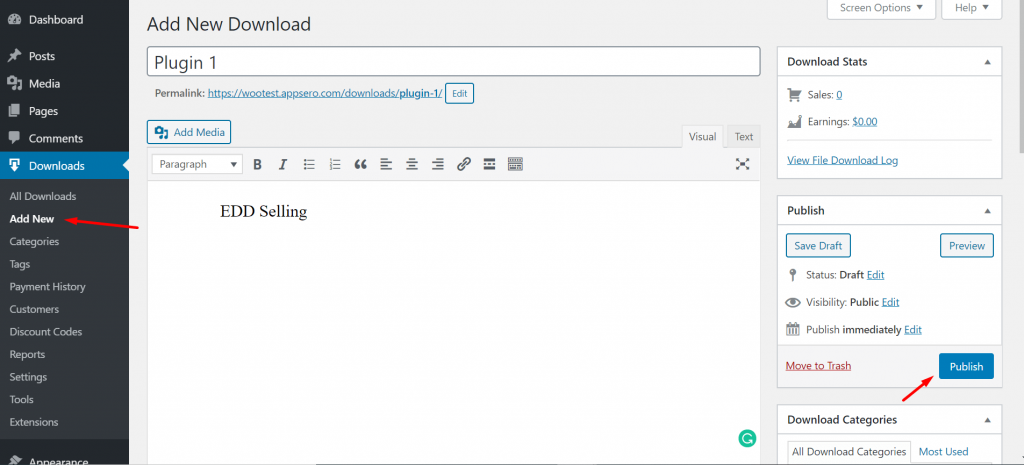 Step 4: Change Licensing Settings On Appsero
Now, in this step, you have to organize the settings of licensing. Therefore, go to your Appsero dashboard and click on the plugin/theme that was using WooCommerce licensing previously.
Navigate to Settings->Licensing.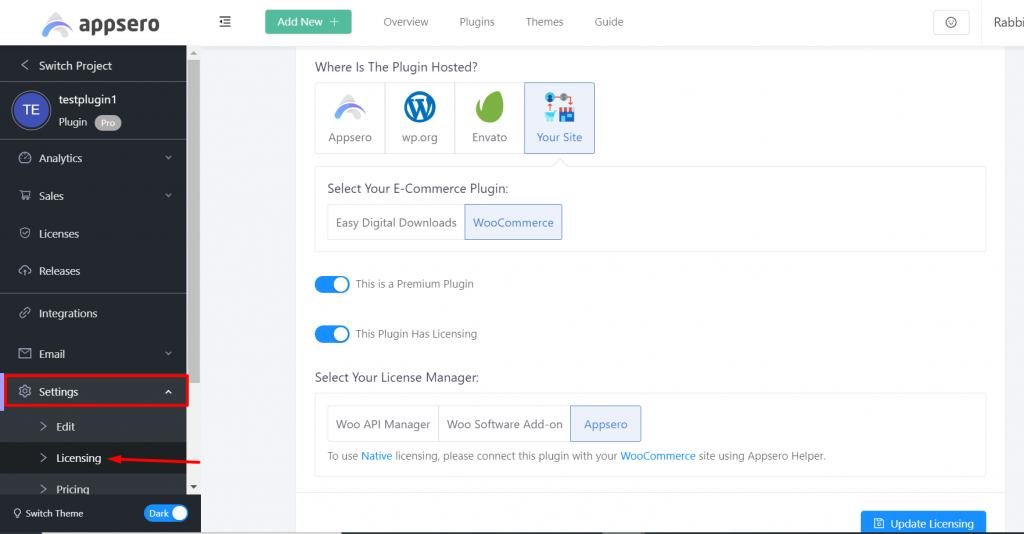 There, select Your Site option because the plugin is being hosted there. Choose Easy Digital Downloads as your E-Commerce plugin, and Appsero as your license manager. Hit the Update Licensing button to finish the setting.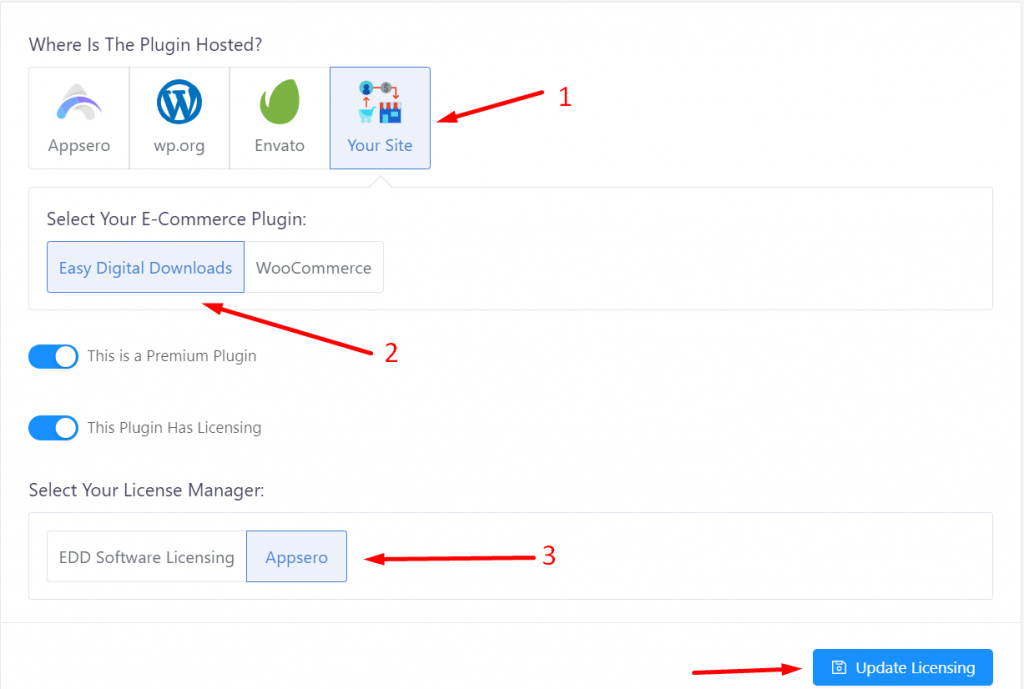 Step 5: Update your Integration Setting
As you have changed your licensing from WooCommerce to EDD in the previous step you need to connect your website again. Go to Integrations from the sidebar menu.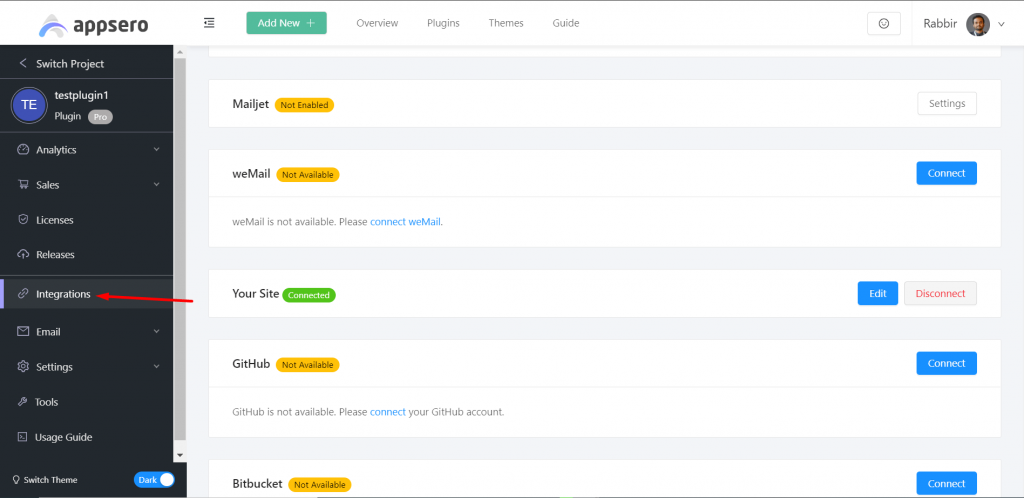 Select the name of your site and the plugin/theme that you have created for your EDD plugin. Hit the Update Connection button to finish.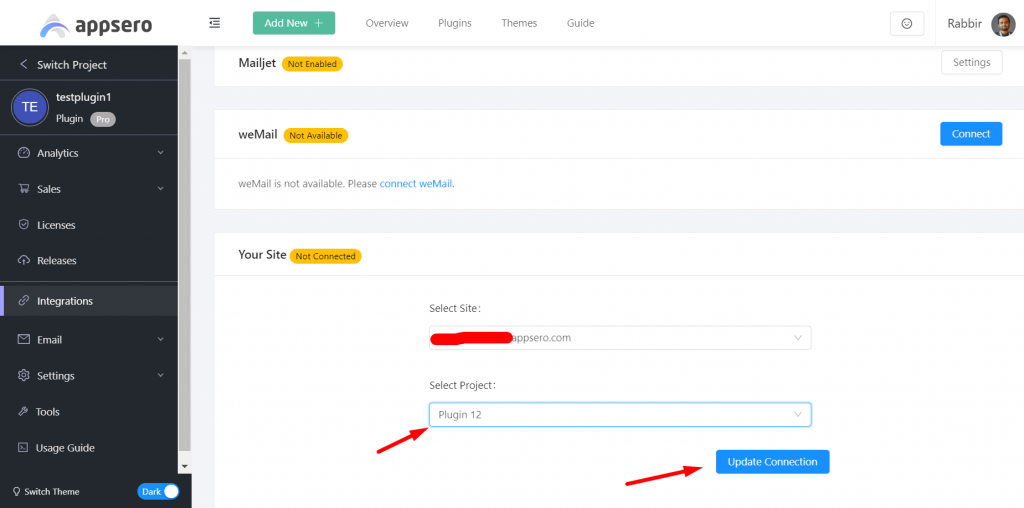 Step 6: Test & Sync Orders To Migrate Your Licenses From WooCommerce To EDD
Congratulations! You have reached the last step of this license migration process. Now, perform a test buy to confirm. Purchase the products or subscription with all the formalities and then check-out. After the order confirmation, you will see a License generated for you to use.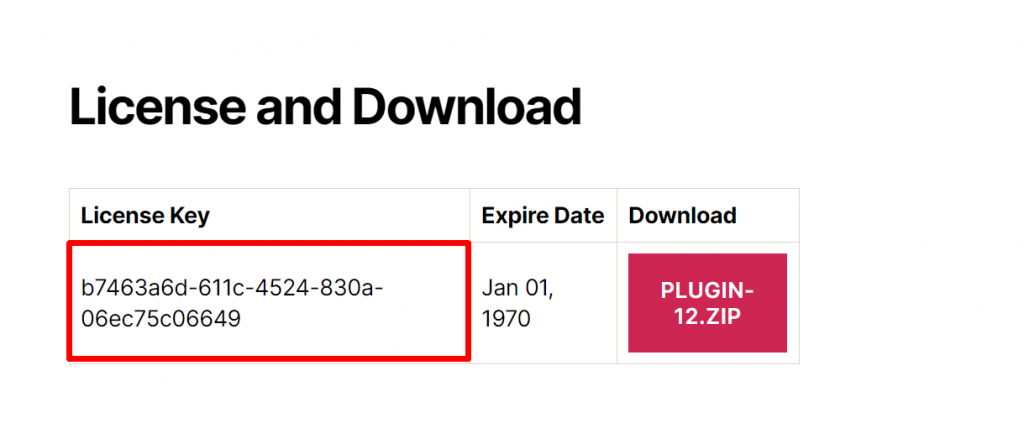 Now, if you go the Licenses tab from the plugin analytics sidebar you will notice that the exact license already synced with Appsero.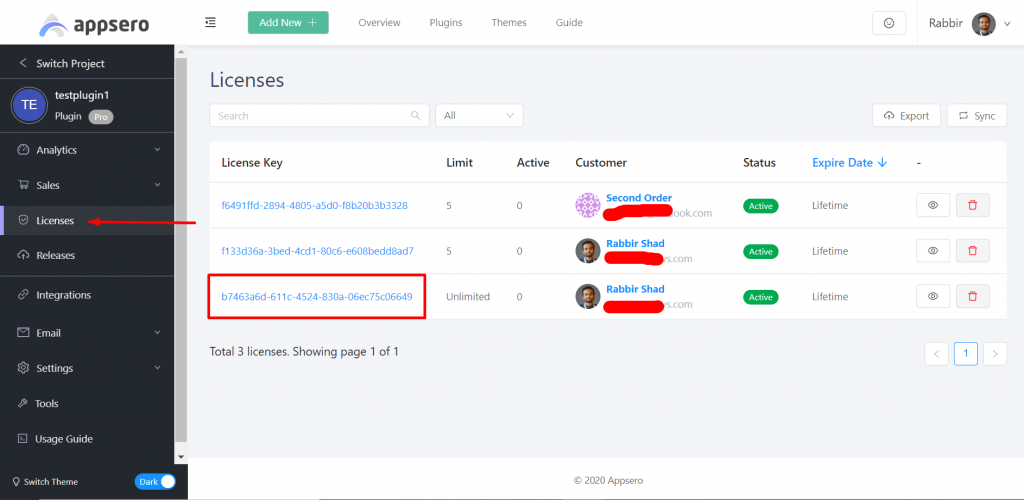 These are basic steps that need may follow to migrate WooCommerce to Easy Digital Downloads.
This process will help you keep track of your plugin/theme sales. Also, you don't need to worry about managing your license even though you have migrated from one store to another.
Appsero provides complete transparency and also, it makes sure the previous licenses don't become void.
Appsero: The Most Effective WordPress Analytics, Licensing & Deployment Tool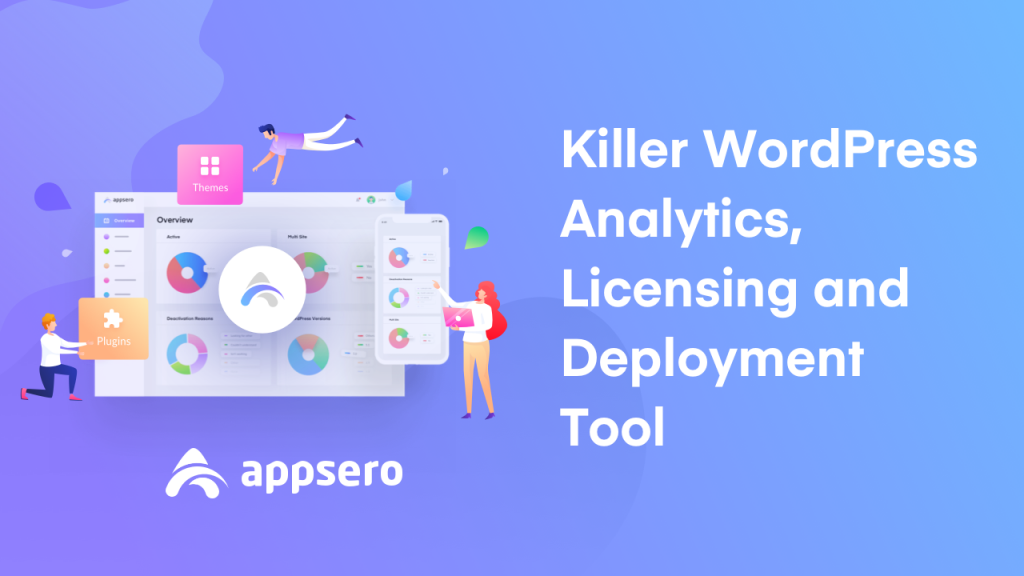 As a WordPress developer, when you create a new plugin or a theme you need to think about how to market and sell your product to reach your desired audience. But as you are new to the game, these things might confuse you and you might find it tough.
Therefore, you need a solution that will take care of your:
Plugin/Theme deployment
Licensing
Software Updates
Different plugins used for selling theme or plugins integration
And lastly selling and marketing.
Appsero can do all that.
It was launched with the sole purpose to help WordPress theme and plugin authors build a better product for their customers. Not only developers, but it will also help all the people entitled to the product to deliver their best.
It offers some amazing feature like:
Complete License Management, as it has integration with FastSpring, WooCommerce, Envato, EDD plugins you can easily manage your licenses through it absolutely hassle-free.
Insightful User Analytics Data for your plugins/themes along with reasons for deactivation via the form.
Continuous Deployment from Git accounts, i.e Github/Bitbucket to WordPress.org for your free plugin or themes.
Pushing the New Updates for your pro plugins and themes.
Deactivation Responder that help send an email to you whenever they deactivate your plugin.
Quite evidently, even if you are a veteran or newbie developer, these features will help you completely focus on your development saving a lot of your valuable time
However, it will help you better understand the progress, lacking, and updates of your products. If you know what features or parts are getting popular it will definitely help you give a better shape to your product for the future. When your product is in the best shape it will certainly skyrocket your product growth that includes marketing and selling.
So while you are still at the development stage of your product do give a tour to Appsero's unique features and what it is capable of doing to boost your business after launching your plugin or themes.
Frequently Asked Questions(FAQ)
1. How Do Sync Existing Licenses Into Appsero?
Ans: Navigate to Licenses and click on Sync.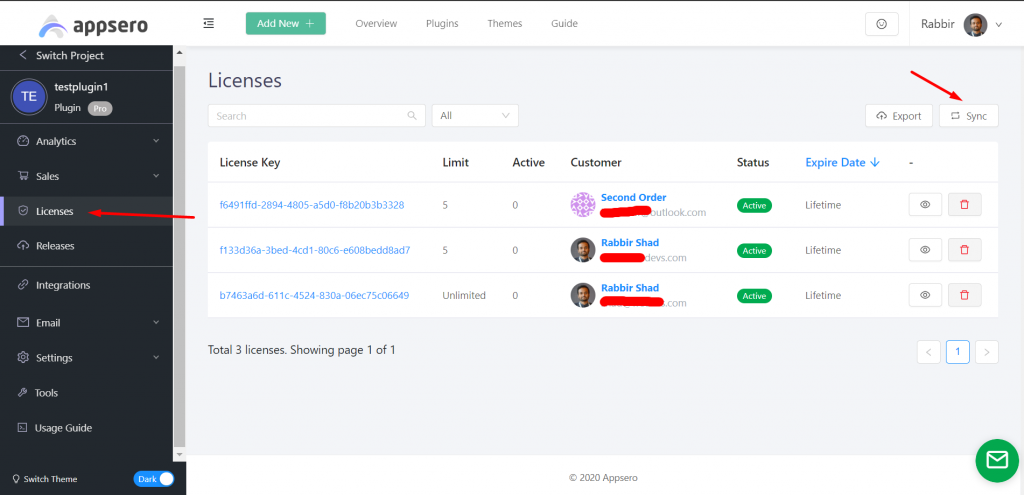 2. How Do I Delete a Plugin/Theme from Appsero
Ans: Navigate to Settings -> Edit -> Delete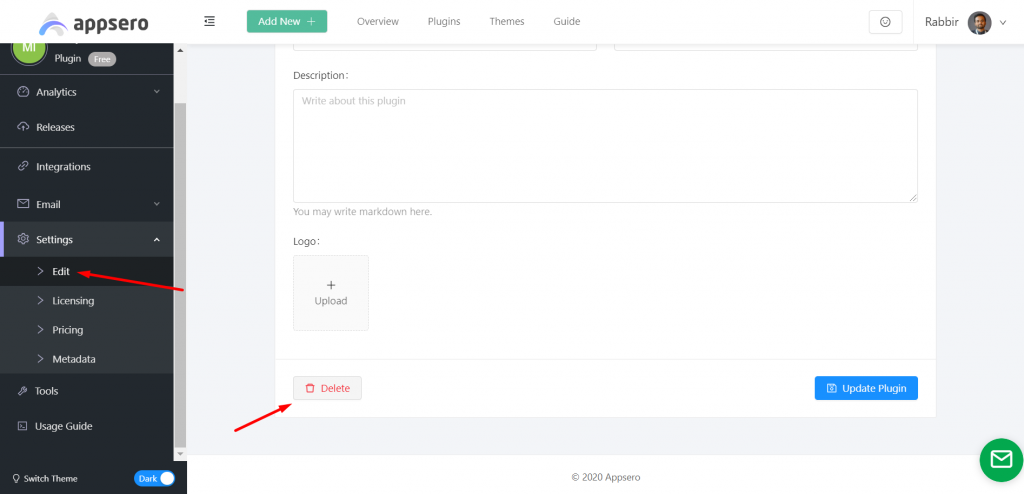 3. What Are The Mail Integrations?
Ans: The available email solutions that integrates are,
MailChimp Integration
weMail Integration
Mailjet Integration
Over To You
Change is often hard.
But when you have the right tools it will certainly make the transition process smooth. Similarly, when you decide to migrate your license from a renowned plugin like WooCommerce to another renowned plugin like Easy Digital Downloads, it may feel like a daunting task.
However, with Appsero working as a mid-management that migration will be quite smooth as a pie.
The good news is Appsero is absolutely free while in beta. So, sign up with Appsero now and start managing your product today.
Subscribe To Our Newsletter
Don't miss any updates of our new templates and extensions
and all the astonishing offers we bring for you.