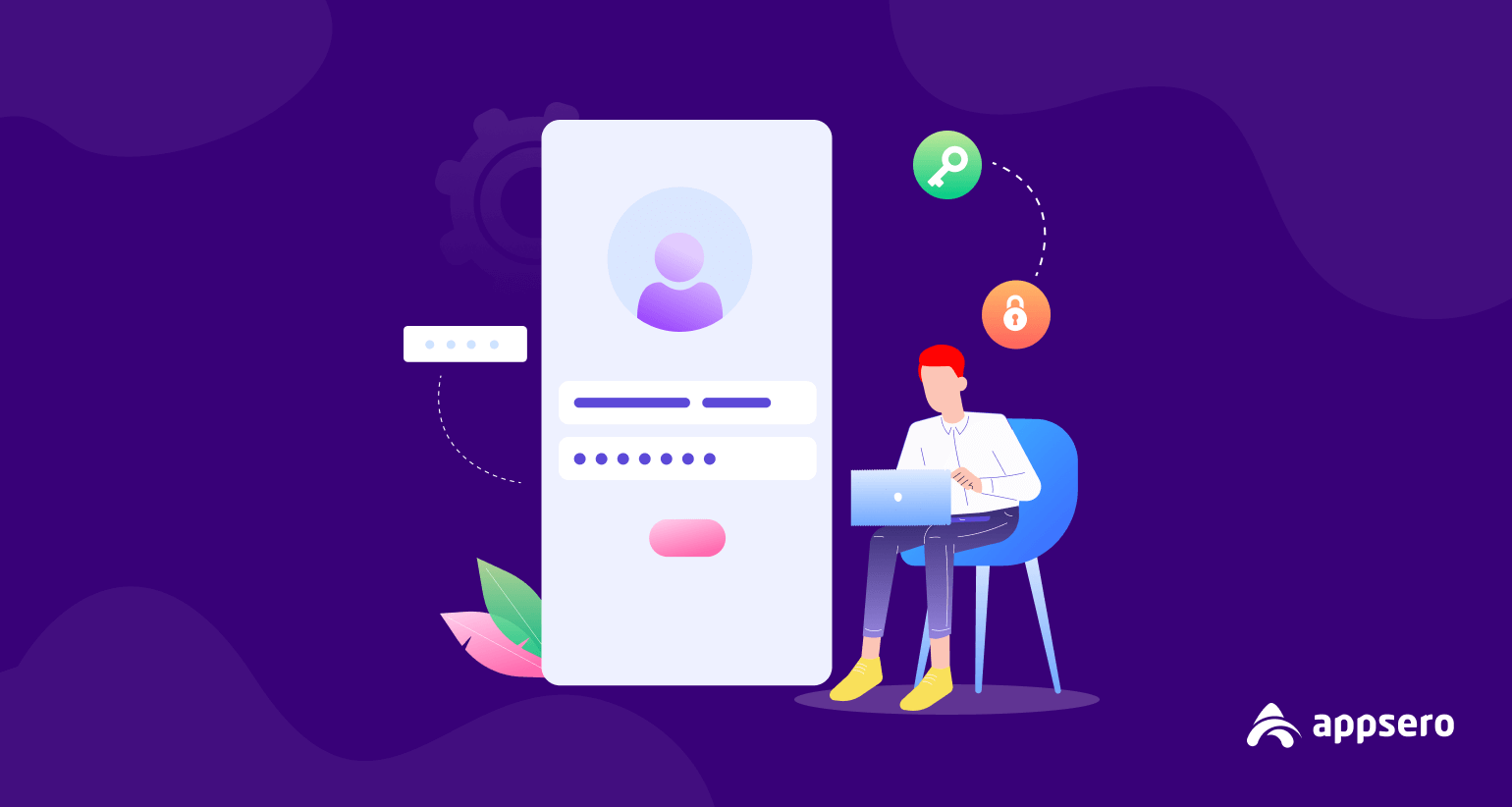 How to Use Appsero User Dashboard Login
Whether it's about selling WordPress themes or plugins, you can handle it with ZERO effort using Appsero. Nothing can beat it if you are a busy developer who needs more time in coding rather than managing and marketing.
The number of customers is increasing day by day. One of the reasons is Appsero provides an easy system to manage all your data in a single dashboard. As it works as a centralized database, users sometimes get confused while navigating through the dashboard.
So, for their easy navigation, we are here with a simple yet detailed tour of the Appsero user dashboard login process.
Stick together with us and mention in the comment box if we miss anything essential in this blog.
Appsero User Dashboard Login Explained
The dashboard is quite straightforward and provides all the nitty-gritty information about your theme, plugin, and current customers. Before exploring the dashboard you need to,
Purchase Appsero
If you want the full functions of the dashboard you will need to buy the monthly subscription first. The purchase process is simple,
From the Home Page click on Get Started (besides the login button).
Provide your name, email address, and password.
Verify your email address and then Login to your dashboard.
At the Billing option (at the left sidebar), share your credentials for buying Appsero subcription.
Now let us explore the Appsero dashboard.
Login to Appsero Dashboard
From the Home Page of Appsero, you can log in with your ID and Password. For a better view take a look at the picture below.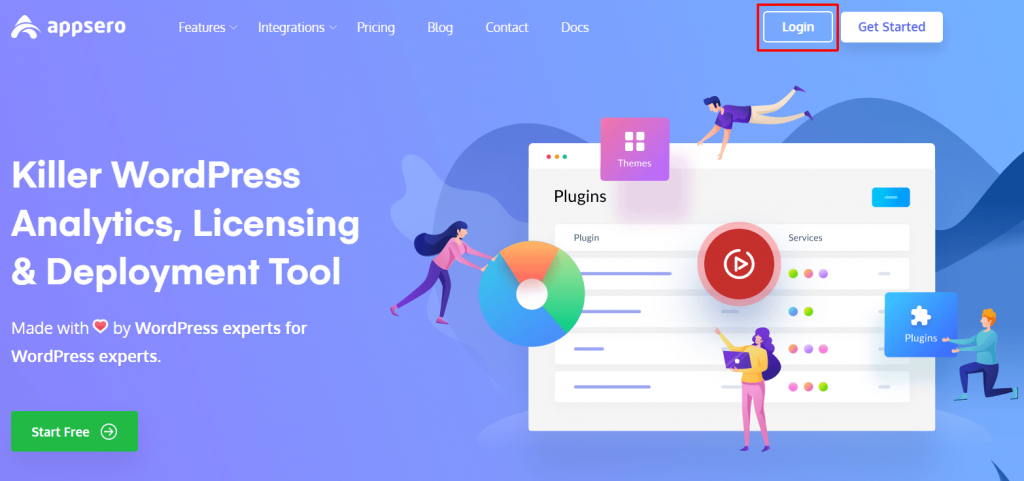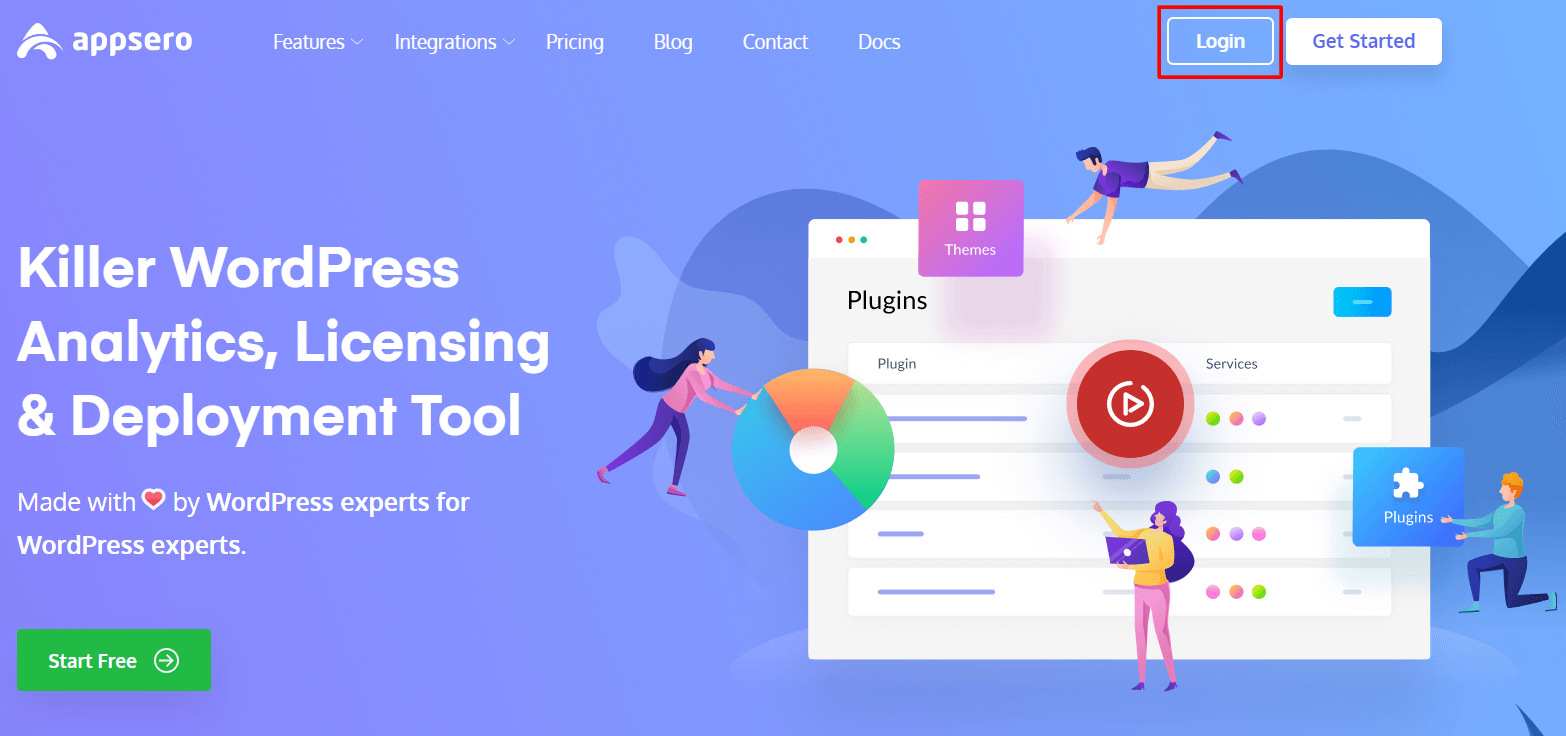 Then you will be redirected to the login page where you will have to add your email address and password.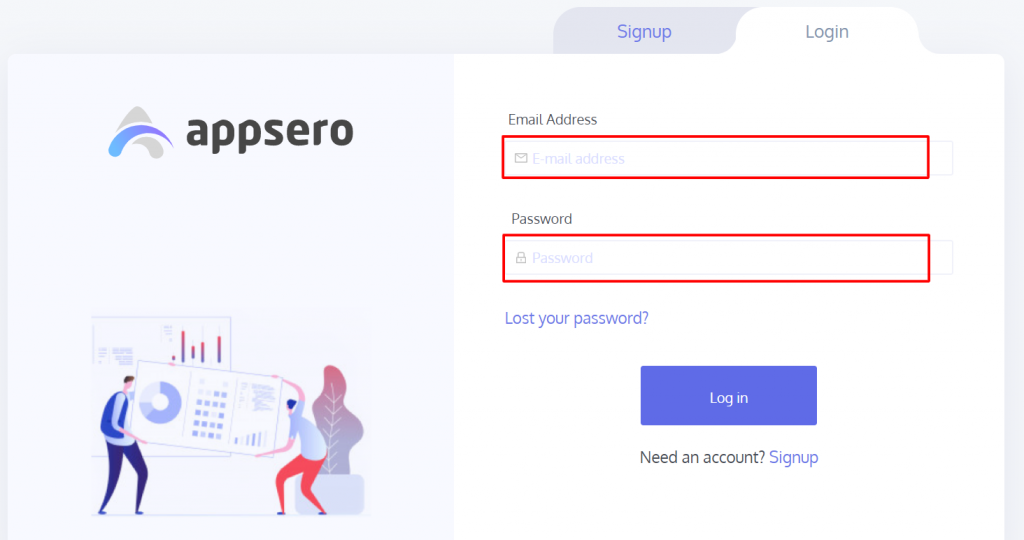 From here your journey starts with Appsero.
Dashboard Overview
After login, you will have a wide overview of your dashboard. Here, you will be able to see the number of projects, total plugins, and themes you have. If you are a new user, then after adding the plugin or theme you will see these statuses.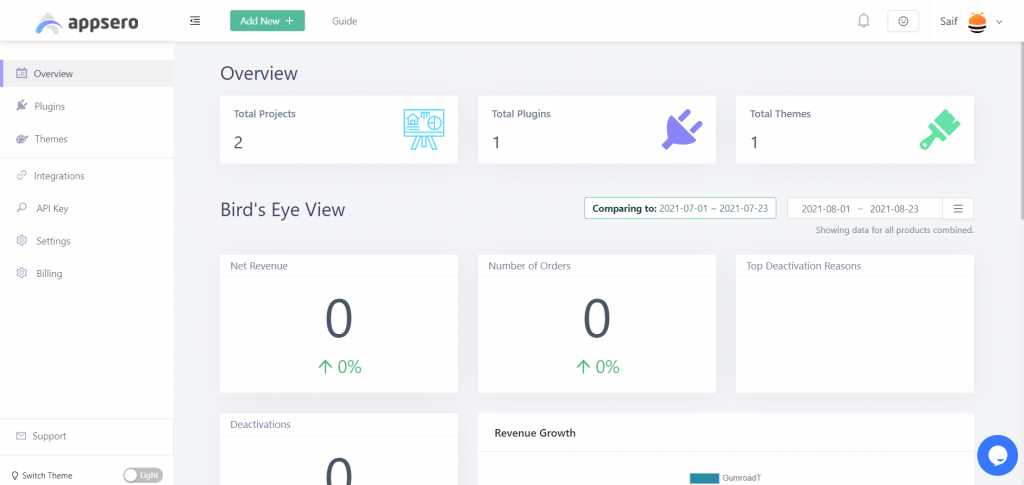 Plugin/Theme Analytics
You will get the full information about your plugin in this part. After successfully adding your plugin to the Appsero dashboard you will see the workflow to let Appsero communicate with the plugin.
Also, you need to connect to the Appsero SDK. In your plugin dashboard, you will have a bird-eye view of multiple analytics.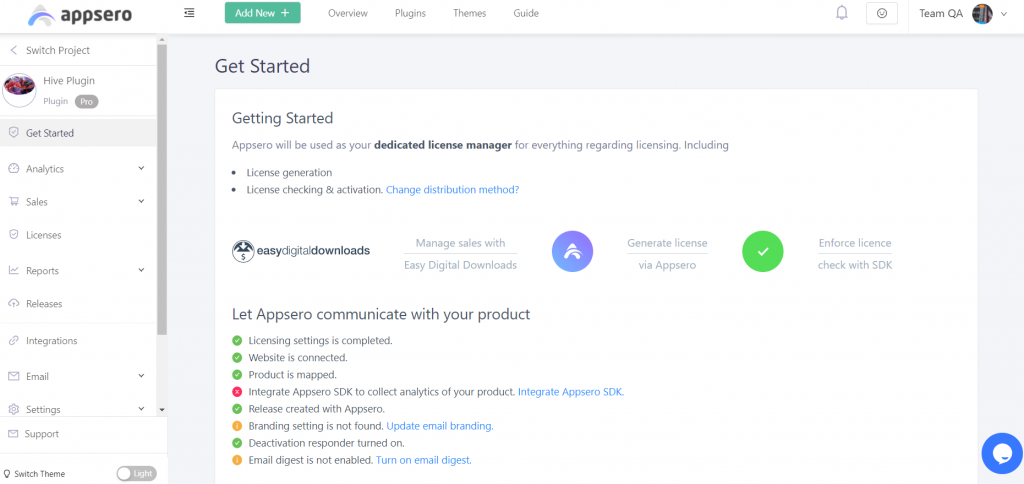 1. Stats of Your Plugins/Thems
Here, you will have all the necessary statistics about your user. Like- Active users, deactivation reasons, WordPress, PHP, and MySQL version, etc.
2. Number of Sites Using Your Plugin
In sites, you can see the websites list who are using your plugin. Moreover, you can view the email address of the admins, current users per website, and current versions of WordPress and PHP.

3. Users
This section will provide you the total insight of your users with their names, email addresses, IP addresses, and the starting date.

4. Number of Deactivations
It is one of the essential sections in Appsero. You will have the full information about the user deactivation reason and rebuild your plugin according to that.

5. Deactivations Reports
This sector shares the ratio of active and deactivate users. With a detailed graph, you will see the ups and downs of your plugin's activation and deactivation data.

Sales Overview
In this part, you will have all the information about the sales of your plugins/themes. Let's know them personally.
1. Overview
The overview of your plugin sales display-
Net Revenue
Units Sold
Refunds
New Customers
New Subscriptions
Renewal Orders
Active Subscriptions
And more.
Plus, you can watch it by setting the date filters as well.

2. Number of Orders
The orders section shows you a list of customers, their amount of payment, current status, and, ordered date. There is an eye icon, by clicking it you can have a more specific view of that order.

3. Subscriptions
It portrays the number of your subscribers in a list with email addresses. With the built-in email integration, you can send them emails.
4. Customers List
You will get the complete information of the customers including their joining date and total spent till now.

Licenses Key Usage
This page shares the crucial information about your customer's licenses that introduce the license key, the current status of it, expiry date, limitation, etc.

Detailed Reports
In the software business, the owners need all data about Revenue 🍀 and Orders. The Report section is always there to display the result.
1.Revenue Report
Revenue report explains the gained revenue, customers, subscriptions, orders, and a giant graph of a certain period of time. Also show the lost number of subscriptions, refunds, taxes, discounts, etc.

2. Orders
Orders Report mainly displays the latest orders and revenue.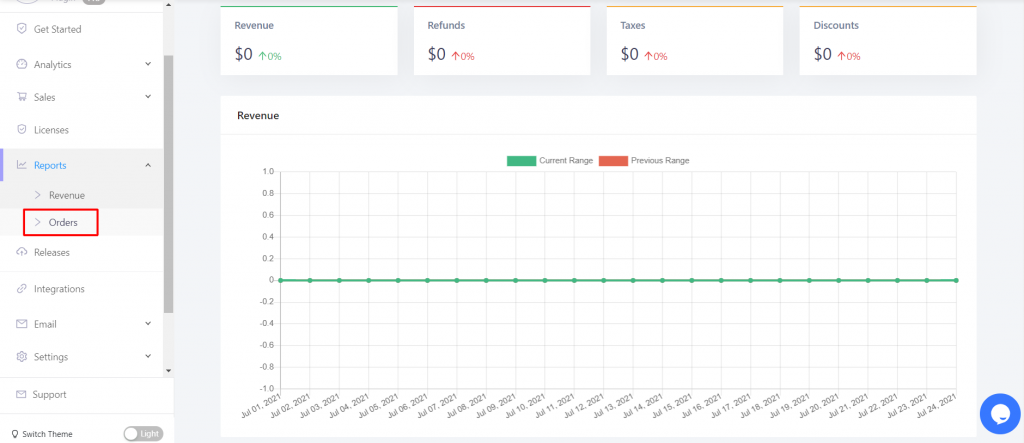 Releases
As a plugin or theme builder, you will definitely release new updates for the customers. To track those updates with specific dates you can get all the data in this Releases section.
Inspection of Your Theme Data
The same information goes for themes. After uploading the theme you will get the data accordingly. But you can not get some data like the plugin.
In Analytics you will get the reports on for themes are –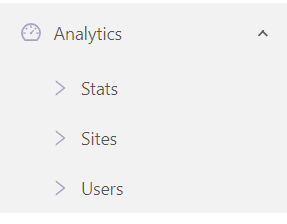 And another data is available- Releases.
Integrations with Appsero
At the left sidebar, there is an option called Integrations, here you have to connect the integration to use them. After placing your API key for each software you can handle them spontaneously.
Appsero Integrations to Increase Your Sales
Easy Digital Downloads
WooCommerce
Envato
FastSpring
Paddle
Appsero Integrations for Marketing and Emails
weMail
Mailchimp
Mailjet
Git- Effortless and Faster Deployment
Github
Bitbucket
Gitlab
Team Management in Appsero
Running a project with a huge user is not a job for one person. Thus, Appsero has come up including management of your entire team. As the owner of the project, you will act as a manager and can assign them particular roles. This feature will assist you in better management of the projects by improving your team productivity.
Email Settings
You can use this part to increase your subscriber, sales, and improve your product features.
1. Email Digest
By adding an email digest you can get emails of your project status on a daily, weekly, or monthly basis.

2. Deactivation Mail
Enable to send a deactivation email if the plugin is deactivated.

3. Auto Responder
After turn on the switch, this will activate. When someone deactivates the plugin, you can configure the auto responder feature for each deactivation type and have granular control over every response.

4. Branding Setting
Updating the email branding here will apply the same branding for all your existing plugins & themes.

Settings
Setting can also be found at the left sidebar and it helps you to add or edit different fields. You can check those areas down below in the image.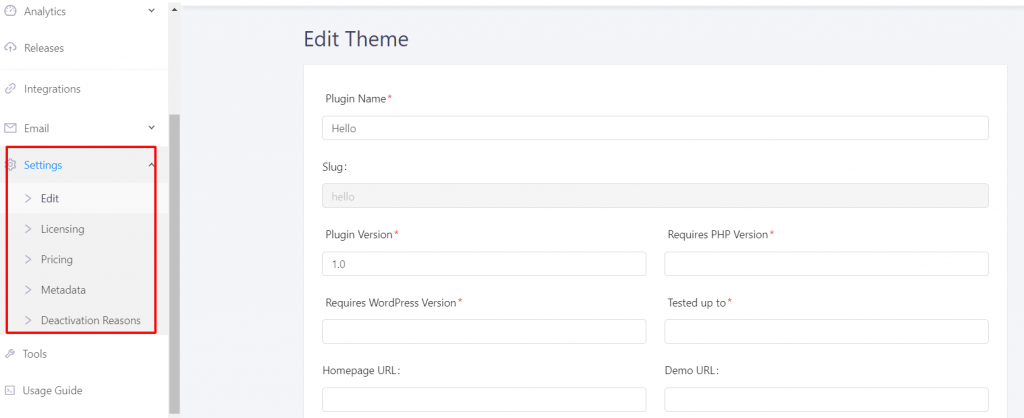 Edit: You can edit your plugin PHP version, URL, Name, Logo, and other essential data.
Licensing: Set up your license management here.
Pricing: Set your plugin pricing.
Metadata: You can receive extra data from the insights class as shown in the However, we only accept the keys that are whitelisted here.
Deactivation Reasons: You can set custom deactivation reasons and it will appear it to the customers when they are about to deactivate your theme or plugin.
Tools
In the tools section, you can sync your orders with your plugin.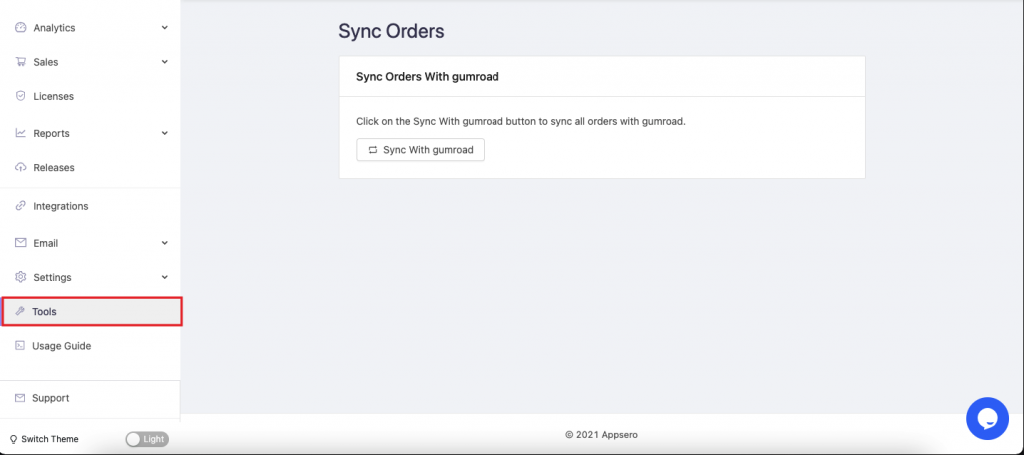 Billing Option with Appsero
The billing section is essential for doing calculations and regular payments. It starts at 20$ and is super flexible.
There is a smart calculator where you can determine how much you have to pay according to the number of licenses you want.
Convenient Support From Appsero
If you are facing any issues while using Appsero feel free to create a ticket from support. Our support team is available 24/7 for you. You will get this option on the left side.
Common FAQs about Appsero
Question 1: How Do I Delete a Plugin/Theme from Appsero?
Answer: Navigate to Settings -> Edit -> Delete
Question 2: How To Check Activation Limit?
Question 3: Why My Download Link Doesn't Work In Appsero Email?
Answer: For the download of the email to work, you have to Release your plugin. Then the download button will work. 
Final Thoughts
Appsero dashboard is quite effective for plugin or theme business management. In Appsero, license management is useful and easy to use without any hassle.
If you face any issues with user dashboard login then don't forget to contact us with the support team.
Subscribe To Our Newsletter
Don't miss any updates of our new templates and extensions
and all the astonishing offers we bring for you.