4 Clever Ways To Ask For Reviews from Your Customers
If you want to get an advantage over your competitors, you need to focus on customer testimonials.
With the help of genuine opinions from your clients, the potential consumers will get a reason to trust your products or services.
Are you wondering how to get one from your customers? Well, in this article we have gathered some clever ways to ask for reviews.
By following the tips you can surely apply them appropriately!
Table of Content-
How Customer Reviews Help You to Grow
Many businesses overlook the importance of customer feedback, but its benefits are undeniable.
So, how can such reviews lead your business to its success?
Potential customers check out the opinions of those who already purchased the product or service.
It helps them to know the advantages and disadvantages of getting the item/ service from the brand. In short, they depend on the reviews to decide whether to buy from the business or not.
However, do all customers read them before making a decision?
Yes, they do as it helps to build a certain amount of trust regarding your brand.
To make this clear, here are some statistics to check out.
Approximately 72% of customers decide if they want to buy after reading the reviews, while just 6% of users don't consider them.
On the other hand, 15% of shoppers will not trust businesses with no reviews. More than half of them will only consider a brand with a rating of 4 stars or more. Anything less than that is a deal-breaker.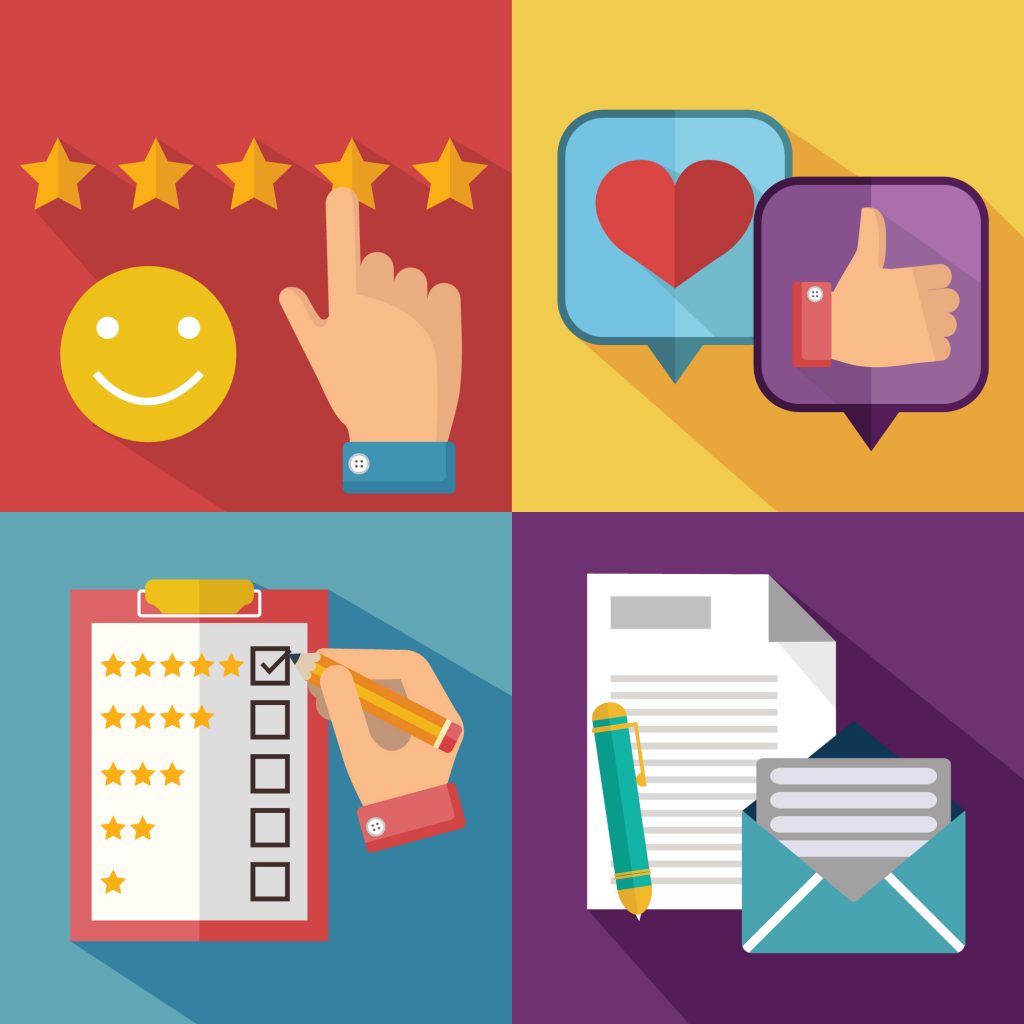 But how many reviews do customers check before forming an opinion? Well, according to some collected data, businesses need seven or more of these to convince shoppers.
A brand with lots of positive feedback is more attractive to a shopper than a business with minimum testimonials.
Therefore, if you want to build credibility in front of your consumers, get positive reviews by following some clever ways to ask for reviews.
This feedback will help your business to create a favorable impression and social proof.
Social proof is a psychological phenomenon where someone is persuaded to get a product because they came across positive feedback linked to it.
The more positive reviews, the higher chances of sales and lead conversion.
When a customer sees that people are using something from a specific brand and are leaving good reviews, he/ she will automatically consider the brand as a credible one.
5 Types of Reviews You Can Get from Your Customers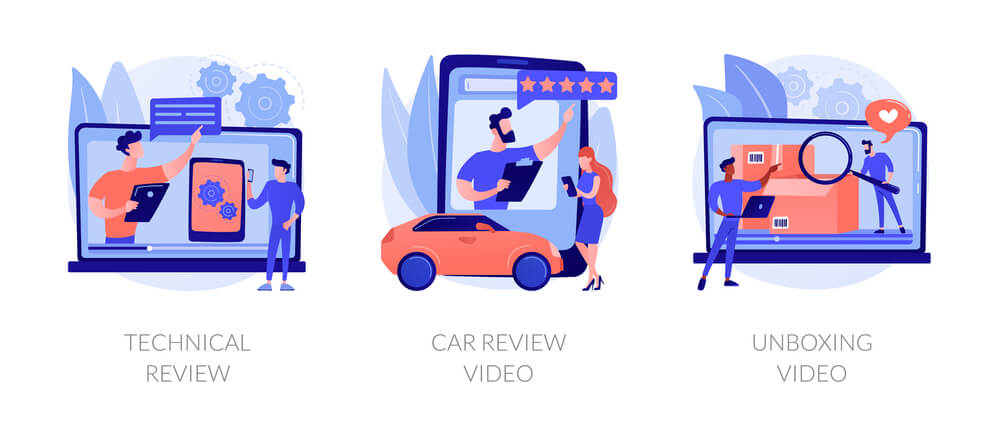 Testimonials can come in various forms. Some are relatively easy to collect, while for others you will need some effort.
Companies can ask for such feedback from their clients through e-mail, phone, or ask them in person.
Clients will rate with a score (out of 5 or 10), along with their opinion on the product or the service. Here are some types of reviews that a business can get from their customers:
1. Company/ Brand Review
This type of feedback evaluates the whole business. Clients will consider various aspects when writing it, such as customer service and experience, employee behavior, pricing options, and product delivery.
In short, the overall insight into the brand to help others decide and consider it. However, only a little product or service information is included in this review.
2. Product Review
Here one will share their opinion after using the product.
What things can they share about the product?
They can talk about its description, dimensions, usability, shelf life, quality, etc. In short, other customers will read the review to understand whether the product/ service is suitable for them or not.
3. Brief Quotes On Websites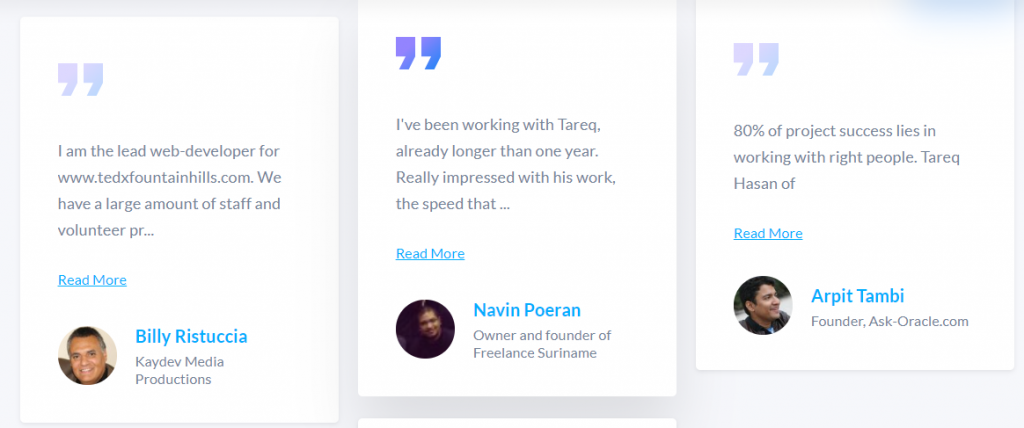 These reviews include the overall experience of getting goods or services in 2-3 sentences.
Most of these quotes will give a positive vibe regarding the brand/item.
You can mainly find these on websites, where they effortlessly add credibility to the brand.
4. Detailed Review
For this type of feedback, the customer will share his/ her experience with the product in detail. Many potential clients prefer reading such testimonials as it gives them better insight regarding the good.
And, getting a lengthy review from a third party helps a lot! The brand can build its reputation with much ease through this organic technique.
5. Reviews On Third Party Sites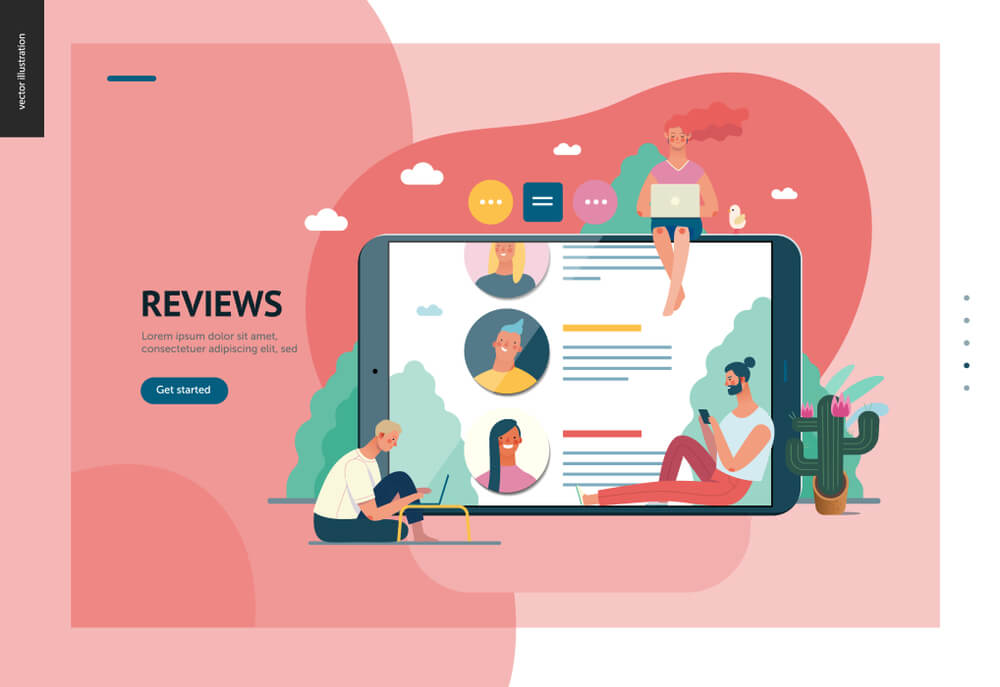 If you google any particular brand, product, or service, you'll find third-party review sites, such as Yelp, Angie's List, Trip Advisor, and Google My Business.
These sites can be industry-specific, for example, travel or food/restaurant niche. Therefore, to give a review on anything, the user will need to select the website first.
Customers are free to give either a positive or a negative review on these sites.
There are various benefits of getting reviews on third-party websites. The presence of the brand attests to its popularity amongst the consumers.
And, this is return helps the company to build a trustworthy image in front of both current and prospective clients.
Also, shoppers can easily compare your products or services with other brands on the site, giving you an advantage over your competitors.
4 Clever Ways To Get Positive Reviews From Your Customers
Now, it can be tricky to ask for good reviews from your clients. It's easy to ask one, but a positive one?
Unless your customers tell you, it's difficult to know whether they're satisfied with the service or product. And, this is why you should encourage your clients to leave favorable feedback for your brand.
But how do you do that? Here are some interesting ways to ask for reviews.
1. Look For Satisfied Customers
Contented shoppers are easy to approach and ask for positive reviews. And this is one of the creative ways to ask for Google reviews. 
There are some signs which will help you to know if your customers are happy or not.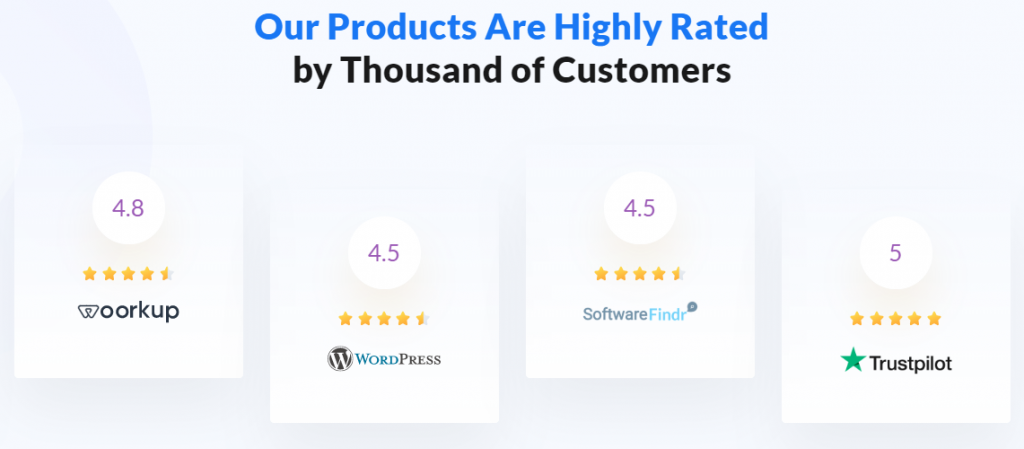 If your clients are pleased with your products/ service, they'll return to get more. And, this means that they have enough faith in the quality of your service/ goods.
Also, they will refer you to others, such as friends and family. Not only that but they will ask for your visiting card and social media channels where they can connect with your company virtually to stay updated with your brand.
Another cue that you won't miss for sure? Your customers will appreciate your business for quality items or services.
Customer satisfaction should be your main priority, as happy clients equal to a successful business!
Always offer the best, along with supportive customer service, and help them with queries whenever you can to get the review you want!
2. Offer Raffle Draws And Prizes For Clients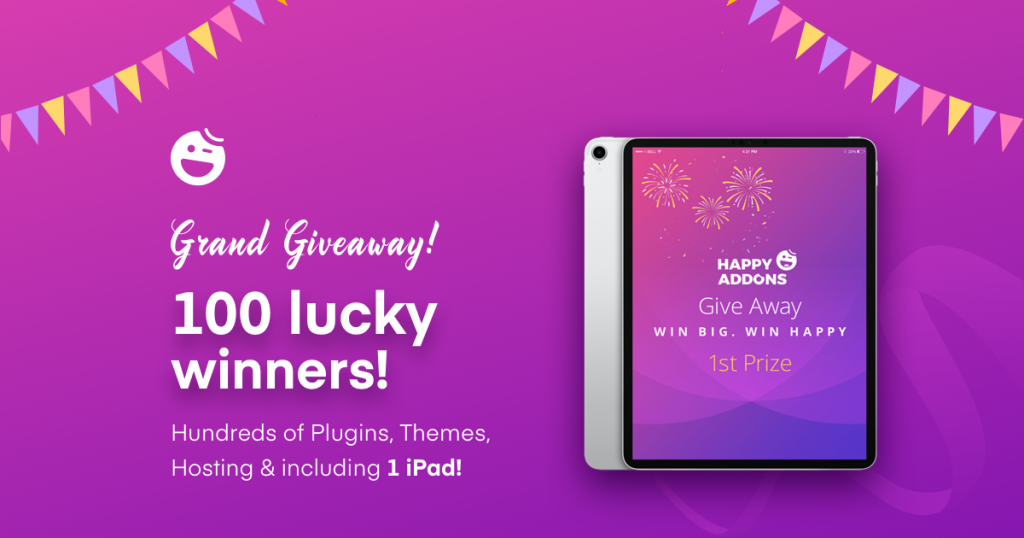 No, you don't need to be direct when asking for a review! How about we add something fun to it?
For example, you can write posts for your social media handles to let your customers (who are following your business on social media) know about an event such as a raffle draw. To participate, the clients will need to submit reviews about your brand.
Then, carry out the event to announce the winners, and give out prizes. You get a bunch of happy customers and some great reviews!
And this way, your clients will get motivated to offer good reviews!
Or, you can make your clients share why they love your brand, compared to others, and share them on your social media platforms.
3. Appreciate Your Customers To Encourage Them To Leave Reviews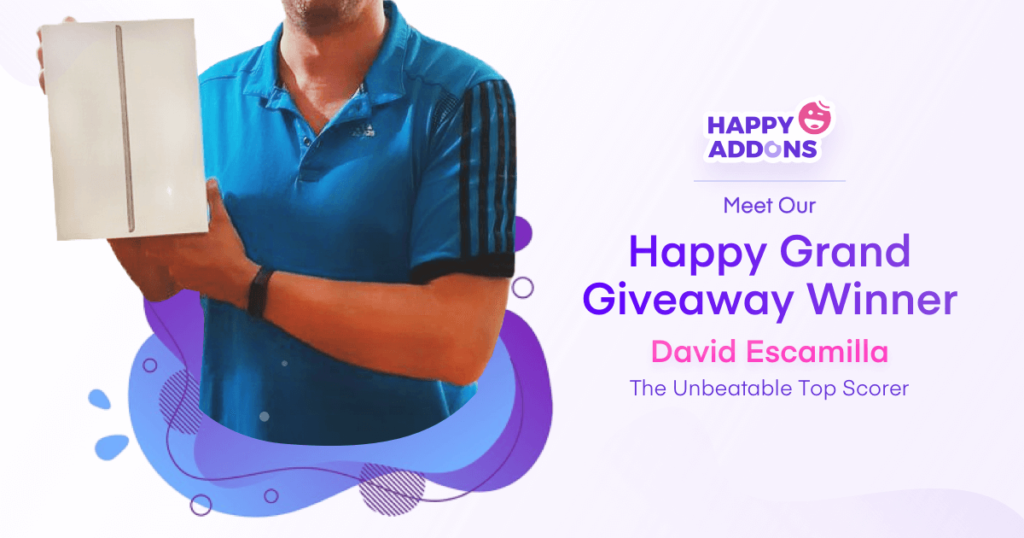 Now, who doesn't love an honest appreciation? Many businesses find it tough to retain their old customers and get new ones. Customers are the reason for the brand to become a success.
But how to ask for 5-star rating?
If you want positive reviews or ratings, send a thank you, along with a gift card to your valuable shoppers!
You can also print receipts with fine prints asking to leave reviews online when they visit your store. The more people you reach out to, the more the words will spread.
Plus, you can share your Facebook or other social media channel reviews on your page to show some appreciation!
4. Make Sure To Keep Your Review Tab Visible In Your Facebook Page
Many businesses pay much heed to the template design of their Facebook page. If you check the page settings, you will find that you can shift and place the menu tabs to your advantage!
Customers will miss the tab if it is at the end of the menu.
For a better visibility, place the review button right after the post and about tabs on the page menu.
Sometimes, the review tab is deactivated. To turn it on, head off to your page settings. Click on the templates and tab option and scroll down to the reviews tab and turn it on.
You can also copy the review URL to share the link on your website to help your clients leave feedback with ease! Moreover, if the URL doesn't work properly you can follow the URL problem-fixing techniques. We think it is one of the best clever ways to ask for reviews template.
Convincing Your Customers The Right Way For Positive Reviews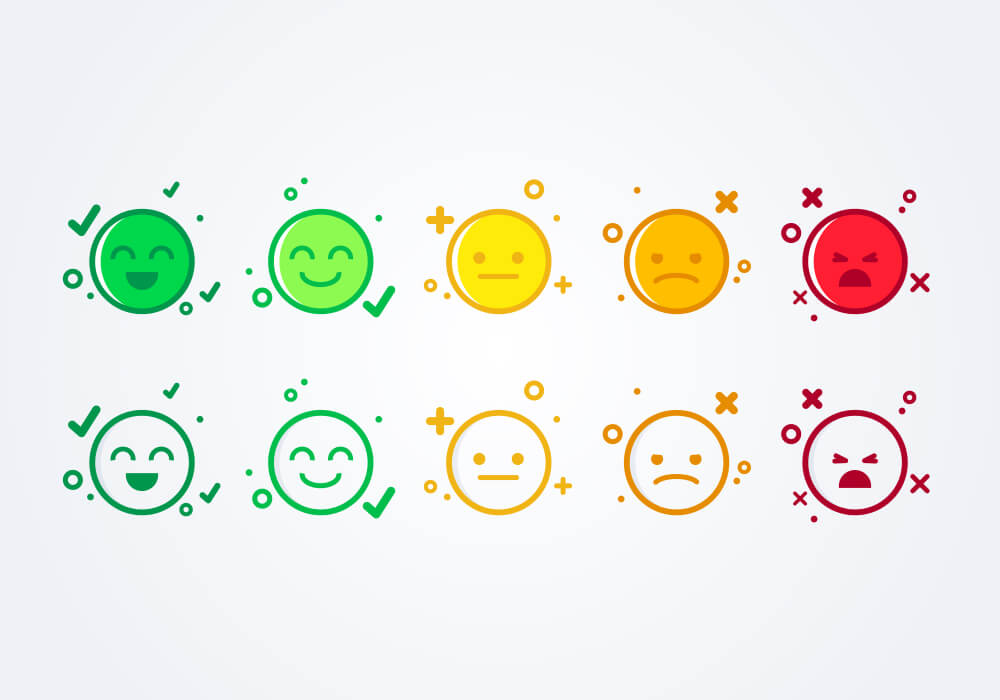 Now, your clients can give you either a positive, negative, or a mixed review depending on your product/ service. Since customers find reviews to be trustworthy, positive ones will give a greater chance for the sales to take place.
You may think, "Hey, isn't it difficult to get reviews from clients?"
or "Why will my customer give feedback in the first place?"
Well, the truth is, consumers are willing to give their testimonials to the business when asked about it!
So, how can you get positive feedback from your clients?
First of all, make sure that your customer is satisfied with your service or product. A happy customer will not shy away from your request.
Why wait for your customer to give reviews on their own? All you got to do is to ask them! You can reach out to your customer in person, through e-mail or phone for quick feedback.
Wait for the Right Time
Never approach them right after they bought the product. You need to wait for the right time, i.e. when the customers have used the product or making a second purchase.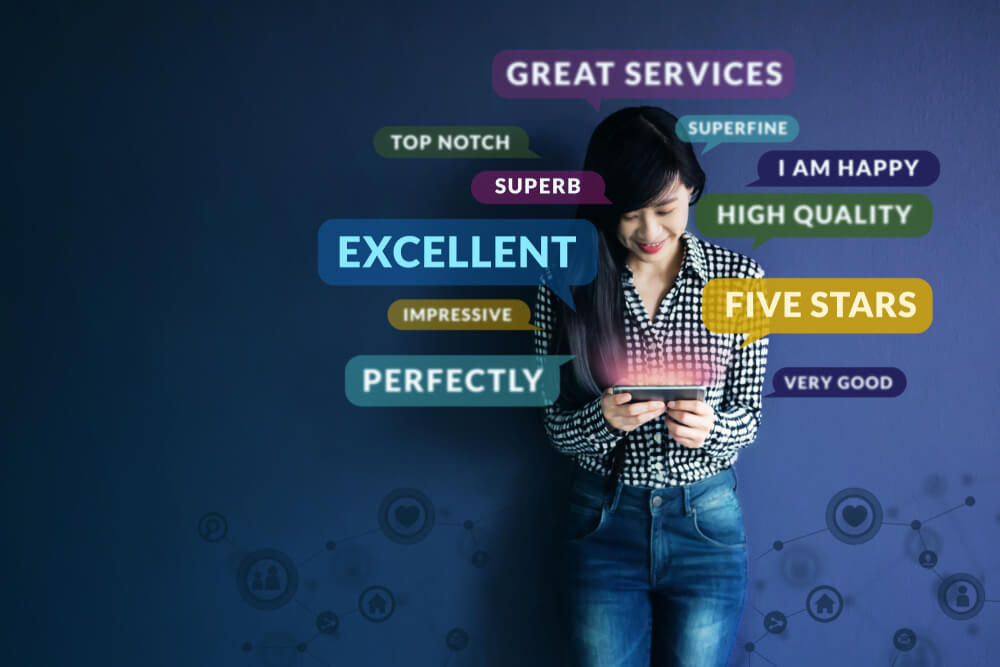 Although, this duration depends on the business niche. For example, a cosmetics brand can wait for a few weeks to ask the buyer for the product review.
So, motivate your customers and give them various options to incline them towards leaving a testimonial.
Always provide the best service or items to the customer, and a happy customer will never say no! The review itself will reflect the client's satisfaction.
And not to forget, make it easy for your customers to leave feedback.
How can you do it?
You can place a link or a form on your website or e-mails, where your clients can give reviews without any hassle. And, this way your customers will save a lot of time when leaving a review.
How Do Well Known Brands Get Their Reviews?
Although customer review is a crucial aspect for any business, there's negligence regarding it.
42% of companies skip asking their customers for reviews, according to a Hubspot study.
Established companies such as Dell, Apple, and Uber places a lot of importance on customer reviews.
These brands implement various strategies to collect feedback from their customers.
Here is how they gather the reviews!
Dell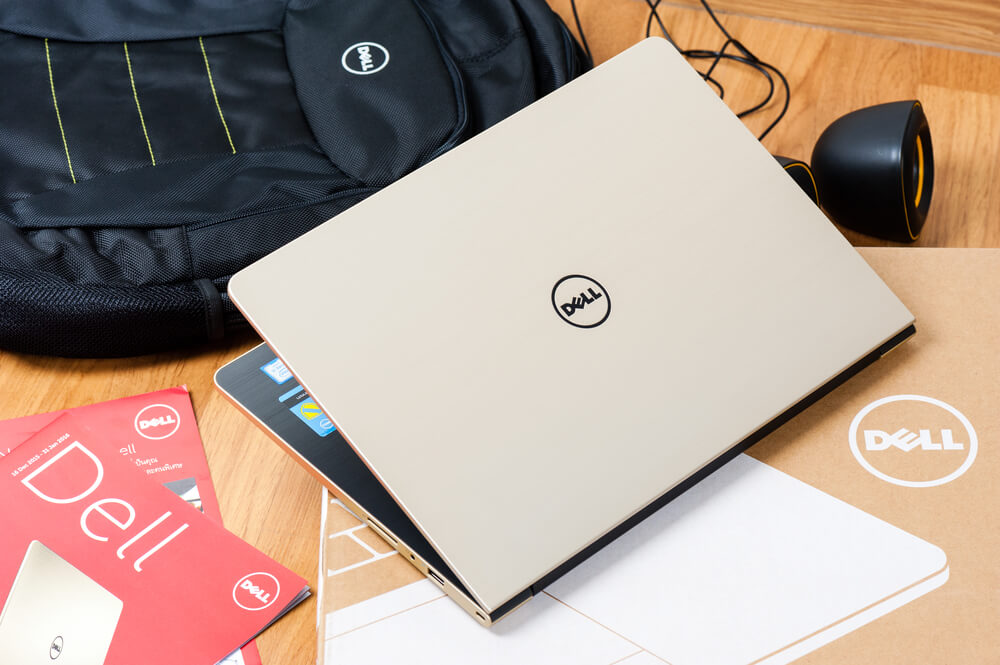 Dell is one of the famous computer brands that suffered because they neglected their customer feedback. Now, Dell has got a dedicated website for client reviews.
Through these testimonials, they can find out if they have any hindrance that they can get rid of to improve.
Also, they highly prioritize any review that gets a lot of comments/ votes.
Nordstrom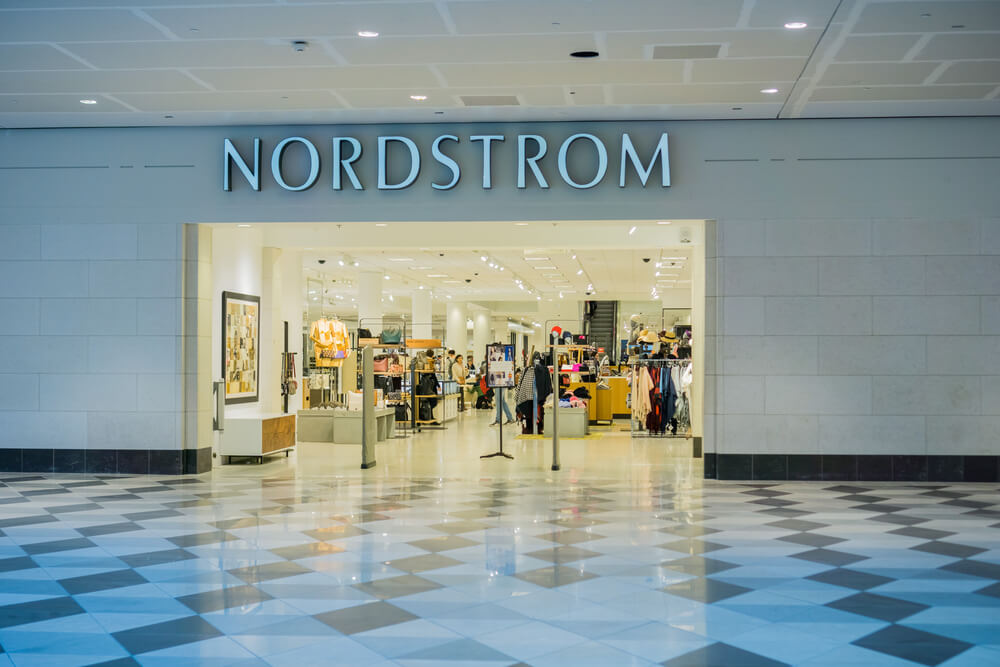 Nordstrom, a clothing giant, uses various resources to collect customer data and reviews.
The Nordstrom Innovation Lab focuses on customer feedback. They use the collected data to improve their services while offering an excellent experience to the clients. To collect information, they use a pop-up form that appears on their website.
UBER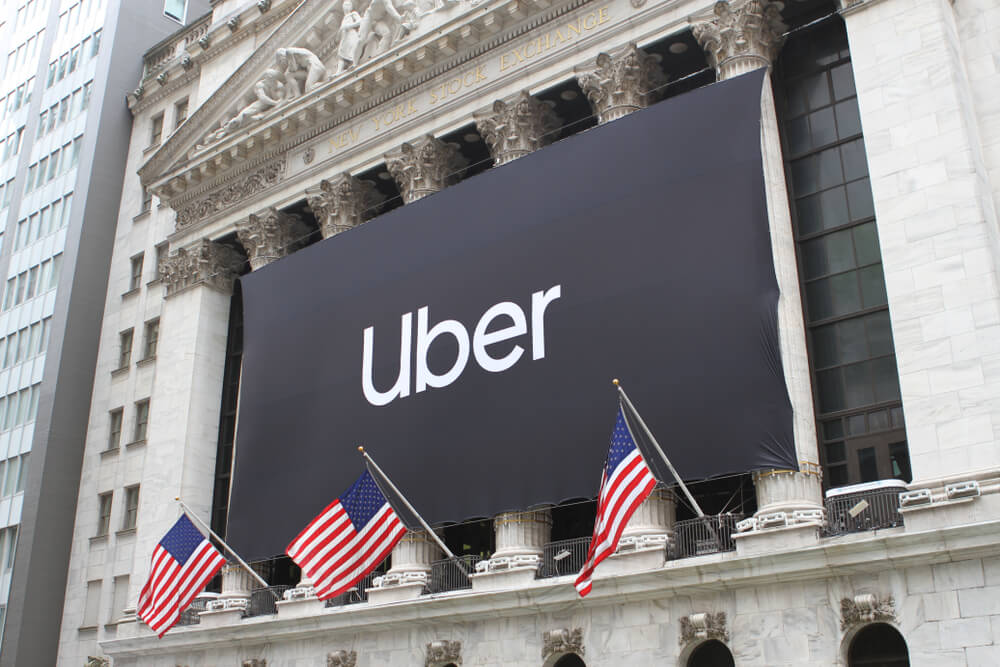 UBER is another brand that cares a lot about reviews and ratings. Through feedback, they can correct any small or big issues on time to achieve better customer satisfaction.
And this way, any driver getting a lot of downvotes will face a penalty. Any client can rate a driver with starts (from 0 to 5) and leave a comment as well.
Apple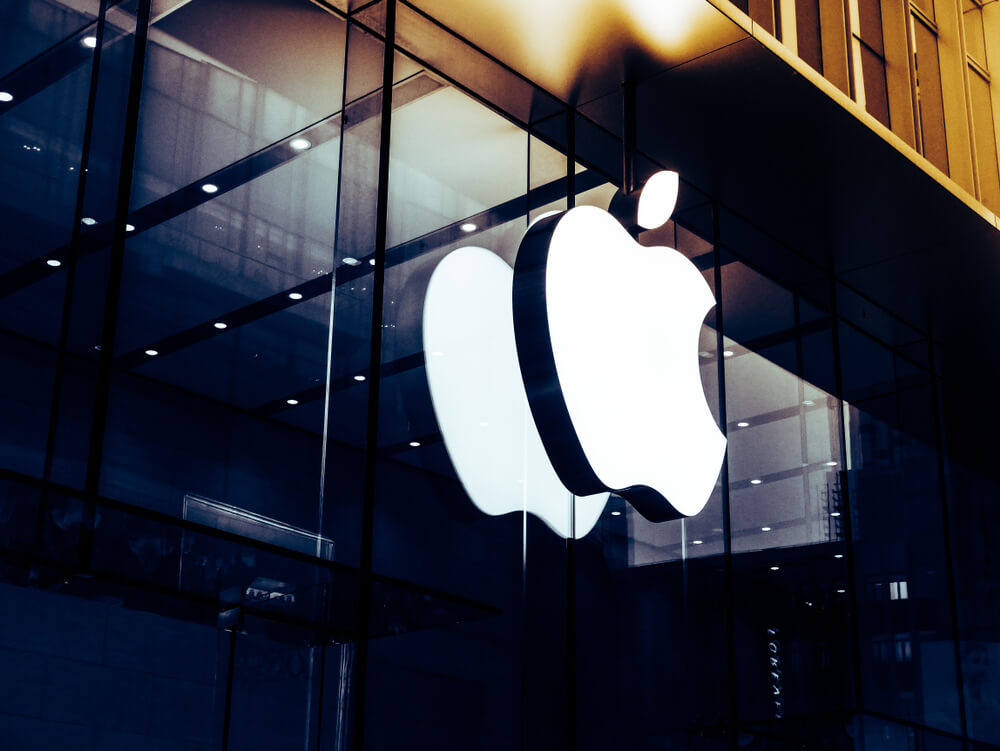 Apple's main priority is its customers. By collecting feedback, they know what their clients prefer. They use this information to release new products, according to the customer's needs and wants.
To obtain the testimonials, they use the NPS (Net Promoter Score) system. And this system asks simple questions to the clients to rate.
A positive NPS score means that the customers are satisfied. On the other hand, a negative score means your business requires to improve. 
Things To Never Do When Asking For Reviews
While feedback is crucial for any business, there are some rules to follow when asking for one!
We know it's not simple! Many times one can ask for reviews while getting nervous and messing up in return. To make sure that your customers leave that coveted review, never ask these things!
Never Hire Anyone To Get A Review!
Many businesses tend to offer free samples or discounts to get reviews from their clients. While some straight-up hire people to make them leave positive reviews in large numbers.
Although it may not seem serious, this isn't a great idea. In some cases, it's illegal to do so!
Your reviews should be organic and given by real customers who used your products or service.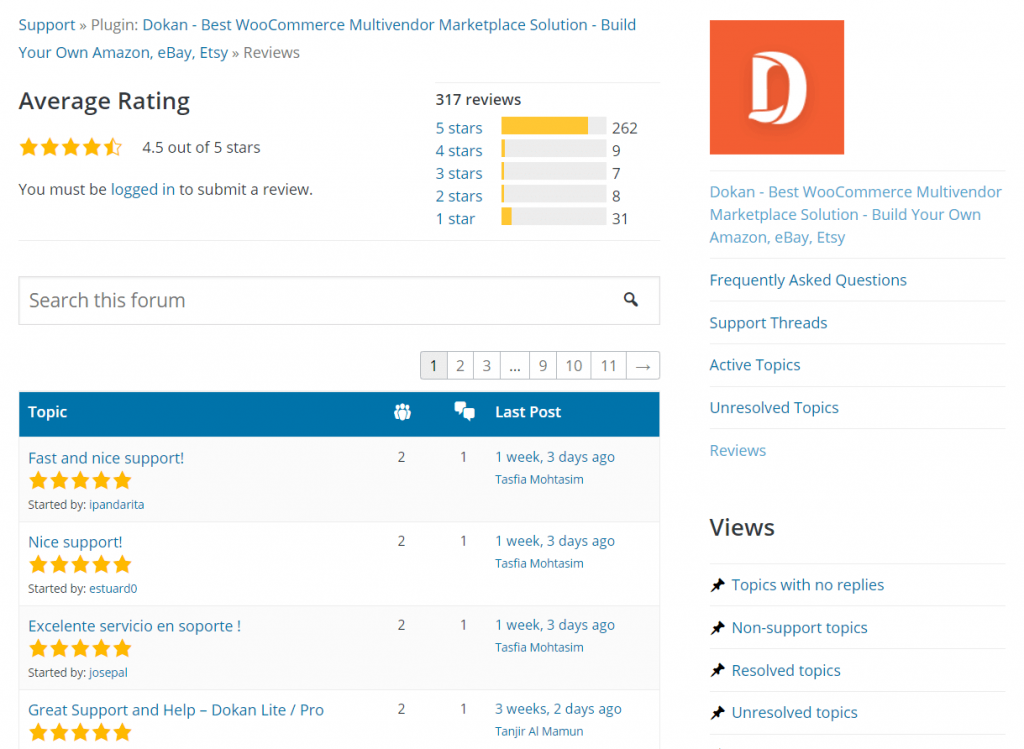 Most third-party review sites will remove the company profile if they find something suspicious.
In the end, the business may need to pay a hefty fine while dealing with a damaged reputation.
So, why take such risks? Instead, you can connect with your clients and offer an excellent experience to get a positive review!
Don't Force Your Clients To Leave A Review!
Never push when asking for feedback. Some businesses will force their customers to leave a review.
Forcing a customer can ultimately backfire if the customer gets irritated and leaves for good. Sometimes they will leave good feedback but change it later on to a negative one.
Some clients will spread negative words in such cases. Instead of positive reviews, you will end up getting negative!
Always approach the client politely. Let the client decide if they want to leave a review or not.
Don't Offer A Review Template To Your Clients!
If you do, anyone will understand that you are making your customers leave reviews on purpose. And, this is because all the reviews will follow the same pattern. You can categorize this as one of the funny ways to ask for feedback.
Potential clients prefer reviews that sound natural. Even though many businesses do practice this, some disadvantages will hurt your chances to know your customers.
If you give your customers templates to follow, you won't get a real review. As a result, you will never know your weakness. Only by knowing your drawbacks, you can improve rapidly.
The Good And The Bad: How To Deal With Negative Reviews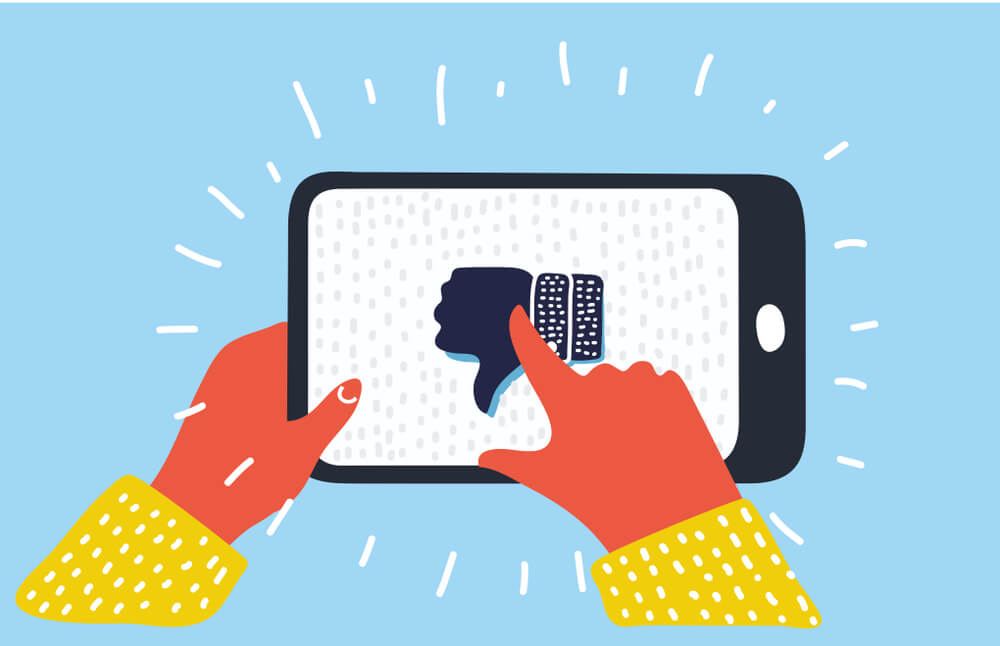 Negative reviews can hurt your business if you don't deal with them on time. Yes, it's not possible to get all positive reviews. There will always be a few negatives ones, even if you follow any clever ways to ask for reviews.
No one wants to get negative feedback. But, instead of shattering your confidence, here are some ways to deal with them!
Respond To The Negative Review Appropriately
Sometimes customers don't get the experience that they are looking for when using any particular item or services. If the business doesn't respond to the customer, a negative review happens. Always respond to negative feedback politely and do your best to resolve the issue.
Be Prompt In Your Reply
A prompt reply shows that you care about your customers. Many times the client can change their mind to give you a second chance.
Be responsible and if it's your fault, don't hesitate to apologize to the customer. Taking a negative review seriously and being prompt in dealing with it can showcase a positive attitude to the client. And, they can turn into your loyal customers.
Don't Get Discouraged By Negative Reviews!
Take everything positively! You can learn a lot from your negative reviews and address them to improve your business.
Many clients can get suspicious if they see all positive reviews, with no negative ones. Never remove your negative feedback. Leave them as they are but do comment to resolve them.
FAQs on Clever Ways to Ask for Reviews
Question 1: How to ask politely for a customer review?
Answer: Make sure to ask for the client's permission before sending a review request. Never force a customer to leave feedback, instead ask it as a favor. Always ask after the client has used your service or good.
Question 2: How to ask for a review through e-mail?
Answer: Always keep your e-mail brief and write with a polite approach. There should be a clear call to action to encourage the client to leave a review.
Question 3: How to encourage clients to leave a review?
Answer: Make it easy to leave a review of your business. Many customers don't prefer spending a lot of time to leave a short feedback. To encourage, you can send a follow-up e-mail or survey them.
Question 4: How can I get positive reviews?
Answer: Make sure to offer an incentive in a creative way, such as a raffle draw or a competition. You can follow any of the tips from the clever ways that we gave. You can also respond to the reviews and messages on time.
Question 5: How to get a lot of product reviews?
Answer: You can open business pages on various social media channels and third-party review sites. Customers can easily access these sites to leave feedback. If anyone gives a negative testimonial, contact them to know if they faced any issue with the service or the product.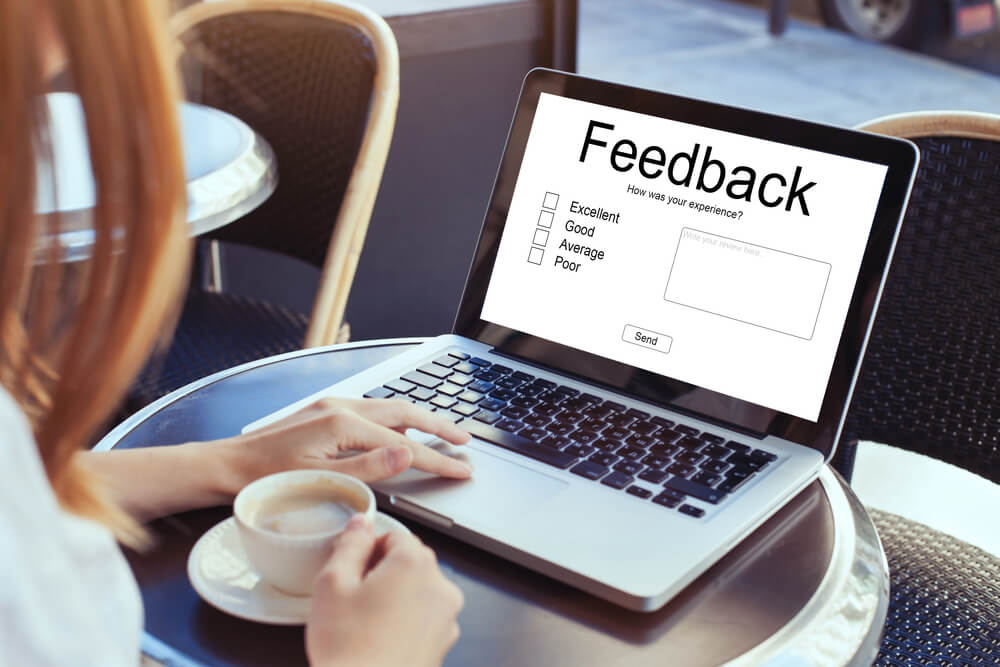 Question 6: What are some top product review websites?
Answer: There are many niche-specific product review sites. Some of the popular ones are Angie's List, Capterra, Amazon Customer Reviews, Trustpilot, and GetApp.
Question 7: How can I get more Google reviews?
Answer: You can ask the client directly for feedback. Also, you can install review generation tools to get testimonials. Another technique is to include a link for a review on your website. 
Question 8: How can a Google review be more relevant?
Answer: Never post a generic review. One of the best practices is to include a story or a particular experience in the feedback. Also, a local review is more relevant than the one from a different location. And this will have a better chance for the testimonial to rank high.
Question 9: How long should I wait for Google reviews to appear online?
Answer: It may appear immediately, or it can take some time. Although there's no timespan, you can wait around three days on average.
Question 10: Can Google understand if a review is fake or not?
Answer: Google doesn't tolerate fake feedback. It can take down any testimonial that they think is suspicious or not appropriate according to their review policy.
Final Thoughts on Customer Feedback
Reviews are a must for any business to understand their strength and weakness. Good feedback will help a company to know where and how they can improve. There are a lot of good reasons why top brands focus on customer reviews.
It is never easy to ask for feedback, which is why we came up with these clever ways to ask for reviews.
If you follow these tips, it will be a hassle-free experience. You should give your best shot to collect customer reviews if you want to stay ahead of your competitors.
That's it for today! Please leave your opinions below.
Subscribe To Our Newsletter
Don't miss any updates of our new templates and extensions
and all the astonishing offers we bring for you.