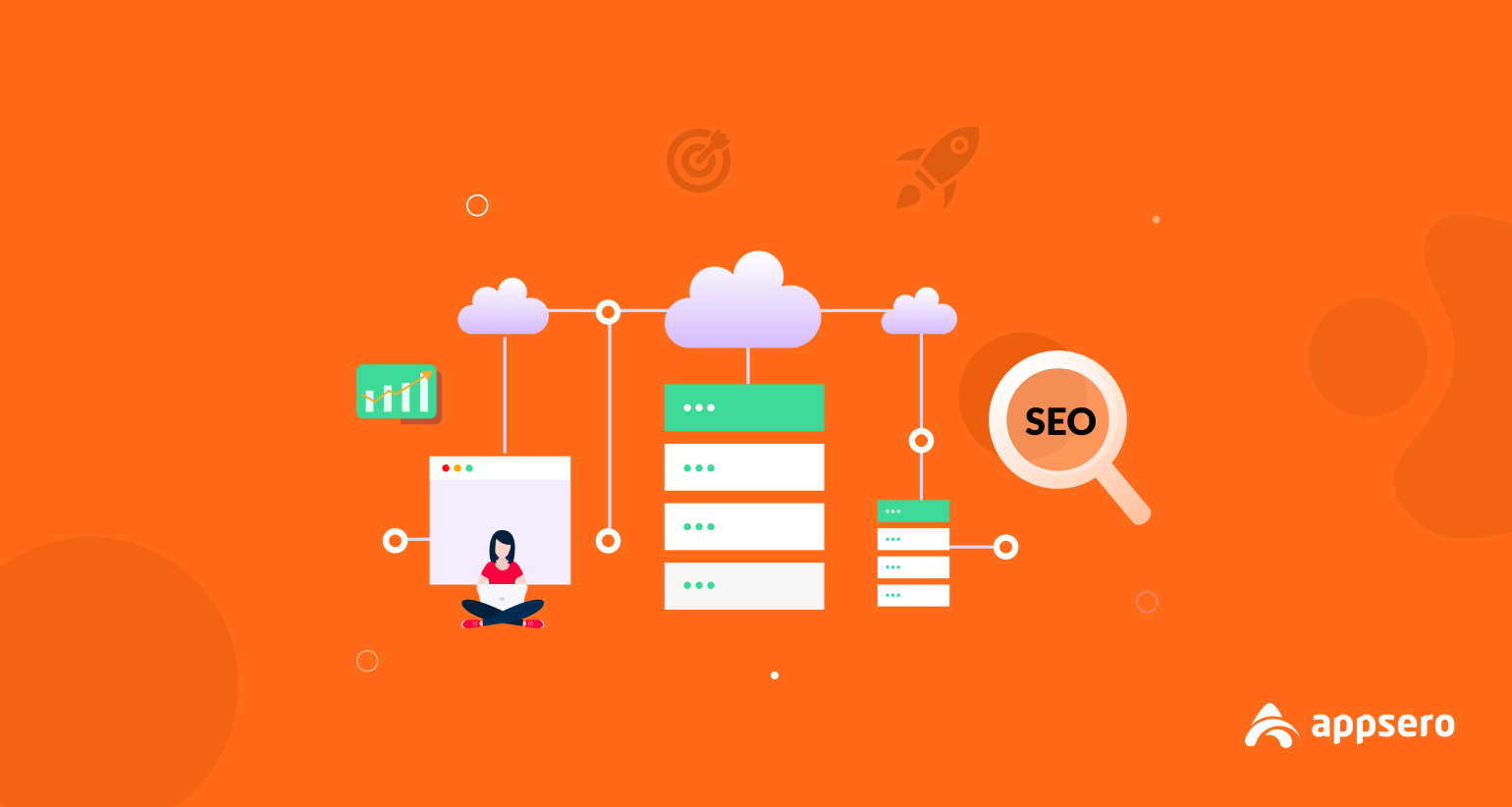 Best Web Hosting for SEO: Top Service Providers of 2023
Are you looking for the best web hosting for SEO? Or to increase your website's visibility and traffic on the internet better? If so, then you are searching for the right place.
In 2022, Google will have indexed nearly 50 billion websites, and every day, more than 252,000 new ones are indexed by Google.

Size Project
With these big numbers, it may feel impossible for you to see your website standing out and performing well as expected. It will not be complicated with accurate systems like having quality web hosting. 
Web hosting is the idea of providing space for websites, keeping them up to date, and making sure that visitors can find them when they search for keywords. It can genuinely improve the performance of your website on the internet. 
This article will talk about how important web hosting is and which web hosts are the best for SEO in 2023. 
Let's get started. 
Top Web Hosting for SEO Services at a Glance
Hosting Service Providers
Available Hosting Types
Storage
Control Panel
Hostinger
Cloud
VPS
WordPress
Domain
Email
100GB SSD
cPanel
InterServer
ASP
Reseller
Standard
32GB SSD
cPanel, Cloudnix, Direct Admin, Plesk
DreamHost
Shared
VPS
Dedicated
Cloud
Unlimited Storage (Conditions applied)
Custom-built control panel
A2 Hosting
VPS
Dedicated
Reseller
WordPress
150GB SSD
cPanel
HostGator
Dedicated
WordPress
Reseller
100-500GB SSD
cPanel
Bluehost
Shared
Dedicated
VPS
30-120GB SSD
cPanel
Kinsta
Agency
Enterprise
WooCommerce
Small Business
Membership site
10-250GB SSD
cPanel
HostPapa
WordPress
VPS.
Reseller.
PapaCare+
Unlimited Storage (Conditions applied)
cPanel
SiteGround
Web
WordPress
WooCommerce
Cloud
10-40GB SSD storage
Site Tools

Nexcess
WordPress
WooCommerce
Magento
20-800GB SSD storage
Cloud Control Panel
Top 10 Best Web Hosting for SEO and Website Ranking
The below-hosting services are performing pretty well and got recommendations from experts. Furthermore, these hosting service providers have a big community of users globally.
1. Hostinger- Best Blog Website Hosting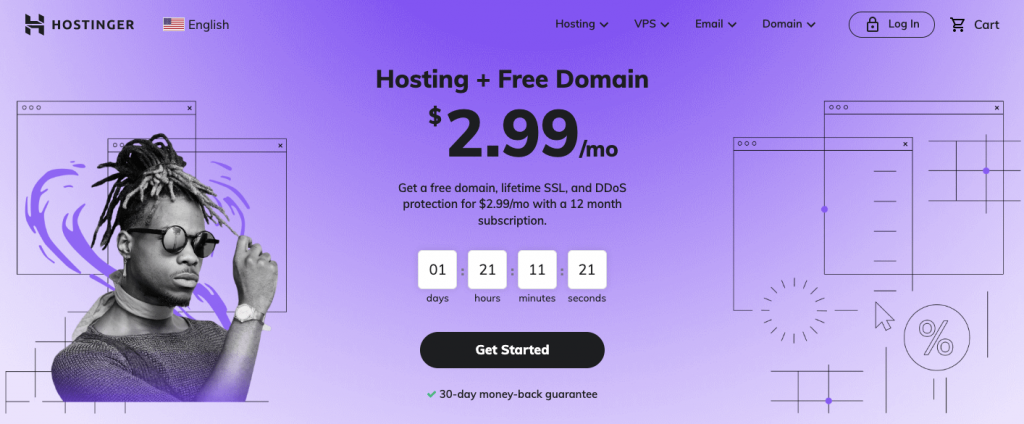 Hostinger gives casual blog and eCommerce website owners the right deal with different reasonable features at the most affordable price. You can get premium-like features (other hosting services may cost) by spending nothing.
Free Premium-like Features
Moreover, hosting offers free weekly backups, a premium feature that other hosting services include with expensive plans. With weekly backups, you can back up almost all essential files, updates, and other elements of your website.
Best Continuous Uptime
Hostinger guarantees you 99% website uptime even in bad neighbor effects and overload. A neighboring effect can happen when different websites in your shared hosting suddenly have a massive flux in traffic. This flux may overload the servers and slow down or create downtime for other sites.
But, Hostinger monitors every site carefully and tries to resolve any problem with expertise. If you face downtime, you can contact their excellent customer service 24/7, 365 days a year.
Key Highlights
Free migration service
WordPress acceleration
Multisite support
Email storage 1 GB
Unlimited traffic
100 GB SSD storage
Enterprise spam filter
2. InterServer- Best for Storage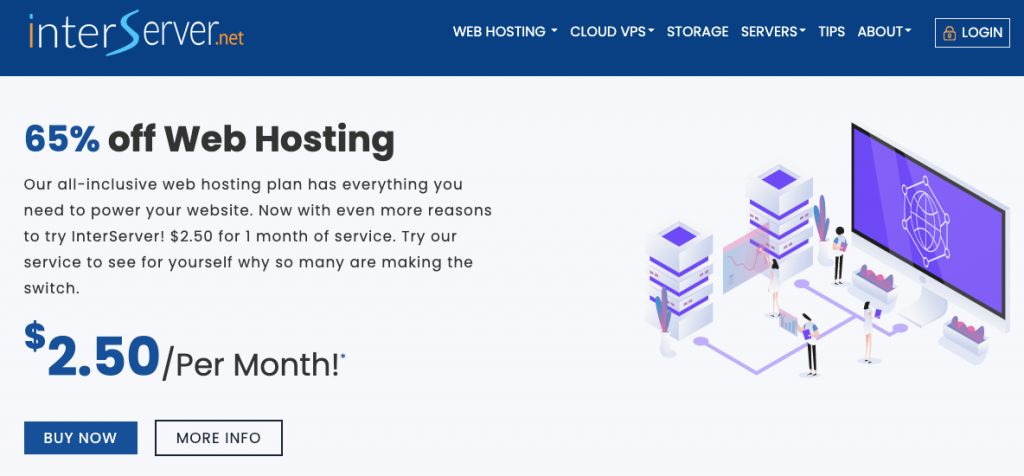 InterServer hosting service is specially made for website speed acceleration. If you use InterServer and a speed optimization plugin like WP-Optimize or WP Rocket combined, you will get the fastest loading speed possible. Sometimes, it doesn't even need a plugin to provide that lightspeed.
Efficient Web Storage
Besides speed, you will get unlimited web storage for your website content. InterServer has 2 USA-based data centers and gives excellent speed service for websites in the USA. However, outside the region, you can use Cloudflare CDN service to improve the speed.
SEO Friendly
It has a single-click SEO panel installer. The panel has a site auditor, keyword rank checker, MOZ rank checker, and other features. You can use these features to check how your website's SEO is doing and then take the right steps. 
Resource Utilaization
InterServer prioritizes performance over quantity and always fills a server with 50% of its resources. This utilization prevents any website downtimes and performance delays during peak traffic times. 
Key Highlights
2TB hard drive
Xeon E3-1230 processor
Multiple OS support
Hardware replacement
SSL certificate
30-day money-back guarantee
24/7 dedicated customer care
3. DreamHost- Most Affordable Hosting Provider
What's there not to like about DreamHost? This hosting service pretty much covers everything you may need for your site. DreamHost has one of the best developer bases in the world. Many veteran expert engineers, coders, and tech geeks work in their core development team.
Easy Configuration
DreamHost offers a cPanel control panel, one of the best and most widely used control panels for hosting services. You can use this panel for domain information modification, adding users, email setting adjustments, and access to promotions.
Great Security
For DreamHost, security is the top priority. They put SSL encryption certificates in all website domains. The SSL certificate ensures data is encrypted while transferring from one medium to another. This process also protects websites from data breaches and hacking attempts.
The SSL encryption certificate feature may cost a lot, but with DreamHost, you will get this with the usual renewal charge. Save $169/year!
Key Highlights
SSD instead of HDDs
Automated backups
Unlimited email support
Unlimited traffic
24/7 and 100% uptime guarantee
Simple UI system
Pre-installed WordPress and website builder
4. A2 Hosting- Best Monthly and Yearly Deals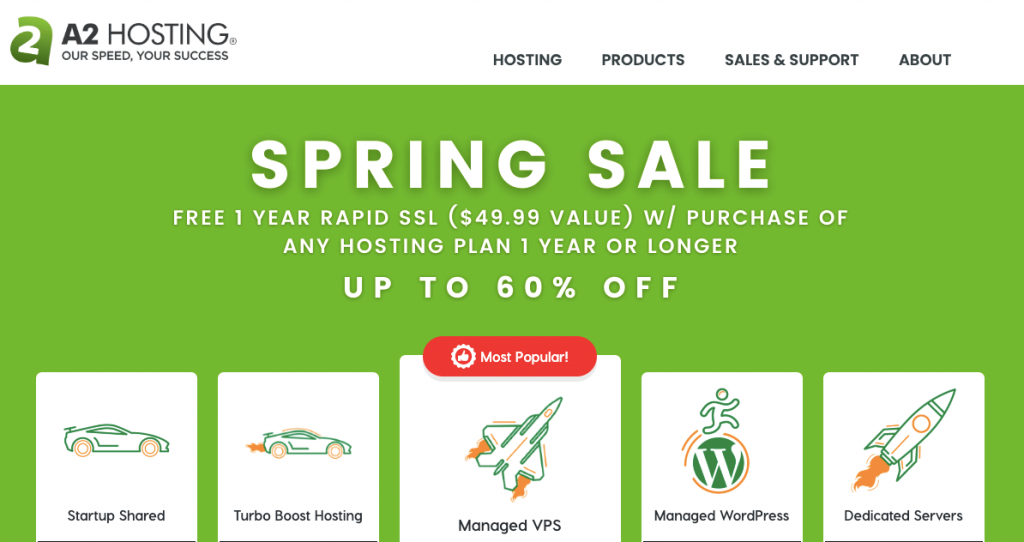 Another hosting service that offers excellent speed with a lower price rate is A2 Hosting. Regarding speed and shared hosting, A2 Hosting can beat any other hosting service.
Reliable Speed and Performance
Moreover, A2 Hosting offers different boost plans, like, drive, turbo, and turbo max. All these plans have different speeds and come with premium-like features.
If you switched from another hosting service to A2 Hosting, your site will load much more quickly. The servers at A2 Hosting work very well and are very reliable. You can expect 99% uptime 24/7 from A2 Hosting. 
Reduce Bounce Rate
What makes A2 Hosting so great is that it reduces your bounce rate significantly. Usually, when a visitor doesn't spend 3 seconds or less time on your website is counted as a bounce. One of the main reasons for bounces to happen is the loading speed.
But, with A2 Hosting, you can make your web pages load instantly and improve your conversion rate.
Key Highlights
cPanel control panel
NVMe drive
Unlimited email accounts
Website Builder
Website staging feature
100GB SSD
Data backup protection
5. HostGator- Most Trusted Service for Website Hosting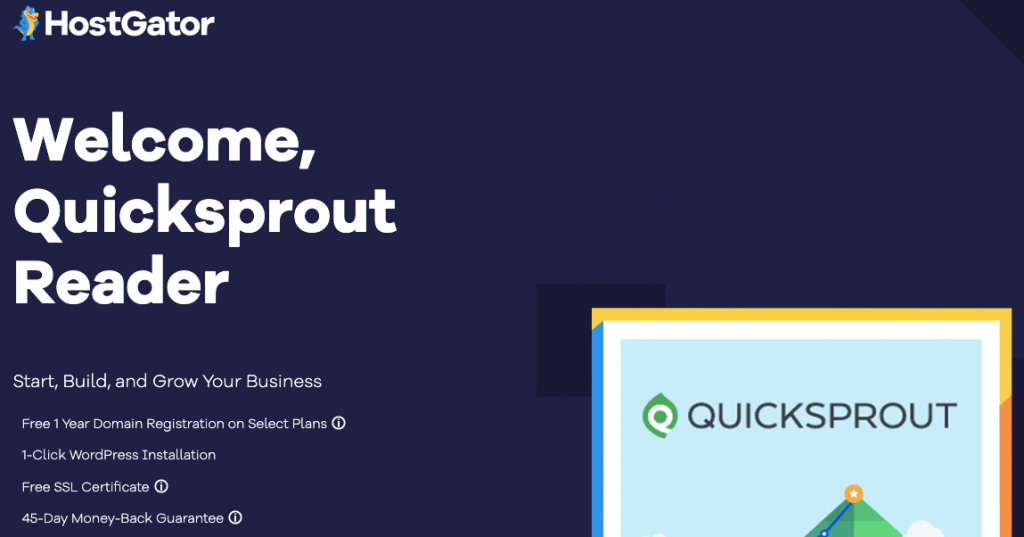 Founded in 2002 by Brent Oxley, HostGator is one of the oldest and most reliable hosting services. HostGator also has a dependable service team to offer 24/7 support to their customers. They offer all the essential features, along with some quality unique ones.
eCommerce Support
One of the unique features of HostGator is the eCommerce support for general eCommerce websites. Every plan includes SSL certificates, a payment gateway, and a shopping cart feature. HostGator will give you the perfect promoting tools to increase your website's visibility online.
Boost Conversion Rates
Not just eCommerce, HostGator also helps other website types by simplifying the objectives. If you want more people to sign up for your contact forms, see your portfolio, or find your site, HostGator simplifies the process as much as possible.
Wide Range of Learning Resources
Moreover, it has a wide range of guides and articles on its website to assist with any questions. You can even contact their developers via phone, live chat, and email.
Key Highlights
Unlimited bandwidth
Free Domain
Free SEO tools
45-day refund policy
1-click WordPress install
Free $100 Google AdWords
Easy-to-understand UI
6. Bluehost- Beginner-Friendly Hosting Service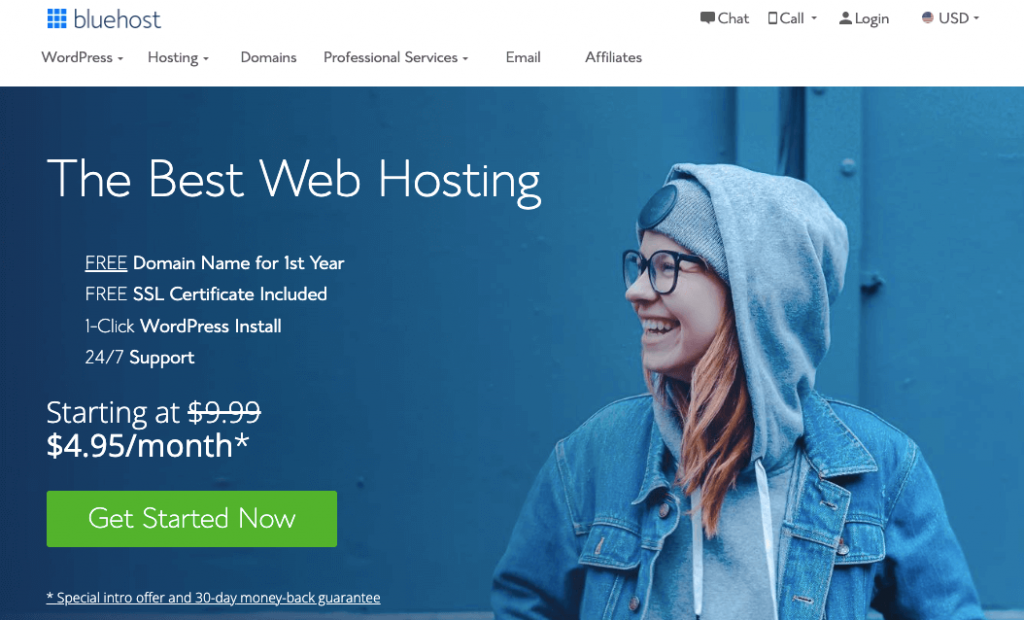 Used by 2M+ websites, Bluehost is one of the best beginner-friendly hosting service providers with general features.
If you are managing blogging, homepage, or landing page, Bluehost can be pretty helpful. It can delineate the website setup process for beginners.
Best Servers
What makes Bluehost pretty reliable is the high-performance servers for all plans. Every server is maintained 24/7 and offers the website 99.9% uptime.
For $14.95, pro users get Duel Quad Processors, which are faster and perform more efficiently than Bluehost's regular server. However, you can stick to the standard servers and get the best results for large eCommerce websites.
No Free Migrations
The only drawback of Bluehost is that it doesn't offer any free site migration.
If you want to migrate from other hosting providers to Bluehost, consider paying $149.99 (depending on the website amount) for 5 websites and 20 email accounts.
The prize feels too costly because many other hosting services offer migration for free.
Key Highlights
Unlimited website space (choice plus)
Free Domain
30-day money-back guarantee
Codeguard basic (choice plus)
Free site backup
Spam expert
7. Kinsta- Best Hosting Service for Business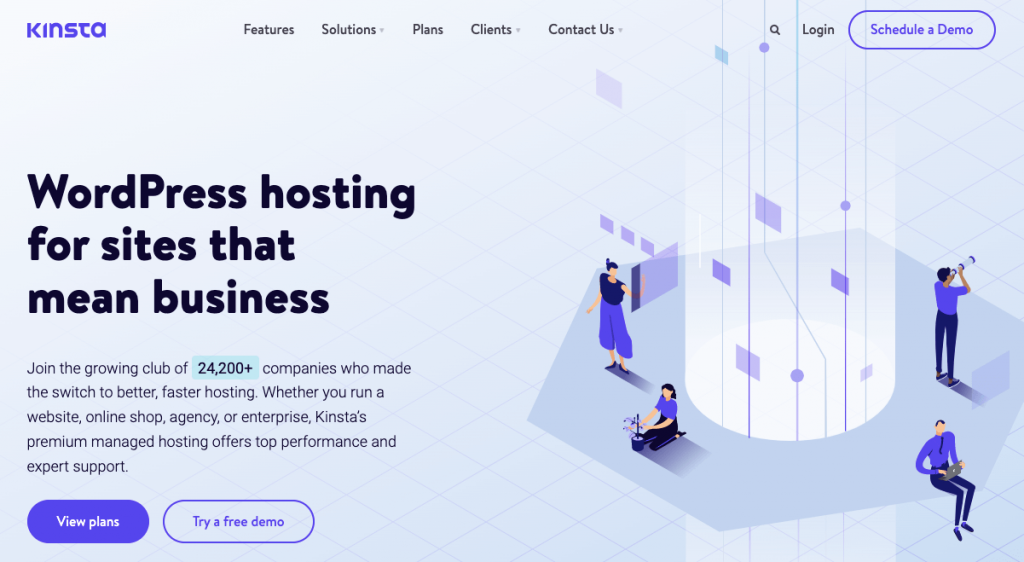 Founded in 2013, Kinsta is one of the industry-leading giants for WordPress web hosting platforms. They have over 24,200+ companies using their web hosting tool globally. Kinsta offers reliable web and cloud hosting for almost any website.
Most Efficient Management
Kinsta's web hosting service grants its users ultimate management solutions with simplicity. When you get the Kinsta service, all your server setup and hosting settings will be automatically taken care of. Plus, there is a system in Kinsta that scans the site every 2 minutes for uptime, downtime, breach attempts, and performance. 
Google-based Service
Kinsta's cloud hosting services are built according to Google platforms, so it guarantees 99% uptime and is pretty fast compared to other hosting services. Kinsta's platform works in the best-performed CPUs and Google C2 machines. You can expect a 200% performance improvement after migrating from another service.
Ease-of-Use
The best part about Kinsta is how easy it is to use and configure any settings.
Key Highlights
Built-in monitoring tool
Expert customer support
Supports PHP 8.0
SSH access
MyKinsta integration (local development tool)
SSL certificate
Automatic database optimization
8. HostPapa- Best Website Ranking Booster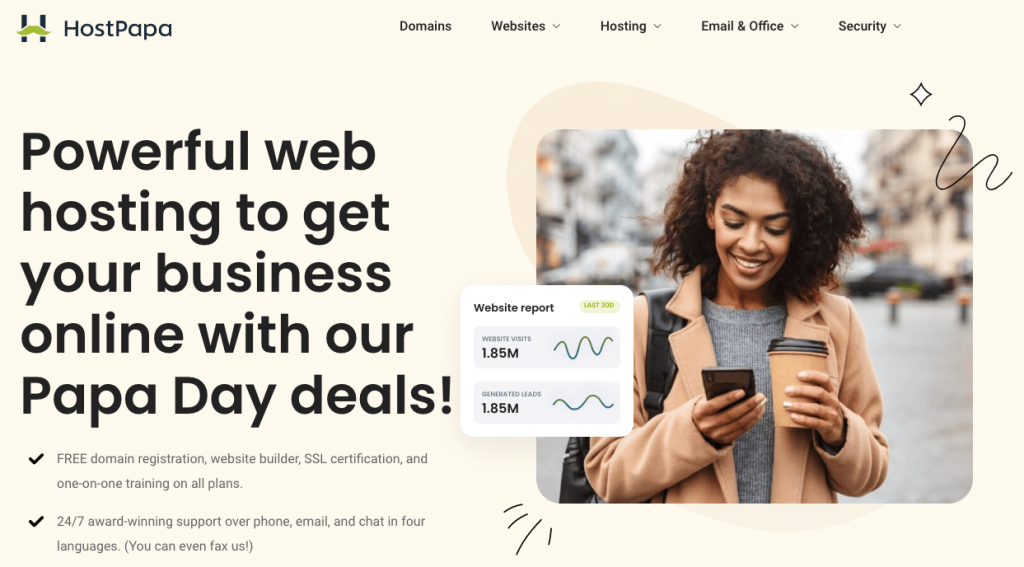 If your website is just starting out after development is done, you might want to move it to HostPapa. Even though HostPapa's renewals are a bit costlier than those of other web hosting companies, HostPapa has some quality features that boost any website's ranking faster. 
Quickstart Wizard
After building a website, the first concerning thing for your website's growth will be minimal content and revenue. The Quickstart Wizard of Hostpapa can show you precisely what you need and missing for your website.
Also, if you purchase any plan from HostPapa, the Quickstart feature automatically places your site on a less crowded server. This wizard is super easy to follow and effective.
Content Support
HostPapa has a wide range of video, audio, and written content to help customers understand SEO and website performance. You can watch these how-to guides and tutorials to learn more about SEO. There is even content on building an SEO-friendly website included with all HostPapa's free plans.
Key Highlights
Free domain registration
The one-on-one expert training program
Personal security suite
Unlimited SSD web space
SuperMicro servers
Free domain transfer
Website Builder
9. SiteGround- WordPress-Recommended Hosting Service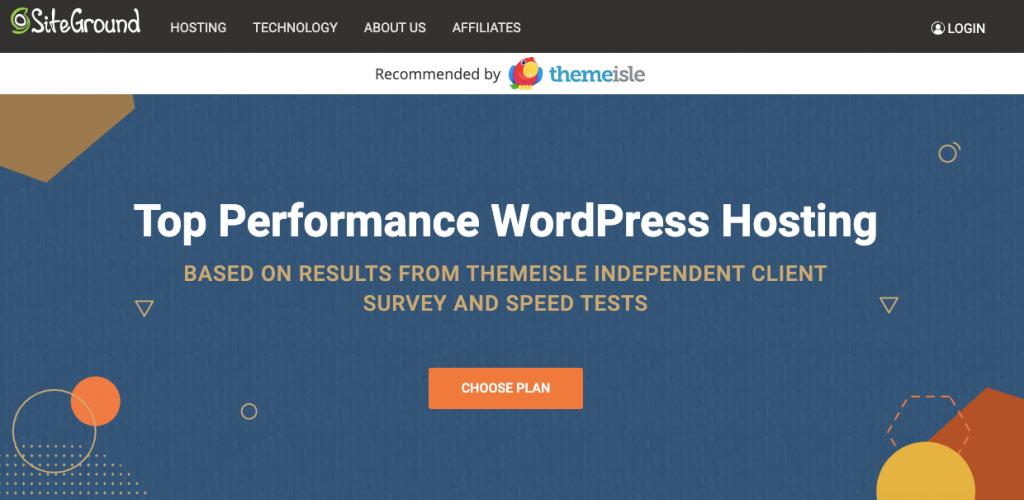 SiteGround web hosting provides proper speed along with the best possible security. Most SiteGround's features are specialized to improve your site's protection during an occurrence and significantly reduce all vulnerabilities.
Lock Down Feature
If you use WordPress, you must have a way to protect yourself from a malicious attack. Because of this lack of functionality, most hacking and information theft happen. But SiteGround users remain tension-free because of this lockdown feature.
SiteGround's advanced technology can detect malicious attempts and prevent hackers from breaching your site. SiteGround's AI system sends alerts every 0.5 seconds and stops over 2 million brute force attacks per hour. 
Low Price for Premium Features
You can have all crucial hosting features and unique qualities for only $3.99/month paid annually. The annual payment makes the price more affordable for anyone. We didn't include the pro plans because you are getting the same features.
Key Highlights
Free SSL, CDN, and migration
Unlimited database
Daily backup
Eco-friendly hosting. (100% renewable energy usage on servers)
Collaborator adder
WP-CLI
10. Nexcess- Best Hosting Service for eCommerce Sites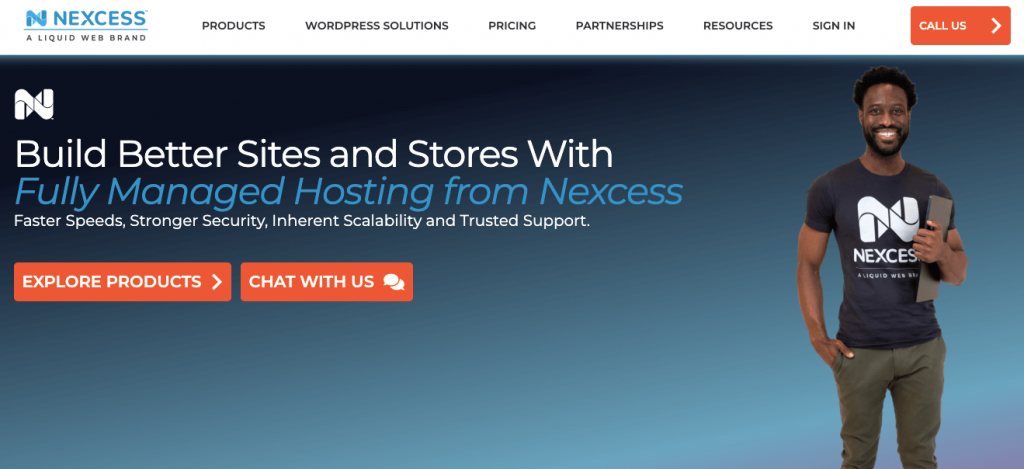 Nexcess by Liquid Web – is a web hosting service specially designed for eCommerce websites. With Nexcess, you can efficiently build a booming website in these precise eCommerce platforms like Drupal, BigCommerce, Magneto, WordPress, and Craft CMS.
Automatic Configuration and Troubleshooting
Nexcess's advanced techniques for information handling allow you to manage your eCommerce hosting plans without any complex configuration or troubleshooting problems. Plus, it speeds up your backend and improves your site's front end accordingly. 
Fast Site
It improves your website speed significantly through cloud accelerators by stacking layers on the stack and overall boosts loading time. With Nexcess, you can load dynamic content-heavy websites in seconds.
Tech-Relient
What we like the most about Nexcess is that all features and functionalities heavily depend on the servers. It's good because instead of offering some fancy WordPress features, Nexcess grants you extra server infrastructure facilities.
Take automatic resource allocation or scaling as an example. If your website has a massive influx of visitors at once, more resources will be automatically allocated to your website for 24 hours without any extra cost.
Key Highlights
Automatic site maintenance
Advance caching
22 CDN locations. (Magneto)
One-click staging
Plugin performance monitor
Multiple user accounts
Free stencil sites
How to Choose a Dedicated Web Hosting Service?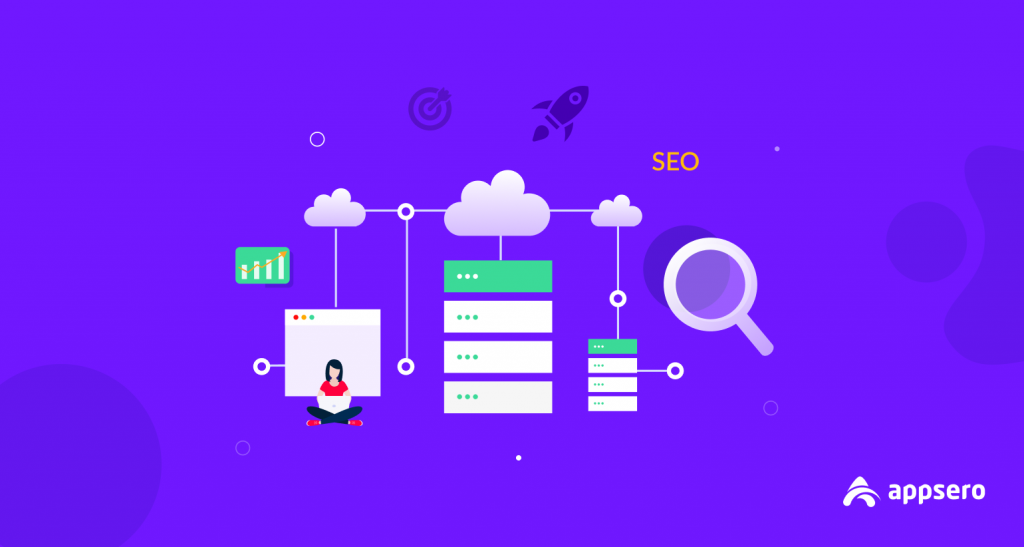 Many web hosting businesses online claim their service as legit and trustworthy. However, the problem is you don't have any way to examine these claims physically. So, believing assumptions and claims without legit proof will be pretty unreasonable.
It's best to consider some factors before you make the final decision.
Is the Providing Company Legit?
One of the most crucial parts of choosing any product is checking the legitimacy of a company, especially online products. The more legit a company, the better the product quality and reliability will be. Plus, you can trust the company for any future purchase.
The easiest way to check the company's reliability is by contacting its employees through customer service or other mediums. You can email them or contact one of their customers to know more about them.
This way, you will not mistake getting the service for good reviews and later regret your decision because the product didn't meet your expectations.
Do They Have a User Base?
If the providing company is legit, it should have a user base. Most companies show how many active users they currently have. The same goes for hosting services. Trust a service with many users because it's proof that they have been doing business for a long time and earning people's trust through reliability. 
How Good are the Product Reviews and Ratings?
Product reviews can give you a lot of information about the product, like the uptime, traffic volume, migration, or showcasing any false features that are not included in the product. Online blog reviews are pretty legit, but real-life customer reviews are more satisfying.
You can check out these great online review sites,
Trust Pilot.
Angie's list.
Which.
Compare Camp.
G2 Crowd.
Also Read: How You Can Choose Hosting for Your WordPress Site?
Is the Price Right?
Web hosting services are cheap. However, some products can be costly, like Kinsta. Kinsta provides an incredible web hosting service for big businesses. So, their prices for the product are beneficial for one group of online businesses.
The price (the Highest Kinsta offer is Enterprise4-$1654) will definitely feel a lot compared to other hosting services.
Do They Have a Refund Policy?
A refund policy is a must because you don't want to be stuck with any service that doesn't meet your expectations and improve your website's performance.
However, almost 90% of website hosting services give a refund policy with their service features and have free migrations afterward. Win-win situation!
How Good is Customer Service?
Customer service is the key to earning visitors' trust. So, most hosting companies focus on solving issues or sharing knowledge with their customers because they want to keep their consumers from migrating to another service.
The best companies will give you the best possible customer service. If the customer service is satisfactory, then don't hesitate to make the final decision.
FAQs on Web Hosting for SEO
Q1: How can web hosting positively affect SEO? 
Answer: If a website performs well, there is no doubt that it is dynamic and loads faster. Moreover, it will grab many visitors' attention. Every visit and extended stay will increase the website's traffic and boost the conversion rate. 
But, the problem is the possible conversable visitors that exist in top-notch servers. Web hosting services host their client's websites on these servers and improve their SEO. 
Q2: Does migration can negatively affect a website's SEO? 
Answer: Well, the answer depends on the hosting service. If you migrate to a suitable hosting service, the migration will not affect your website's SEO at all. However, migrating to a poor hosting service can negatively affect your website's SEO. 
Q3: Are hosts and servers the same? 
Answer: No, they are not the same. Sometimes, many hosts work like a server, offering their clients information, resources, and storing data, and applications. But, it's still a connection device that connects to other electronic devices. 
Q4: What is Migration? 
Answer: If a website undergoes significant changes in certain areas, that can affect the website's visibility and SEO on the web. This process is site migration. 
Q5: What does OSPF stand for? 
Answer: OSPF or Open Shortest Path First is an Interior Gateway Protocol (IGP), first designed for IP networks and based on  Shortest Path First (SPF) algorithm.
Which Service Provider Should You Consider For Your Web Hosting?
Selecting a hosting service that will be useful for you will depend on your site's current status, type, and performance. Best hosting services for SEO should offer different hosting like cloud, WordPress, VPS, and shared web hosting for a reasonable price.
Also, you can prioritize security, speed, and technology. If the provided server is in the peak state, you can expect all the offered features will suitably work and impact your site. The best hosting service will continuously scale your website's growth and traffic.
So, what will be your preferred best web hosting for SEO? Share your views and experience with us about web hosting in the comments below or you could simply drop any suggestions or questions.
Subscribe to our newsletters if you enjoy reading interesting blogs and want them delivered right into your inbox.
Subscribe To Our Newsletter
Don't miss any updates of our new templates and extensions
and all the astonishing offers we bring for you.