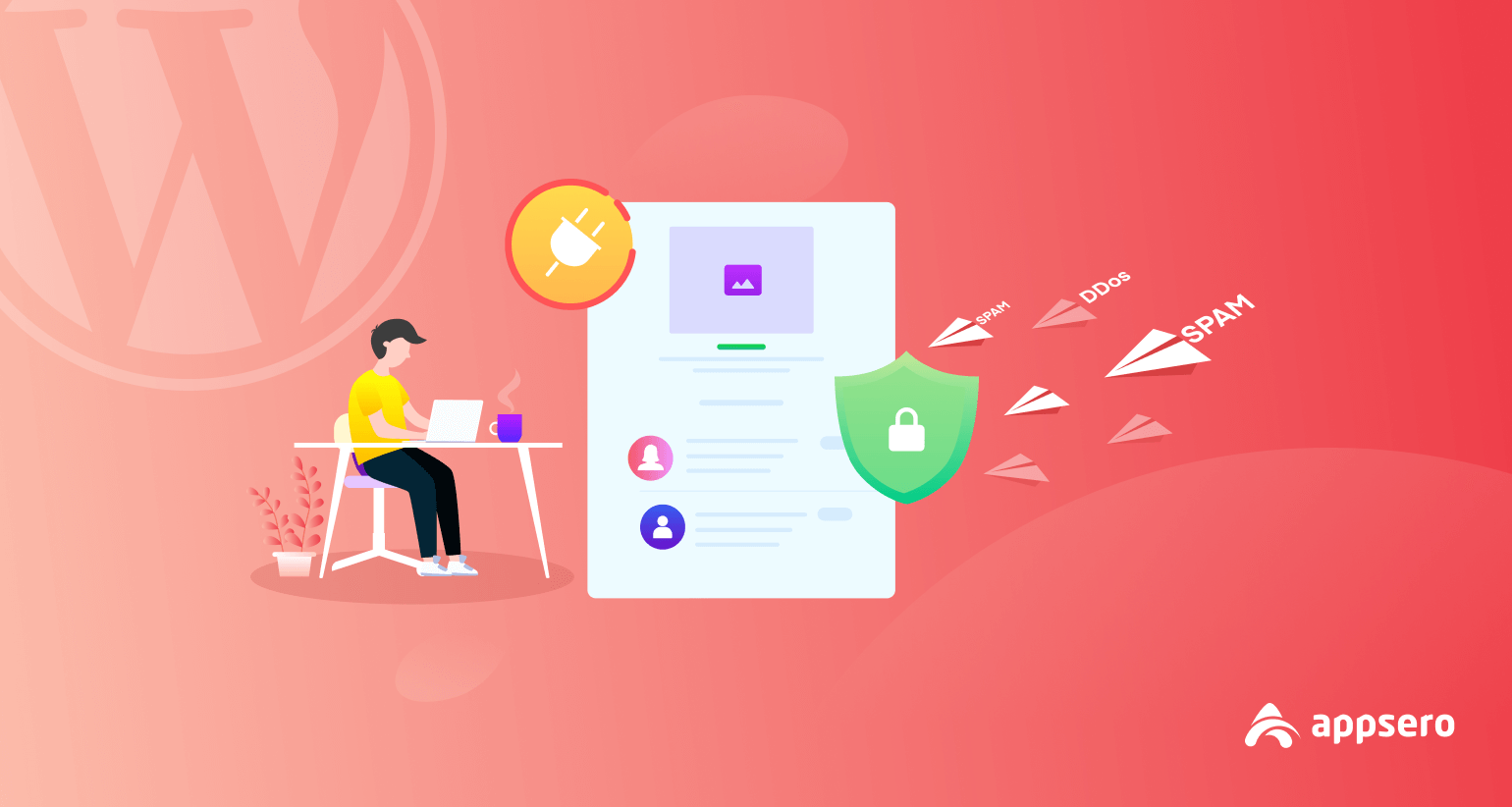 9+ Best Anti-Spam Plugins for WordPress to Protect Your Website in 2023
Spam is any unwanted link, email, pop-up, or else users face whenever visiting a website. These are not just unwanted but harmful as well. That is why spam is a headache for any web owner today.
About 122.33 billion spam emails are distributed each day. It means 85% of the world's daily email traffics is spam.

Spamlaws
It's the reason why many web owners worry much about their web security. To minimize the risk factors, you can try plugins for your WordPress website.
This article will help you learn about 9+ best antispam plugins for WordPress sites. Here is a snapshot of the antispam plugins we will cover in this write-up.
| Antispam Plugins for WordPress | Free Version | Starting Price | Active Installation |
| --- | --- | --- | --- |
| Akismet Spam Protection | Yes | $10/month | 5,000,000+ |
| Titan Antispam and Security | Yes | $55/year | 100,000+ |
| Jetpack | Yes | $5/month | 5,000,000+ |
| Wordfence | Yes | $99/year | 4,000,000+ |
| Antispam Bee | Yes | Not Available | 700,000+ |
| Hide My WP | Yes | $24/six months | 100,000+ |
| BulletProof Security | Yes | $69/year | 50,000+ |
| Cleantalk Spam Protection | Yes | $8/year | 100,000+ |
| WP Cerber | Yes | $99/year | 200,000+ |
| Stop WP Comment Spam | Yes | $9.99/year | 1,000+ |
But before diving into a deep discussion, we will cover some words on different types of spamming and how they can harm your website. Keep reading!
What is Antispam Plugin?
Antispam plugins aim to filter out and block any potential email, comment, form, trackbacks, and others that may cause a threat to your website. It can also help you identify spam words, URLs, and suspicious activities of the users. Thus, antispam plugins fight and save your WordPress site from being down.
Types of Spamming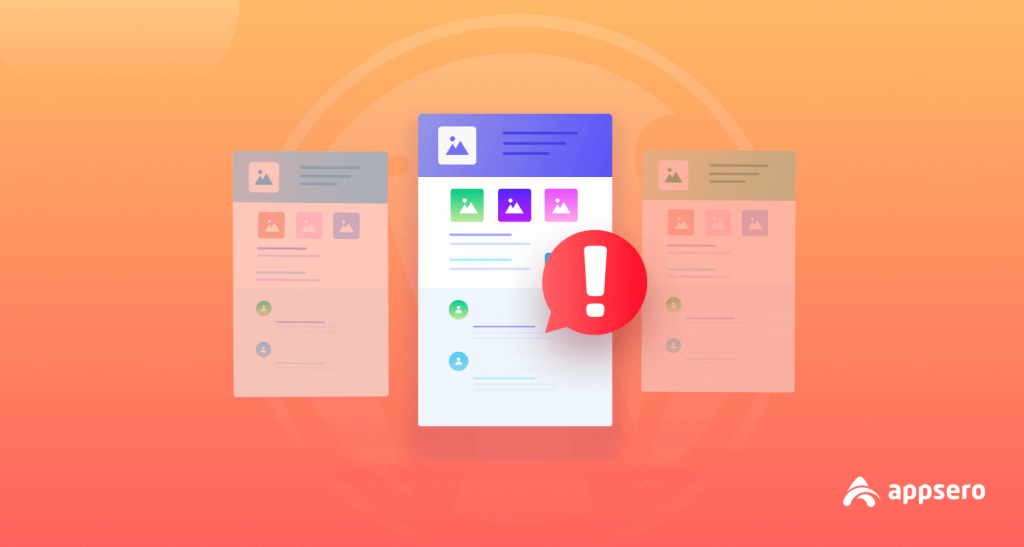 According to Radicati Group, spams cost businesses around $20 billion each year around the world. Email spam is one of the most common types. It first came to the market in the 1980s.
Email spam usually contains strange advertisements, newsletters, magazines, unnecessary web links, etc. There have been different types of spam on the web since then. We are going to cover the four most annoying of them.
➤ Comment Spam
You will never forget the pain if you ever become a victim of this. Spammers first target potential websites using different software (like Scrapebox and GeoGebra). Then, blast their comment sections with links and others. It creates a backlink to the spammers' websites.
You may think of deleting them one by one. But imagine, thousands of comments are coming each day. How long can you restrict the spam comments manually without an antispam plugin?
➤ Trackback Spam
By the trackback system, web owners link their pages to the blog posts of popular websites. But you may not know whether their web contents are legitimate or spammy. So, allowing them to link up their pages without verification can be dangerous.
Certainly, the Webmaster will notify you when someone tries to do that. But if thousands of attempts come together and you forget to check one of them, things will be difficult. If somehow your website is linked to spammy content, Google will devalue it immediately.
➤ DDoS Attack
DDoS attacks are carried out using bots and spiders. Search engines like Google send bots to every website to evaluate their content. Accordingly, they rank websites in their result pages. These are undoubtedly good bots.
But there are many programmers as well who can create bots and send them to hard different websites. This is called a DDoS attack. It's almost similar to a big flow of fake traffic sent to a website. Failing to prevent the DDoS attack can overload your server's bandwidth and bring down your website.
➤ Email Spam
When unwanted messages start coming in bulk through email, it's called email spam. Luckily, Google AI automatically filters spam emails from real ones. Yet there is a high chance that Google will mistakenly move some of your important emails to the spam folder.
Email spammers can attack you in two ways: via the contact form and direct email. It can make things difficult for you to find important emails and reply to them within due time.
How Spamming Can Harm Your Site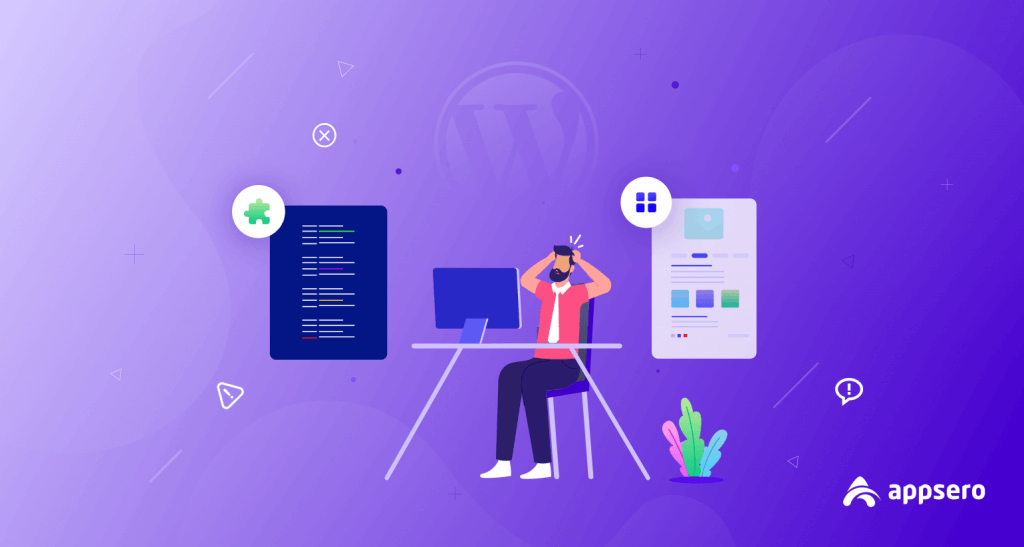 Spam usually contains varieties of content. According to Spamlaws, Around 36% of online ads contain spam elements. Again, adult content is the second biggest spam category, 31% of all spam messages.
Now, let's learn how spam can be harmful to your website.
Spam is a waste of time. It distracts employees from doing their regular work. Suppose you have to delete 10-20 spam emails per day. Before deleting, you have to verify whether they are important or not. Now calculate how many productive hours you will lose every month due to this.
Suppose you are expecting to receive 100-150 emails every day. You have two employees to handle them. But every morning, you notice thousands of emails jammed in your address. Do you think these two people are enough to check them all? This is how spam emails overload the communication system.
Web users get annoyed when they find unwanted pop-ups or banners coming up after closing them. They may mark your website as spammy if it keeps happening multiple times. This issue can seriously affect your SEO score.
You may mistakenly remove some important files when you become so obsessed with deleting spam emails. It can cause serious havoc to your business. FBI reported in 2018, global businesses bear around $12.5 billion in financial losses due to spam emails.
Affects Business Services
Users can't make immediate contact with you due to spam attacks. Sometimes, it may happen users are mailing you today, but you are replying to them three days later. Antispam plugins can save your site from all these annoying issues. Also, make sure to maintain a regular backup of your site.
Why Do You Need Anti-Spam Plugin?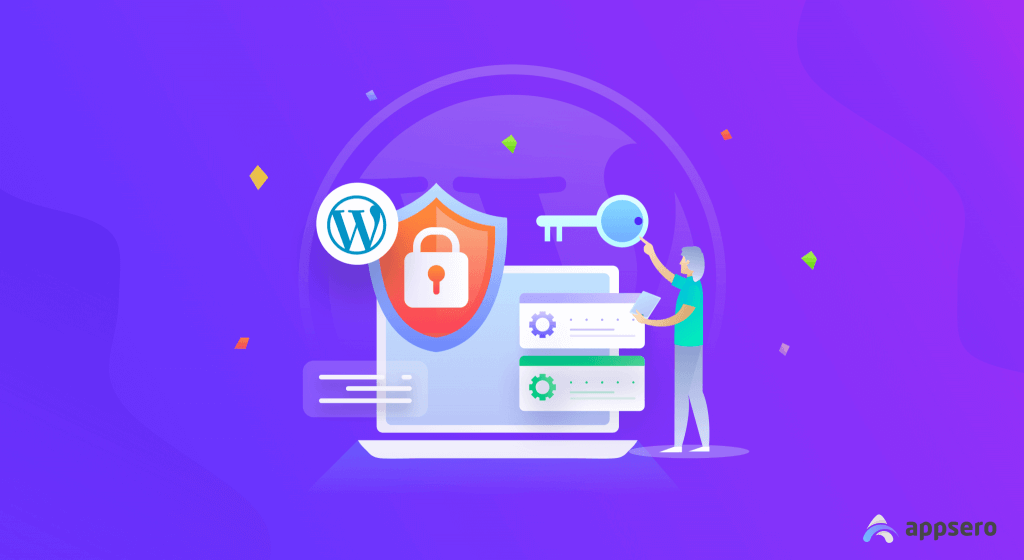 There is several reasons why you must choose one of the best antispam plugins for WordPress sites. Here are some important points.
Maintain Regular Performance: Already said that DDoS spam attacks can dry out the valuable bandwidth of your website. Having an antispam plugin can help you to fight back. It will help you maintain the regular uptime of your site uninterruptedly.
Improve SEO Score: Google wants web owners to ensure a clean user service. Having an antispam plugin gives Google a signal that you aren't dealing with any spammy content. It gives a boost to your SEO score.
Uphold Web Reputation: Unwanted pop-ups and pornographic ads are annoying to any user. Installing an antispam plugin can send a slap in the face of unwanted commercials. This way, you can ensure a better experience for web users.
Save Time: The antispam plugin will eliminate the hassle of deleting spam emails daily. You don't have to waste time on it. Rather, you can find the important emails whenever you log in. You can maximize the utilization of your productive hour.
Remove Existing Spams: If your website is already buzzing with countless spam attacks, you haven't installed any antispam plugin. However, by installing any of them, you can instantly remove all the existing spam from your website and communication channels.
Leave Your Comment Box Open: Many bloggers shut their comment boxes just to avoid malicious activities from spammers. But it costs them to miss out on meaningful interactions with real users. An antispam plugin can keep the spambots at bay and let your audiences comment openly.
Hopefully, now you are curious of knowing about the appropriate antispam plugins for WordPress. Let's check them out in the following section.
9+ Best WordPress Anti-Spam Plugins You Can Rely on 2023
You have two options to deal with spam. Kick them out or let them in. Surely, you will prefer the first option.
Now, we are going to cover 9+ best antispam plugins for WordPress. You can choose the one that best fits your needs.
1. Akismet Spam Protection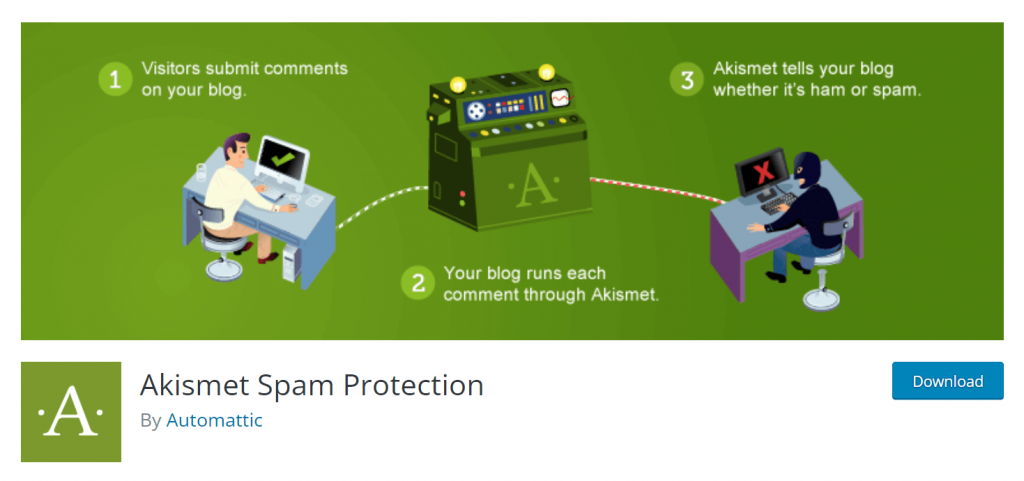 Akismet spam protection plugin can help you fight against the global database of spam. This antispam plugin prevents trackbacks, comments, and spam contacts.
Pros of Akismet Spam Protection
Automatically filter out spammy comments.
Unhide the misleading users, contacts, and hidden URLs.
You can check the number of comments approved for each user.
It saves your disk space and speeds up your website.
If some data is mistakenly marked as spam, you can recover them from its dashboard.
Cons of Akismet Spam Protection
Block the spam bot only, not the human spammers.
API keys of the plugin are free for personal blogs, not for businesses.
Pricing of Akisment Antispam Protection
Free or $10/monthly (plus other plans available).
Our Verdict:
Akismet is the best choice for those who own personal blogging sites. Because for business websites, you have to enable one of its premium plans.
2. Titan Antispam and Security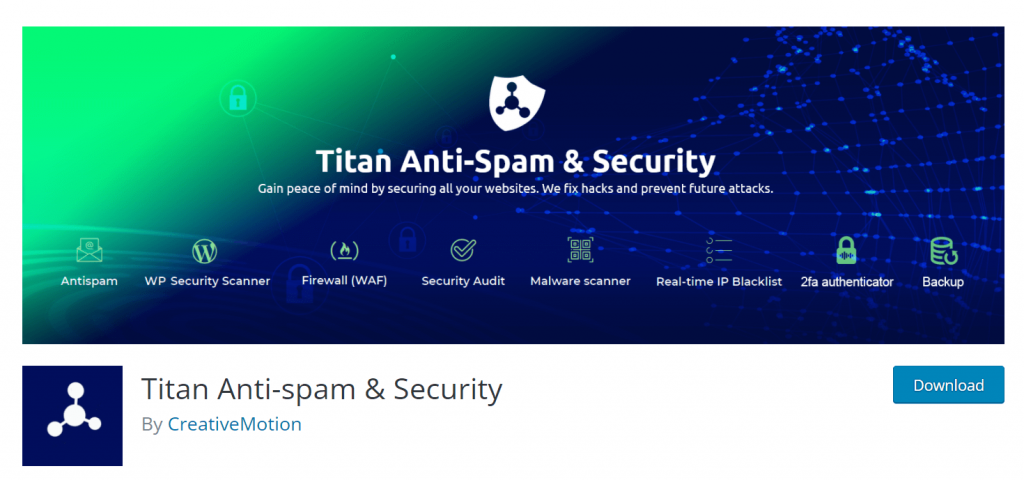 Titan antispam and security is a powerful antispam plugin. It can protect your WordPress site from all sorts of threats by detecting malicious IP addresses. However, this antispam plugin has many exciting features, such as real-time spam reporting, a security scanner, a firewall, and site backup.
Pros of Titan Antispam and Security
It doesn't require a CAPTCHA to block spam.
It blocks the brute force attack by restricting login attempts.
Titan antispam has a three-step intelligent spam filtering service.
You will get a real-time IP blacklist facility in it.
It has a global spam database to check your comment boxes.
Cons of Titan Antispam and Security
It cannot filter out every spam coming from the contact forms.
Sometimes, its process is unclear whether going on your server or off the site.
Pricing of Titan Antispam and Security Plugin
Free or $55/year.
Our Verdict:
Titan Antispam Security Plugin has many powerful premium add-ons. You must consider this plugin in your checklist if you are running a sensitive web project.
3. Jetpack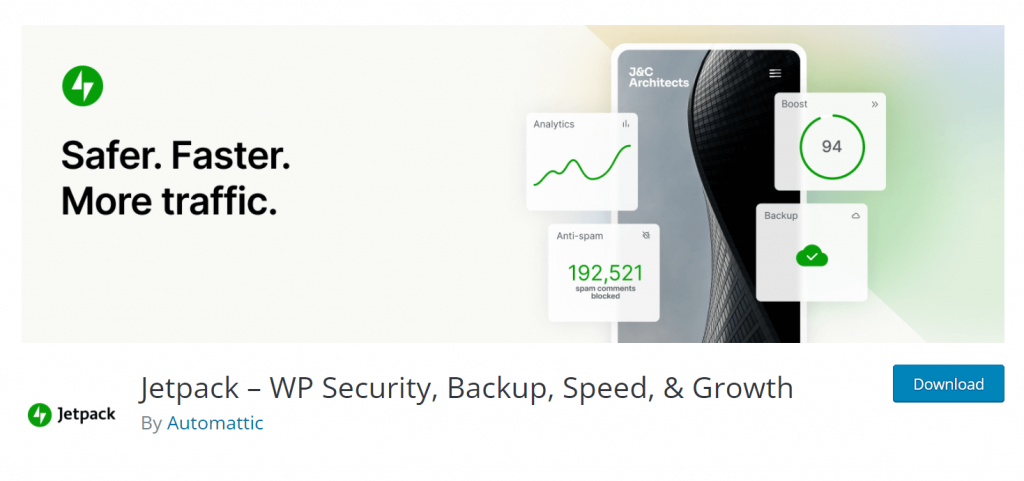 It is hard to find a WordPress user who hasn't heard of Jetpack. It is one of the most popular plugins in the WordPress community. Alongside the antispam features, it offers many other solutions for web performance and advanced content management.
Pros of Jetpack
Using Jetpack, you can enjoy all the facilities of Akismet.
It doesn't require a CAPTCHA to block spam attacks.
Jetpack blocks both comments and forms spam.
It saves your site from brute force attacks.
You can also back up and restore data using the plugin.
Cons of Jetpack
Activating too many modules of the plugin can slow down your site.
It requires a WordPress.com account to integrate this plugin into your website.
Pricing of Jetpack
Free or $5/monthly (plus other plans available).
Our Verdict:
Though it is one of the best antispam plugins for WordPress, you cannot enjoy too many features in its free version. Better if you use its premium plan. However, with the free version, you can keep a backup of your site and enjoy some antispam benefits.
4. Wordfence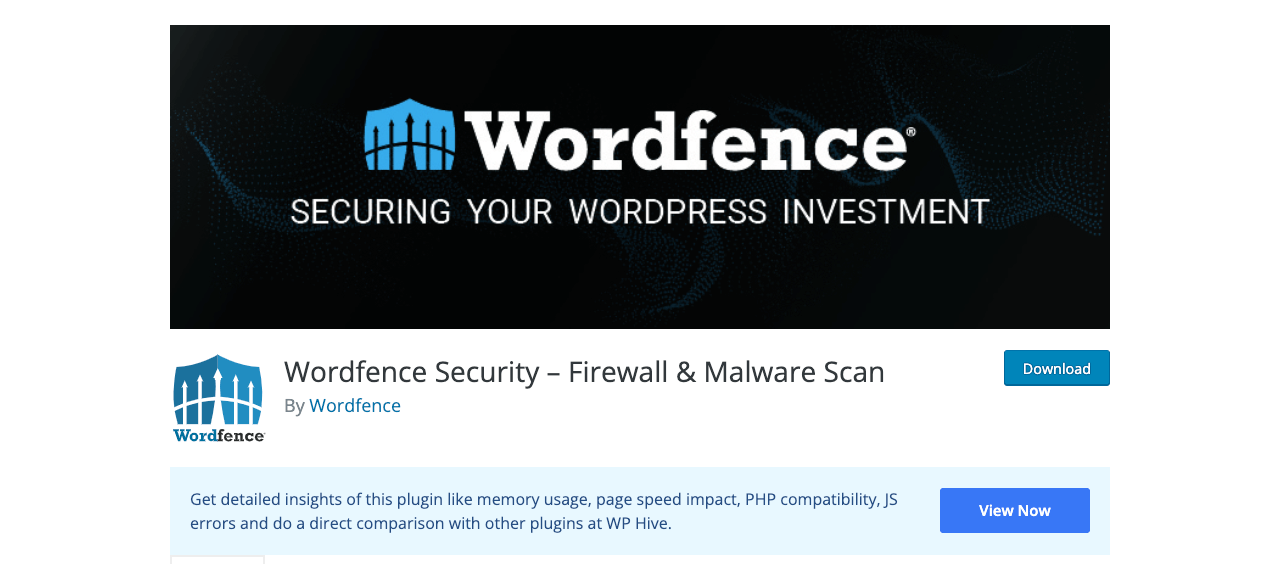 Wordfence is a SaaS-based malware prevention plugin. Wordfence is a global team researching spam, malware, and web threat attacks and providing emergency support.
Pros of Wordfence
Wordfence provides Brute force protection, XMLRPC protection, and reCAPTCHA.
You can enable two-factor authentication.
They regularly release firewall updates and policies to fight against vulnerabilities.
It has one of the largest malware databases in the world.
They offer you 24/7 support.
Cons of Wordfence
It's a bit complicated plugin.
It takes time for beginners to understand the ecosystem of this plugin.
Pricing of Wordfence
Free, or $99/year.
Our Verdict:
Wordfence is one of the best security plugins for WordPress users. You may consider using this plugin if you have an agency site that interacts with countless users each day and carries a humongous financial value.
5. Antispam Bee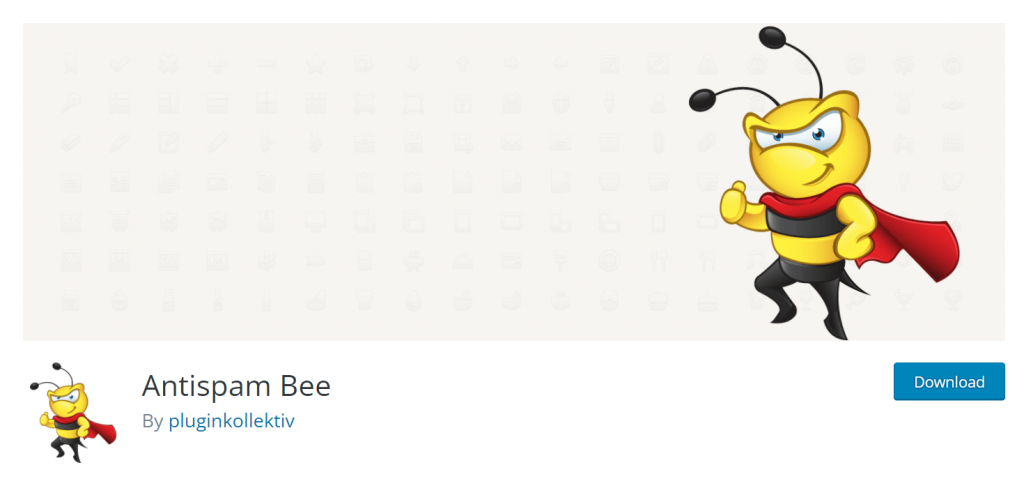 Antispam Bee offers you a one-stop solution to block all sorts of unwanted comments. It also records the trackbacks' IP addresses so that spammers can't visit your domain again. Its built-in notification system keeps you updated about spammy comments.
Pros of Antispam Bee
Antispam Bee is officially a free antispam plugin by WordPress.
It automatically filters spam comments and deletes them after certain days.
It allows you to block comments for suspicious locations.
You can allow only certain languages to comment.
It is completely Ad free and has a GDPR complement.
Cons of Antispam Bee
Antispam Bee can't protect your site from spam contacts or user registration.
This plugin works best only in limited functionality websites.
Pricing of Antispam Bee
Antispam Bee is completely free for all users.
Our Verdict:
Antispam Bee fits best for WordPress newbies and personal bloggers. It can't support a website that requires multi-dimensional services. Therefore, business organizations must look for a better one other than this.
6. Hide My WP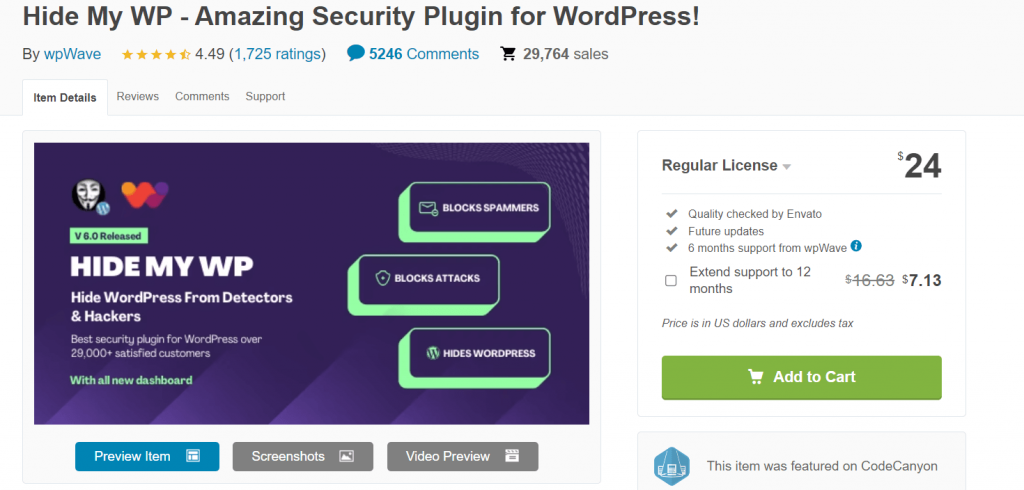 Hide My WP is a best-seller plugin in the CodeCanyon marketplace. It works well with the latest WordPress versions and is compatible with other plugins. This plugin can protect your website from spammers and detectors iseveralof ways.
Pros of Hide My WP
Hide My WP can scan and block cross-site scripting (XSS) spam attacks.
Hide your theme, plugins, wp-admin, and login URL names.
Ensures double-layer security to your WordPress site.
It automatically blocks XSS, SQL, and Command injection.
Also, it can automatically block traffics from bad IP addresses.
Cons of Hide My WP
Doesn't work well with some specific page builders.
It recommends turning on XML-RPC, which can affect your API services.
Pricing of Hide My WP
Free or $24/six months.
Our Verdict:
This plugin isn't easy to use for beginners. They can't identify the page builders that may break down their sites. Hide My WP is much useful for experts and experienced users.
7. BulletProof Security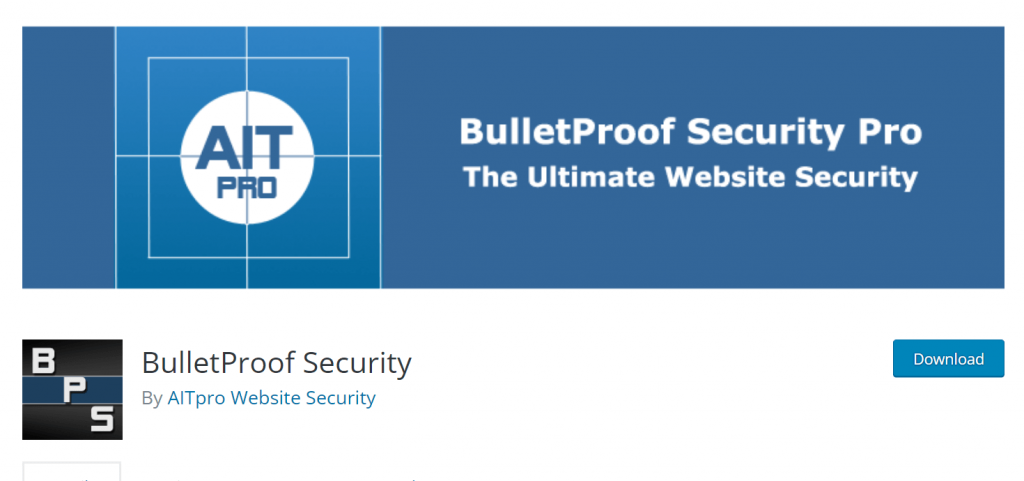 BulletProof Security is an all-in-one antispam solution for any WordPress site. It will guard your website against malicious comments, logins, and registration spam. Even its free version offers superb antispam support for your website.
Pros of BulletProof Security
Never slow down your website because it's speed optimized.
Block traffic from specific locations if there is any suspicious activity.
Gives safety to your site from any malware infection.
Back up the database manually or automatically using the plugin.
Hide and lock individual plugin folders.
Cons of BullteProof Security
Configuring this plugin might be a daunting task for many users.
Its interface is difficult for beginners to understand.
Pricing of BulletProof Security
Free, or $69/yearly.
Our Verdict:
Honestly, it will take time for you to understand the plugin. Therefore, we recommend you use the free version until you get used to it. After that, you can decide on the premium version.
8. Cleantalk Spam Protection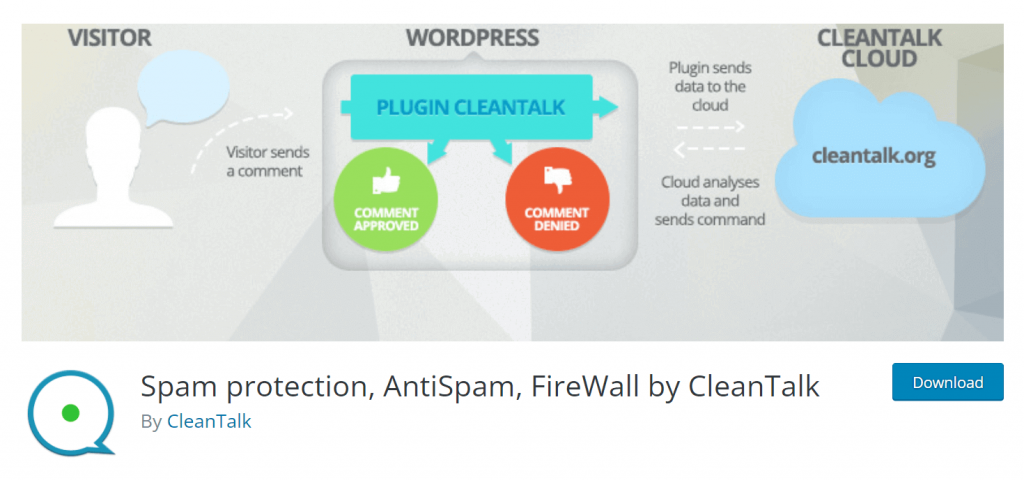 If you are looking for a simple but powerful WordPress antispam plugin, why don't you check out Cleantalk Spam Protection? This is another of the best anti-plugin programs for WordPress. Because both beginners and experienced users can use it quite effortlessly.
Pros of Cleantalk Spam Protection
Easy to use for everybody.
Doesn't require CAPTCHA, questions, puzzles, or riddles.
Compatible with GDPR and third-party plugins.
As a cloud-based plugin, it will never slow down your website.
Provide you daily and weekly spam reports
Cons of Cleantalk Spam Protection
It was created to work with various platforms, not specifically for WordPress.
Therefore, it doesn't seamlessly integrate with WordPress sites as other plugins.
Pricing of Cleantalk Spam Protection
Free, or $8/yearly.
Our Verdict:
Cleantalk spam protection is a very easy-to-use antispam WordPress plugin anybody can use. Besides, its subscription charge is very cheap. However, complete its 14-day free trial. Then, move to the premium version.
9. WP Cerber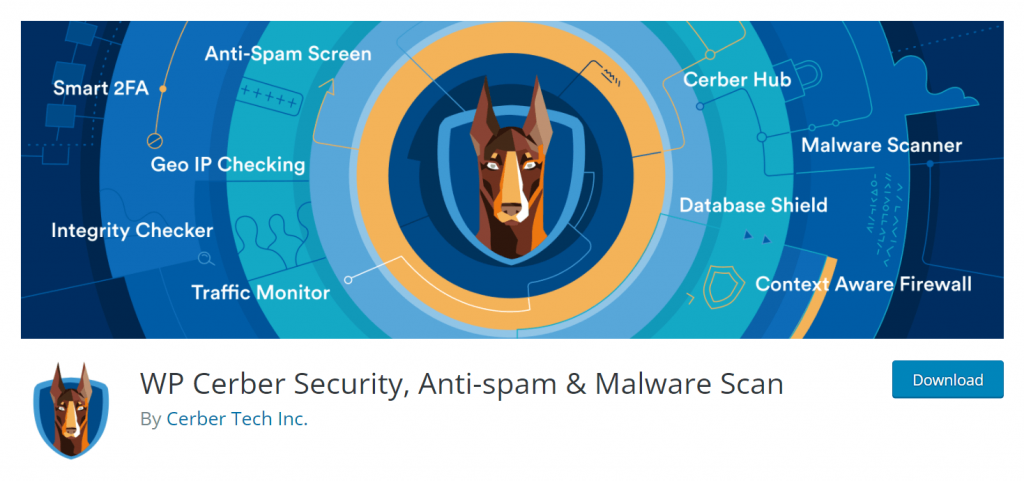 WP Cerber can give you a first-class defense against hackers and malware. Like the above plugins, it can also save your website from a range of spam attacks: comments, forms, emails, bookings, surveys, and so on.
Pros of WP Cerber
WP Cerber automatically scans and deletes spam comments.
It gives you a defense against a DDoS attack.
It detects bot spam in the comment section using invisible CAPTCHA.
It doesn't allow REST API and XML-RPC.
You can also restrict suspicious IP addresses.
Cons of WP Cerber
Configuring this plugin is a bit confusing unless users are tech-savvy.
Sometimes, it blocks legit users if they forget passwords.
Pricing of WP Cerber
Free, or $99/yearly.
Our Verdict:
Since configuring the plugin is confusing to beginners, you can check out its documentation. There you will find complete guidance. Furthermore, we recommend you use the free version first.
10. Anti Spam by Fullworks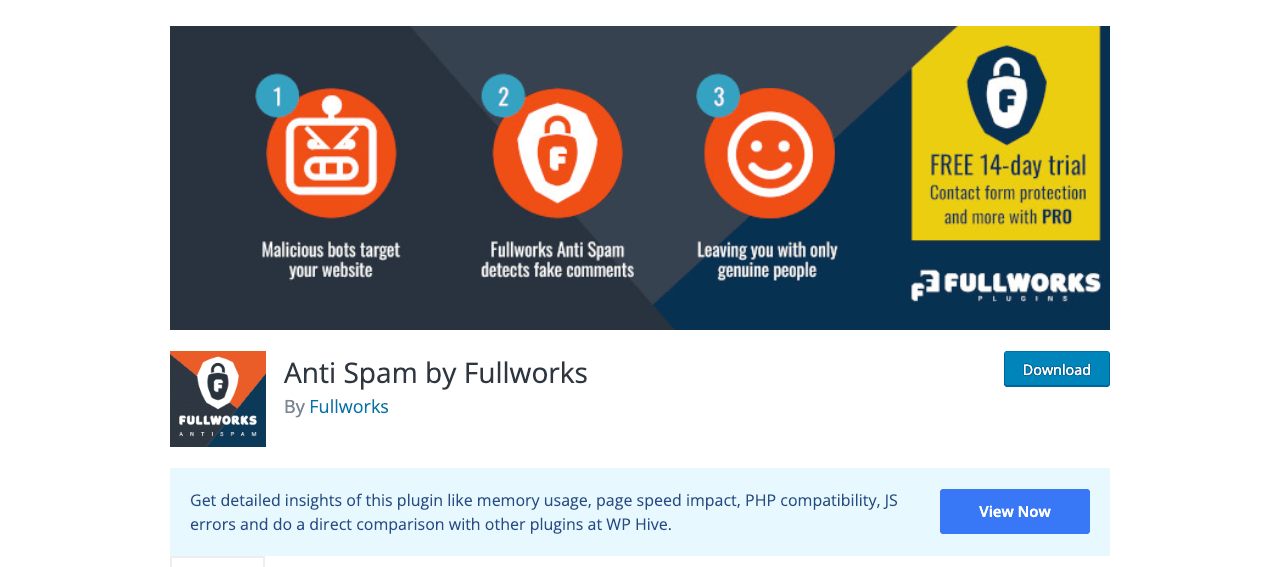 Antispam by Fullworks is a relatively new WordPress anti-spam plugin. But in terms of functionality, it is almost similar to other top-notch antispam plugins. Within 60 seconds of installation, it will detect spam, fake registrations, and bot comments.
Pros of Antispam by Fullworks
It uses machine learning technology to block human and bot spamming.
It stops WooCommerce Phantom accounts.
You can block the bad IPs.
You will get relatively high-end support at a low cost.
Cons of Antispam by Fullworks
Their spam filtration should be a bit more improved.
Their documentation requires to be updated.
Pricing of Antispam by Fullworks
Free, or $9.9/yearly.
Our Verdict:
Stop WP Comment Spam is a fast, lightweight, and beginner-friendly plugin. You won't face any hassle while using it.
FAQs on Spams and Its Plugins
What Is Spam?
Spam is any unwanted link, email, pop-up, data, or else users face whenever visiting a website.
What is the Antispam plugin?
Antispam plugin filters out and blocks any potential email, comment, form, registration, and trackbacks that may cause a threat to your WordPress site.
Is Antispam Bee free?
Antispam Bee is free of charge. It can block unwanted comments, record suspicious IP addresses, and limit their access.
Is Akismet free for WordPress?
Akismet has both free and premium pricing plans.
How do I stop fake comments on WordPress?
In the following ways, you can stop fake comments on WordPress:
1. Turn off the comment section entirely.
2. Disable allowing anonymous comments.
3. Activate comment moderation.
4. Allow only the logged users to comment.
5. Use blacklisted words to filter out spam comments.
Final Thoughts on WordPress Anti-Spam Plugins
Spam is nothing but trash for a website. So, to keep your website fresh and smell good, you have no way left other than blocking the spammers.
There are two types of plugins: dedicated and multipurpose. They are different in their techniques and functionality. Again, some are universally easy to use for everyone. And the rest are best for tech-savvy people.
We have tried to make a balanced combination of all types of plugins in the above listing. Hopefully, from beginners to advanced users, all have found this article to be helpful. However, please let us know if you find we are missing any good anti-spam plugins for WordPress from the list.
Finally, if you'd like to receive more helpful articles like this one, subscribe to us and share them with your circle. For the next article, follow us on Facebook and Twitter.
Enjoyed our post? Subscribe to Appsero blogs
We send weekly newsletters, no spam guranteed!
Subscribe To Our Newsletter
Don't miss any updates of our new templates and extensions
and all the astonishing offers we bring for you.