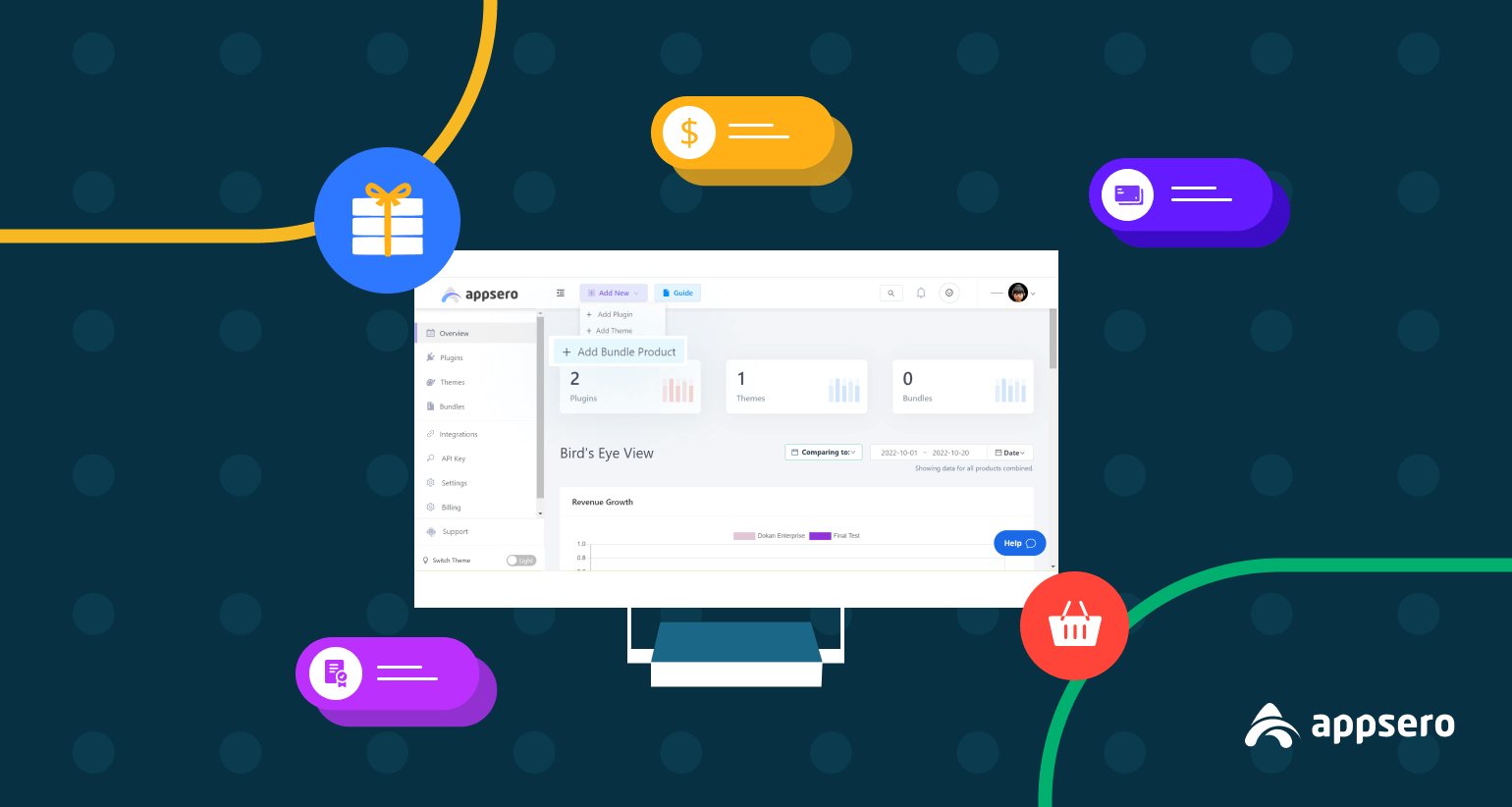 How to Add and Sell WordPress Bundled Plugins and Themes with Appsero
It is a piece of cake to sell bundled products using WooCommerce for all WordPress-based eCommerce websites. But, you can't rely on WooCommerce when selling plugins and themes and managing their licenses at the same time. Appsero addressed this pain point of the developers and introduced a new feature- Bundle Products.
Almost 100% of WordPress developers have built more than one product during their development career. What if you have multiple ready products and want to sell them as a bundle? Appsero comes in handy to help you add and sell WordPress bundled plugins and themes.
You can simply add bundle products from your Appsero dashboard, connect your selling platform and website using an API, and start managing licenses and selling product bundles right away. Before moving to the main steps of adding bundle products, let's know what actually is Appsero and how it helps developers.
What is Appsero?

Appsero is a SaaS platform, made to help WordPress developers. You can eliminate mundane and complicated tasks like license management, new version release, and other deployment tasks. Appsero also collects important analytics such as theme deactivation data, plugin usage data, and other sales data to help you make better decisions.
This makes your life much easier as a developer. Let's have a look at the key benefits of Appsero. The following list explains how Appsero helps developers manage their plugins and themes in better ways.
Appsero deploys your plugin 3X faster via GitHub, Bitbucket, and Gitlab.
It collects plugin and theme usage data and presents them intelligibly.
It helps developers manage licenses with WooCommerce, EDD, FastSpring, Envato, and more.
You can see the overall performance of your products from a bird's eye view.
Appsero allows adding an unlimited number of themes and plugins.
It integrates well with Mailchimp, HelpScout, and other essential tools.
These are the major things Appsero could do until the latest feature release. Our developer has recently taken Appsero to the next level with a bunch of new features. And, adding bundle products is the most significant among them. Let's know about it from the below section.
Introducing new Appsero feature: Bundle Products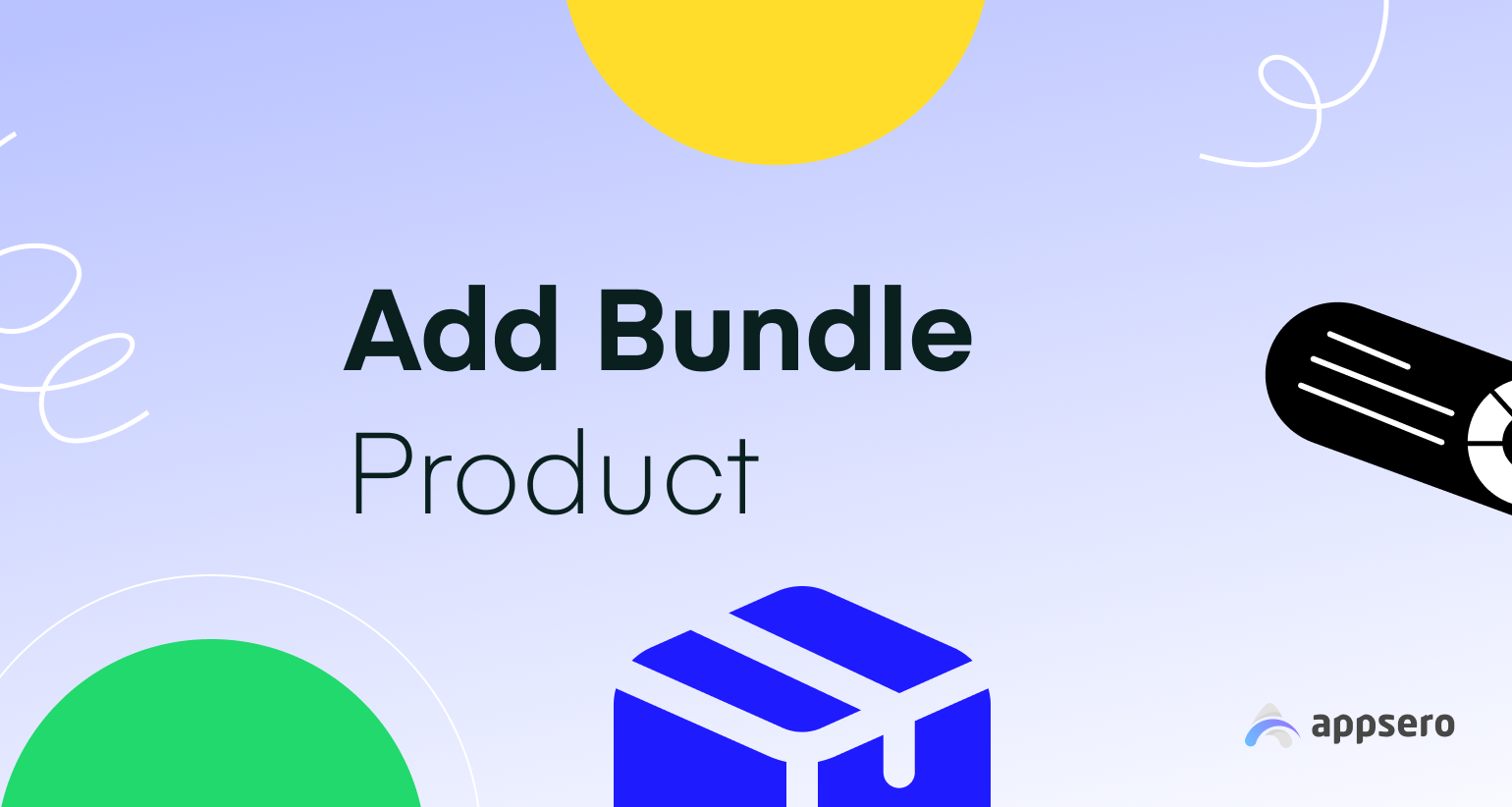 The bundle products feature allows you to sell multiple WordPress products within a single package. You can mix up both themes and plugins if you want. What's so exciting about that?
You can sell these WordPress bundled plugins under the same license. That means users can activate all premium products available in the bundle by using the same license. The license will entitle the users to the same validity period for all products.
This makes selling WordPress bundle products absolutely hassle-free and convenient for all. Developers can sell them easily and buyers can use them conveniently. So what are you waiting for? Let's sell your next plugins and themes with Appsero.
Sell your WordPress bundled plugins & themes with Appsero
Appsero made it very straightforward to sell WordPress bundle products. You will get all amazing selling options once you log in to the Appsero dashboard using your credentials. Once you're in, follow the below steps to add your WordPress bundled plugins and/or themes and start selling them right now.
Step 1: Add bundle products to your Appsero dashboard
Hover your mouse over the Add New menu. It will expand three options for you. Click on Add Bundle Product.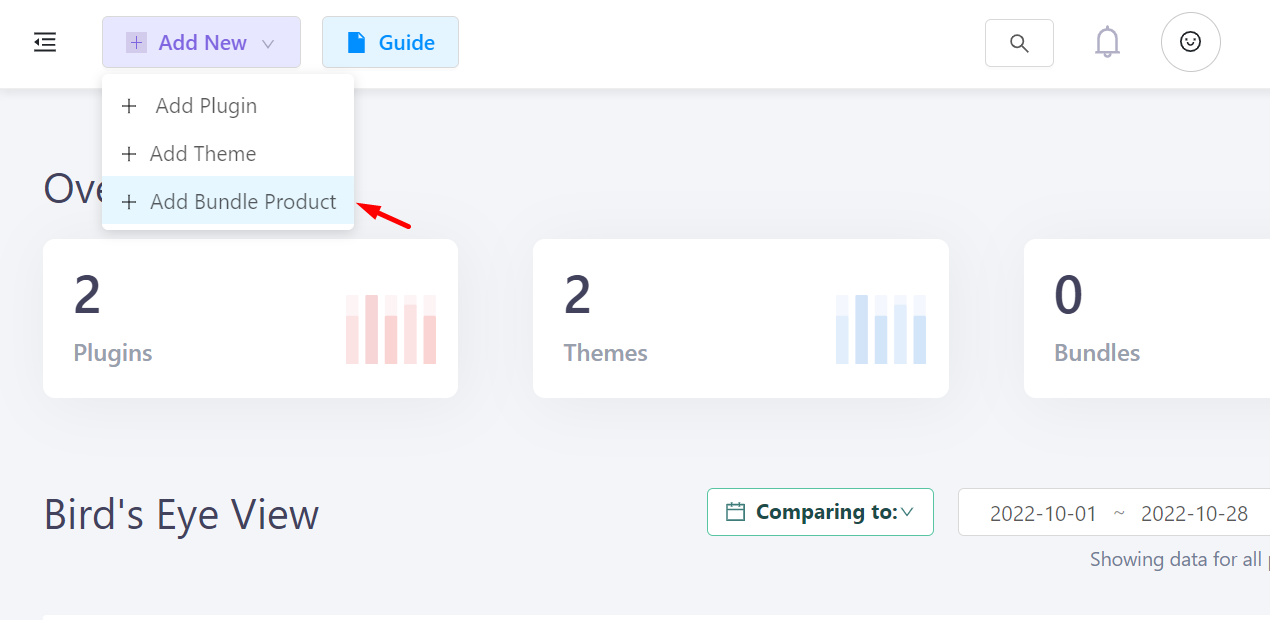 Fill up the input fields with the required information. Choose more than one product from your Appsero dashboard. Appsero will show all available products to you when selecting products for the bundle.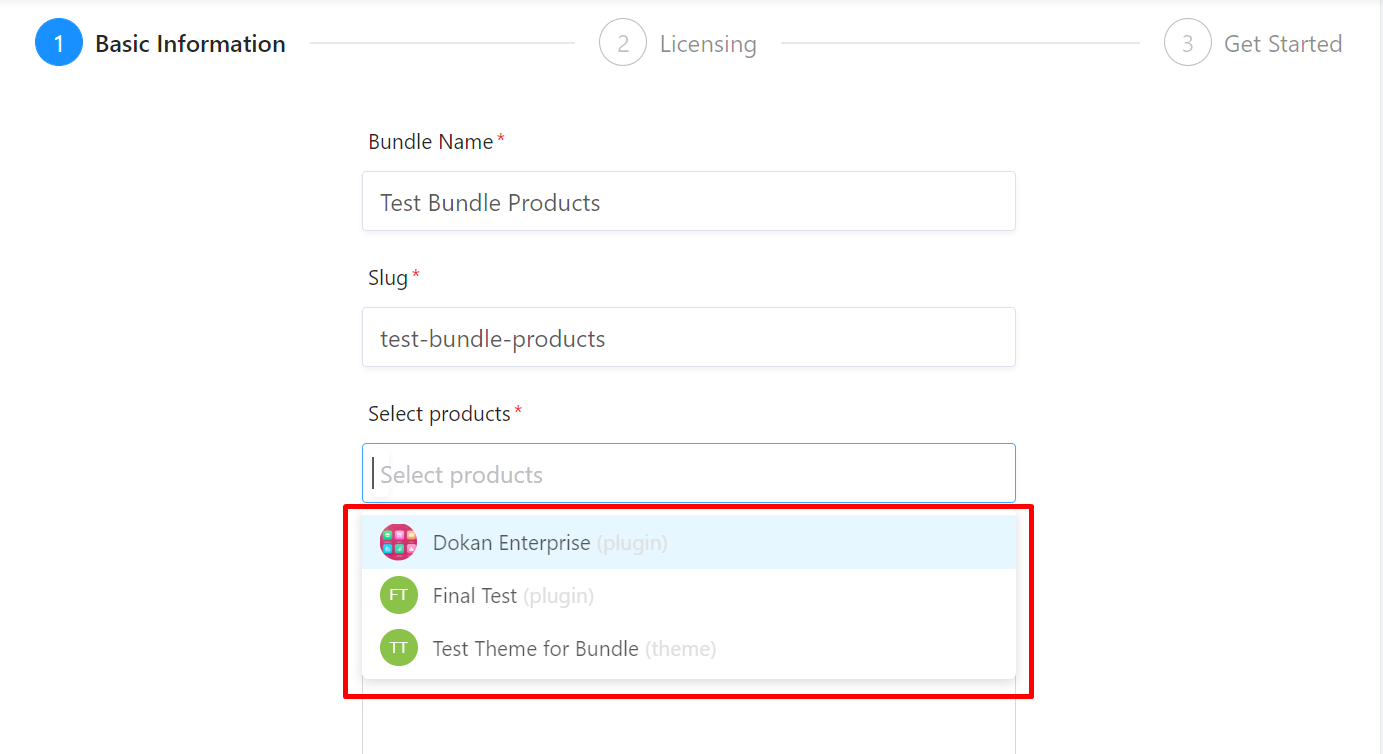 You should be careful in this step. Try to keep the name the same across all platforms you use. It will help you in further steps. After filling up all pieces of information you'll see the Next button. Click on the button to advance to the next steps.
Step 2: Choose your selling partner
Appsero manages the license for you but it depends on your preferred selling partner to streamline the process for you. So say Yes when it asks the following question.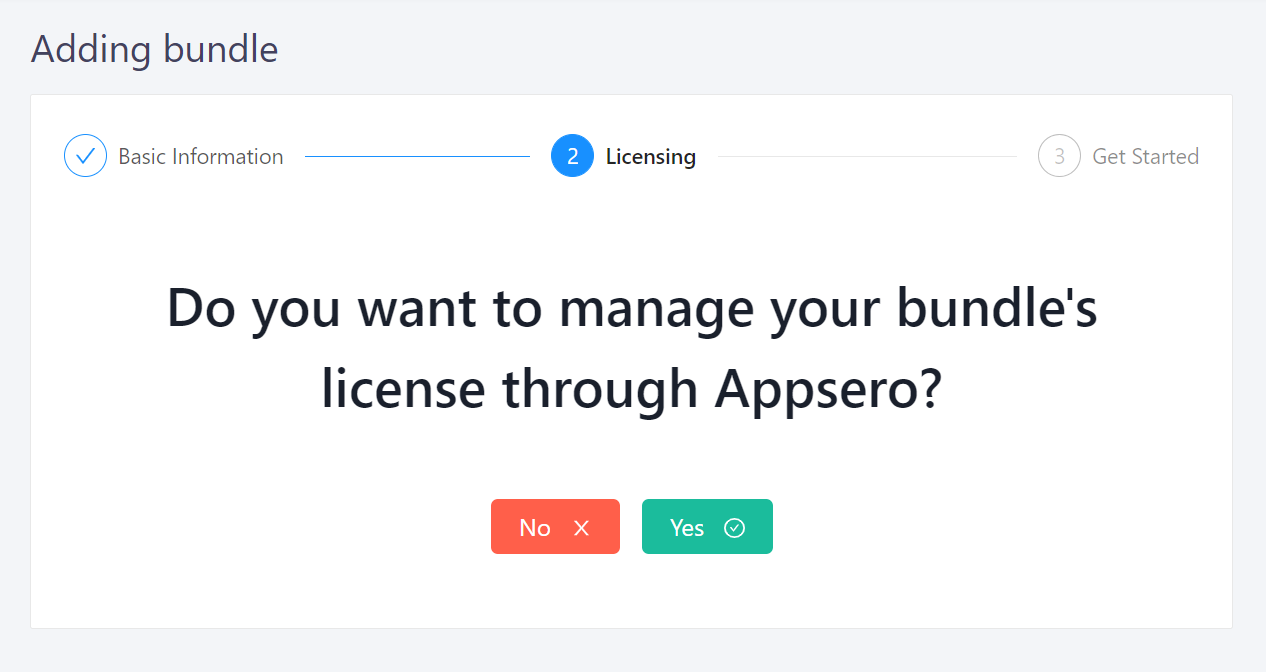 Then Appsero shows multiple options for you to choose from. Choose the right one if you use any of them. Otherwise, choose 'I don't use any of them.'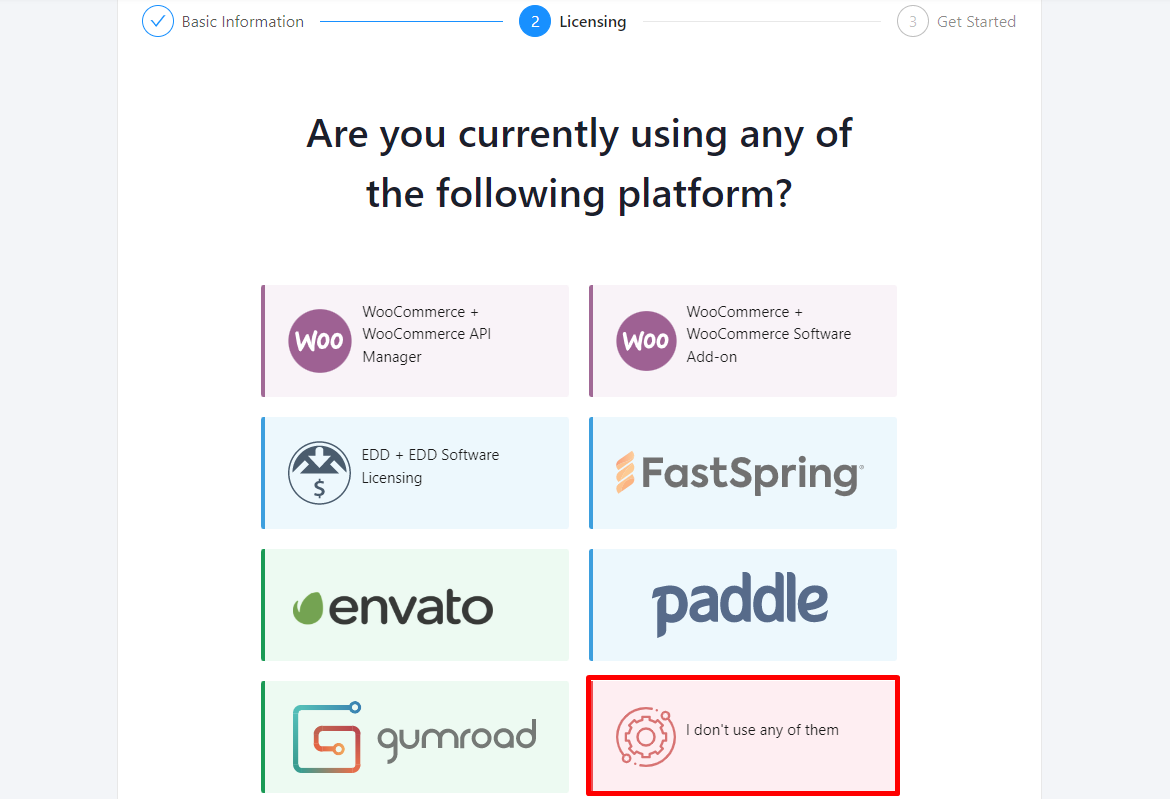 Then select the selling platform that you're already using. Here we used WooCommerce in this tutorial. You can sell with Easy Digital Download as well.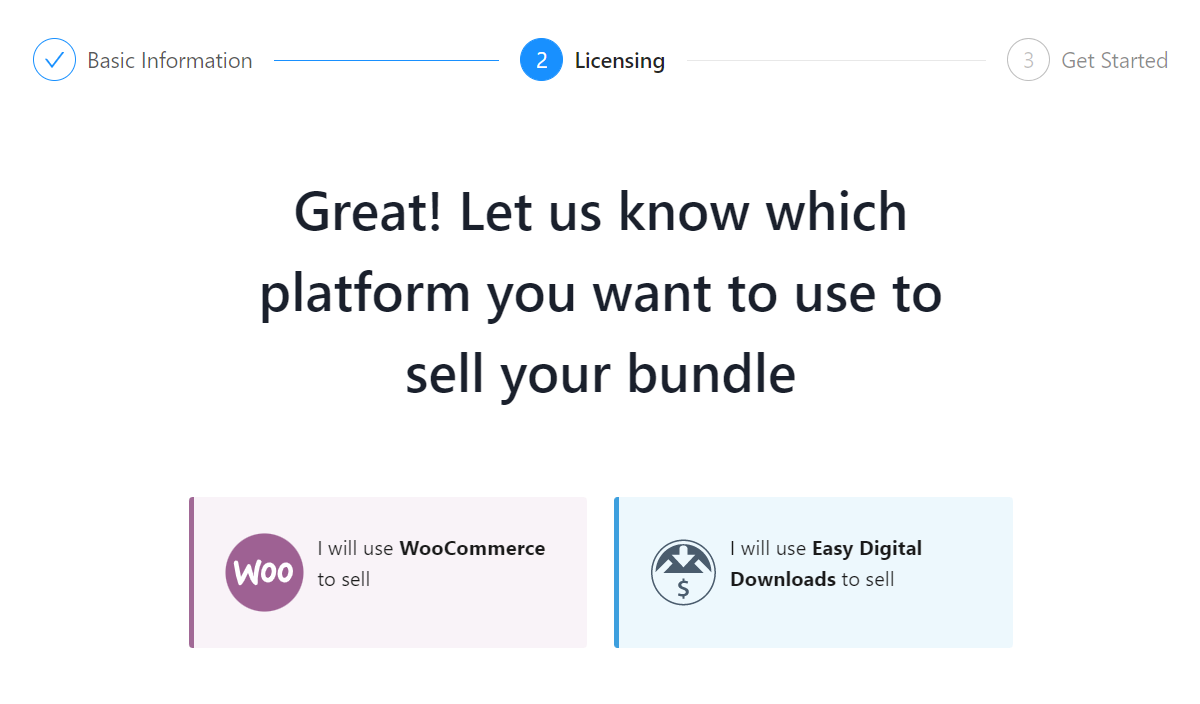 Go to the next step to choose your licensing platform, Appsero.
Step 3: Choose Appsero to Manage Your Licenses
You can use Appsero to only check the licenses for you. But we recommend using Appsero to generate, manage, and check all licenses using Appsero. So, select 'Use Appsero' in this step.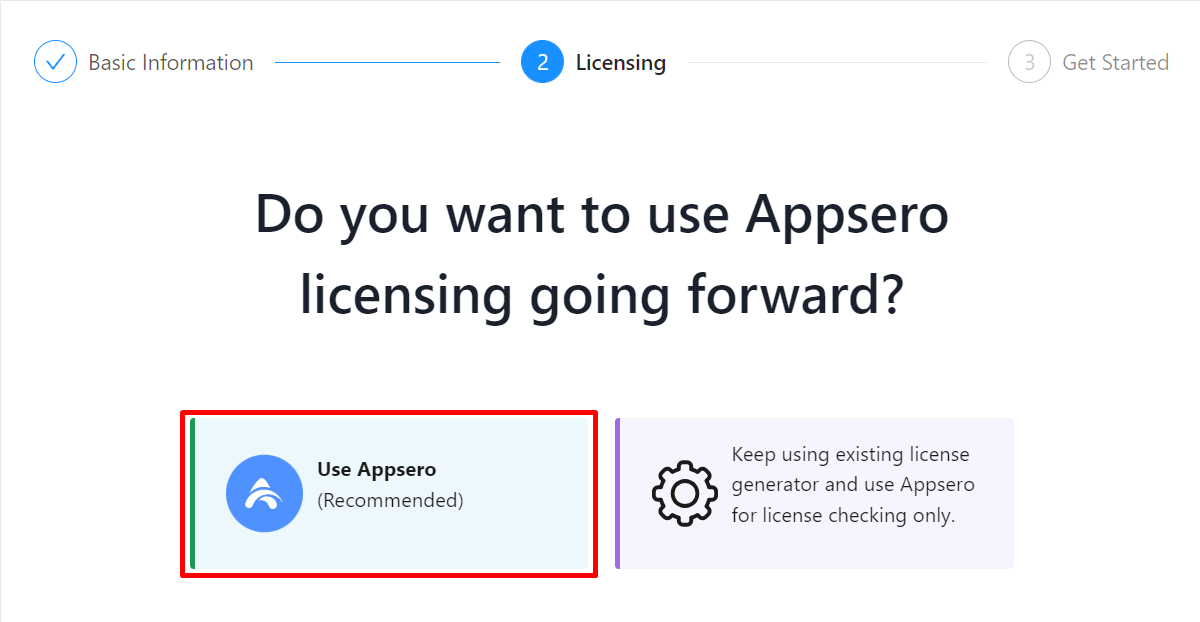 You have to connect your website and Appsero to generate licenses and sync data from your store. Install Appsero Helper from the WordPress repository. And copy the API key provided by Appsero. Then paste the key into the Appsero Helper settings on your WordPress website.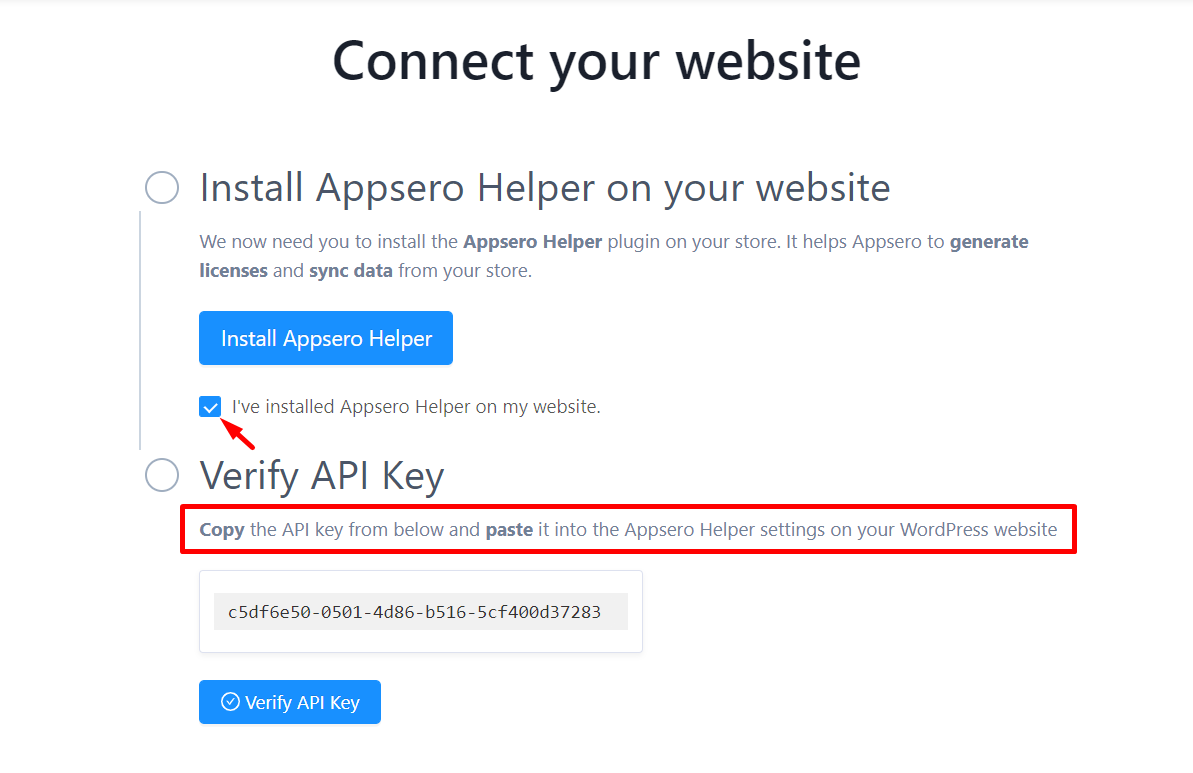 You'll see an input field like the following one on the Appsero Helper settings of your WordPress dashboard. Click on Connect after pasting the API key here. Finally, verify the API key from Appsero.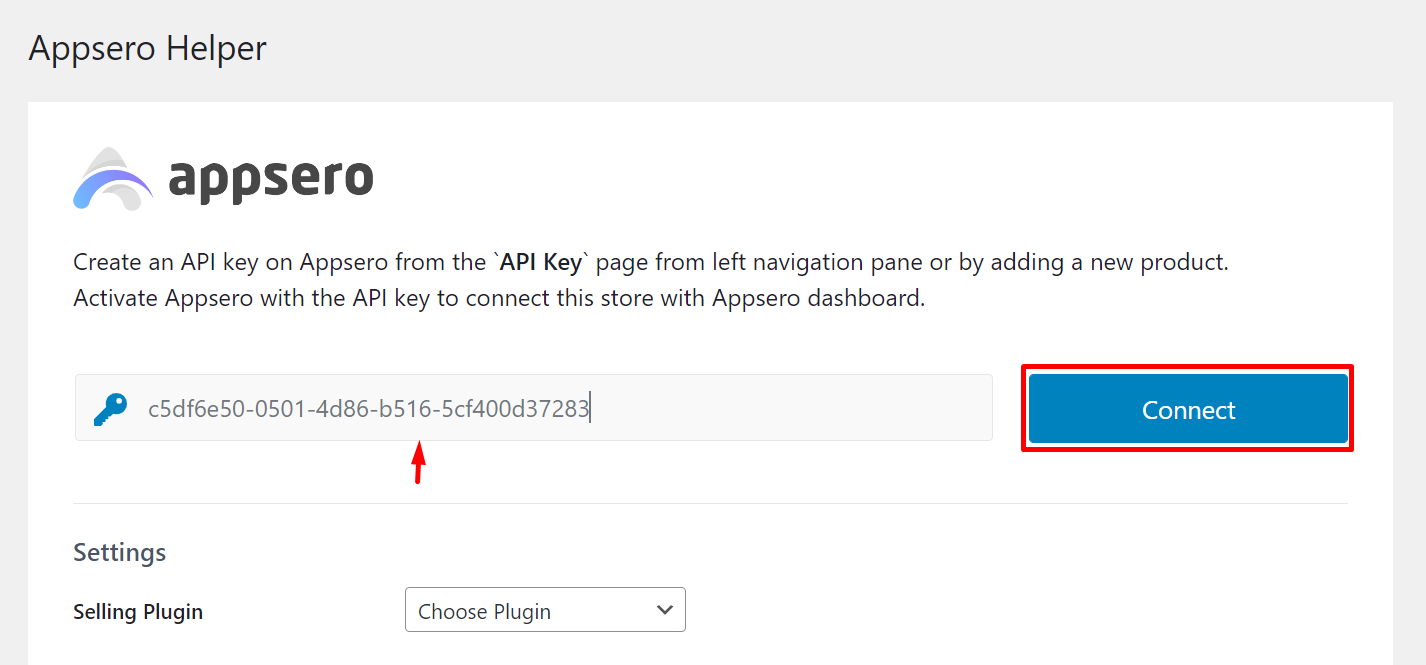 Appsero will be activated for your website if nothing goes wrong. Now choose your website and the WordPress bundled plugins you want to sell from the dropdown menus.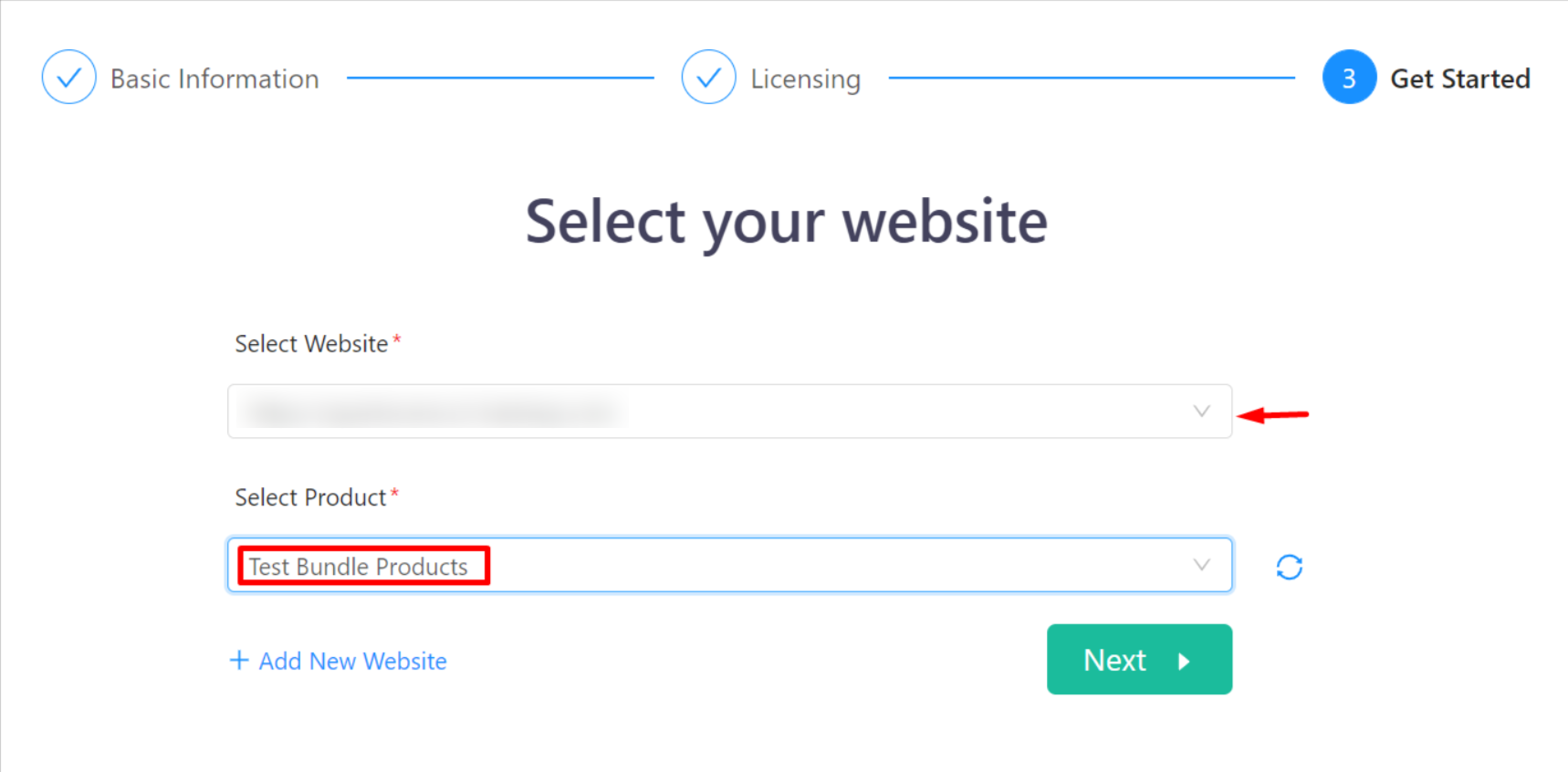 Your primary work is complete. You can add Appsero SDK to enable data collection from the website's user activity. Now let's see how customers will see this WordPress bundle product from their end.
Step 4: Buy directly from the selling platform
Before even connecting your product with Appsero, you need need to create a product with the same name as you used while creating the bundle (Keeping the same name isn't essential, but it is convenient). A customer will see the product on your WooCommerce product page as shown in the following image.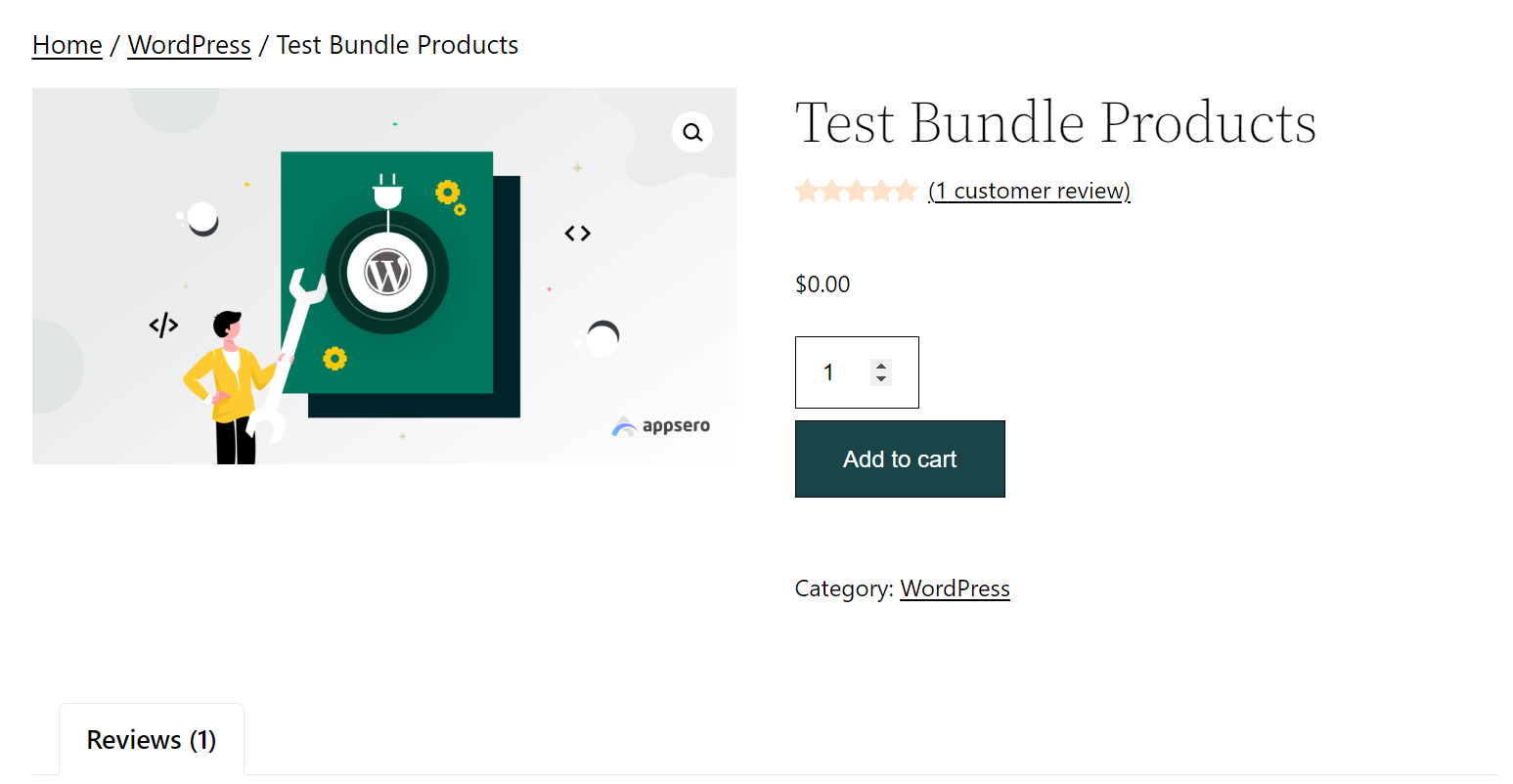 He can add it to the cart and complete the checkout directly from the website. The order will be stored on the WooCommerce order lists. A store admin must mark the order as Completed from the backend.
Step 5: Download your products from your order history/email
Once the order is marked as complete, the user will see the license and get the downloadable products from his user account. He can copy the license from here and download the bundle as well.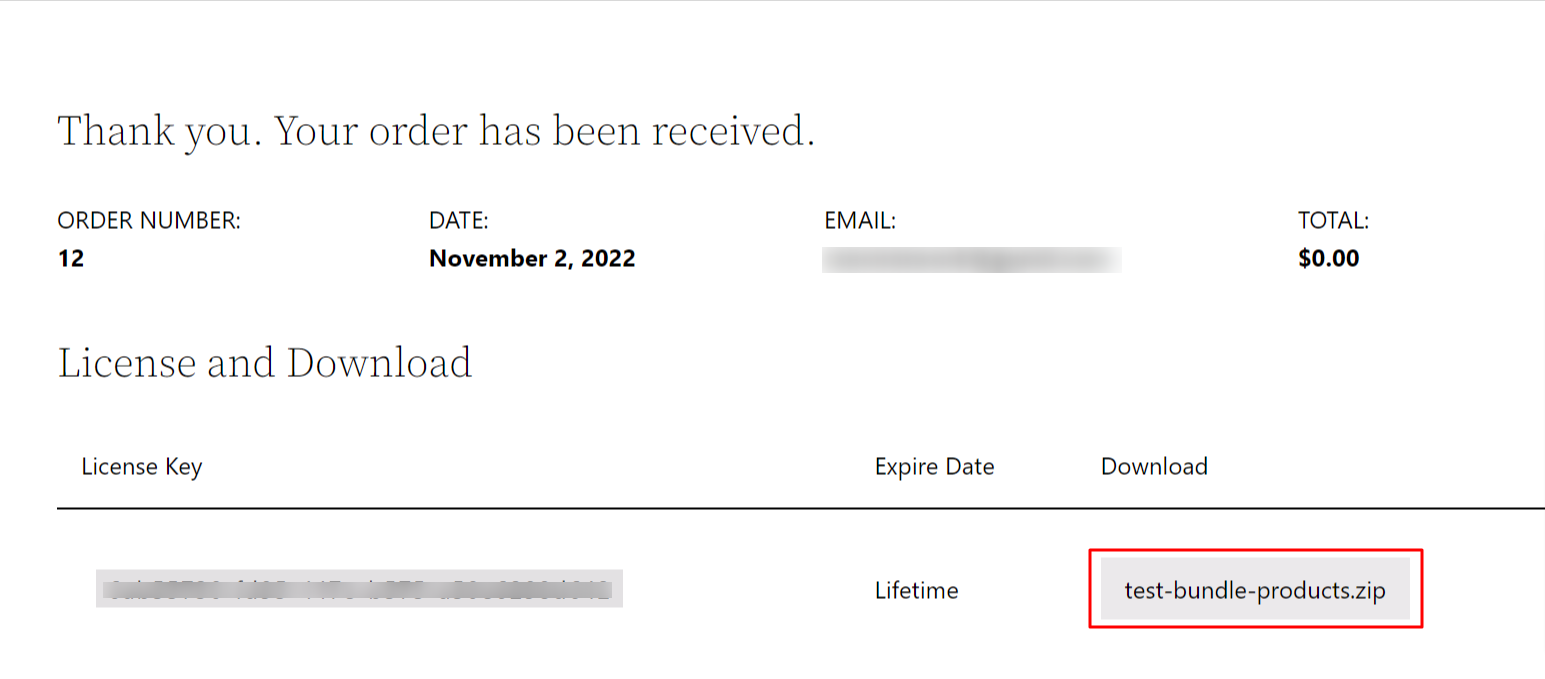 Appsero also sends all these details to the customer's email address. So they can use any process that seems convenient to them.
How's the whole process of adding and selling WordPress bundled plugins? Quite simple, right? You can also sign up for Appsero and start selling WordPress-bundled products today.
A glimpse of some other new Appsero features
Other than the bundle product selling capabilities, Appsero dropped 5 more exciting features on its new release. Let's have a quick introduction to the features.
Theme Deactivation Data: Every website uses a theme. With Appsero, now you can get the names of the themes which are associated with the most number of deactivations of your plugin. For example, if Astra theme users are less likely to use your product, now you can see it. This will help you optimize your products to play nice with Astra, Hence the deactivation number may decrease.
Plugin Usage Data: There are other useful plugins as well along with your products. The plugin usage data will give you the plugin names that are used the most with your plugin. You can use this information to optimize your product more and increase its compatibility with other plugins.
Mailchimp Tag: When users allow Appsero to collect telemetry data, Appsero adds the contact to your Mailchimp list. We're taking this one step further. Now you can now choose custom tags while the contact is being pushed on Mailchimp. You can add custom tags, too!
Add Banner to Plugin Updates: This feature allows plugin owners to stylize a plugin's interface for a better user experience. You can set icons and banners for your listed products on Appsero.
Mailchimp eCommerce Integration with Appsero: You can now sync your customer and sales data like Email, Name, Address, Email Open Rate, Click Rate, and Total Revenue, by connecting Mailchimp eCommerce with your Mailchimp store through Appsero. You can do more advanced email marketing by utilizing this feature.
FAQ- How to create WordPress bundle products
How do you bundle products?
The best practice for bundling multiple products is adding products that are naturally used together and complement each other.
For example Dokan Multivendor, WooCommerce Conversion Tracking,
wePOS – Point Of Sale (POS) etc. are often used together to build an online shop. All these products are made by weDevs. They can sell all of these as a bundle to leverage the benefit of selling bundled plugins.
You can also mix two completely different niche products in a bundle. That mainly depends on your marketing strategy.
How many items are in a bundle?
At least two. We discourage adding too many plugins or themes in a bundle. More plugins mean a higher price. That may affect your selling chances negatively. In addition, users may get overwhelmed by the number of products in a bundle if it crosses five.
What is a bundle pricing strategy?
You first need to know the minimum profit margin of each product. Then fix a higher price than that. Make sure that the total price of WordPress bundled plugins is lesser than the sum of prices when they're sold individually.
How do I create a WordPress bundle for an eCommerce website?
You can easily add grouped products using WooCommerce. Follow the below steps.
1. Go to the WordPress dashboard
2. Visit Products > Add New
3. Edit product data and select Grouped products
4. Add your products by clicking on Linked products
5. Add a new category named Bundles and place the bundle under this category
6. Update the products and publish them as a bundle.
Can I add a plugin variation when creating bundled plugins?
Yes. Appsero allows you to add one variation for a plugin if you have a free and pro variation of your product.
Get started with Appsero to build better plugins & themes
Now that you know how to add WordPress bundled plugins and themes, it's your turn to start building your next plugins and themes and enlist them on Appsero.
You can get in-depth WordPress analytics and accurate deactivation reasons for your plugins. On top of that, Appsero makes it easier to manage software licensing and automatic update deployment.
Let's spend less time managing your products, and more time coding with Appsero.
Subscribe To Our Newsletter
Don't miss any updates of our new templates and extensions
and all the astonishing offers we bring for you.