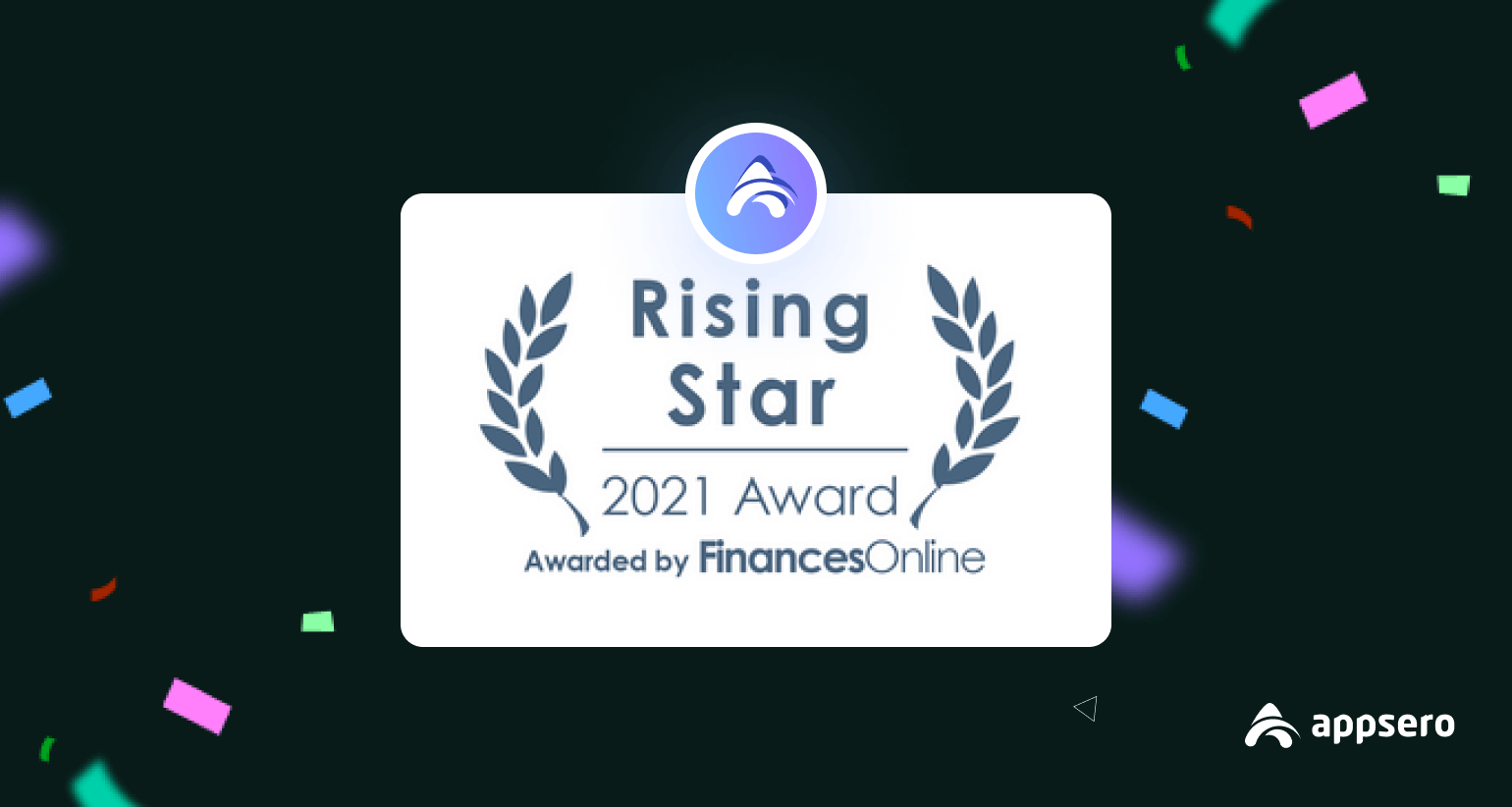 Appsero Earns PSA Rising Star Award 2021 From FinancesOnline
Appsero has been selected as a top business solution by a leading B2B software review platform. The designation substantiates the company's reputation as an industry leader.
We're proud to announce that we've been granted the Top PSA Rising Star Award 2021 by FinancesOnline, a leading software review portal. The award goes to new products that exhibit outstanding performance within the first years of release.
Appsero is a preferred professional services automation (PSA) software for businesses, according to user feedback, social media mentions, and other data. FinancesOnline's experts also conducted a detailed Appsero review, concluding that it offers extensive features to help businesses succeed.
But before going to the review part, let's have a brief idea about what Appsero is.
A Short Overview Of Appsero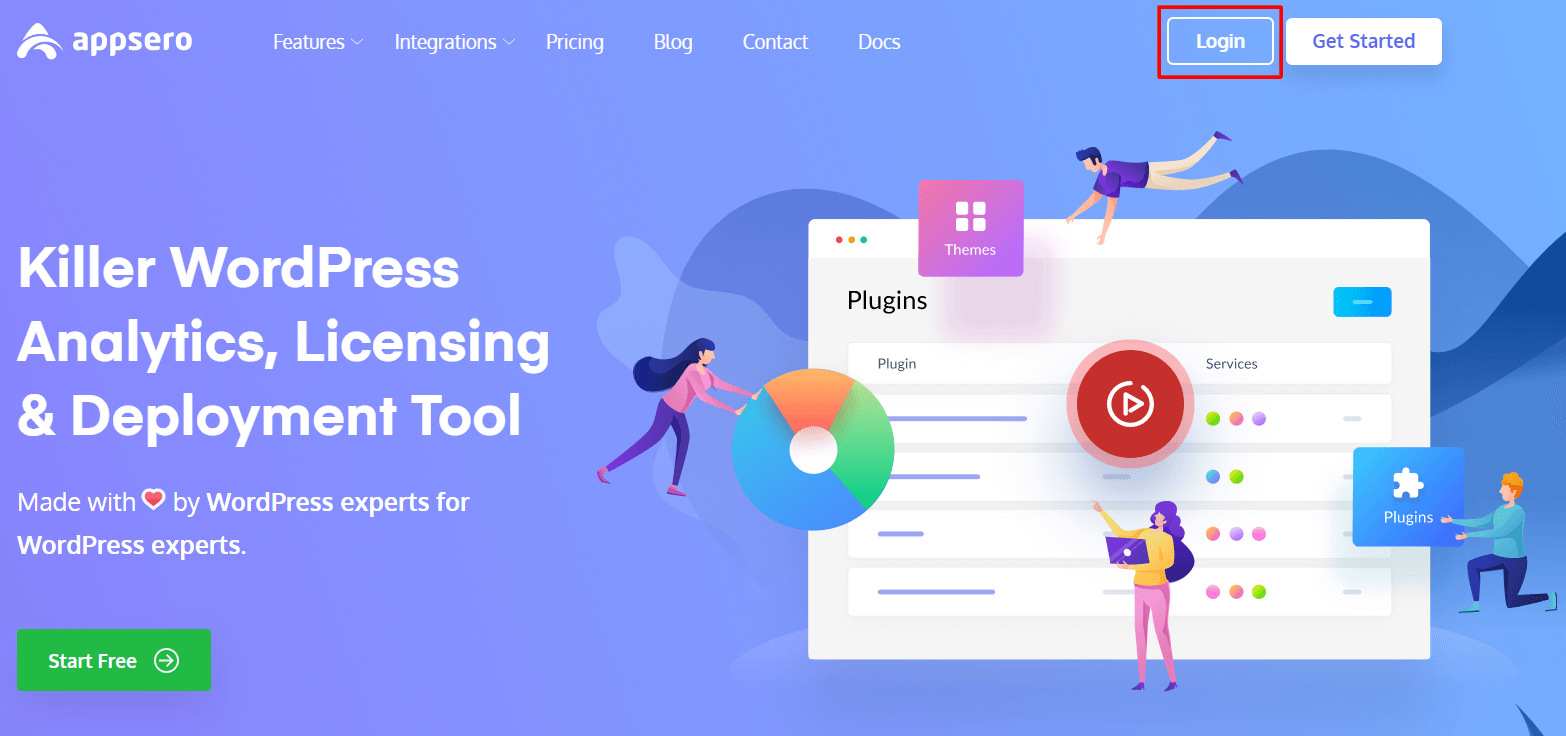 Appsero is an exciting WordPress theme and plugin management tool by which developers can seamlessly handle product licenses, automate updates, and use analytics to monitor their performances. It is an all-in-one solution for WordPress developers.
It allows you to check, generate, activate licenses, and release updates from one single place. You can integrate this tool with systems like WooCommerce, EDD, Envato, and Paddle to generate licenses whenever you receive a new product order.
Appsero allows you to automatically deploy theme and plugin updates straight from GitHub, GitLab, or Bitbucket. Once someone deactivates his plugin, it reaches you with real-time notifications. Below are some killer features of Appsero you must look into.
Software Licensing
License Checking & Activation
Update Deployment
Deactivation Autoresponder
Integrations
Team Collaboration
WordPress Insight
Appsero Received Magnificent Awards from FinancesOnline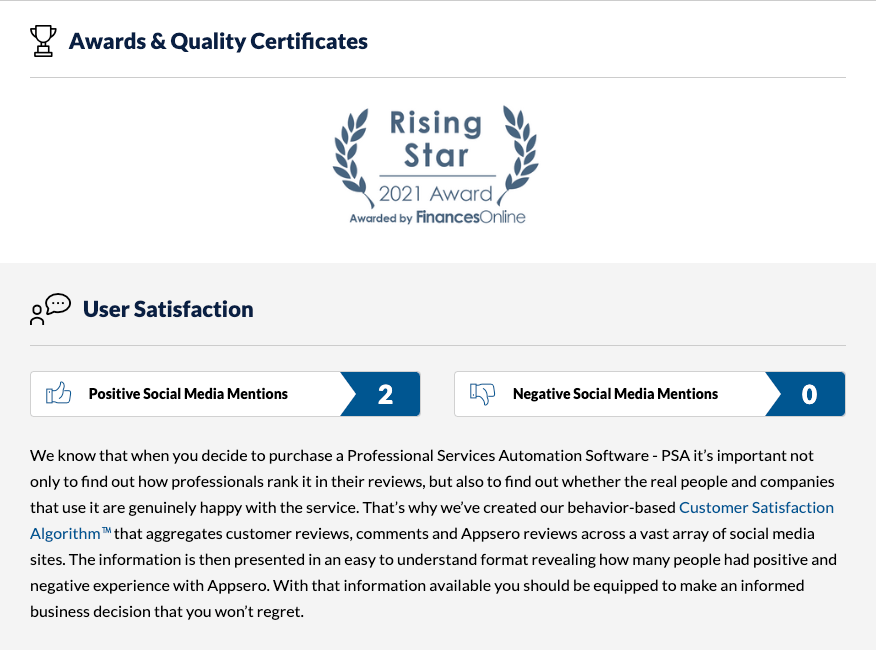 Appsero received the magnificent Rising Star Award 2021 from FinancesOnline – a great honor for us.
Besides, in a study conducted by them, Appsero received a whopping 8.0 rating out of 10.
They evaluated the essential features, pricing plans, user experiences, and support system of the plugin to end up with this rating. Such a prestigious award and splendid review ensure Appsero is definitely in the ballpark.
Why FinancesOnline Loved Appsero
Appsero is a killer WordPress Analytics, Licensing & Deployment Tool. Appsero is the perfect companion for WordPress plugin & theme developers.
FinancesOnline loved our professional services automation software that lets developers and businesses easily manage licenses and deploy updates for WordPress products. They also liked how it lets you generate, check, and activate licenses and release updates for your premium WordPress theme and plug-in customers in one place.

Among the features that impressed FinancesOnline experts were our integration with the services and systems you use for selling WordPress themes and plug-ins—as well as our software license management, update deployment, data-driven insights, and customer retention.
They noted how we offer products that help you leverage software licensing and integration capabilities to improve sales and customer satisfaction. For example, you can connect WooCommerce or Easy Digital Downloads with Appsero. Then, continue using it for selling WordPress themes and plug-ins.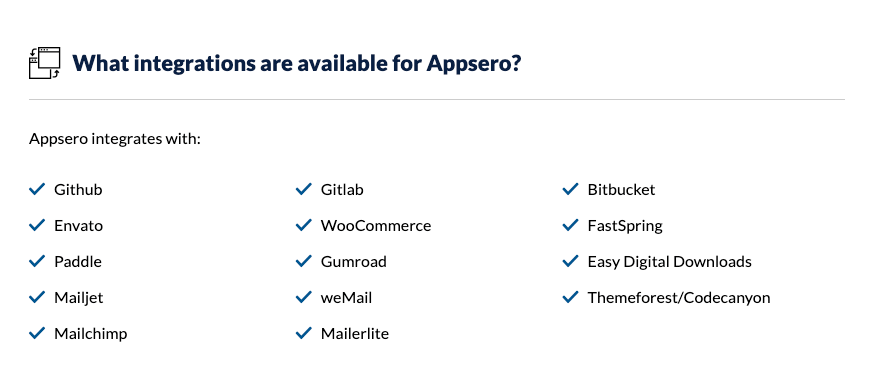 The review mentioned how Appsero helps you gather data about your WordPress products and customers. You can track and engage with customers who are deactivating your WordPress products—as well as learn more about which versions of WordPress, PHP, and server software they're using.
And with our automatic update deployment tool, you can instantly push new builds, versions, and improvements of your themes and plug-ins to WordPress.org. You can also speed up the process by simply uploading the zip files of your WordPress products straight from the Appsero Dashboard.
With Appsero, you can create licenses directly in the application and connect to FastSpring, Paddle, or Gumroad. This removes the need for additional add-ons. All of your previous and new orders will also be automatically synchronized between Appsero and your tools—no matter how many orders you have or how long you've been using the platform.
We've also been praised for our platform's data-driven insights, which empower customers to make decisions that drive product development, sales, and customer satisfaction.
Last but not least, Appsero's deactivation autoresponder is useful for enhancing customer retention. The tool lets you identify, assess, and engage users that are abandoning WordPress themes and plug-ins. You will know the exact reasons why they are deactivating your products. All these are what they look for on their list of best user experience software products.
How Customers Reviewed Appsero in FinancesOnline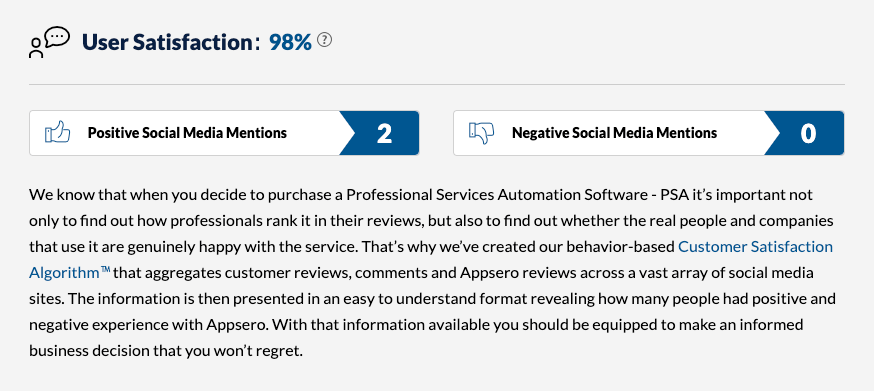 Just developing software isn't the end or enough for the success of any software developer. Once the development phase is over, you need to promote your themes and plugins. Besides, you have to constantly monitor its growth and user activity.
And this may require you to invest whole a lot of time. Often you have to do the same things over and over again, which might be painful and boring to him. But the more time you can save on repetitive tasks, the more you can invest in the growth and progress of your product.
The Appsero WordPress plugin can greatly help you in this case. From a thorough study, FinancesOnline found that customer satisfaction with the Appsero plugin is 98%.
FAQs on Appsero WordPress Plugin
Now, we'll answer some questions that might be helpful to you to get more of Appsero.
What are the pricing plans of Appsero?
Appsero has three pricing plans available. They are:
* Free – (Manage unlimited free plugins)
* Premium – Starts from $20/month (Manage up to 500 licenses).
* Teams – Starts from $20/month (for 4 persons).
The premium plan has 5 different tires that one can subscribe to. They are:
* $25/month – Up to 500 licenses
* $69/month – Up to 1500 licenses
* $99/month – Up to 2500 licenses
* $189/month – Up to 5000 licenses
* $349/month – Up to 10000 licenses
(For over 10000 licenses, you have to contact Appsero for a customized quotation)
What happens to your users if you forget to pay the subscription-free in time?
Don't be scared! Appsero always cares for you. Even if you fail to pay the subscription fee in time, Appsero will continue to manage your licenses. And this facility will be continued for 1 month.
After the 1 month period is over, your users will get an error notification while trying to activate the plugin. It means Appsero stops its services. We hope a one-month extended period is enough for you to clear the subscription fee.
How many plugins you can manage as a premium user?
You can manage an unlimited number of plugins with the premium version. We'll just bill you a monthly fee, won't count how many plugins you are managing from your account.
Final Takeaways
Thank you, FinancesOnline! We couldn't be prouder to be recognized as a top professional services automation software by such a reputable organization.
To our customers, thank you! We look forward to continuing our success together and innovating for your needs.
Subscribe to us if you love to receive notifications of our regularly published blog posts. Also, follow our Facebook and Twitter channels for needful updates.
Subscribe To Our Newsletter
Don't miss any updates of our new templates and extensions
and all the astonishing offers we bring for you.