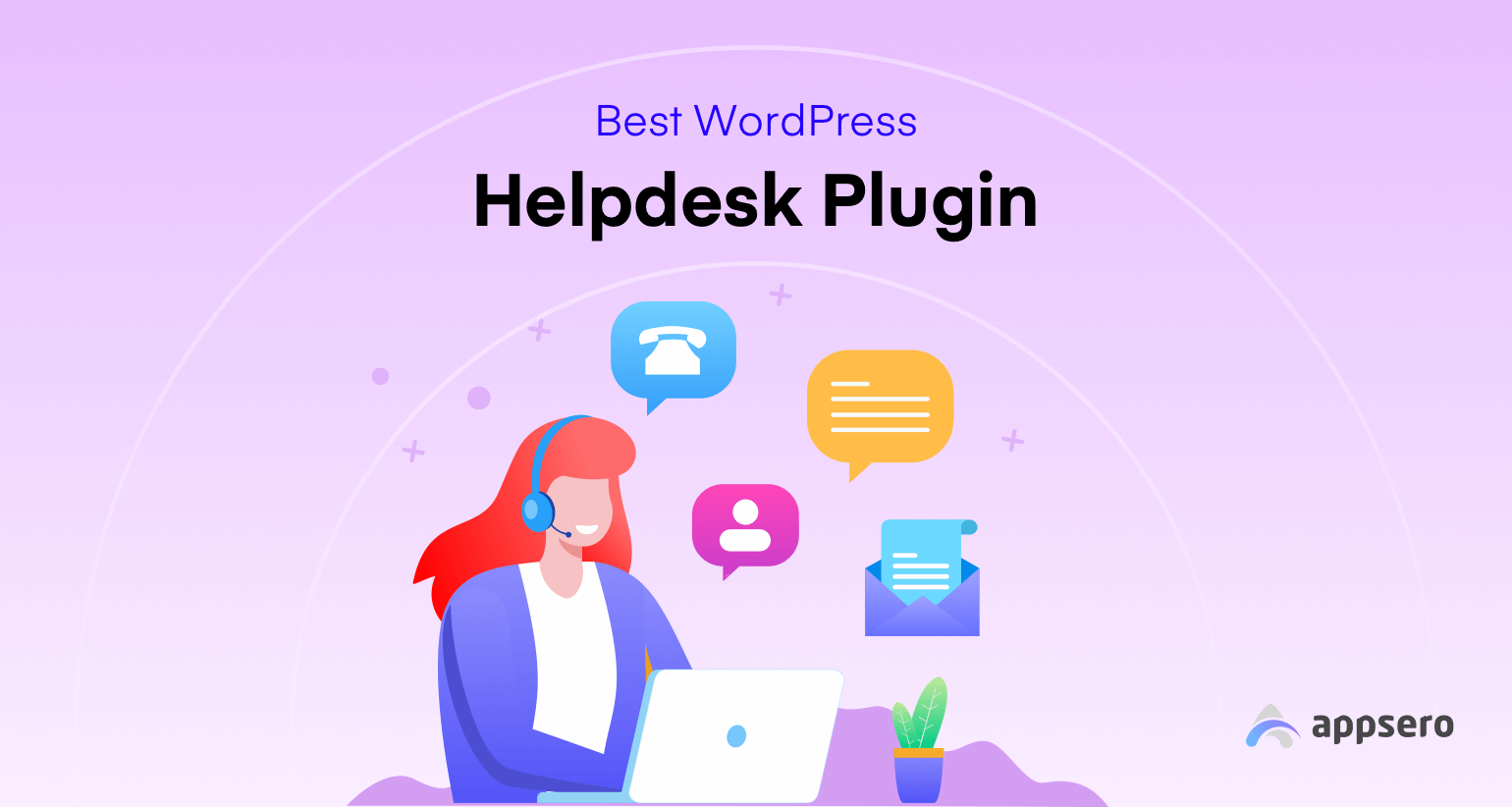 7+ Best WordPress Helpdesk Plugin to Ensure Quick Customer Support
Are you running an online store or business? One of the most valuable things you should do today is being available 24/7. If you are a WordPress user, a helpdesk plugin can make your journey easier.
Plugins are suitable for any volume of business. There are free services for the new company owners as well.
You may get confused while searching for a WordPress helpdesk plugin. To make your job easier, we have listed some best open source helpdesk software.
Take a look instantly before you jump on the detailed discussion-
WordPress Support Plugin
Free Version
Starting Price
Integration With
Refund policy
WPHelpDesk
No
99$
WooCommerce and
EDD
100% Refund within 30 Days
Zendesk
No
49$
SurveyMonkey, Zapier, Trello, Outlook, etc.
No refund policy
JS Support Ticket
Yes
69$
Not available
14 days refund policy
KB Support
Yes
74$
EDD, WooCommerce, Zapier, Mailchimp
100% Refund within 30 Days
WP Support Plus
Yes
49$
WooCommerce and
EDD
Not Available
Awesome Support
Yes
149$
WooCommerce, Zapier, EDD
100% Refund within 30 Days
SupportCandy
Yes
49$
WooCommerce, EDD, Gravity Form
100% Refund within 30 Days
bbPress
Yes
25$
WooCommerce, Contact Form 7, BuddyPress, etc
Not specified
Why Should You Use a Help Desk?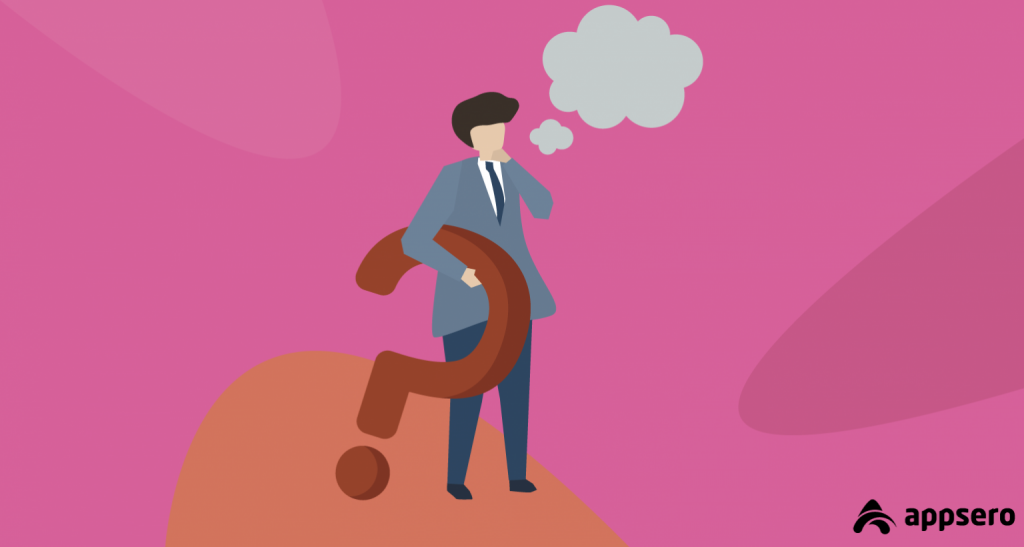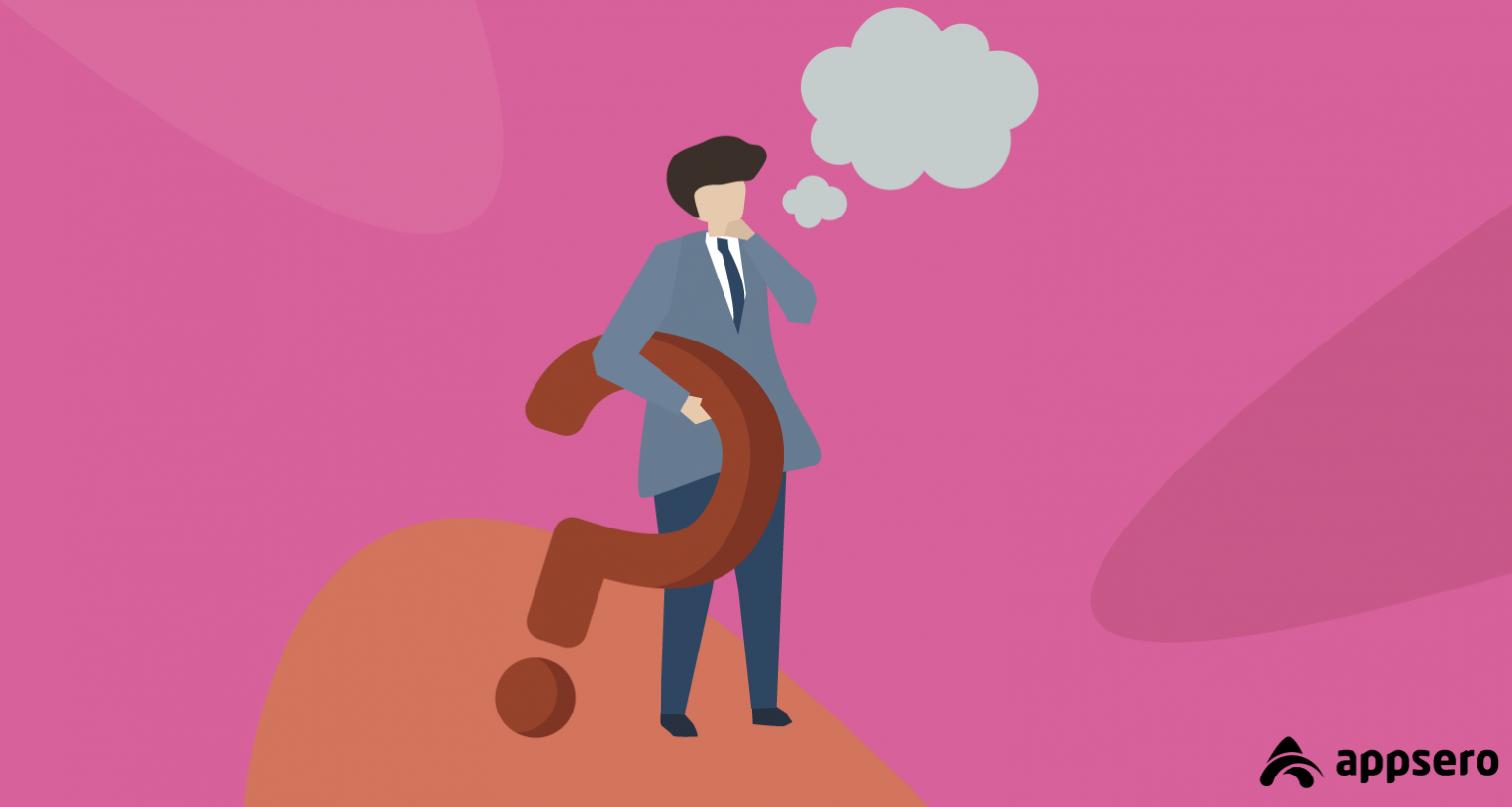 WordPress customer support plugins empower you with timely, fast, centralized, and reliable customer maintenance.
Moreover, they can assign your customer a ticket and forward him/ her to the right department. Isn't it time saving and quick solution to pamper your clients?
If you can choose a smooth customer support tool, it will always make your customer satisfied. On the contrary, your business will grow rapidly.
8 Best Open Source Helpdesk Software
After analyzing almost 15 tools we have summarized 8 best WordPress helpdesk plugins for the company owners who need the support to manage their buyers or potential customers. They are –
1. WPHelpDesk – Seamless Customer Support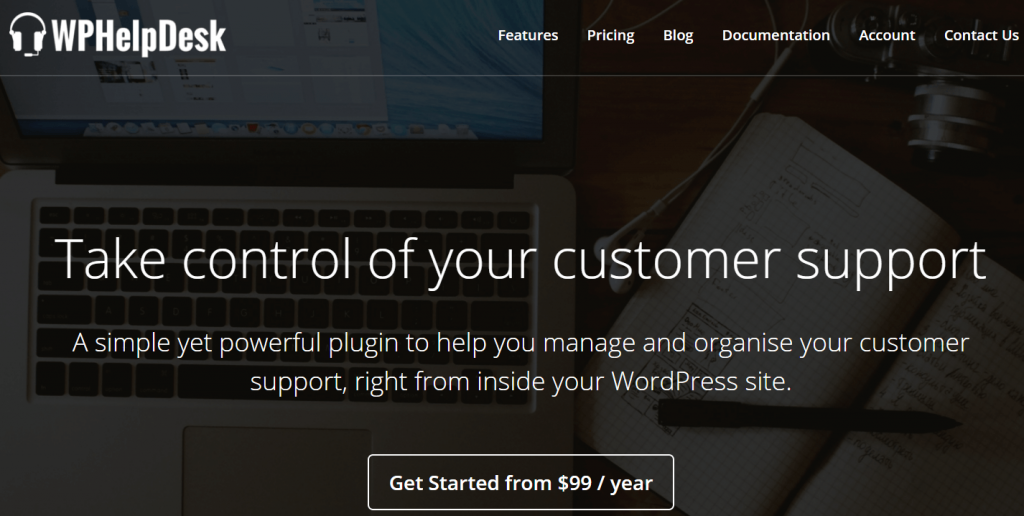 WPHelpDesk is a premium WordPress customer support plugin. You can run it on your WordPress site with full control of the support system.
The integration of WPHelpDesk is super easy and you can use it with any WordPress theme.
Maintaining customers will be much easier after installing it as you are getting an unlimited ticketing system.
What's more?
Core Benefits of WPHelpDesk
Demo version to check both back-end and front-end.
Comfortable searching and filtering option.
Check the queries fluidly.
Consumers are directly linked to supporting tickets.
You can check the history of individual persons.
Get tickets instantly from a contact form or email.
Have add-ons for WooCommerce, Easy Digital Downloads, and Ninja Forms.
The front-end of WPHelpDesk is good-looking and gives a premium look to the consumers. If you want to enjoy this attractive online helpdesk ticketing system you have to pay at least $99.
2. Zendesk – Champions of Customer Services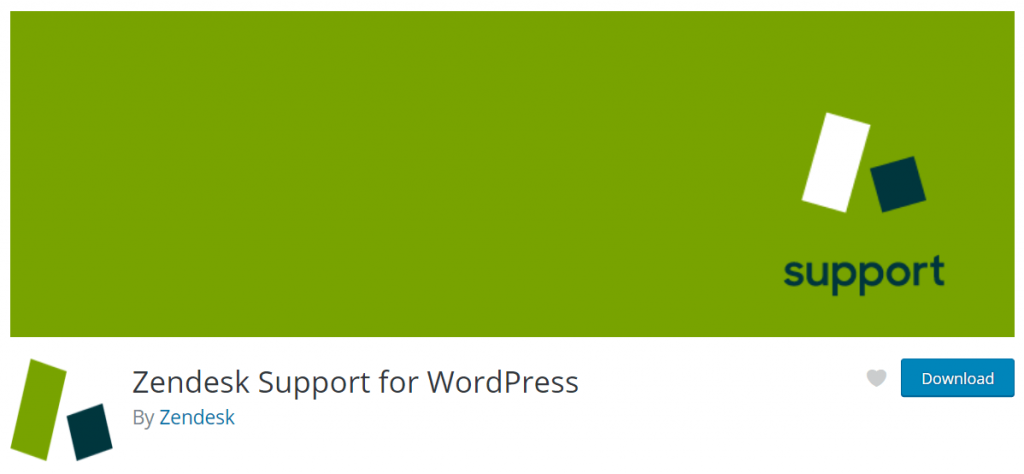 Now we will introduce a famous WordPress helpdesk plugin that has a powerful ticket system for any size of business.
Integrating Zendesk in WordPress is simple and the interface is easy to understand.
Your users or customers can readily get access to the helpdesk without switching accounts.
One of the amazing features of this plugin is it switches comments into support tickets. So, you don't miss a single query and can reply to the commenters as well.
Core Benefits of Zendesk
Show tickets in the WordPress dashboard.
Zendesk Dropbox tab is addible to any page of your WordPress site
Flexible and customizable.
Switch comment to support tickets.
Zendesk Sunshine is not faster than a speeding bullet, but it's close to that. Companies like- Uber, Mailchimp, Siemens, Tesco, Khan Academy, and many more are using Zendesk. Oh, we forgot to mention, it's a premium plugin, starts from $49.
Current Status
Version- 1.8.4
Last updated- 5 months ago
Active installations- 5,000+
WordPress Version- 2.9.2 or higher
Tested up to- 5.6.4
3. JS Support Ticket – Best Help Desk and Support Plugin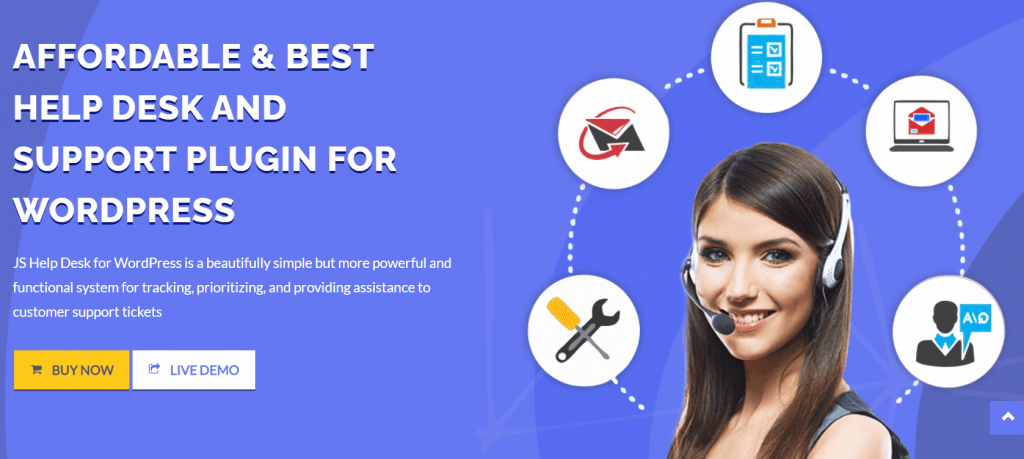 Meet another free WordPress support ticket system- JS Support Ticket. You can install this helping hand completely free. 
Like the other support plugin, your customers can create a ticket from the front-end of your website. What is the feature here?
Well, the site owner or admin can generate tickets on behalf of a distinguished visitor. Isn't it cool?
There are both free and premium versions of JS Help Desk. The free one assists you with several features but when it's about the premium you will get pretty much extra. Like- time tracking, email piping, satisfaction reports from customers, etc.
Core Benefits of JS HelpDesk
Strong filters on the ticket for admin and user.
Forward ticket to the appropriate department.
Highlight the current status of the ticket.
A time tracker is available.
Provide satisfaction reports.
Admin can edit tickets at any time.
Bootstrap base design.
With an unlimited ticketing option, you will get super flexibility as an admin. You can use the free version and jump to the premium sector for just $69.
Current Status
Version- 2.4.5
Last updated- 1 week ago
Active installations- 4,000+
WordPress Version- 4.5 or higher
Tested up to- 5.7.2
4. KB Support – WordPress Help Desk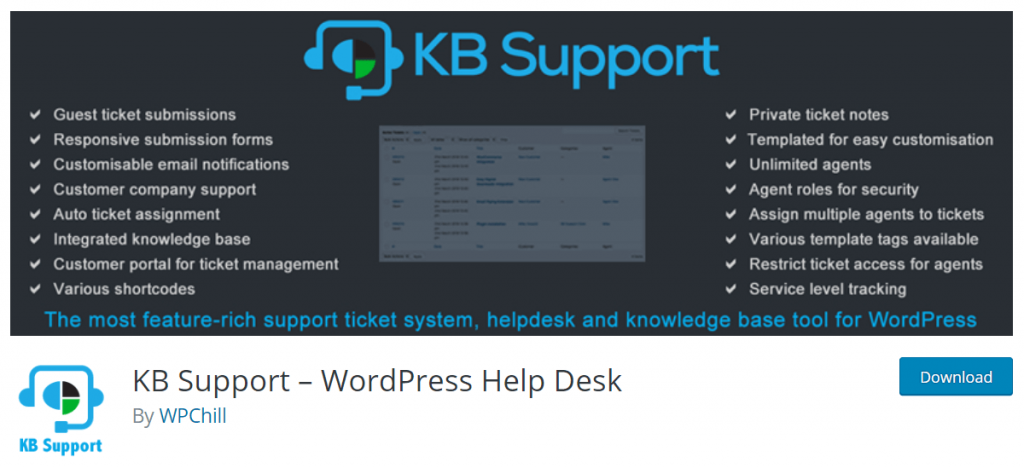 There is an ultimate WordPress support plugin for your customers with enriched features- KB Support. It is a great solution to manage users who need help from your end.
It has a built-in knowledge base where the customers can find their solutions during the ticket submission process. In this way, you will receive a minimal amount of support queries.
Hence, if you are looking for an easy-to-use interface then KB support is your perfect match. Moreover, you can build and customize as many tickets as you required.
Most business owners love the Email Support extension. Through this, your consumers can submit tickets to you without having an account on your website.
Core Benefits of KB Support
Customizable submission forms.
Sequential ticket numbers.
Agent status tracker available (online/ offline).
Built-in SPAM protection.
Management of tickets via email for agents.
Integrate with EDD, WooCommerce, Zapier, Mailchimp smoothly.
KB Support is a growing WordPress support tickets plugin. Their support system is outstanding. You can rely on them as a new entrepreneur or established brand.
Current Status
Version- 1.5.5
Last updated- 3 months ago
Active installations- 1,000+
WordPress Version- 4.1 or higher
Tested up to- 5.7.2
PHP Version- 5.4 or higher
5. WP Support Plus – Free Help Desk Ticketing System
It is one of the most popular customer support in WordPress. The reason behind this reputation is WP Support Plus try to set feature with deeper functionality than other plugins in Support niche.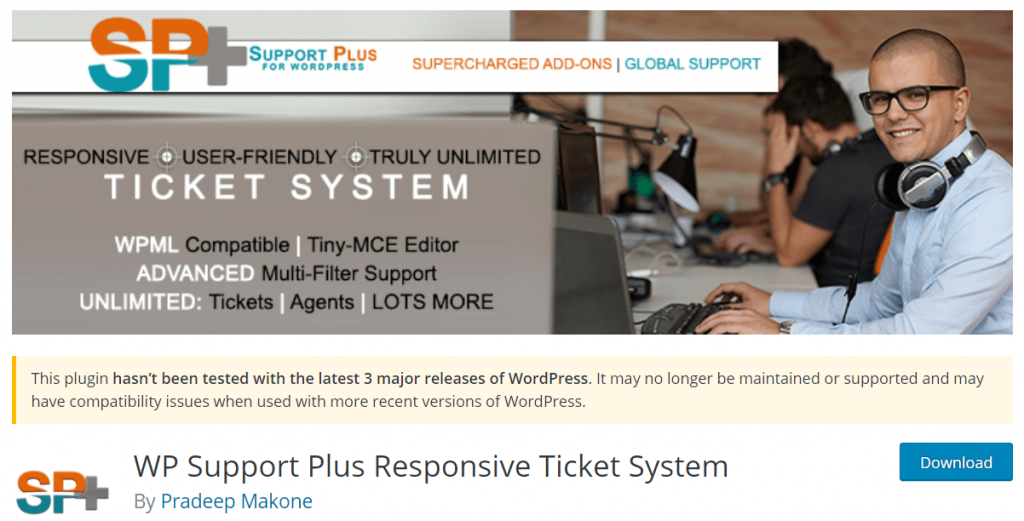 There are front-end submission forms in this tool. And the amazing part of it is you can customize the ticket creation form with 6 different types of custom fields.
Text
Dropdown
Checkbox
Radio button
Text area
Date
Another useful and premium feature is you will get access to conditional ticket assignment provisions.
Core Benefits of WP Support Plus
Allow organizing the assigned tickets.
Ticket Statistics tracker to know the performance.
Email template creation for the auto-reply to customers.
Skype integration for managing urgent queries.
Colorful dashboard for smooth supervision in support tickets.
Several premium and useful extensions.
This open-source support software is pretty much popular for easy and colorful navigation. They have also an extended version of it. This could be the best fit as a free helpdesk plugin for support system.
Current Status
Version- 9.1.2
Last updated- 2 years ago
Active installations- 6,000+
WordPress Version- 4.4 or higher
Tested up to- 5.2.11
Available Languages- 9
6. Awesome Support – Incredible Ticketing System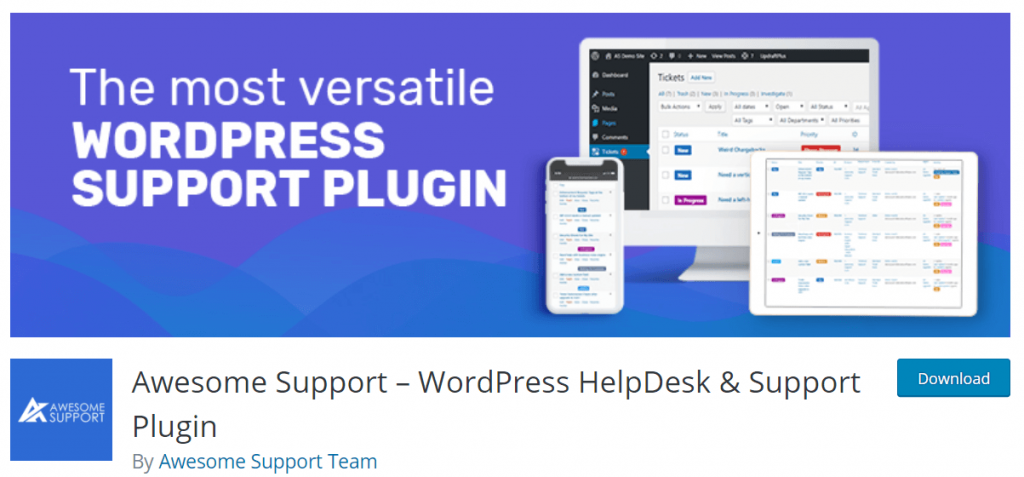 It is one of the resourceful and feature-rich support plugins for WordPress users. The fascinating fact about Awesome Support is it can match features for a SAAS solution like the Zendesk and Helpscout.
The user interface is quite simple. Even a new user can learn it within 5 minutes.
It follows a simple Install> Activate the plugin>Answer some question in the startup wizard
Then, that's all, you are ready to go with it.
Core Benefits of Awesome Support
You can go for a live demo.
Front-end ticket submission is available.
Free ticket importer from Zendesk, Helpscout, and Ticksy.
Maintain privacy between the communication of client and agent.
Provide support for multiple products.
Include WooCommerce integration.
Instantly distinguish old tickets with tags.
Flexible ticket filtering.
Awesome Support helpdesk plugin is a result of 3+ years of hard work, regular experimentation, and constant improvement. They claim Awesome is the most convincing helpdesk plugin in the world.
Current Status
Version- 6.0.5
Last updated- 2 weeks ago
Active installations- 10,000+
WordPress Version- 4.0 or higher
Tested up to- 5.7.2
Available Languages- 8
7. SupportCandy – Helpdesk & Support Ticket System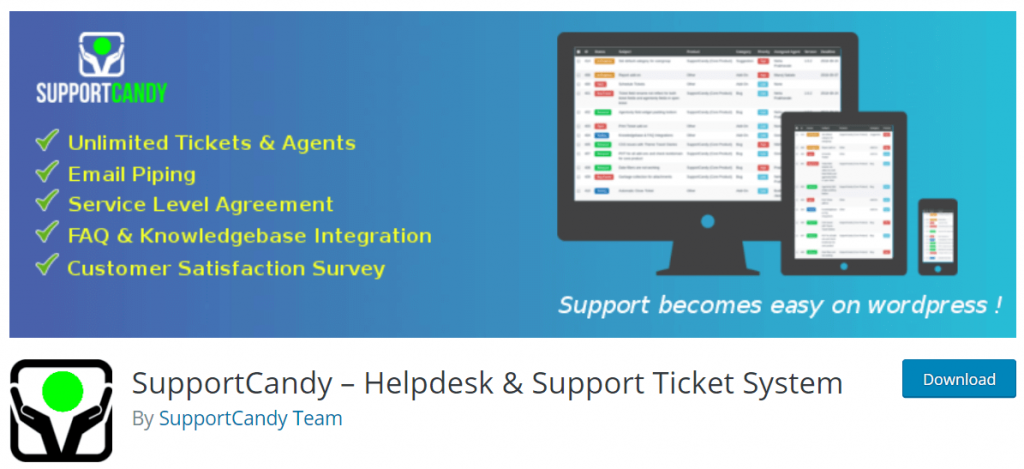 With both free and premium versions, SupportCandy is providing out-of-the-box support service to customers.
They believe in user satisfaction and rapid growth. Thus, the SupportCandy team is always updating their features and looking forward to adding new hallmarks.
Core Benefits of SupportCandy
Cooperative with GDPR law.
Unlimited ticket and creation from the free version.
Ajax-based functionality for speedup operations.
Free guest ticketing.
10 built-in custom field types.
Powerful advanced filter.
WooCommerce integration.
An agent can save replies to use later.
Set satisfaction survey to get customer feedback.
There is a great deal for translators. You will get access to all premium add-ons if you translate the plugin into your language. Obviously, if the language is not available already. And, you will get this benefit for a lifetime.
Current Status
Version- 2.2.2
Last updated- 3 weeks ago
Active installations- 10,000+
WordPress Version- 4.4 or higher
Tested up to- 5.7.2
Available Languages- 5
8. bbPress – Lightweight Forum for Supporting Customers
WordPress community built bbPress as a forum software in 2004. You will easily get it in the WordPress.org plugin section.
Multiple companies who have WordPress site tends to use this free yet effective plugin for customer support. Though it is not precisely a helpdesk tool you can utilize it as one of them.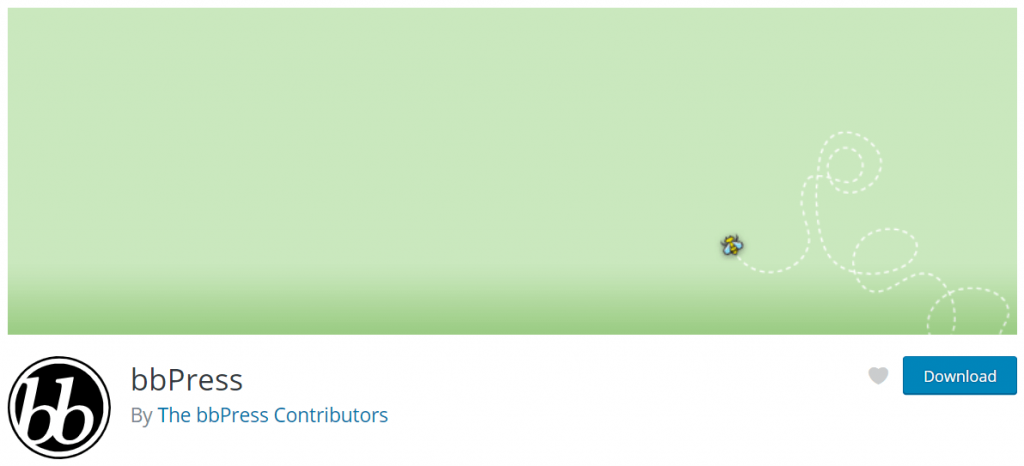 After setting up properly you can use it to encourage the users or buyers to ask questions. So, now it will be easy to fix their doubts and problems.
Core Benefits of bbPress
List out the most common or popular queries.
Any influencer or current user can answer the questions.
Reduce your workload by being a public forum.
The WordPress community directly monitors this plugin.
New visitors can easily find the answers you have given.
No need to pay a single penny.
All these features have made bbPress one of the best open source helpdesk software in WordPress.
Current Status of bbPress
Last updated- 7 months ago
Active installations- 300,000+
WordPress Version- 5.0 or higher
Tested up to- 5.6.4
PHP Version- 5.6.20 or higher
Available Languages- 52
8 Consideration Before Installing a WordPress Helpdesk Plugin
Thoroughly examine your customers who need your support. Find out, do they need constant support to understand and use your product. If yes, it's high time to take a support ticketing system.
Apart from that, you must consider some crucial points before installing one. They are-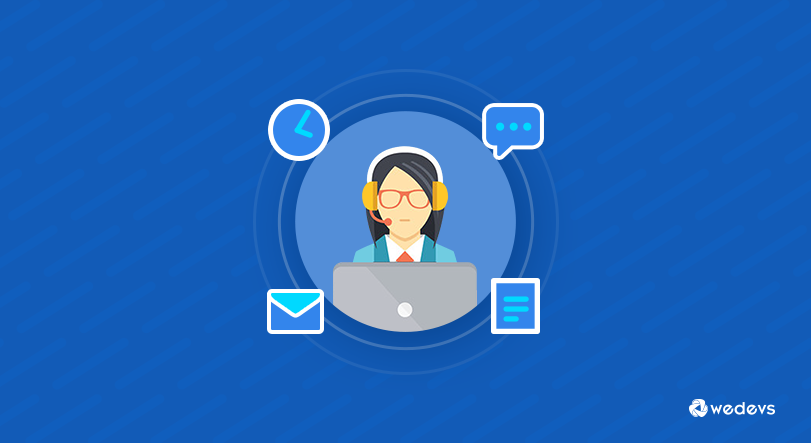 1. Budget-Friendly or Not
Let's think you are not a giant company who can afford the expense of support. In that case, you must filter our list my pricing.
When you are thinking about low cost don't forget to check the must-have features of any plugin.
You can jump for a free one as well. Free doesn't always refer to cheap, unuseful, or limited versions.
2. Demand Wise Customization
It's quite necessary to match the look of your support system with your brand or company. We think it is an essential feature that every helpdesk plugin must-have.
Like SupportCandy has 10 custom fields in the ticket system. Who won't grab it to give the perfect vibe to their brand?
3. Secure Your Customer's Data
When you have huge customers a tremendous amount of data will go back and forth within your WordPress helpdesk plugin.
Ensure the system you are using and believing to communicate with your consumers has powerful encryption.
4. Existence of Essential Features
Before you start to choose any support plugin, always ensure which type of features you need the most.
Suppose there are some helpdesk systems where your user can submit tickets from the backend. But your users are not that tech-friendly and understand the front-end very well.
In this situation, you must consider the front-end submission featured plugin.
5. Easy to Use for Every Customer
If the user interface is not easy to understand you may lose some potential premium customers who are about to buy your premium version.
So, the support system where the customers seek help from you should be designed device responsive and simple.
6. Comfortable Web Interface
The supporting tool must allow the clients to log in to the service portal. In that way, it will be easier to identify the progress of their tickets. That's why the front-end interface of a support plugin should look pleasing which provides faith into the user's mind.
7. Performance Tracking Capability
The ability of performance tracking is another hallmark of a helpdesk plugin. With it, you can ensure if the support tool is meeting your desire or not.
8. Compatibility with Your WordPress Theme
Your selected support plugin may not work well with your WordPress theme. If it is not updated according to the WordPress update, it's obvious that you will face it. Before running it among your customers, you must test it rapidly.
FAQ on Best Helpdesk Plugin for WordPress
Question 1: How do I create a helpdesk in WordPress?
Answer: 
Step #1: Install your desired helpdesk plugin. 
Step #2: Customize the core settings according to your theme.
Step #3: Test the plugin from the frontend.
Step #4: Reply tickets from the WordPress backend and ensure both of the sides are responding well. 
Question 2: Why are some plugins not supported by WordPress?
Answer: There are some themes and plugins that may not support your WordPress site. It happens because the plugin or theme may not be updated as the WordPress new version. So make sure your installed plugin version is matched with the WordPress current version. 
Question 3: How do I integrate Zendesk in WordPress?
Answer: 
Step #1: Log in to your WordPress admin account. 
Step #2: In the dashboard, select Plugin then Add New.
Step #3: Now, select Upload.
Step #4: Click Browse to select the file you downloaded in your computer.
Step #5: Click Install Now.
Step #6: After the file is uploaded and installed, click Activate.
Selecting the Right Ticketing System is Over to You
Filtering your requirements with these high-quality WordPress support tools can help you to grab the perfect one.
If you want to do business successfully there is no alternative to customer satisfaction at the end of the day.
Let's answer your user with a smart helpdesk plugin.
Have a wonderful day!
Subscribe To Our Newsletter
Don't miss any updates of our new templates and extensions
and all the astonishing offers we bring for you.