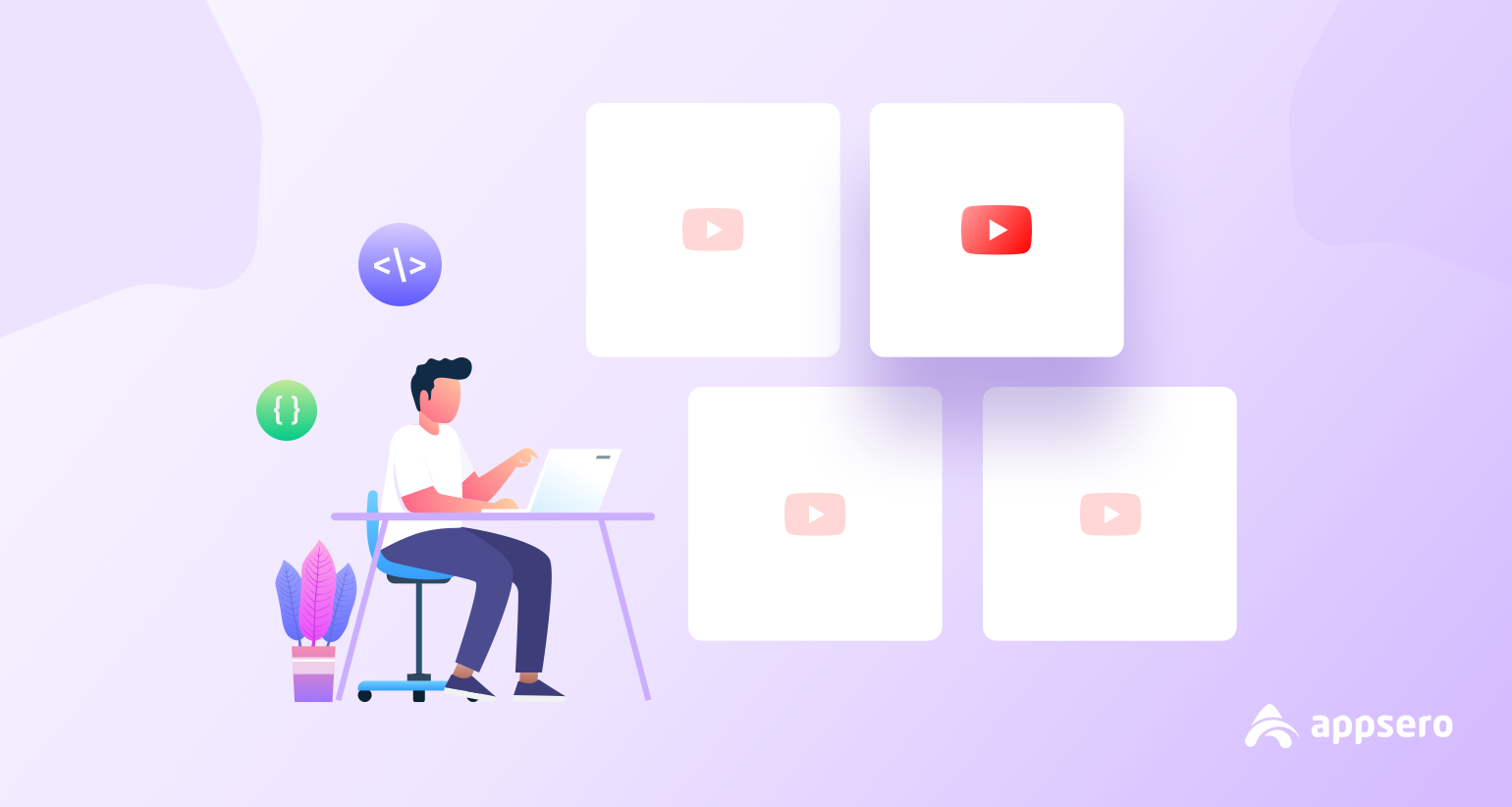 Top 10 WordPress Based YouTube Channels for Developers to Follow
Who knew YouTube would become so influential in our lives when it was launched back in 2005? Today after 15 years, it is known to be the best platform from which millions of people all around the world get enlighten with anything that anyone can possibly think of. There are thousands popular of YouTube channels out there today. But are there any dedicated YouTube channels for developers do you know about?
500 hours of videos are uploaded to YouTube every minute!

Fun Facts
Even all the stats and number says it all about the popularity of YouTube in today's time. And it didn't take too long to become the second most popular website of the world right after its giant partner Google. Today one can find the Youtube app in every known device, starting from smartphones, tablets to a smart television, and any other streaming devices.
As this platform is a part of all our lives now so many people simply creating and sharing videos for it made fortune out of it. And today many YouTube channels have become really popular for a number of reasons. Now the medium & reach of Youtube has become so big & vast that this is a place where you can get audiences for anything that you want to teach or share useful.
So today we are going to highlight some of the most prominent WordPress based YouTube channels for developers. Well not exactly for the theme or plugin developers but also for the general non-techy users of WordPress. So keep reading to get introduced with some of the most famous YouTube channels dedicated mostly to WordPress users.
10 WordPress YouTube Channels To Watch Out For
Well, we have tried to divide the listed YouTube channels into two separate sections for your convenience. The first half of the section is mostly popular among non-technical general WordPress users whereas the latter half is more suitable for the technical users such as website, plugin & theme developers.
Non-Technical WordPress YouTube Channels for Everyone
WP Crafter

This immensely popular YouTube channel vouch for itself to be a platform for non-techies. It hosts and covers some really interesting topics regarding WordPress. It has some really easy to follow tutorials that are regarding the sales funnel website, strategies to follow for building an e-commerce site. There are also some of the really popular videos to watch out for covering some of the common issues of WordPress users.
Its chief video communicator is Adam Preiser, who tries to teach simple topics for general WordPress users along with some more advanced videos dedicated to developers.
Channel's Journey Began: May 28, 2014
No. of Subscribers: 190K+
No. of Videos: 531+
ThemeIsle

This channel right here hosts beginners and advanced levels reviews and tutorials. The channels try to keep its channel updated posting new videos every week. The channel started its journey four years ago back in 2016 and since then they have continued this channel as a valuable resource to anyone who has recently launched their WordPress site.
The channel also creates specialized videos for their customers who need help with useful user-guide and tutorials regarding their products or services as well as WordPress.
Channel's Journey Began: Jan 20, 2016
No. of Subscribers: 27.9K+
No. of Videos: 337+
WP Beginner

As it names suggests, for WordPress beginners this channel is probably one of the largest resource hubs there is. It creates and shares customized videos mastering in the basics and more. There is a very good chance that you have probably already come across this channel on YouTube if you have searched for any problem related to WordPress.
Moreover, it shares videos mostly in an easy form which is always easy to follow. You will be able to learn to do many cool things following its videos as it offers easy to understand tutorials for beginners as well as advanced users.
Channel's Journey Began: Jul 18, 2009
No. of Subscribers: 205K+
No. of Videos: 703+
Elegant Themes

The channel revolves around its Divi theme and its useful resources. It features useful WordPress tutorials, hosts live streams, provides regular updates regarding one of the most popular WordPress themes and the WordPress page builder. It also provides support and content release notice regarding its theme doing regular live streams each week.
Not just the general users, its videos can also be enjoyed by the newcomers & design professionals, enabling them the power to create some magnificent designs with the utmost ease and efficiency.
Channel's Journey Began: Nov 28, 2013
No. of Subscribers: 127K+
No. of Videos: 1758+
weDevs

This Youtube channel wasn't that active even a year ago but now within a quick span of time, the platform has produced a number of useful videos related to its products, services as well as WordPress. And now it is more active than ever. As the channel is run under WordPress products based company. Along with WordPress related stuff, it mainly highlights tutorials, use-cases, user-guide regarding its popular products and services.
Its flagship products include Dokan- Multi-vendor marketplace, WP User Frontend, WP ERP, weMail, Happy Addons, WP Project Manager, etc.
Channel's Journey Began: Jan 17, 2012
No. of Subscribers: 3.93K+
No. of Videos: 217+
Technical WordPress Youtube Channels for Developers/Everyone
Tyler Moore

Coding experience or not, with the lesson from this YouTube channel, one can easily learn how to use WordPress in the most effective way possible. Its step-by-step tutorial videos are well explained with no steps being skipped to make it complicated for its viewers. The videos in it enable anyone to create a professional website in WordPress hassle-free.
The YouTuber Tyler Moore himself creates and shares several user-friendly guides related to WordPress, Elementor, Themes, Plugins, and more. The best part of this channel is that it has several easy to follow step by step tutorial videos that could come in real handy for both beginners to advanced level users.
Channel's Journey Began: Jun 1, 2011
No. of Subscribers: 365K+
No. of Videos: 220+
WPTuts
When it comes to producing good tutorials for WordPress then, this is the channel that one would think of. Its tutorials are easy on the eyes and help you build an awesome WordPress website in a quick time. Watching its videos, you can also learn the use of several popular plugins and tools that could essentially improve your freelancing earning ability and more.
More so, the videos in this channel show the easiest way to build a WordPress website using WooCoommerce, Elementor, Brizy, and more. So if you are looking to build powerful websites and don't have a clue where to start from then this channel could very well be your lifesaver in this regard.
Channel's Journey Began: Nov 11, 2014
No. of Subscribers: 80.3K+
No. of Videos: 476+
Kori Ashton

This YouTube channel was formerly known as webTegrity creates videos with the mindset to help improve online marketing for WordPress users. The channel consists of a huge collection of tutorials presented mostly by Kori Ashton herself that is sure to add value to your business ideas & needs. It also covers various other different topics like verifying business pages on Facebook. This sort of topic is quite useful and adjacent to WordPress.
More importantly enough, the channel publishes useful tutorials on a regular basis, that surely keep its vast number of subscribers busy and engaged all the time. So this one right here is surely a channel that one should consider subscribing for their own good.
Channel's Journey Began: Oct 10, 2011
No. of Subscribers: 42.2K+
No. of Videos: 450+
Let's Build WP

The channel is run by Martie Dread, a famous YouTuber who teaches how to build a website in WordPress from scratch for the people who don't have any prior experience of WordPress. The tutorials posted on this channel are extremely easy to follow for any beginners or advanced level users. The best part being you do not require any coding, HTML, or Java Script knowledge in advance to watch its simple yet resourceful tutorials.
The channels claim that the free tutorial videos of website building & designing that it is going to show would have cost more than $1000 at least if the viewers decide to let some professionals do it for them. And so who wouldn't want to subscribe to a YouTube channel that could potentially save them money right?
Channel's Journey Began: Oct 28, 2013
No. of Subscribers: 26.4K+
No. of Videos: 97+
Website Learner

The primary focus of this YouTube channel is based on resolving any particular problem such as 'How to record your computer screen'. The channel's principal goal is to target specific questionable areas of making or building an e-commerce website and provide answers to it in the form of 'How to'. All the title of its videos begins with the phrase 'How to' in it.
The owner of this channel already declared that the main purpose of it is to ensure everyone is able to learn as simply as possible. Its style of videos has grabbed an immense amount of popularity even with the release of a limited amount of videos. The channel is only in the market for 3 years but already earned a large number of subscribers by creating mostly user-centric videos.
Channel's Journey Began: Jan 16, 2017
No. of Subscribers: 619K+
No. of Videos: 55+
Its Time for You To Subscribe & Start Watching!
Whether you are a fresher to the WordPress platform or a high-end WordPress plugin or theme developer, you are always going to find the videos in the above-mentioned YouTube channels useful. There were a number of other useful and popular YouTube channels that weren't mentioned, not because those weren't worthy enough to be named but simply because we had to pick the top ten list of these channels this time.
Going by the latest trend & interest for watching YouTube videos, these channels are definitely the best ways to teach, learn, and keep a track of what is going on in the WordPress industry. And this should leave no doubt in your mind that you are going to learn from some of the most trusted sources.
In today's post, we have selected each one of these channels, that we felt would add some value to your knowledge. All these channels cover a wide range of topics such as tutorials, website building & designing, high-end developing, user guide of plugins, themes, and other resourceful WordPress marketing & SaaS businesses related tips and ideas. And so all of them are worth subscribing.
So what are you waiting for? Subscribe to your favorite YouTube channel today and start exploring the new horizon of the WordPress world.
Do you enjoy watching any other interesting YouTube channels regularly other than these? Feel free to share them in the comments below.
Subscribe To Our Newsletter
Don't miss any updates of our new templates and extensions
and all the astonishing offers we bring for you.