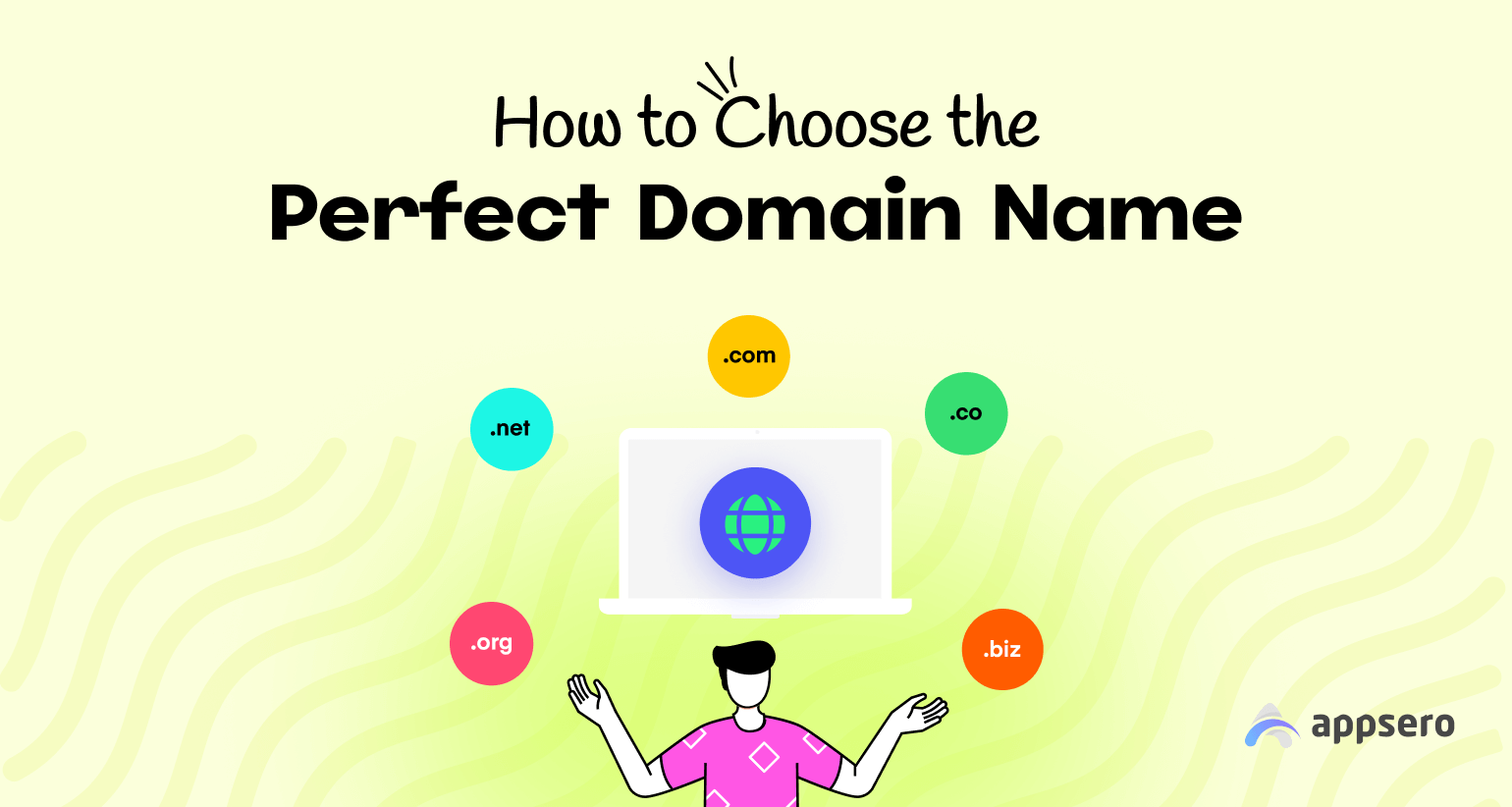 How to Choose the Perfect Domain Name for Your Business – 15+ Proven Tips
Your domain is the first impression potential customers will have of your brand. So it's important to choose one that accurately represents your business and is easy to remember.
Additionally, having a domain name that is relevant to your company's industry or products can improve search engine rankings, making it more likely for potential customers to find the business.
How to choose the perfect domain name for your business?
In this post, we'll share 15+ proven tips to help you select a domain name that will attract customers and boost your brand's online presence. So, let's get started and make your dream website a reality!
For quick navigation –
Why domain name matters for your business?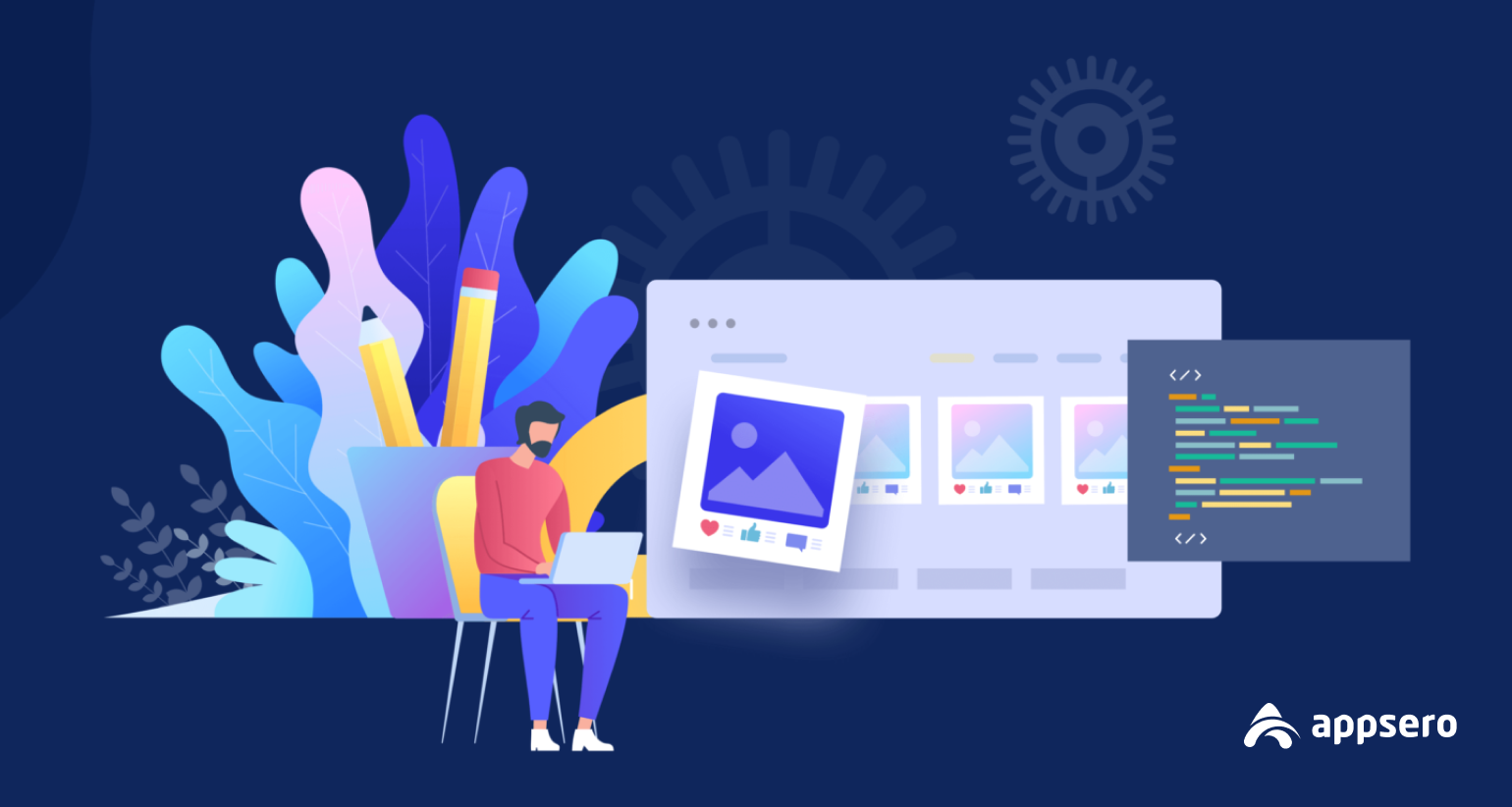 Your domain name serves as the online address for your company and also helps to create a professional image and establish credibility. It also allows customers to easily find your website. Which eventually leads to increased traffic and sales.
Read the below list to know why a domain name is important for your business.
Your website's URL works as the storefront of your business on the web
A domain represents your brand and helps customers remember your business.
It improves your search engine rankings.
It helps establish credibility and professionalism for your business.
Having a website is essential for email communication and online marketing efforts.
You can create a consistent and cohesive branding experience across all of your online properties.
A domain name can be used to protect your brand from being used by competitors or imposters.
Overall, having a domain name is a key component in building a successful online presence for a business.
How to choose the perfect domain name for your business
With so many options and considerations to take into account, it can be tough to know where to start. Follow the below steps and make a decision you'll be happy with for years to come. Whether you're a new entrepreneur or an experienced business owner, these tips on how to choose the perfect domain name will help you. So let's get started!
1. Use a suitable extension (prioritize .com)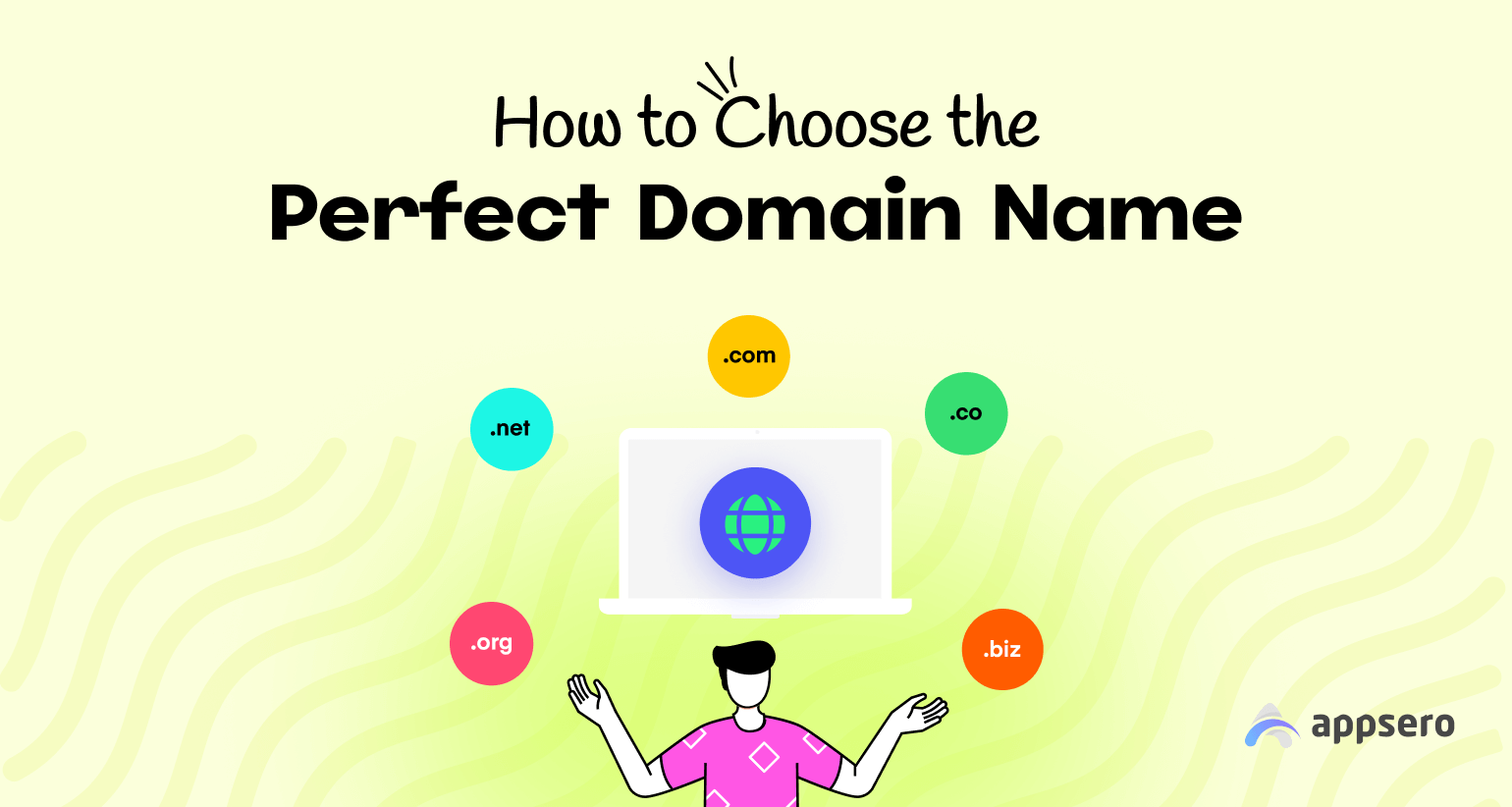 Dot com (.com) is the most used extension across the globe. That's why internet users have some sort of familiarity with it and trust domains with the .com extension more. Since we're talking about business, .com which means commercial is the best TLD (top-level domain). But, you can go for .net, .org, and .biz as well.
If the .com extension of your desired domain is already taken, you should try to settle for a .com extension variant like .co. Some people tend to choose trendy extensions like .pizza, .blog, .club, .photography, and more. You can also choose any of them if that aligns with your business's long-term goals and brand identity.
2. Keep it sweet, short, & simple
Make sure your domain name sounds pleasant. A user should find it very easy to type and remember. Keep it short and simple so no one mistypes your domain name and land on other websites instead of yours. This way you won't lose any potential customer who is supposed to visit your website.
3. Use hyphens, numbers, & double letters only when you have to
We recommend avoiding hyphens, numbers, and double letters unless you have to use one. Hyphens and numbers make a domain difficult to type and increase the chance of getting misspelled. For example, imagine youtube.com was you-tube.com. Chances are high that a good number of people would miss the hyphen and land on another website or face an error like "DNS address could not be found".
4. Do your research or consult experts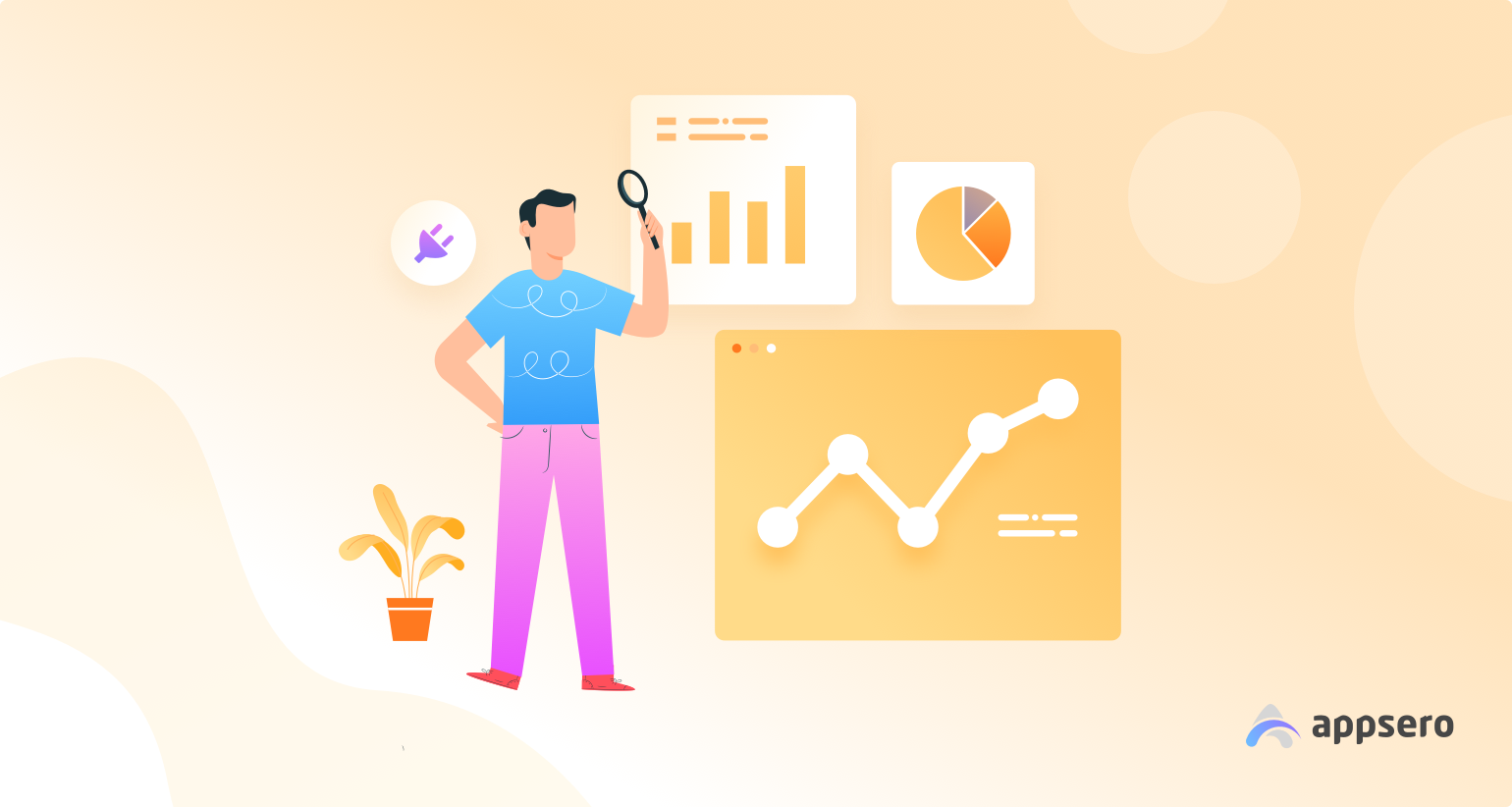 Explore the internet for domain ideas. Find out other businesses that have similar target audiences and products as you and analyze how they market their domain names. Researching the domain names of your competitors can help you identify industry trends and find ways to differentiate your own domain name and brand. It also helps to identify any potential legal or trademark issues that could arise with a particular domain name choice.
5. Keep the name unique and brandable
Your domain should resonate with your brand's name. The domain name will automatically remain unique since you can't use a domain name that's already taken by someone else. What's important is keeping it brandable. That means choosing a domain name that sounds like a brand and people who see or hear it can predict the niche to some extent.
For example, if you look at isitwp.com you'll understand this website analyzes a website and finds out if a domain is using WordPress or not. Keep your domain relevant to your business. Inform your customers about what you do through the domain name.
6. Merge keywords for SEO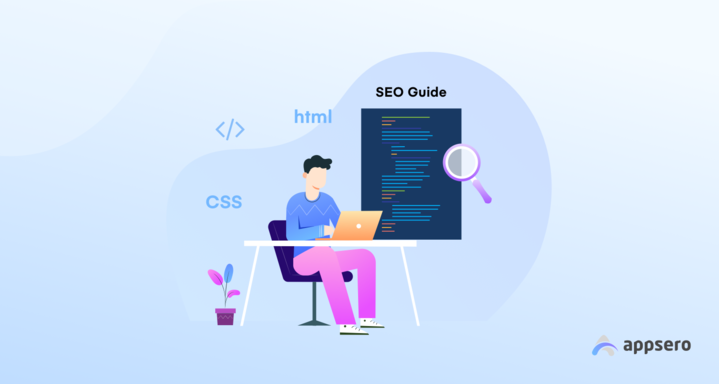 Online-based businesses largely depend on search engine presence to generate revenue. Imagine a customer who intends to buy a cake in NYC and searches for a bakery online. Domains that contain "cake, pastry, bakery, or NYC" have more chances to appear on search results than those without these keywords. So, try to integrate keywords into your domain name. That will give you some sort of boost while ranking on search engines.
7. Skip generic and vague options
Generic and vague options are less likely to be memorable and can make it more difficult for people to find your website. Additionally, using a generic or vague domain name may make it more difficult for your website to rank well in search engines. It's best to choose a domain name that is meaningful, easy to remember, and specific to your brand or business.
8. Keep it easy to spell & pronounce
If a domain name is easy to spell and pronounce, it is more likely to be remembered by potential customers. This can lead to increased brand recognition. Moreover, an easy-to-spell and pronounce domain name will be easier for search engines to understand and rank.
People will be more confident when clicking on your domain. It will be easier for customers to find your website, which can improve their experience and lead to increased conversions.
9. Grab your deal while it's available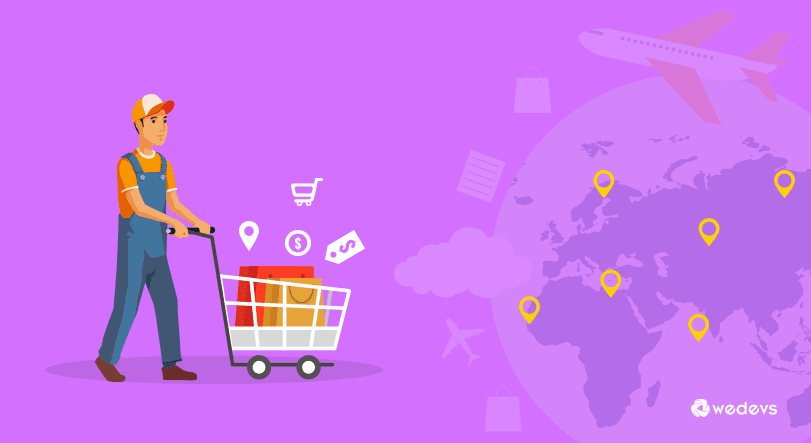 Every day, people around the world are looking for domains for their businesses. The domain name you want may not be available if you wait too long. With the increasing popularity of the internet, the demand for unique and catchy domain names is also increasing. If you take more time to make a decision, someone else may grab your desired domain.
On top of that, the cost of buying a domain name can vary depending on the extension and the registrar. By grabbing the domain name quickly, you can ensure that you get it at a reasonable price while it's still available for sale.
10. Keep away from "sugary" names & abbreviations
Using "sugary" names or abbreviations in a domain name can make it appear less professional or credible. It may be harder for people to remember or find your website if the domain name is not straightforward. Additionally, using such names or abbreviations can be considered as keyword stuffing, which is a poor SEO practice.
11. Think long-term for future business scopes
Suppose you're selling shoes now but have plans to scale your business and sell clothing items as well in the future. Buying a domain like shoeuniverse.com is not wise in this case. It doesn't align with your future business goals. Choosing a domain name that can grow with your business ensures that you don't have to change your domain name in the future, which can be costly and disruptive.
12. Avoid making it look or sound awkward
An awkward domain name can be confusing to people, which can make it difficult for them to understand what your website is about or what it offers. It can defame your brand and prevent people from taking you seriously. Say, you have a business named Therapist Finder or Powergen Italia, or Teachers Talking. Now, look at the following domain names.
therapistfinder.com (The Rapist Finder)
powergenitalia.com (Power Genitalia)
teacherstalking.com (Teacher Stalking)
Don't they sound a bit confusing and awkward? You should avoid such domain names to attract and retain customers, improve your search engine rankings, and establish a strong brand.
Bonus tips to choose the perfect domain for your business
Still confused about how to choose the perfect domain name for your next project? We believe these above steps are enough to help you find the perfect domain name for your business. But you can follow the below steps as well if you want to dive deeper.
13. Check the history of your target domain
If the owner of a domain name doesn't renew it within the due time, he loses the ownership. If you happen to buy such a domain with previous history, be alert. Investigate the history of your target domain by looking at it through Wayback Machine. It goes back to the past and shows the archived version of a website. Avoid the domain if you get the following findings after examining it thoroughly.
If the domain has a bad reputation across the internet
If it was previously involved in any legal issue
If it was related to any unethical business
14. Analyze the social media handles
It's better to maintain uniformity in all your marketing channels including social media handles, website domain, printed advertising materials, and more. Check the availability of your domain's availability as a username on social media where you want to make a strong presence. Name Checker is a great tool to check the availability of a specific username across almost all popular social media.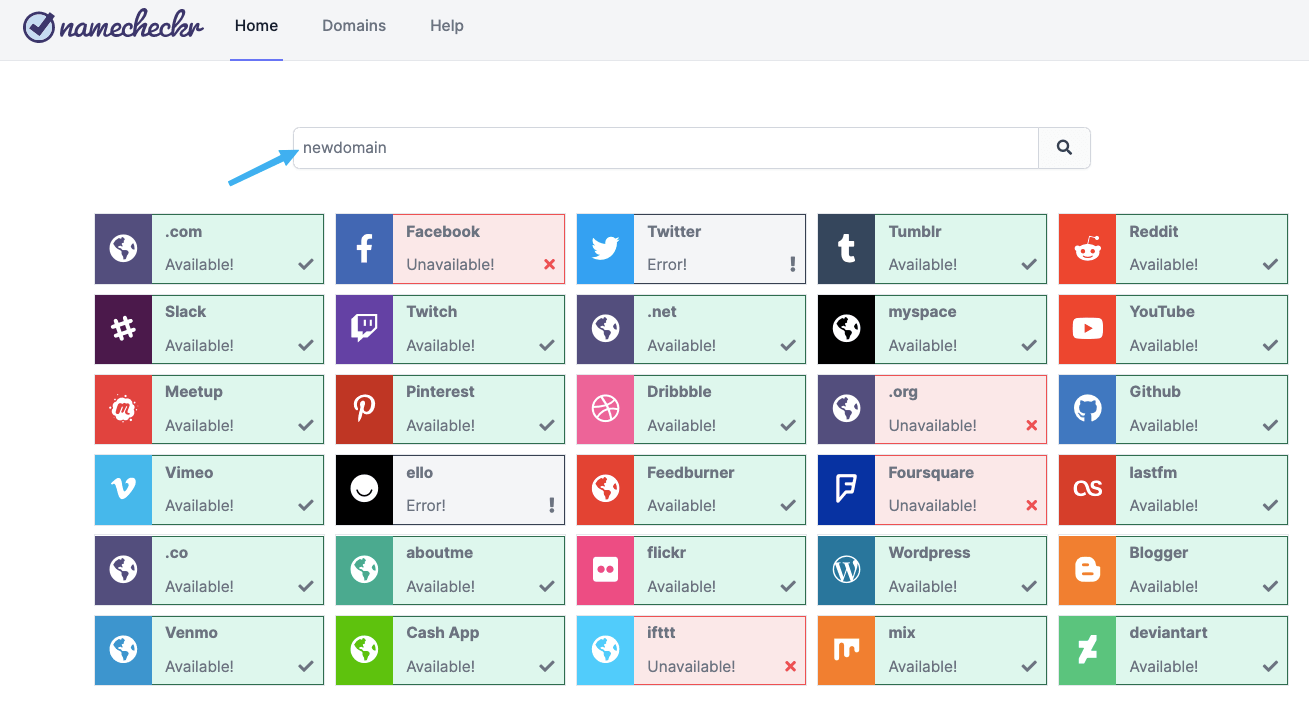 Simply put your brand's or domain's name on the search bar and hit the Enter button. You'll see whether or not your domain name is available on a specific social channel. You can use knowem as well to research social media handles.
15. Protect your domain from misuse
Follow this step if you can afford it. Buy all possible combinations of your brand's name including misspelled ones. Then redirect them to the original one. Thus, you won't lose any potential traffic who are trying to reach you. And, your competitors will have no chance to misuse your brand's name for their interest.
16. Take account of copyright issues
Before finally buying a domain name check if it's already registered as a trademark. Avoid any sort of legal issues that you may face after buying the domain. Choosing a domain name that infringes on someone else's copyright can lead to legal action against you. This can result in costly legal fees and potentially losing your domain name.
If your domain name is similar to an established brand, it can cause confusion among consumers and may damage the reputation of the established brand. Even, you may be forced to change it if the brand confusion persists.
17. Use domain name generators for great ideas
Using a domain name generator can save a lot of time and effort compared to manually brainstorming ideas. Domain name generators provide a wide range of brand name suggestions based on keywords or phrases that you input, giving you a variety of options to choose from. Here's a list of the top domain generators you can use.
Domain Wheel
Wordoid
Looka
Nameboy
Instant Domain Search
Lean Domain Search
Domain name generators are usually free to use, which means you don't have to spend any money to generate a list of potential domain names. They are user-friendly and easy to use, even for those who are not tech-savvy.
You can consume all this info in bite-sized pieces by watching this video: 
Buy your domain from reputed sellers only
This is our last piece of advice for you on how to choose the perfect domain name. Buy your domains from reputed companies. Reputed domain registrars have a standard to uphold, so they are more likely to provide high-quality domains. There are several other reasons why it is important to buy a domain from a well-known seller:
Security: You are less likely to fall victim to scams or frauds. Reputed sellers have strict security measures in place to protect your personal and financial information.
Support: Trusted sellers usually have a dedicated customer support team that can help you with any issues or questions you may have about your domain or the setup process.
Reliability: They have a good track record of providing quality domains. This means you can trust them to provide a domain that is suitable for your purpose.
So, buying a domain from a reputed seller ensures that you get a quality, secure, and reliable domain that can help you establish a strong online presence. We've added the list of top 5 domain providers here so that you can make the right decision.
These reputable sellers are more likely to properly transfer the domain name to you, ensuring that it is done in a timely and efficient manner.
How to keep your domain secure after buying it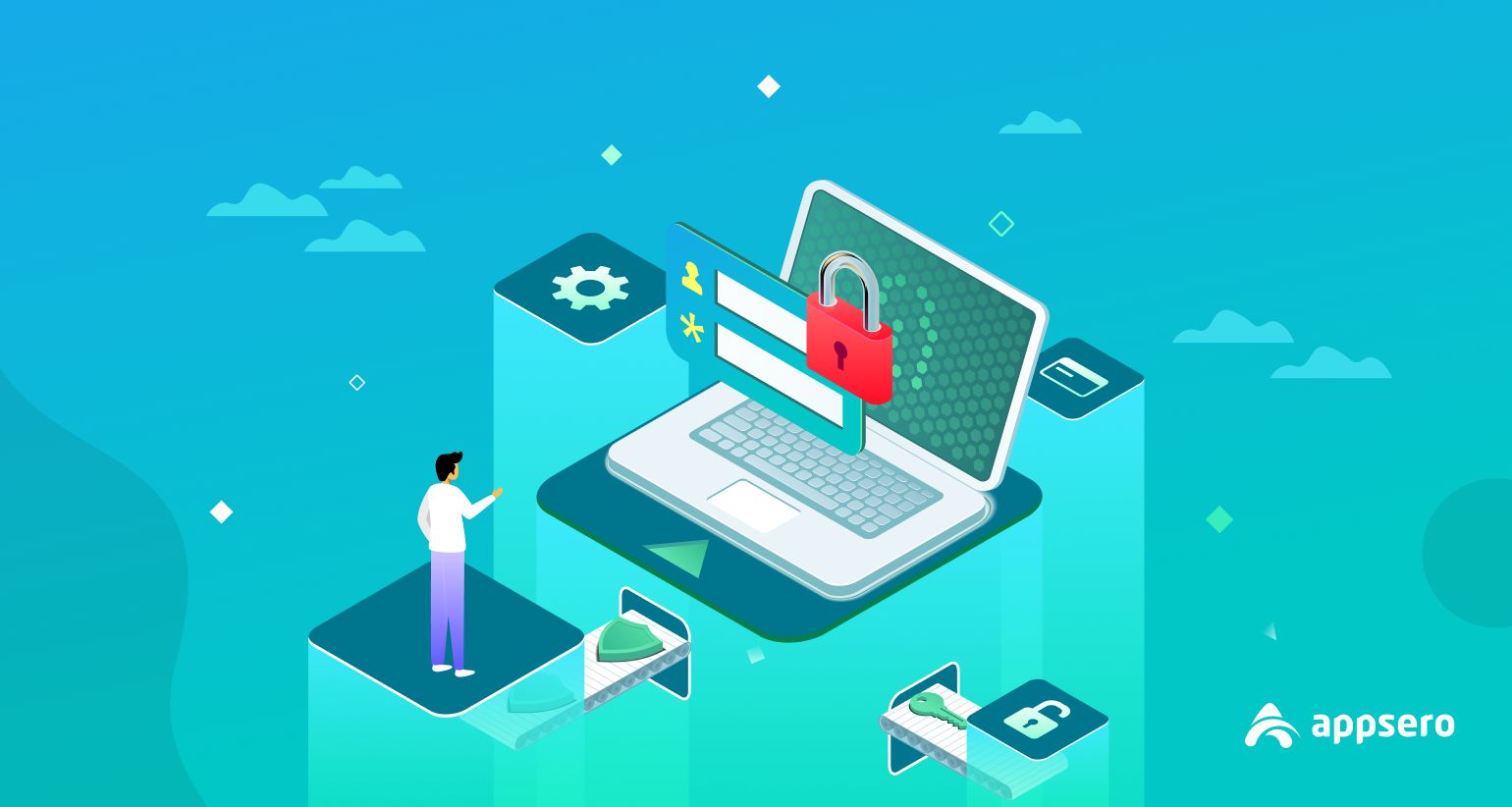 Only knowing how to choose the perfect domain name isn't enough. You need to learn how to keep your domain secure. There are several steps you can take to keep your domain safe:
Keep your contact information up to date: Make sure the contact information associated with your domain is accurate and up to date. This will ensure that you are notified of any issues or concerns related to your domain.
Secure your website: Use secure protocols such as HTTPS to strengthen cyber security and protect your website from potential attacks.
Use a strong password: Use a strong, unique password for your domain account, and change it regularly.
Monitor your domain: Regularly monitor your domain to ensure that it is not being used for malicious purposes.
Register your domain for a longer period of time: Registering your domain for a longer period of time helps to prevent someone from accidentally or intentionally allowing it to expire.
Enable two-factor authentication: It is a good idea to enable two-factor authentication for your domain account, as it adds an extra layer of security.
Be careful with your personal information: Be careful with sharing your personal information, such as your email address, phone number, or mailing address, as it can be used to gain access to your domain.
Keep your software updated: Keep your software updated to ensure that any security vulnerabilities are patched.
Use a domain privacy service: Some domain registrars offer domain privacy services that mask your personal information and help protect you from spam and identity theft.
Avoid using nulled products: Nulled products bought from unauthorized sellers often contains malicious code which can be used to gain backdoor access to your website.
Final thoughts
By following the tips outlined in this article, you can make sure that your domain is memorable, easy to spell, and relevant to your business. Remember to also consider the potential for keywords, branding, and top-level domain options. Think long-term and choose a domain that will complement your business even in the future.
Don't be afraid to unleash your creativity and think outside the box. Remember to also keep an eye on emerging trends and industry developments to stay ahead of the competition. With the right domain, you'll be able to set the foundation for a successful online venture.
Subscribe To Our Newsletter
Don't miss any updates of our new templates and extensions
and all the astonishing offers we bring for you.