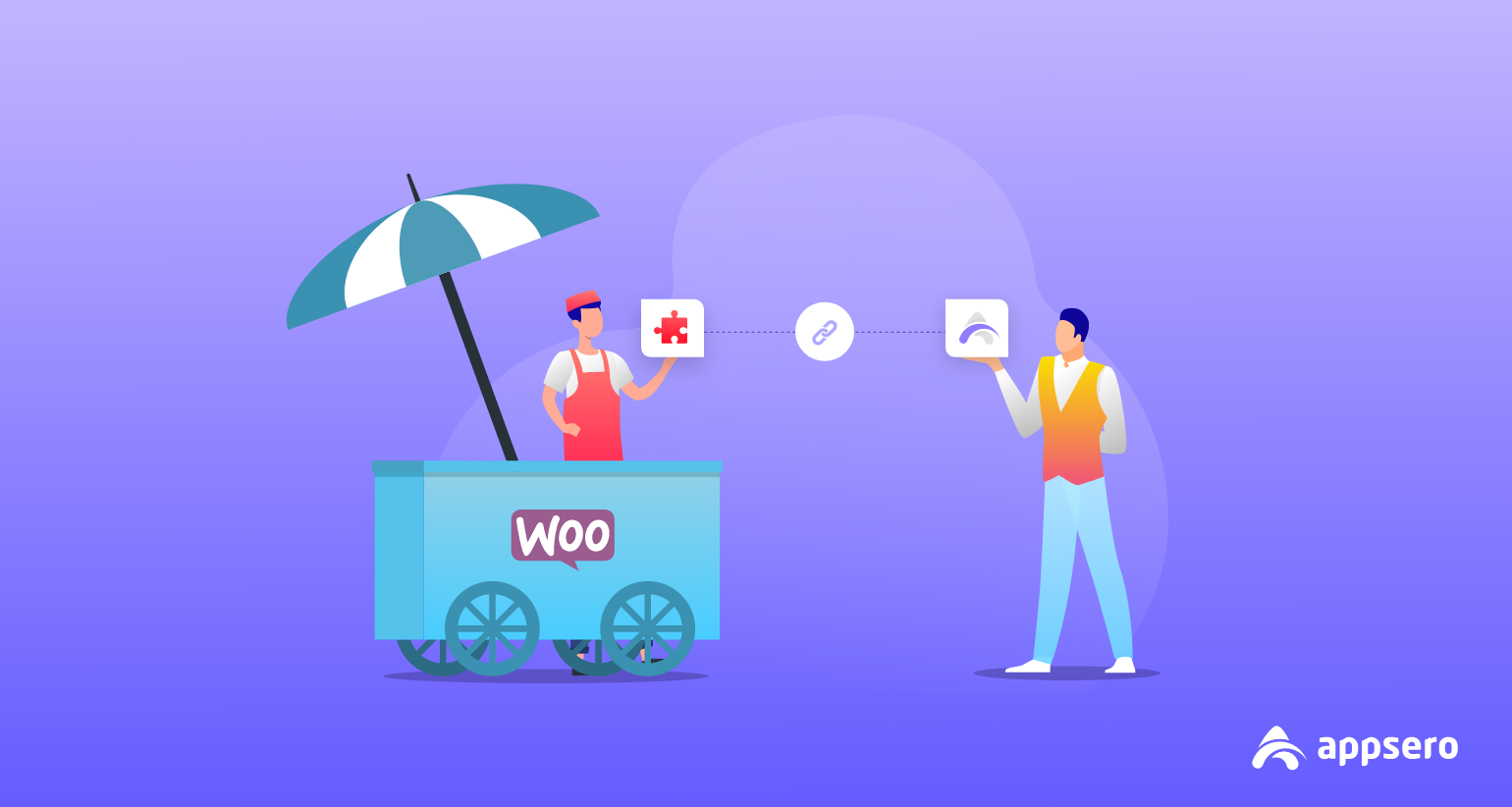 Start Selling WordPress Plugins with WooCommerce Using Appsero
"From development to make a sale" – This motto is mostly supposed to be going on a developer's mind when s/he develops plugins/themes. If your plugin or theme is free, then nothing to worry about. But if you have a premium product in WordPress territory, then you might think about how to sell them properly and make a good profit following proper marketing strategies.
But sometimes it seems very tough for a developer to perform all the activities while selling products. For example, managing licenses, pushing updates, deploying updates, and so on. In that case, Appsero can help you to get rid of all these hassles and give you a proper shape to your development career.
Well, today's topic is pretty much well-known to all. Yes, its about selling WordPress plugins with WooCommerce. So if you want to sell your plugins with WooCommerce and make a profit, this is post is there for you.
Yes, in this post, we'll be going to show how to sell WordPress plugins with WooCommerce using Appsero. And also, you'll know some pros & cons of choosing WooCommerce.
Enough talking with the introduction, let's get into the post:
Why Developers Need To Sell Plugins with WooCommerce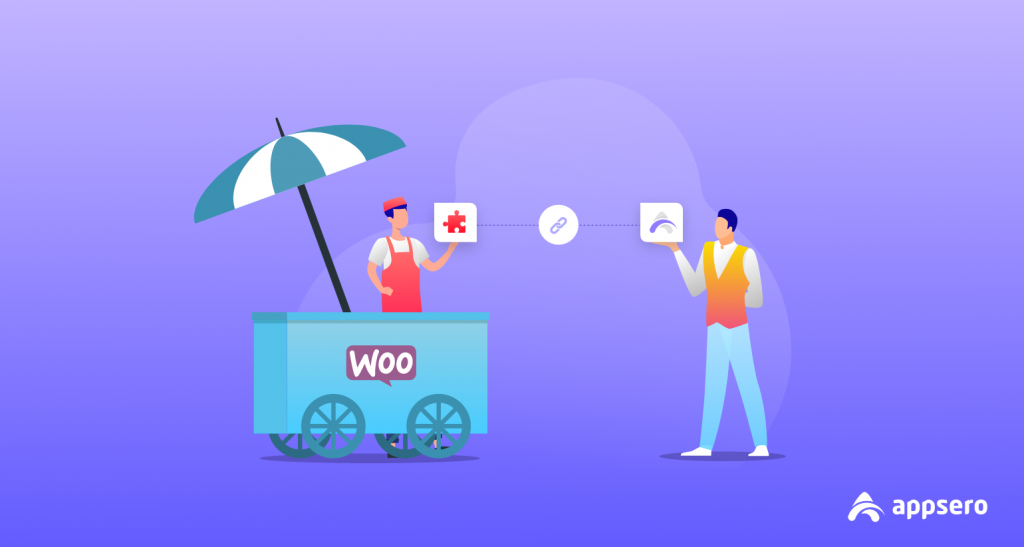 Online platforms or marketplace, always a boon for retailers or shoppers. And the main reason is, available resources and scopes. Yes, these days people can easily make a more profit by investing less money.
Again WordPress and its related resources can easily facilitate you in different ways. However, we all know about WooComerce and how it has been providing services since it started its journey. Whenever people think about creating an online shop, undoubtedly WooCommerce pops in the mind first. Because it's easy to use, understand, and customize.
But many retailers are thinking to use alternatives of WooCommerce. And they are developing their own eCommerce websites for starting their online appearance. So there is a little bit of confusion choosing between WooCommerce or building a personal online shop.
Difference Between a Personal Online Shop And a Marketplace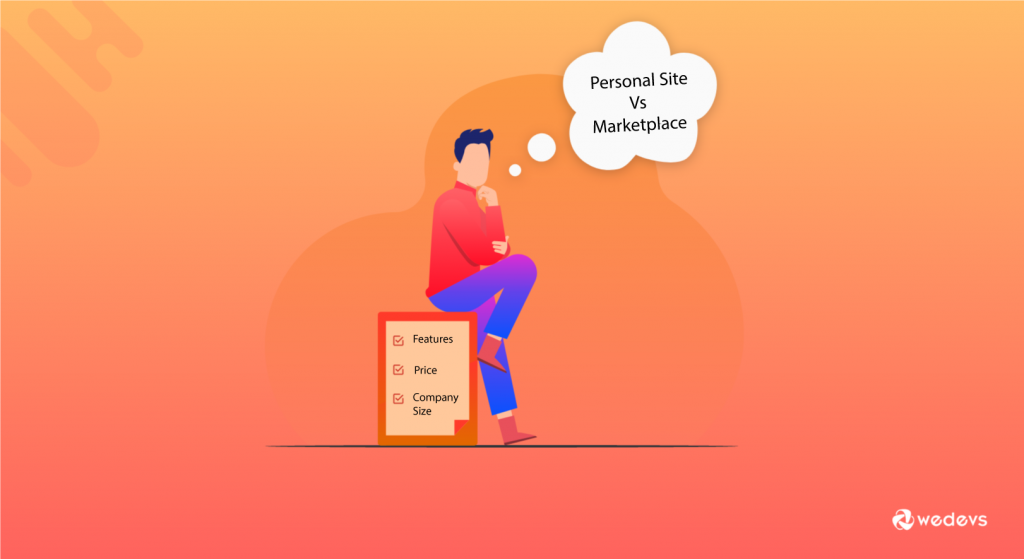 Well, the first and foremost advantage that you'll get with a marketplace is, available retailers and shoppers. Yes, you'll get different retailers and shoppers from a particular product. For example, eBay, Amazon, Etsy, and Walmart. These are the most popular marketplace in the USA. You can create a seller account from here and start selling your product immediately.
On the other hand, owning an eCommerce site means your online shop only belongs to your business or brand. Using a Saas or open-source platform, you can create it easily. And also you can run a campaign, A/B test, and promote according to your marketing strategy.
Again getting started with a personal website, you have to invest a big amount. Where in the marketplace, you can make sales on the marketplace for free.
In the marketplace, you are not alone in the race. That means thousands of shoppers and retailers are trying to make their first sale. Moreover, the competition is sky-high. And also the selling procedures may not the same for all. And you have to go through a series of marketplace issues.
So now, the decision is yours, where to start or not. However, in the next section, we'll discuss the pros & cons of choosing any marketplace (WooCommerce). We hope that it will help you to understand what should be the actual decision.
Pros and Cons of Choosing WooCommerce to Sell WordPress Plugins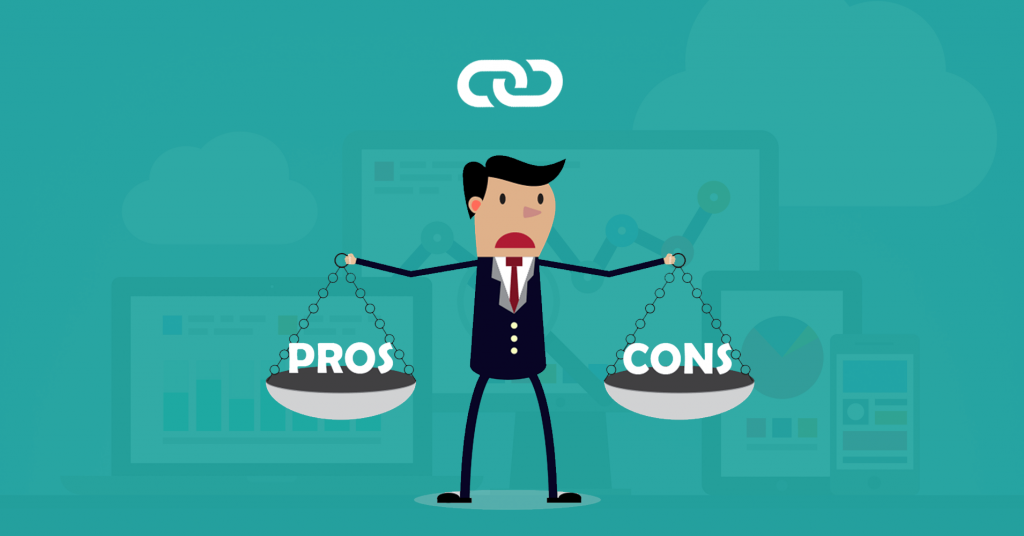 WooCommerce is the leading eCommerce website builder in the WordPress ecosystem. And more than 3.3 million people are using this plugin for building their online store. So you can see there is a huge amount of people are using WooCommerce.
However, being an established eCommerce site builder, WooCommerce has got some pros and cons. But is everything perfect on this platform? Of course not, and that's why you should know all the benefits and disadvantages of WooCommerce!
So let's get started:
Pros of WooCommerce
Totally free & open source
Fully customizable
It has great adaptability
Optimal security
It has a large community support
Customer accounts that support store credit
SSL encryption (also site-wide)
Readily available support
Thousands of available built-in themes
Full control of your content and store
Cons of WooCommerce
WooCommerce hampers the site performance
Fail to cope up with WordPress updates
Costs extra-charge
Available extensions are not free
Theme customization is costly
Difficult to use multi-currency
Limited range of free templates
Need skilled development knowledge
Auto-update issue
So these are the pros and cons of WooCommerce. But if you're new in the market, it seems really a matter of heck for you. Because initially, you may have to face different challenges with WooCommerce. One of them is speeding up your WooCommerce store. By following the proper strategies, you can get rid of these issues very easily.
Related article: WooCommerce Plugin Review: A Detailed Map for Entrepreneurs
Now let's learn how Appsero can be all in one developer's solution to minimize all the issues with WooCommerce.
Appsero: All In One Solution For WordPress Developers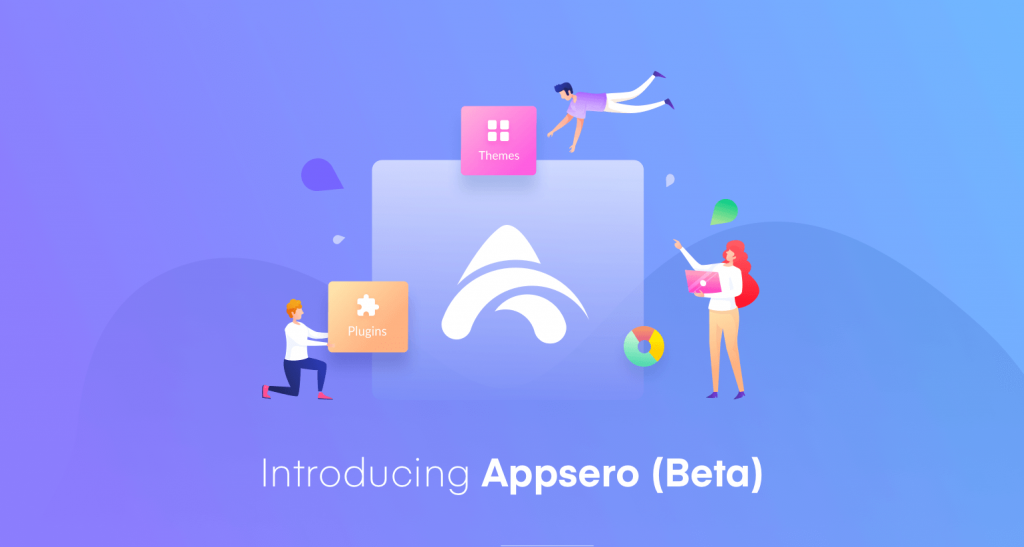 Well, the main purpose of Appsero is to help all the WordPress developers. So they can fully focus on their plugin/theme development. And Appsero believes that the effort & hard work of a developer should get the proper acknowledgment.
This is why Appsero allows its users to get each & every possible privilege that can easily improve plugins/themes workflow. And also save crucial time while developing them.
Anyways, following features can facilitate a WordPress developer:
So a WordPress developer can get these features easily with Appsero to make his/her development journey more joyful and enjoyable.
However, you can watch the following video to know more in details about Appsero.
How To Sell WordPress Plugins with WooCommerce using Appsero
Now the time has come to show how to sell WordPress plugins with WooCommerce using Appsero only in 5 easy steps. So every WordPress theme/plugin developer out there hold a second and follow step by step instruction very carefully.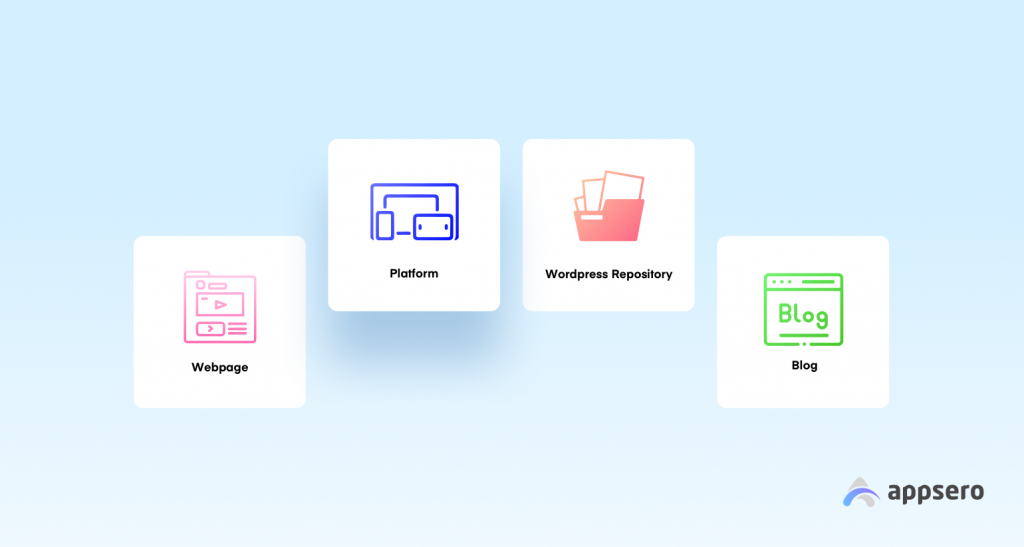 If you have already uploaded products on WooCommerce + WooCommerce API manager and WooCommerce Software addon, then you can easily manage their licenses with Appsero.
But don't afraid, if you don't have used WooCommerce before and want to use, then you can easily do that using Appsero. This's why you will be going to know how to sell WordPress plugins or themes with WooCommerce step by step.
So let's get started:
Adding a Plugin
After getting started with Appsero, you will be redirected to the dashboard. And then click on the 'Plugins' from the left sidebar. Finally, click on 'Add Plugin' button.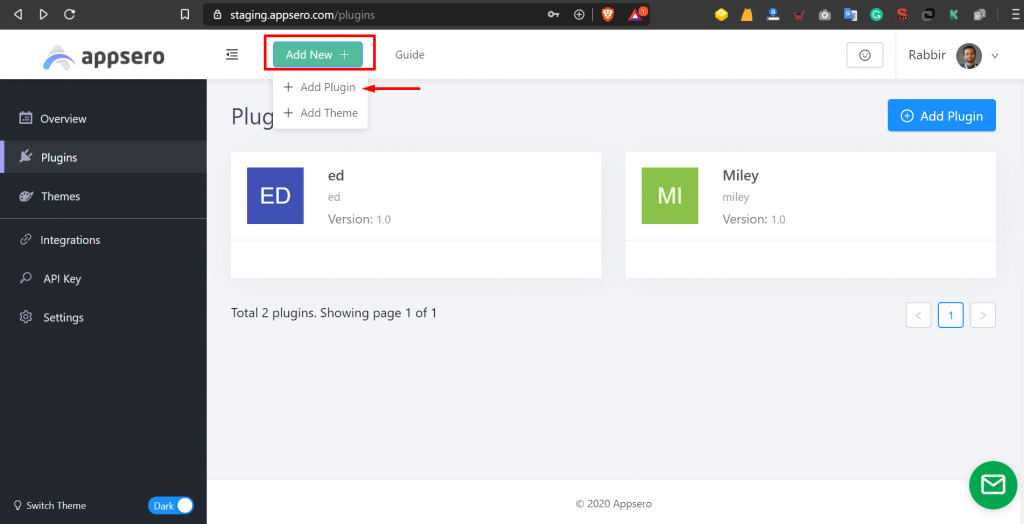 Here you'll get two option side by side. 'Its a premium plugin' and 'Its a free plugin'. As you're here in Appsero to sell your premium plugin, so after clicking on the 'Its a premium plugin', you'll get details to add your pro plugins options.
Check out our documentation to know how to add a free plugin

So next, you'll need to fill out some fields, as its a pro plugin. Therefore the information must be input accurately.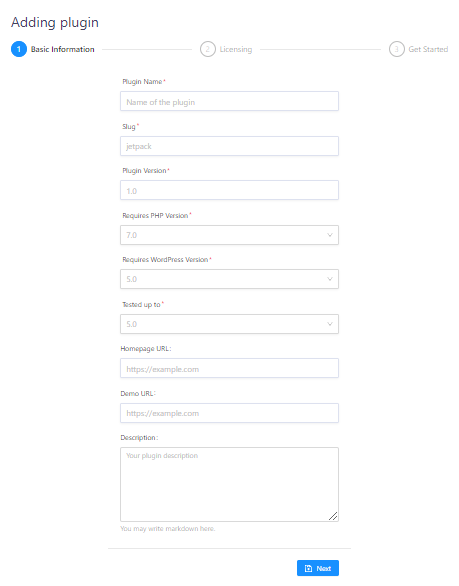 Licensing Checking
The main purpose of using Appsero is, manage license, deploy features, and provide insightful information. As a result, you can easily get all the essential data in one place.
Anyways, let's see what happens if you click the 'Next' button. Here you'll be asked 'Manage license with Appsero or not'
Note: If you click on the 'Yes' button, you'll be able to manage license, deploy features, and analyze customer data. But in that case, you choose 'No', you can only able to manage deployment and analytics.
Related article: 👉 Plugin User Analytics and their insightful data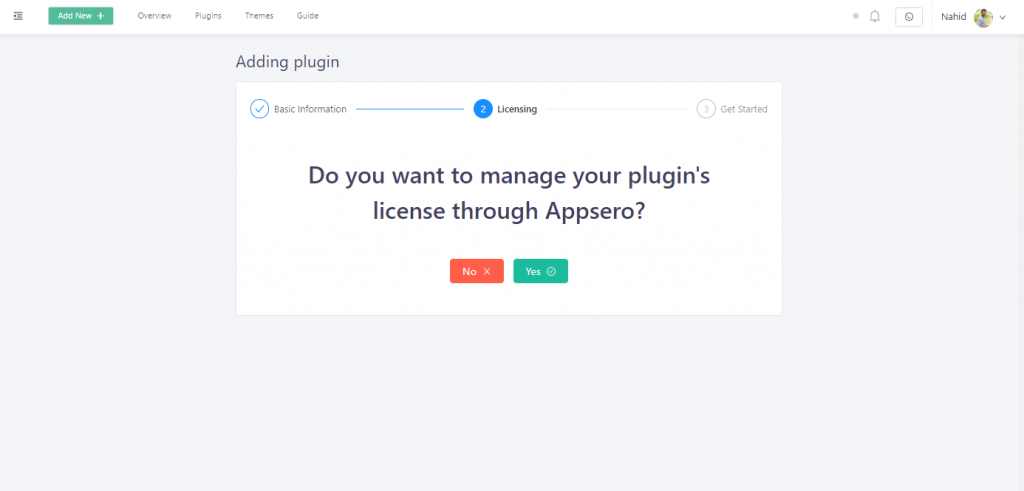 Next, you'll asked whether you are using any platform or not.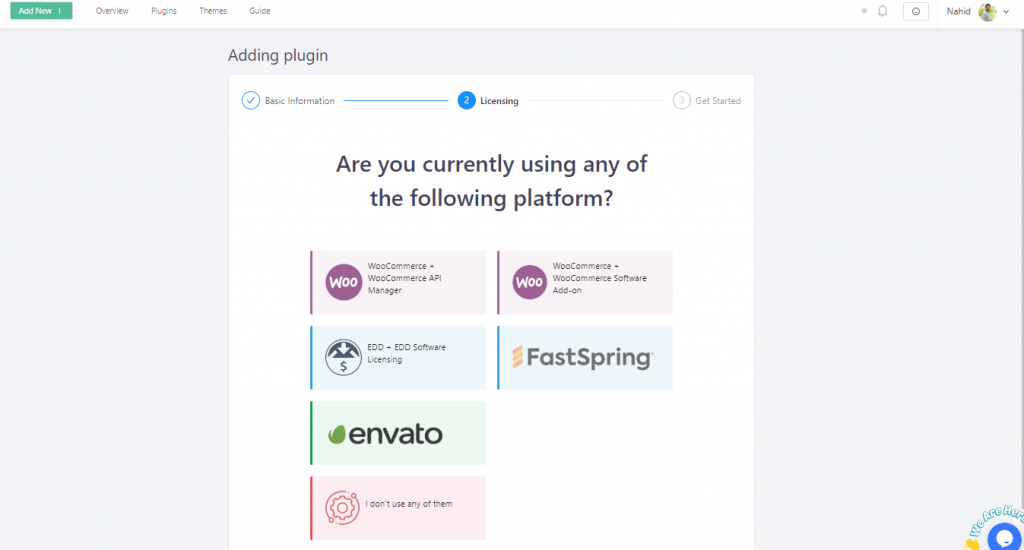 As we are talking about WooCommerce, so either you can choose WooCommerce + WooCommerce API manager and WooCommerce Software manager or click on 'I don't use any of them'
Let's assume you want to start a fresh WooCommerce store. And recently you have uploaded products on your newly online store.
So you'll get the following window where you can start your journey with Appsero clicking on 'I will use WooCommerce to sell'.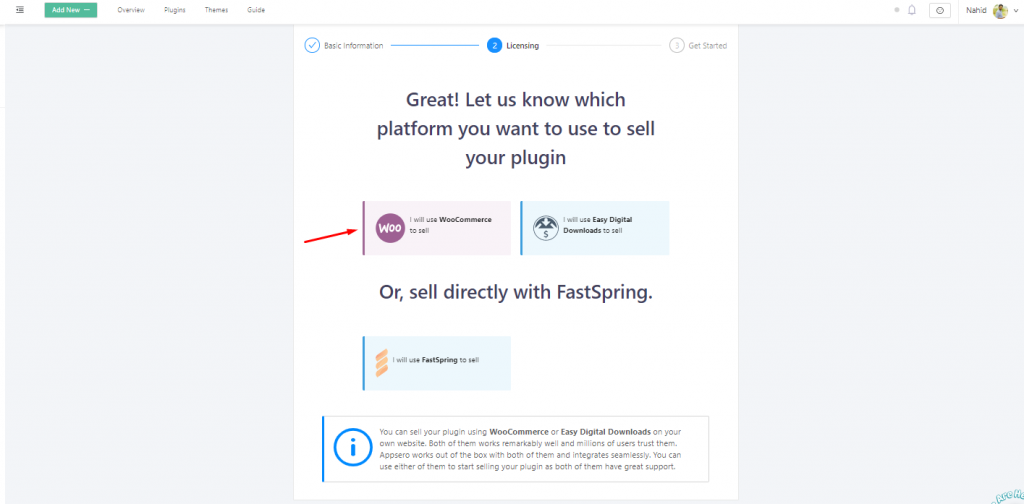 Start Using WooCommerce
So after selecting 'WooCommerce for selling your products', again you'll be asked to select 'Appsero for License Management'. Click on that.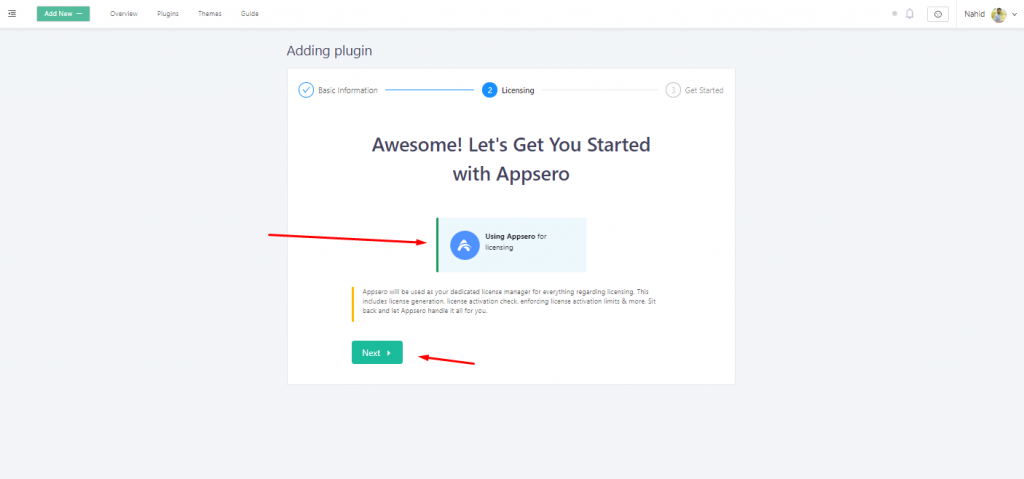 Next, you'll need to install the 'Appsero Helper Plugin' to integrate your website with Appsero.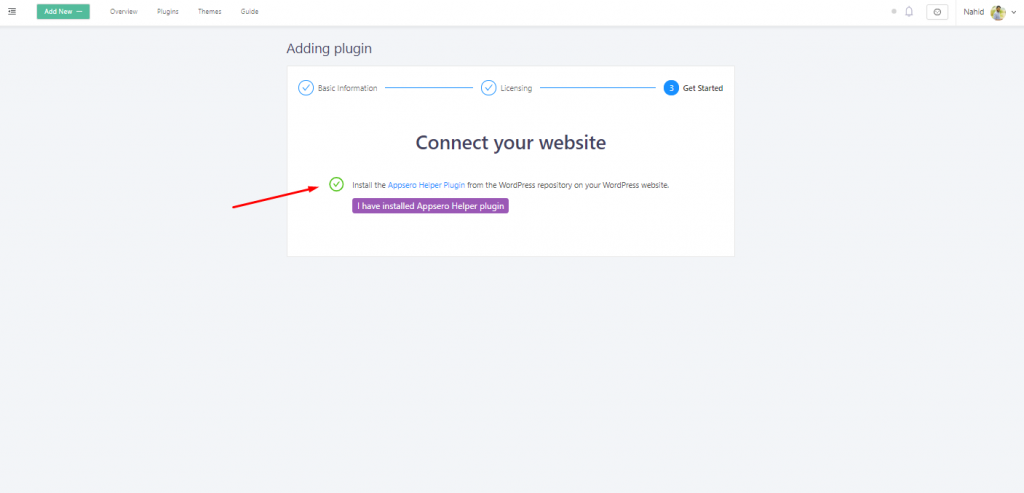 Installing Appsero Helper Plugin
After completed with the installation process of the Appsero helper plugin, you'll get an API key. Before doing that click on 'I have installed Appsero Helper Plugin'.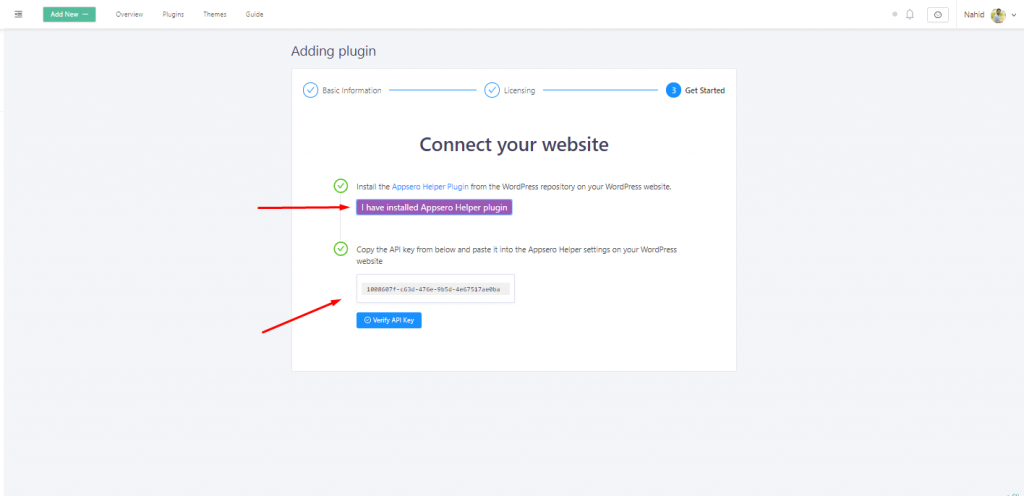 So your API key is fully ready to paste on your WordPress site. And also it will integrate your site with Appsero.
Verifying API Key
After getting the API key, you just need to navigate to Admin-> Settings-> Appsero Helper. Then you need to paste the API key from Appsero to your website and hit the Connect button.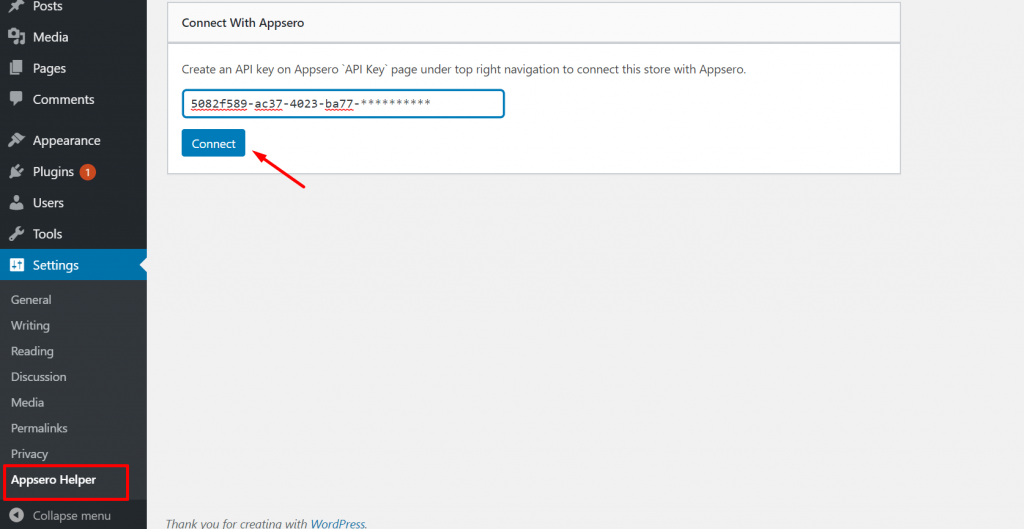 Now, when you click the 'Verify' button, it will show you a message that the process is successfully done.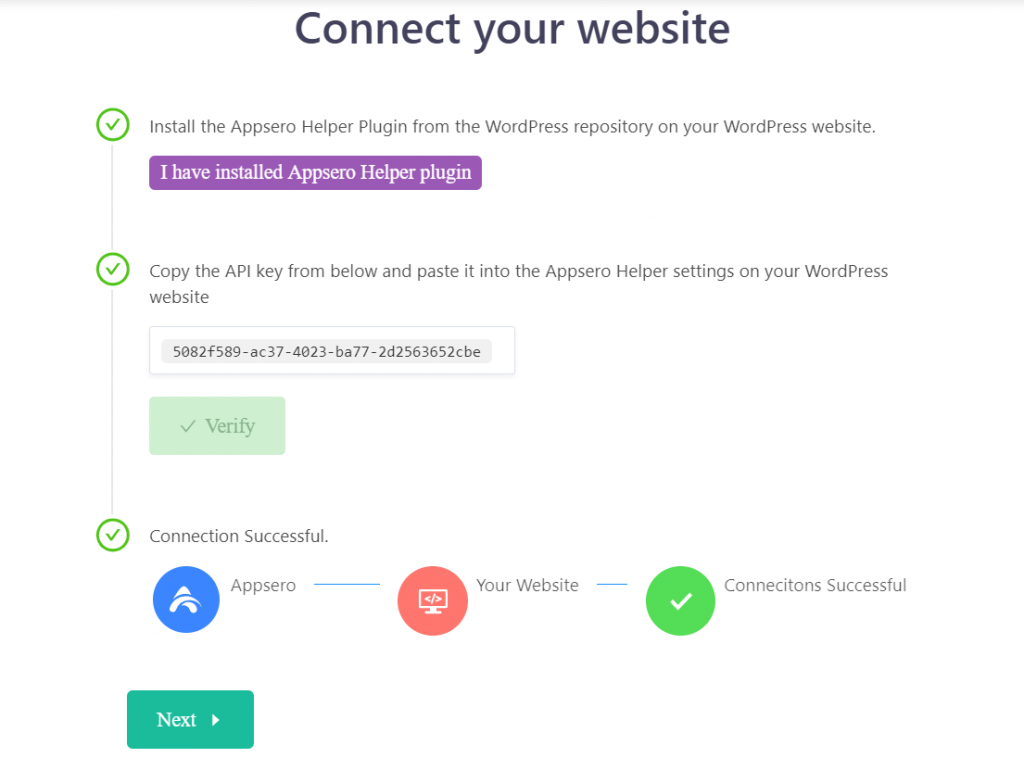 Adding Website and Plugin
Now, you need to select your website that you connected with Appsero.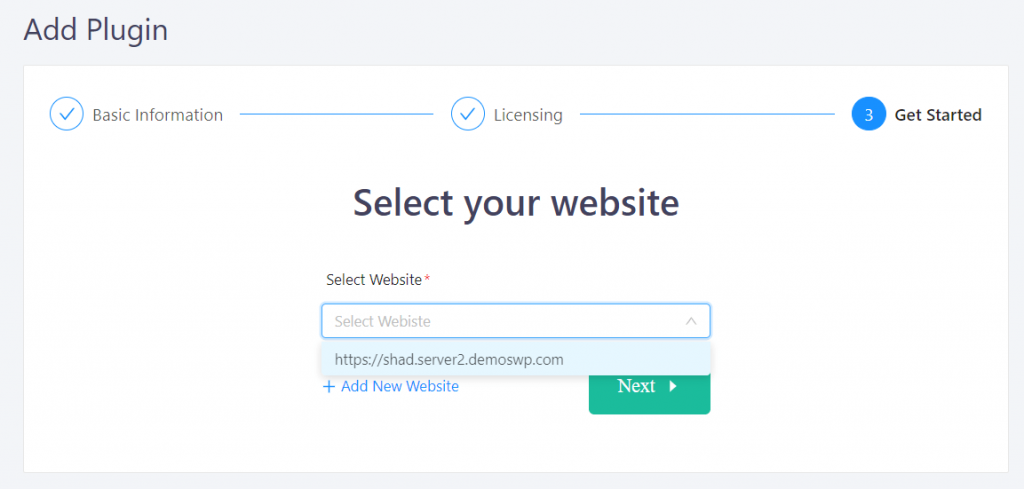 Note: Make sure that you've created products from WooCommerce. Otherwise, Appsero will not be able to map your product.
Next, it's time to add your desired plugin or project. And then hit the 'Next' button. That's it! Your plugins has added.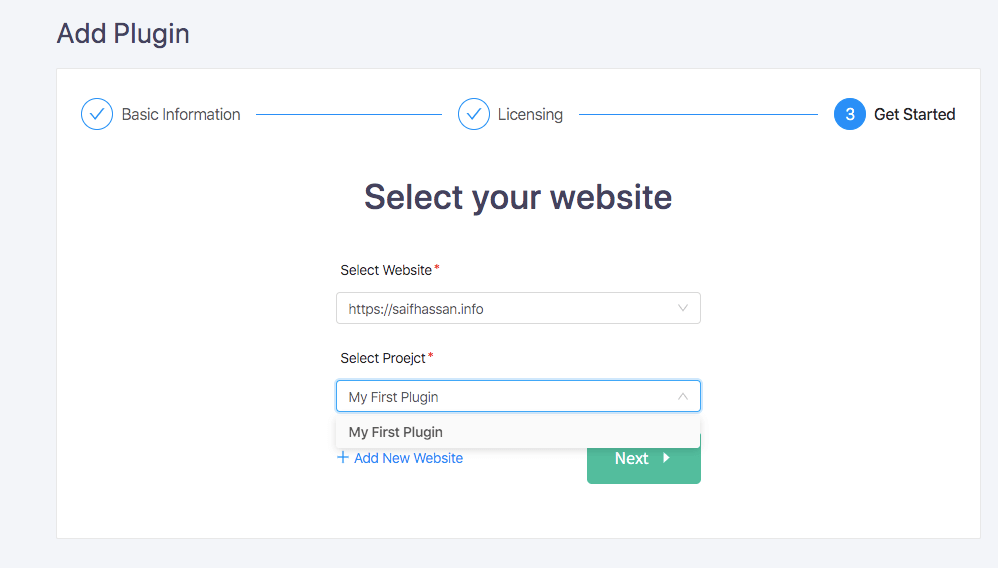 Getting Started with Appsero
This step is very important of adding your premium plugin. In this step, you'll finalize the setting entering some HTML code to make sure that your plugin has the license setting field to you.
However, you will get an Installation process here. You need to install an Appsero-Client plugin. You can do that in two ways:
If you click on the composer, you need to follow the below instructions.
After you've finished up, click on the 'Next' button.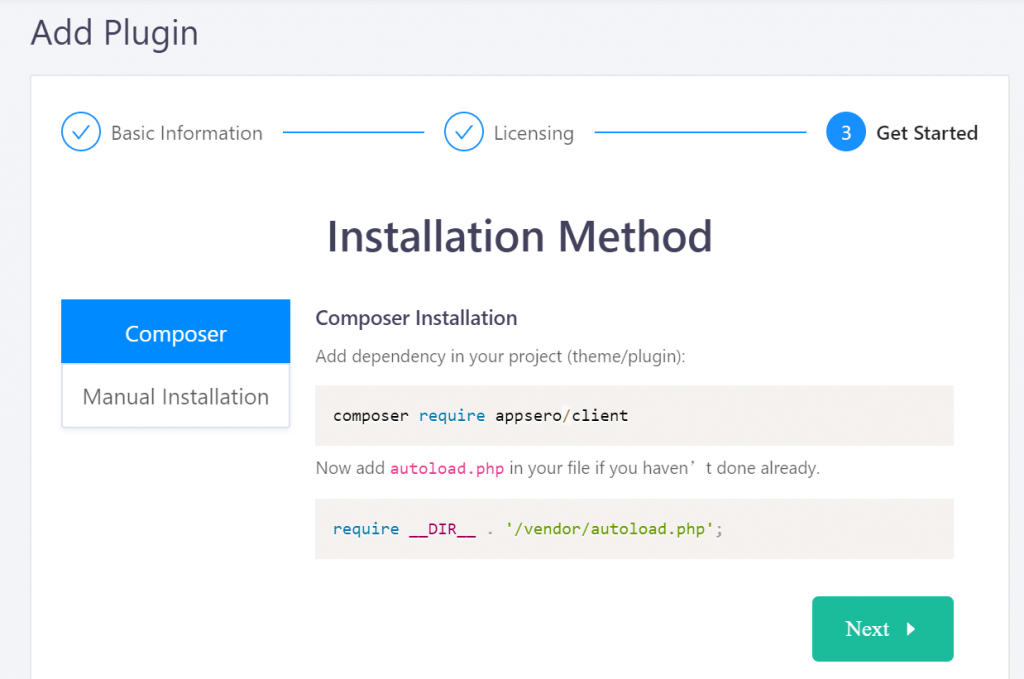 But in that case, you continue with the 'Manual Installation', you need to clone the Appsero-Client plugin. And then just download the zip file.
To do that, go to htdocs-> project folder name-> wp-content-> plugins->the plugin you've added earlier. Here you just need to save the file and extract it.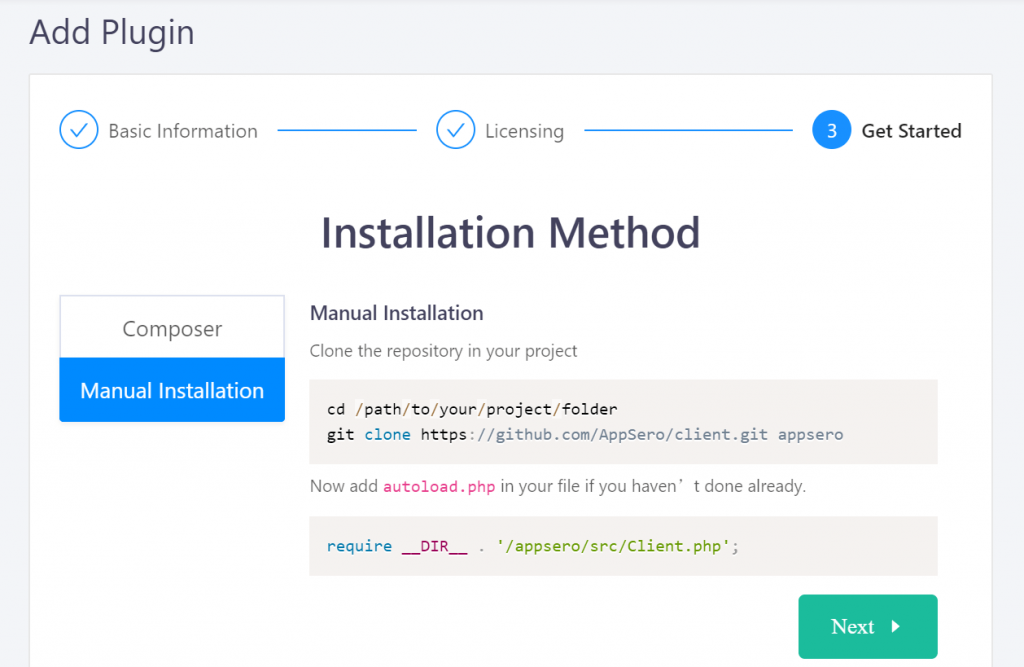 And finally, copy the 'Code Snippet' below in to your main plugin file. And then click 'Done' when you're done.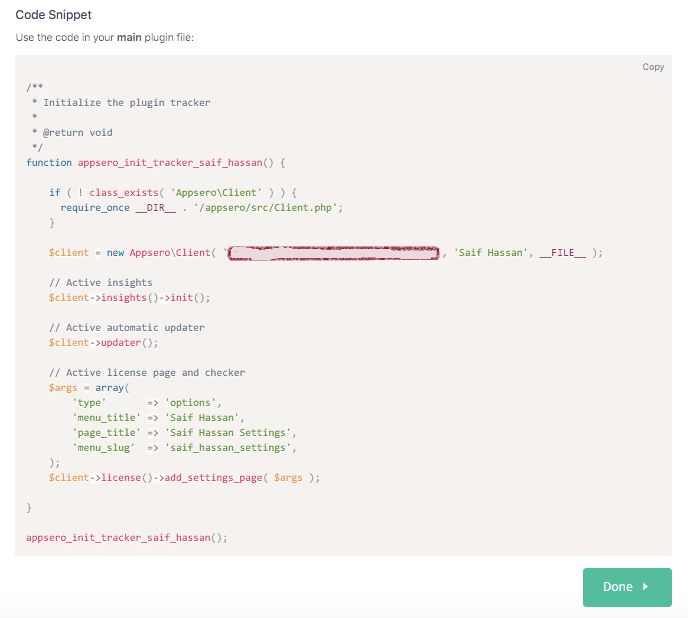 This code will help your plugin to show an available field (License). As a result, your users easily insert the license key when they you'll purchase any product from your WooCommerce store.
And you can now start selling your WordPress plugins. Also, you can get insightful user analytics and other facilities. So that you can take up your plugin development like a skyrocket.
Related article: 👉 How To Migrate License from WooCommerce to Easy Digital Downloads
Are you going to sell WordPress plugins with WooCommerce?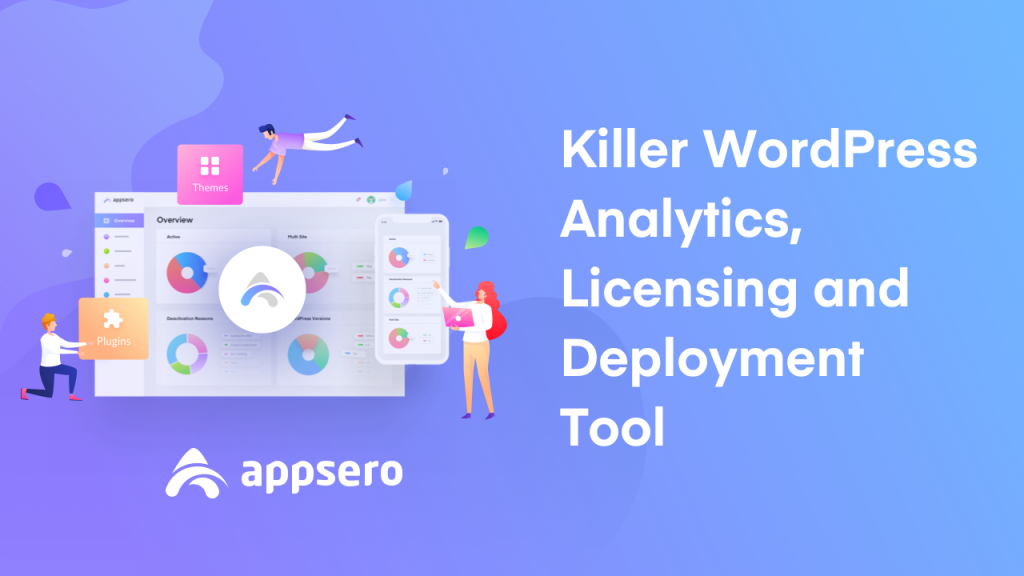 However, this is how to sell WordPress plugins with WooCommerce and manage their license using Appsero. We hope that you've got something handy here.
Appsero is a plugin that helps to optimize and ease plugin/theme development

WP ERP
As a WordPress developer, you may have to face different issues and obstacles. And this could affect you to lose your concentration while developing your plugins/themes.
In that case, Appsero is perfect and suitable for you. Although it's specialized for developers, it can swiftly help marketers & managers. And the reason is for the analytical process to make product based decisions.
Subscribe To Our Newsletter
Don't miss any updates of our new templates and extensions
and all the astonishing offers we bring for you.