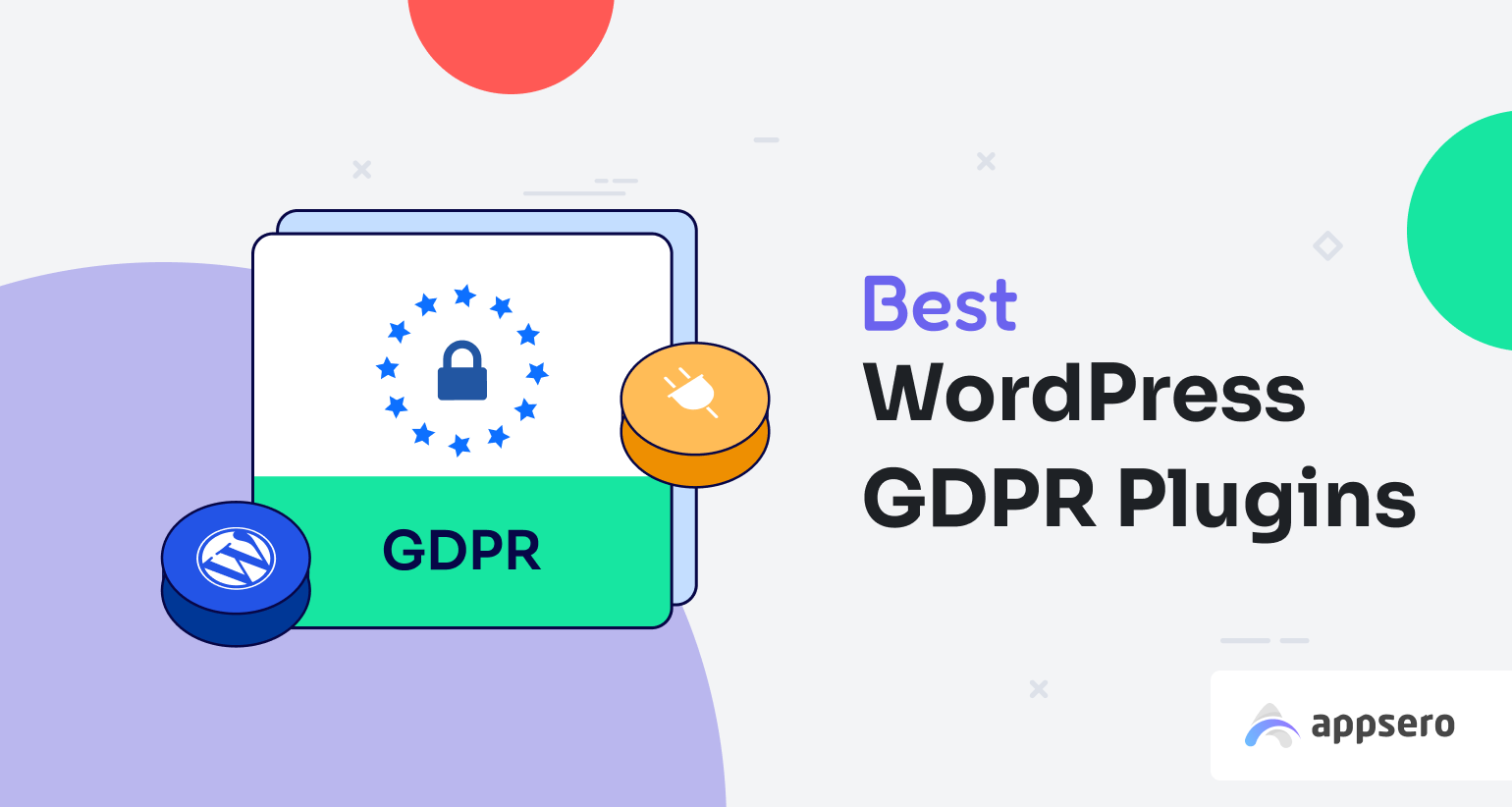 7+ Best WordPress GDPR Plugins to Make Your Website Compliant
The European Union implemented GDPR- General Data Protection Regulation in 2018. It was introduced with the aim to harmonize data protection laws across the EU member states and strengthen individuals' rights regarding their personal data. To date, this is the most comprehensive data protection regulation in effect.
The regulation makes sure you have rights over your personal data, including the right to access, rectify, erase, and restrict data processing. It also defines other lawful bases for data processing, such as contractual necessity, legal obligation, vital interests, legitimate interests, and public tasks.
Interestingly, the GDPR applies not only to organizations within the EU but also to those outside the EU that process the personal data of EU citizens. That's why you must consider GDPR compliance issues if you have a global customer base. So, make sure you're using a GDPR plugin while offering goods or services through a WordPress website.
This review article will guide you through the list of the best WordPress GDPR plugins available out there. Keep reading to know more about GDPR-compliant WordPress plugins.
For quick navigation –
Importance of GDPR compliance for website owners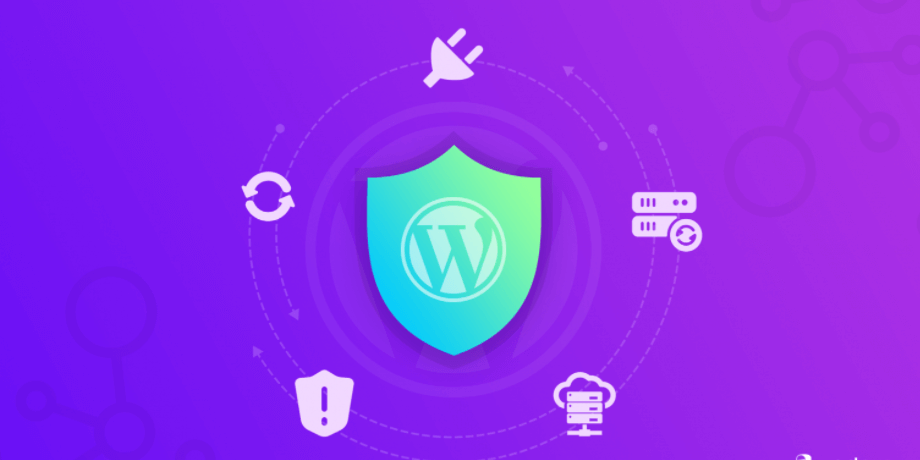 A GDPR-compliant website provides its users with assurance that their personal information is handled responsibly and securely. This leads to increased customer loyalty, engagement, and a positive reputation for the website owners.
Non-compliance with the GDPR can lead to significant financial penalties. The maximum fines can be up to €20 million or 4% of the global annual turnover, whichever is higher, for the most serious violations. For less severe violations, fines can be up to €10 million or 2% of the global annual turnover.

GDPR Fines / Penalties
That sums it up all! You may have to lose a hefty amount of money due to your failure to comply with GDPR. And, your business reputation may be at stake as well. Hence, it's important to maintain GDPR compliance to ensure legal compliance, protect user privacy, foster trust, and enhances the reputation of your business.
Key principles and requirements of GDPR
GDPR is based on several key principles and requirements that govern the processing of personal data. You need to understand these principles to learn how to achieve GDPR compliance. Here are the fundamental principles and requirements of the GDPR:
Lawfulness, fairness, and transparency
Personal data must be processed lawfully, fairly, and transparently.
Individuals should be informed about the purposes and legal basis of data processing, along with their rights regarding their data.
Purpose limitation
Personal data should be collected for specified, explicit, and legitimate purposes.
Data should not be further processed in a manner that is incompatible with the original purpose.
Data minimization
Data collected should be relevant and limited to what is necessary for the intended purpose.
Excessive or unnecessary data collection should be avoided.
Accuracy
Personal data must be accurate and kept up to date.
Appropriate measures should be in place to rectify or erase inaccurate or incomplete data.
Storage limitation
Personal data should be retained for no longer than necessary for the intended purpose.
Clear data retention and deletion policies should be established and followed.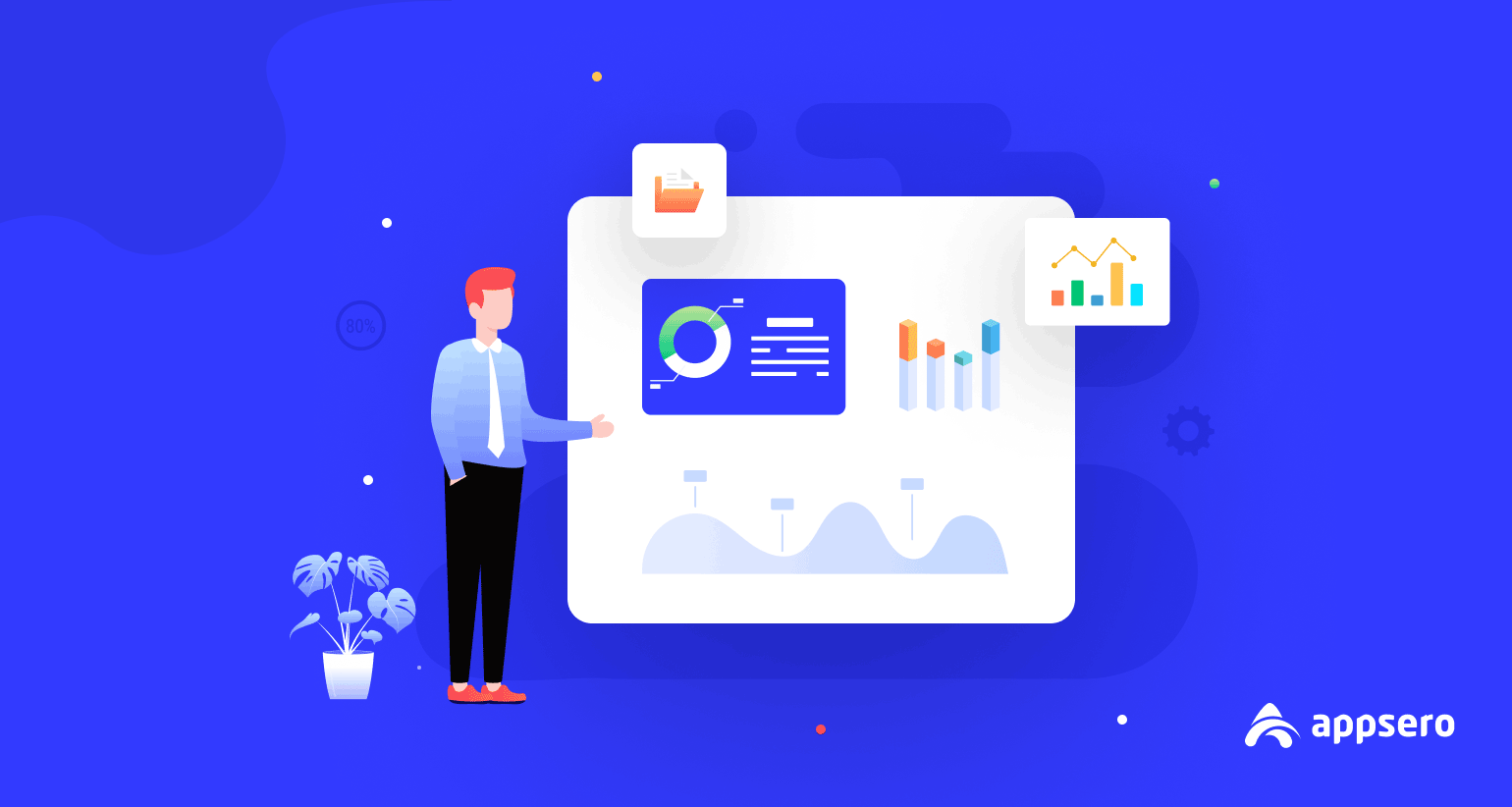 Integrity and confidentiality
Appropriate security measures must be implemented to protect personal data against unauthorized or unlawful processing and accidental loss, destruction, or damage.
Data should be processed in a manner that ensures its confidentiality, integrity, and availability.
Accountability
Data controllers (organizations determining the purposes and means of processing) are responsible for demonstrating compliance with GDPR principles.
Accountability involves maintaining records of processing activities and conducting data protection impact assessments (DPIAs) for high-risk processing.
Consent
Consent must be freely given, specific, informed, and unambiguous.
Individuals should have the ability to withdraw consent easily and be informed of this right.
Data subject rights:
Individuals have various rights regarding the total control of their personal data
These rights include the right to access, rectify, erase, restrict processing, data portability, object to processing, and not be subject to automated decision-making.
Data transfers:
Transfers of personal data to countries outside the European Economic Area (EEA) must comply with specific requirements and provide adequate protection for the data.
These principles and requirements serve as the foundation of GDPR and guide organizations in ensuring the lawful, fair, and secure processing of personal data. You need to adhere to these principles to promote data protection, privacy, and the rights of individuals.
What to look for in a GDPR plugin for WordPress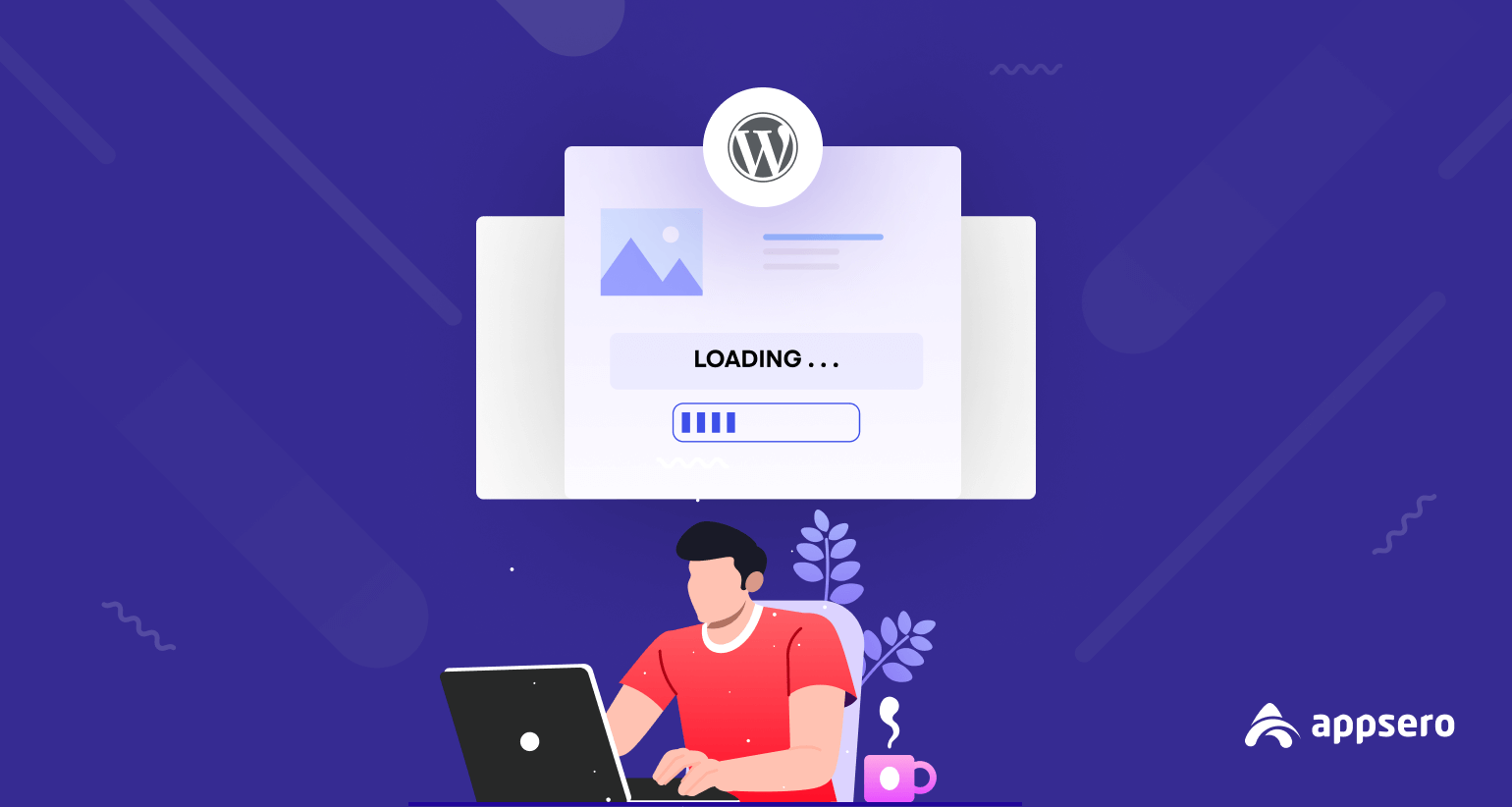 So, what should you do to create a website that complies with GDPR? Simply use a plugin that actually is GDPR-compliant. Read the following section to know what to consider when selecting a GDPR plugin for WordPress.
Compliance features
Check if the plugin offers comprehensive compliance features like cookie consent management, privacy policy generation, data subject request handling, data breach notifications, and anonymization of personal data.
Customization options
Ensure the plugin allows customization to align with your website's branding and design. Look for options to modify the cookie banners, consent checkboxes, and privacy policy content to match your website's style and language.
Data subject requests
Verify that the plugin facilitates handling data subject requests efficiently. It should offer a user-friendly interface for individuals to submit requests and provide a streamlined workflow for website administrators to respond to them.
Compatibility and integration
Compatibility with popular contact forms, e-commerce platforms, analytics tools, and marketing plugins can streamline GDPR compliance across various aspects of your website.
User support and updates
Check the availability of user support and regular updates from the plugin developer. Accessible support channels, such as documentation, forums, or email support, can be valuable if you encounter any issues or have questions.
User reviews and reputation
Research user reviews and ratings for the plugin to gauge its reliability, user-friendliness, and effectiveness. Look for plugins with positive feedback and a solid reputation in the WordPress community.
9 Best WordPress GDPR Plugins to make your site compliant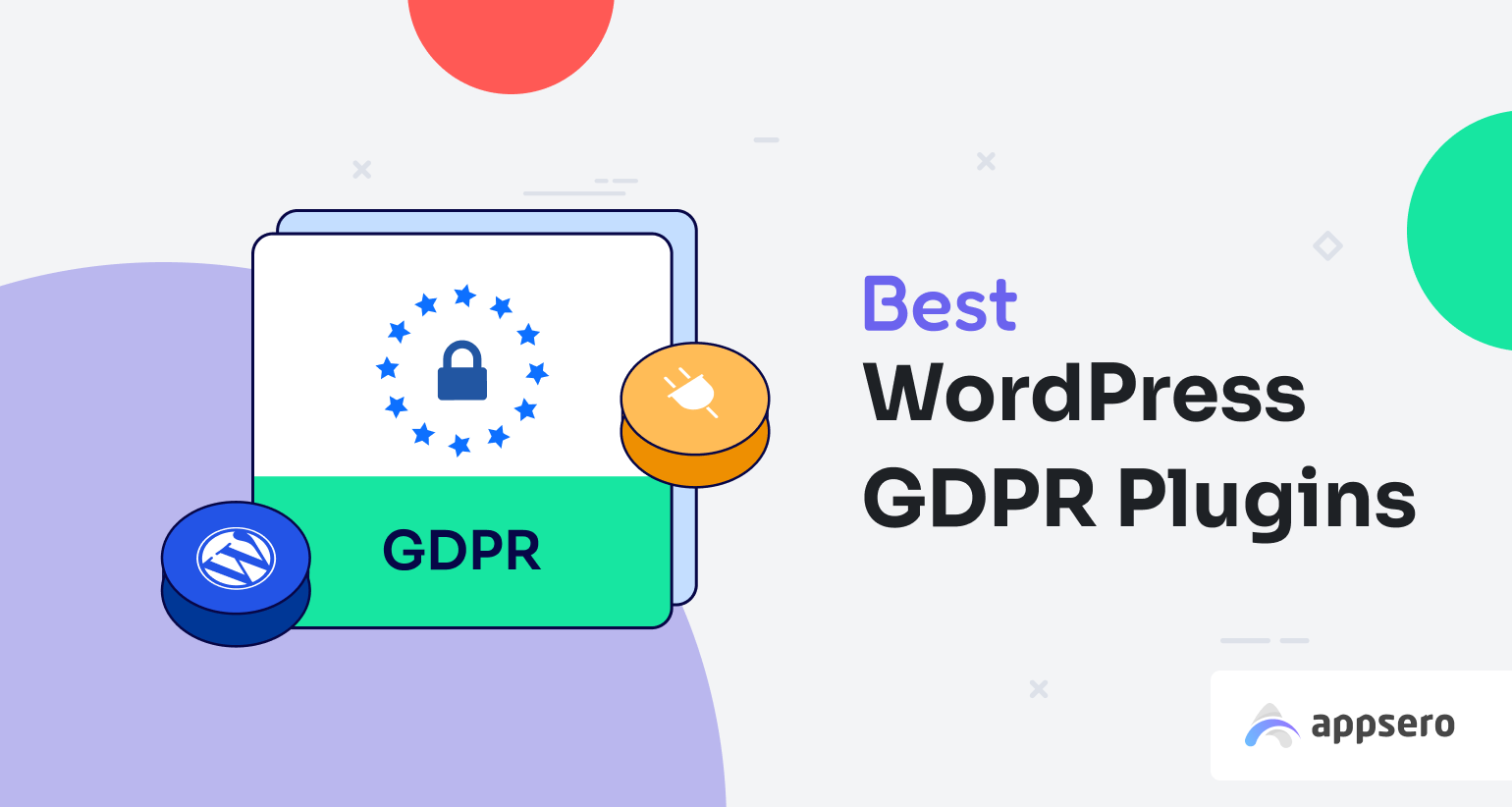 We've selected the best WordPress GDPR plugins and listed them here to help you choose the right one. These plugins provide various features and functionalities to enhance GDPR compliance on your WordPress website. Here are the 9 best WordPress GDPR plugins to make your site compliant:
1. Cookie Notice & Compliance for GDPR / CCPA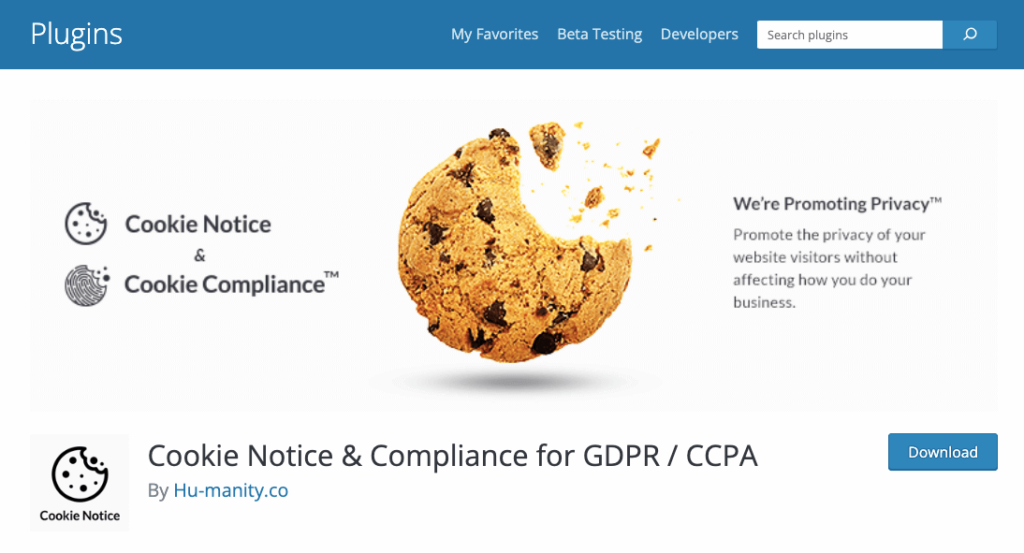 This plugin combines two products- Cookie Notice and Cookie Compliance. If you're looking for a way to ensure your website complies with the EU GDPR cookie law and CCPA regulations, Cookie Notice is here to help. Cookie Notice makes it easy to meet cookie consent requirements with its simple and customizable website banner.
Active installations: 1+ million
Average rating: 4.8 out of 5 stars
Plugin link: Cookie Notice & Compliance for GDPR / CCPA
Key features of Cookie Notice:
Customizable notice message: Tailor the notice message displayed to your visitors according to your preferences and requirements.
Consent options: Allow visitors to give their consent by clicking, scrolling, or closing the banner, providing a seamless and user-friendly experience.
Cookie expiry options: Set multiple expiry options for cookies, giving you flexibility in managing cookie lifetimes.
Privacy policy link: Include a link to your page to ensure transparency and provide users with detailed information about your data handling practices.
WordPress Integration: Sync your Privacy Policy page with WordPress, ensuring that any updates or changes are automatically reflected.
Compatibility: Cookie Notice is compatible with popular multilingual plugins like WPML and Polylang, making it easier to cater to a diverse user base.
SEO-friendly: The banner is designed with search engine optimization (SEO) considerations in mind, ensuring it doesn't negatively impact your website's search rankings.
Speaking of Cookie Compliance, it's a powerful Consent Management Platform (CMP) that goes beyond basic compliance features. It comes with a web application that offers automated compliance functionalities and advanced design controls.
This consent framework incorporates the latest guidelines from over 100+ countries, along with emerging standards from respected international organizations like the IEEE and European Center for Digital Rights.
Key features of Cookie Compliance:
Intentional consent: Offer visitors three equal buttons for accepting none, some, or all cookies through Data Access Levels.
Consent duration selector: Let visitors control how long their consent remains valid (up to 6 months).
Cookie purpose categories: Enable visitors to customize their consent by different categories.
Consent metrics: Display visitor consent records and a list of blocked/allowed third parties in the expanded banner.
Customizable privacy paper: Provide clear information on data sharing risks and benefits.
Configurable privacy contact: Share contact info for your data privacy admin and links to data subject request forms and resources.
2. CookieYes | GDPR Cookie Consent & Compliance Notice (CCPA Ready)
The CookieYes GDPR Cookie Consent plugin ensures GDPR compliance by adding a cookie banner to your website. It supports compliance with LGPD (Brazil), CNIL (France), and CCPA/CPRA (California) regulations.
Active installations: 1+ million
Average rating: 4.8 out of 5 stars
Plugin link: CookieYes | GDPR Cookie Consent & Compliance Notice (CCPA Ready)
Key features of CookieYes:
Cookie consent banner with Accept and Reject options
Free connection with the CookieYes web app for advanced features and settings management
Automatic scanning and categorization of cookies with a single click
Display the cookie list on your policy page using a shortcode
Customizable cookie notice style to match your website's design
Cookie List module to neatly display the cookies used on your site
CCPA/CPRA 'Do Not Sell or Share My Personal Information control
Helps achieve CNIL cookie compliance (France) and POPIA (South Africa) compliance
3. Contact Form by WPForms – Drag & Drop Form Builder for WordPress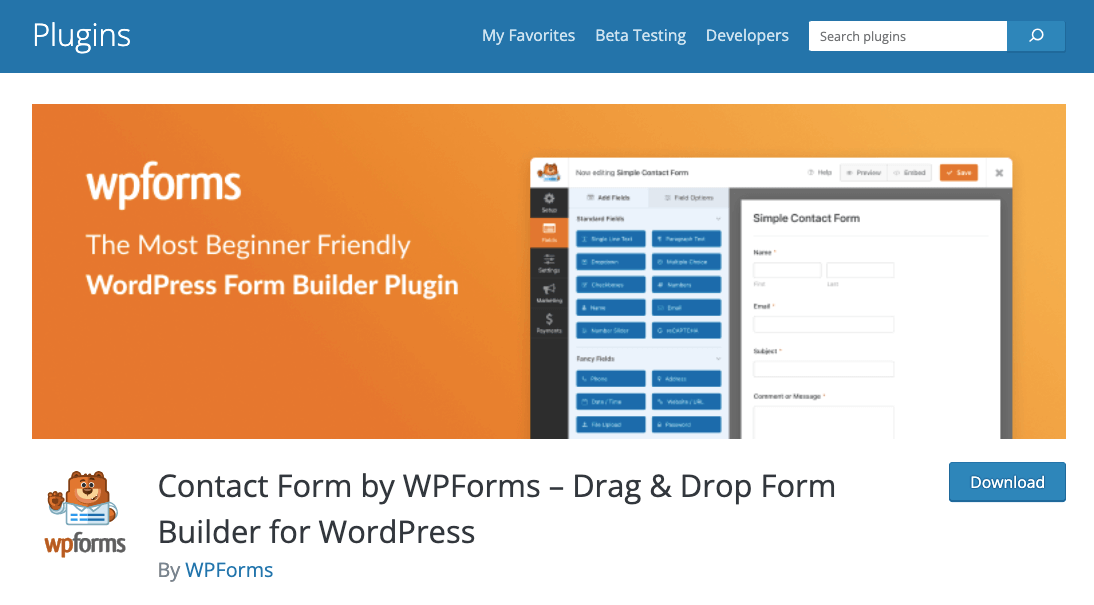 Create stunning contact forms, feedback forms, subscription forms, payment forms, and more with WPForms. It ensures that your forms are mobile-responsive, delivering a seamless experience across all devices. It prioritizes web and server performance to enhance your SEO, marketing, and conversions.
Active installations: 5+ million
Average rating: 4.9 out of 5 stars
Plugin link: Contact Form by WPForms
Key features of WPForms:
Online form builder: Create contact forms and other online forms quickly using a drag-and-drop interface, without any coding.
Mobile-friendly: Ensure your contact forms look great on all devices, including mobile phones and tablets.
GDPR compatibility: Make your contact forms GDPR compliant with just a few clicks, protecting user data and privacy.
Form templates: Save time by using pre-built form templates, eliminating the need to start from scratch.
Form styling: Customize the appearance of form fields, labels, and buttons without the need for coding.
Spam Protection: WPForms provides built-in anti-spam protection and integrates with hCaptcha, Google reCAPTCHA, and Cloudflare Turnstile.
Integrations: Seamlessly integrate with popular services such as PayPal, Stripe, Square, Authorize.Net, Mailchimp, HubSpot, MailerLite, Salesforce, Google Sheets, Zapier, and more.
4. Complianz – GDPR/CCPA Cookie Consent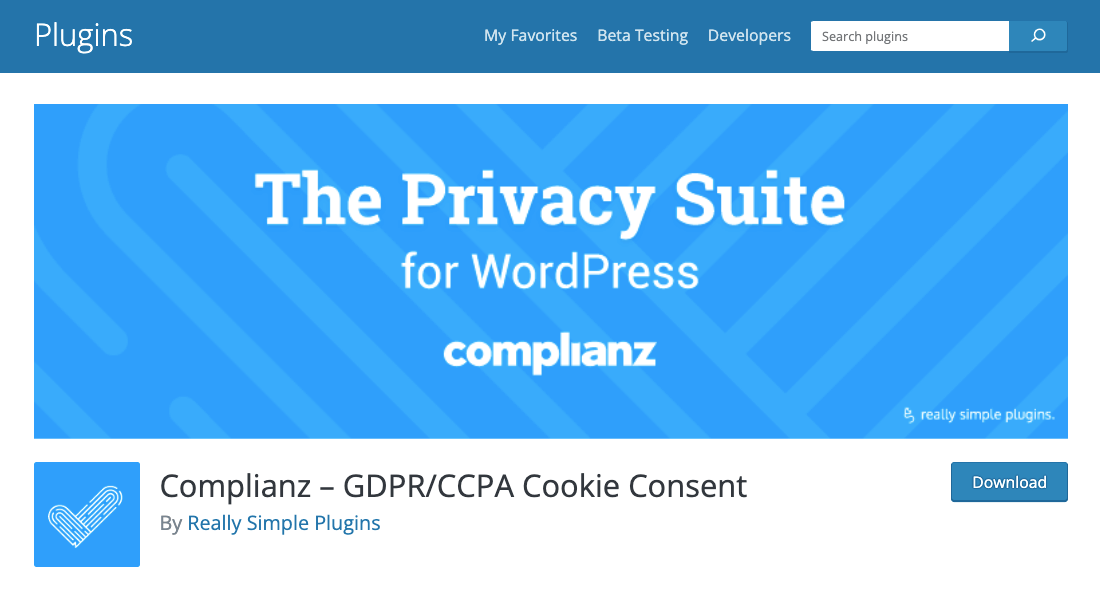 Complianz goes beyond just GDPR compliance and covers a wide range of frameworks, including ePrivacy, DSGVO, TTDSG, LGPD, POPIA, APA, RGPD, CCPA/CPRA, and PIPEDA. The plugin automatically generates a tailored Cookie Notice for your website, taking into account the regulations applicable to your region.
Active installations: 700,000+
Average rating: 4.9 out of 5 stars
Plugin link: Complianz – GDPR/CCPA Cookie Consent
Key features of Complianz:
Configure region-specific Cookie Notices for European Union, United Kingdom, United States, Australia, South Africa, Brazil, or Canada, or use a universal Cookie Notice.
Do Not Sell My Personal Information (DNSMPI) page for CCPA/CPRA compliance (now referred to as Opt-out Preferences).
Automatic website configuration based on wizard questions, WordPress scans, and integrations with various services and plugins.
Generate a comprehensive Cookie Policy using an easy-to-use wizard drafted by an IT Law Firm.
Integration with popular analytics tools such as Google Tag Manager, Google Analytics, Matomo, Clicky, Yandex, and more.
Block third-party cookies from services like Google Maps, Facebook, Instagram, AdSense, Hubspot, Twitter, ActiveCampaign, and more.
Seamless integration with popular plugins including Gutenberg, Elementor, Divi, Forminator, WPForms, Gravity Forms, WooCommerce, Easy Digital Downloads, and more.
5. GDPR Cookie Compliance (CCPA, DSGVO, Cookie Consent)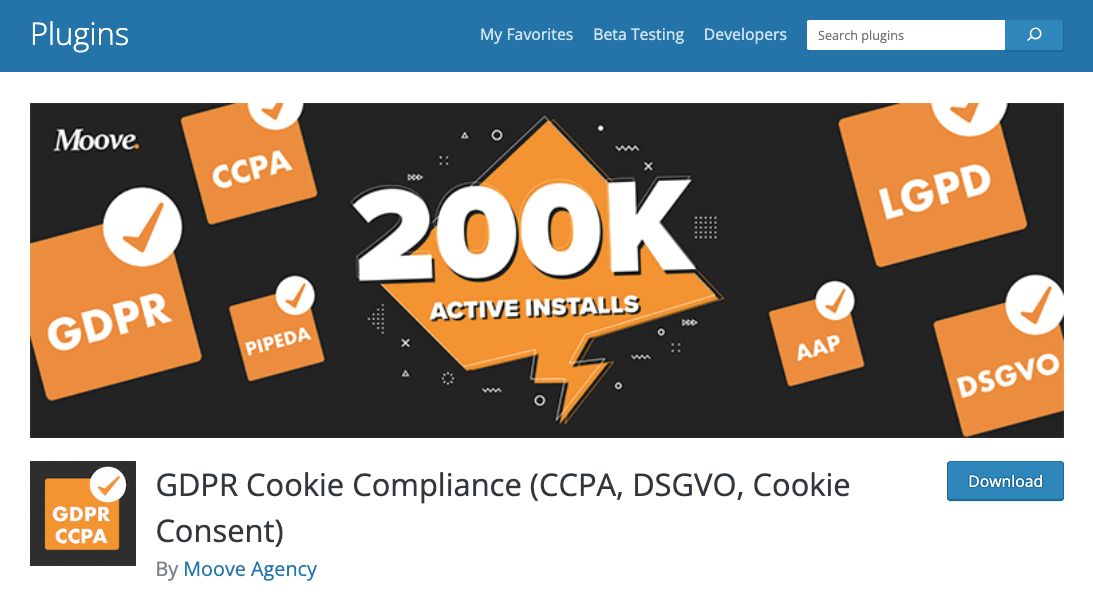 Get your website ready for GDPR, CCPA, DSGVO, and EU cookie law, and notice requirements effortlessly with this robust, user-friendly, extensively supported, and completely free WordPress plugin.
Active installations: 200,000+
Average rating: 4.5 out of 5 stars
Plugin link: GDPR Cookie Compliance (CCPA, DSGVO, Cookie Consent)
Key features of GDPR Cookie Compliance:
Local data storage: User data is stored exclusively on your website, ensuring privacy.
User control: Empower users to manage their stored cookies and revoke consent.
Customizable: Upload your own logo, adjust colors, and fonts to match your brand.
Seamless integrations: Directly integrate with popular tools like GTM, GA, Meta Pixel, GTM4WP, and more.
Script control: Determine which scripts load by default or upon user consent.
Button customization: Customize the 'Accept,' 'Reject,' 'Close,' and 'Settings' buttons.
Consent expiration: Set expiration settings for user consent.
Smooth animations: Enhance the user experience with sleek animations.
Mobile responsive: Ensures compatibility across different devices.
Multilingual support: Compatible with WPML, QTranslate, WP Multilang, TranslatePress, and Polylang.
6. MonsterInsights – Google Analytics Dashboard for WordPress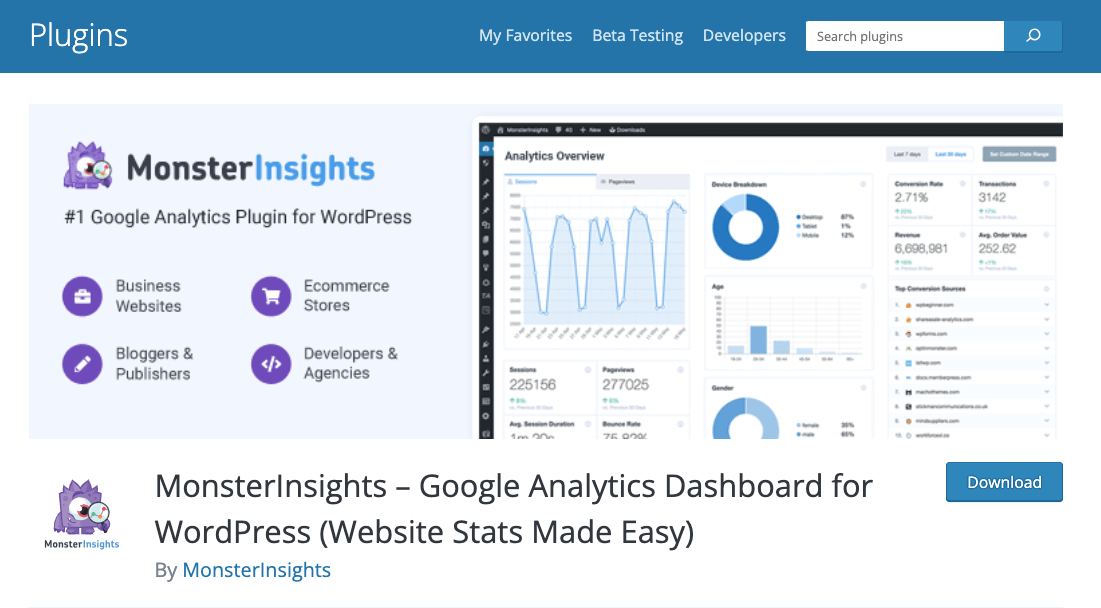 MonsterInsights helps you make data-driven decisions and grow your business with ease. It simplifies the process of enabling advanced Google Analytics tracking features. The analytics dashboard for WordPress provides actionable reports right within your dashboard.
Active installations:3+ million
Average rating: 4.5 out of 5 stars
Plugin link: MonsterInsights
Key features of MonsterInsights:
Simplify Google Analytics setup with MonsterInsights
Access actionable reports in your WordPress dashboard
A comprehensive analytics solution including Google Analytics 4 (GA4)
Effortless e-commerce tracking for WooCommerce, Easy Digital Downloads, and more
Ensure GDPR compliance for Google Analytics' functionalities
Monitor real-time statistics directly within your Google Analytics dashboard
Track Google Ads, Meta Pixel (Facebook, Instagram Ads), PPC conversion, and more
7. iubenda | All-in-one Compliance for GDPR / CCPA Cookie Consent + more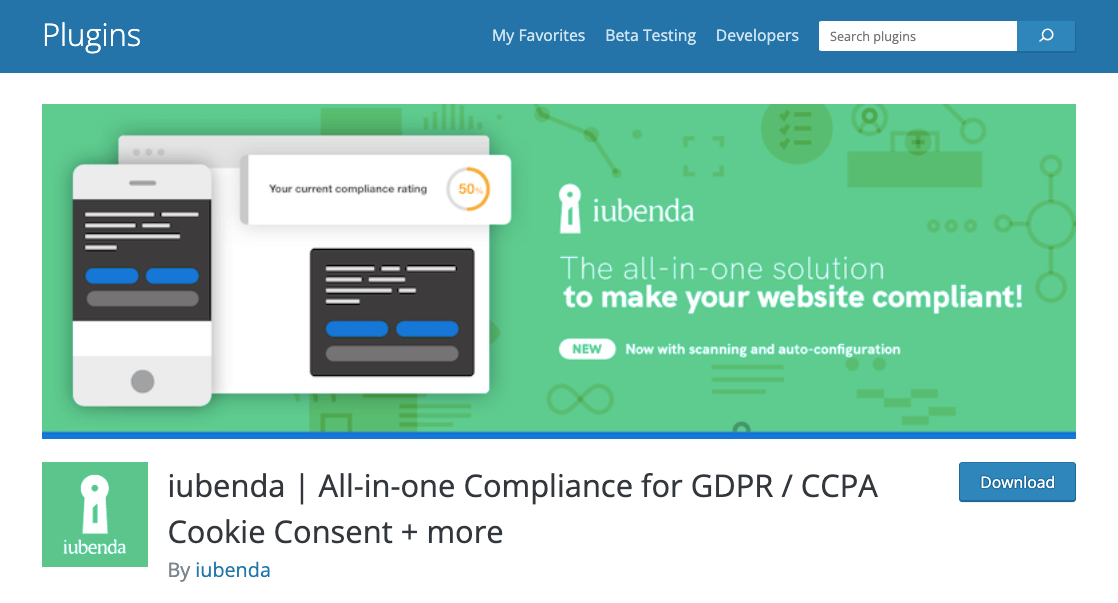 The iubenda plugin is a comprehensive 360° compliance solution that is exceptionally user-friendly. Its text is designed to ensure adherence to various regulations. With a swift site scan, the plugin automatically configures itself to align with your specific setup. It provides support for GDPR (DSGVO, RGPD), UK-GDPR, ePrivacy, LGPD, CPRA / CCPA, CalOPPA, PECR, and other applicable standards.
Active installations: 100,000+
Average rating: 4.8 out of 5 stars
Plugin link: iubenda | All-in-one Compliance for GDPR / CCPA Cookie Consent + more
Key features of iubenda:
Scan and auto-configure solutions for your site's specific needs.
Create customizable cookie banners, manage consent, and store GDPR proof.
Generate CCPA notice with DNSMPI link.
Generate customizable privacy and cookie policies quickly.
Auto-detect user location and apply correct data privacy settings.
Manage GDPR consent records for webforms.
Generate professional Terms and Conditions for liability protection.
Translate documents with a single click (supports 10 languages).
8. Appsero Helper: WordPress Analytics, Licensing & Deployment Tool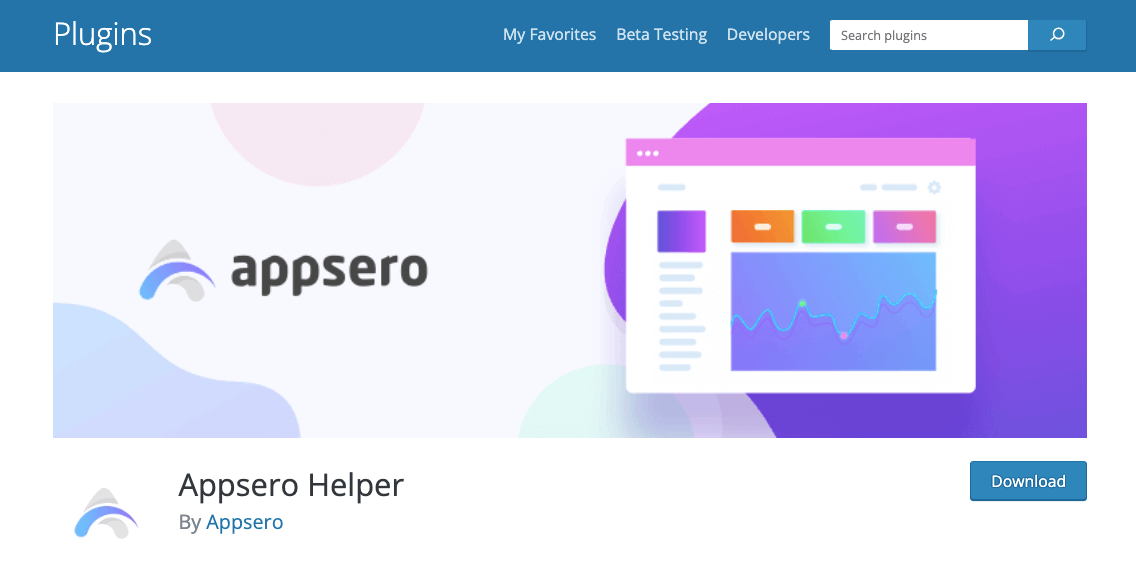 Though Appsero is different from the other plugins on this list, it comes in handy for people who're planning to start a WordPress plugin or theme business. Appsero collects some telemetry data upon the user's confirmation. It starts gathering basic telemetry data when a user allows it via the admin notice. Know more from here- Appsero's privacy policy.
Active installations: 60+
Average rating: 5 out of 5 stars
Plugin link: Appsero Helper
Key features of Appsero:
WordPress product license management with enhanced analytics and exciting features.
Automatic release deployment, and product licensing.
Appsero supports multiple platforms for selling plugins including WooCommerce, EDD, Fastspring, Paddle, Gumroad, and more.
Seamlessly integrate with Git platforms for streamlined code deployment
Track installations and deactivations accurately through Appsero's dashboard.
Create convenient shortcuts using shortcodes
9. Forminator – Contact Form, Payment Form & Custom Form Builder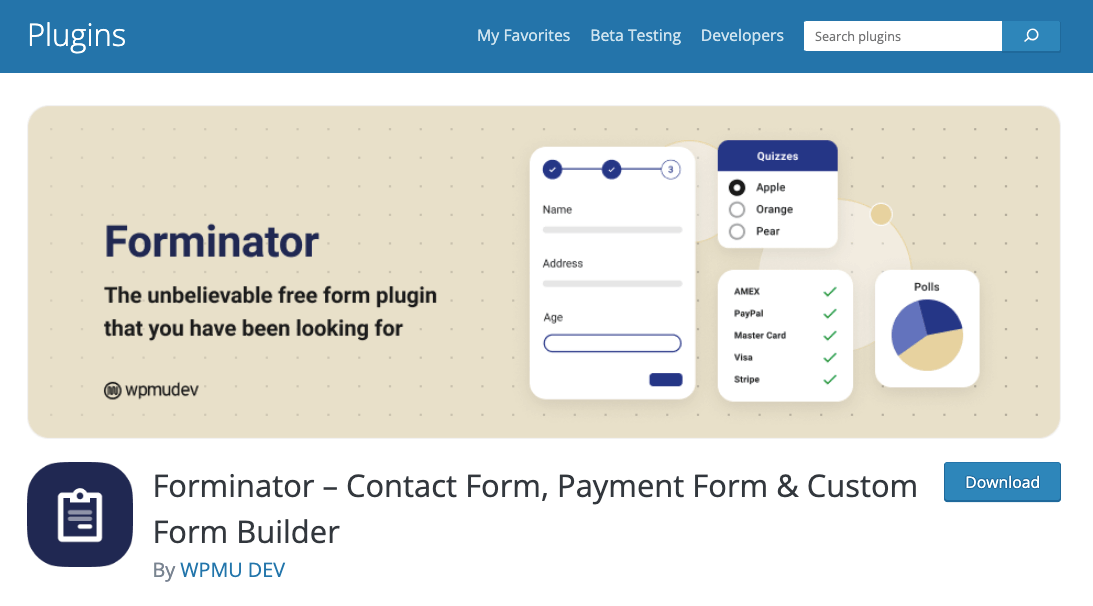 Forminator is a user-friendly WordPress form builder plugin for any website and purpose. Its intuitive drag-and-drop visual builder simplifies the process of setting up and adding forms to your WordPress website. You can gather information, enhance interactivity, and boost conversions with Forminator easily.
Active installations: 400,000+
Average rating: 4.8 out of 5 stars
Plugin link: Forminator – Contact Form, Payment Form & Custom Form Builder
Key features of Forminator:
Versatile range of features including forms, surveys, quizzes, polls, calculations, and more.
Create custom forms with unlimited fields to cater to your specific requirements.
Engage users with interactive polls that offer dynamic options and customizable settings.
Entertain and challenge your visitors with fun quizzes that can be shared on social media.
Collect information, generate leads, accept orders, and engage visitors with powerful calculation features.
Effortlessly accept payments, donations, and down payments, and sell merchandise using the integrated Stripe and PayPal integrations.
Best practices for data protection and user consent management
Implementing best practices for data protection and user consent management is crucial for maintaining compliance with data protection regulations like the GDPR. Here are some key practices to consider:
1. Data minimization
Only collect and retain the personal data necessary for the intended purpose. Avoid excessive or unnecessary data collection.
2. Transparent privacy policy
Maintain a clear and easily accessible privacy policy that explains how personal data is collected, used, stored, and shared. Provide information on the legal basis for processing, data retention periods, and the rights of individuals.
3. Consent management
Obtain explicit consent: Implement mechanisms to obtain explicit and informed consent from users before processing their personal data. Use clear and specific language, and provide options for users to grant or withhold consent for different processing activities.
Granular consent: Offer granular consent options, allowing users to choose the types of processing they consent to (e.g., cookies, direct marketing).
Cookie consent: If using cookies or similar technologies, implement a cookie consent solution that informs users about the types of cookies used, and their purpose, and provides options to accept or reject them.
4. Consent records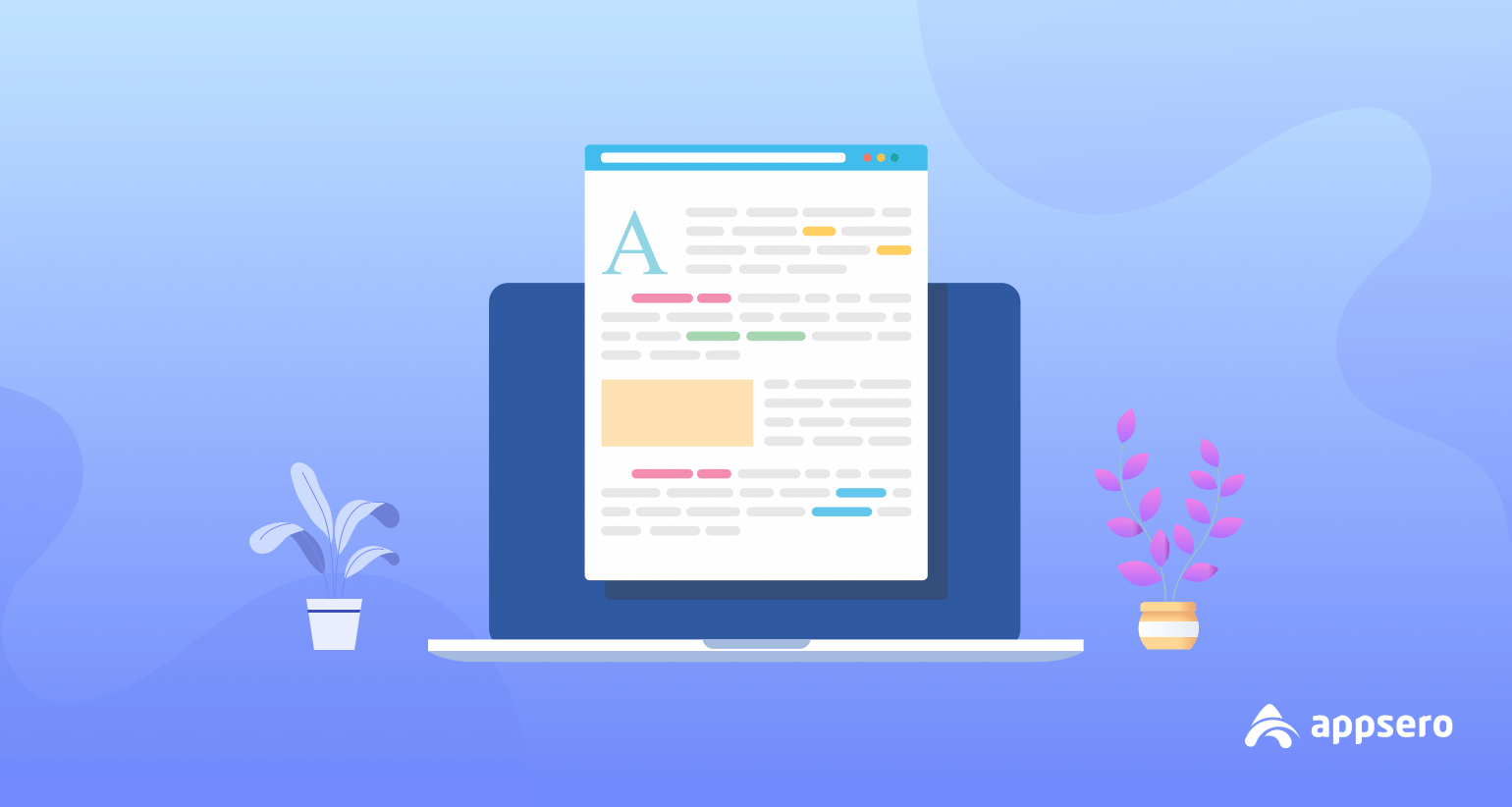 Maintain records of user consent, including information on what users were informed of when consent was given, and the method of consent.
5. User rights
Enable data subject rights: Establish processes and procedures to handle user requests to exercise their rights, such as access, rectification, erasure, restriction of processing, and data portability.
Verification of identity: Implement measures to verify the identity of individuals making data subject requests to avoid unauthorized disclosure of personal data.
5. Security measures
Data security: Implement appropriate technical and organizational measures to protect personal data against unauthorized access, loss, alteration, or disclosure.
Data breach response: Have a documented plan for responding to and managing data breaches. affected individuals when required, and taking steps to prevent future breaches.
6. Third-party processors
Vendor due diligence: Assess the data protection practices of third-party vendors or processors before engaging them. Ensure they have appropriate security measures in place and adhere to data protection regulations.
Data processing agreements: Establish written agreements with third-party processors that outline the responsibilities, obligations, and safeguards for protecting personal data.
7. Regular auditing and review
Periodic assessments: Conduct regular audits and assessments of data processing activities, privacy policies, and security measures to identify and address compliance gaps.
Policy updates: Stay informed about changes in data protection regulations and update policies and procedures accordingly.
8. Staff training and awareness
Provide training and awareness programs to employees handling personal data. Educate them about their responsibilities, data protection practices, and the importance of user consent and data security.
Remember to regularly review and update your practices to stay aligned with evolving privacy laws and emerging best practices.
FAQs – Best WordPress GDPR plugins
Q1: How do GDPR plugins work?
GDPR plugins work by providing a range of features and tools to assist website owners in achieving compliance with GDPR regulations. They typically offer options for cookie consent banners, privacy policy generation, data subject request forms, and other compliance-related functionalities.
Q2: Are GDPR plugins mandatory for WordPress websites?
While GDPR plugins are not mandatory, they can significantly simplify the process of achieving GDPR compliance on WordPress websites. However, it's important to note that using a GDPR plugin does not guarantee full compliance.
Q3: Can I use multiple GDPR plugins on my WordPress site?
Using multiple GDPR plugins can lead to conflicts, compatibility issues, and inconsistent functionality. So, you should choose a single comprehensive GDPR plugin that meets your compliance needs and integrates well with your website's other plugins and themes.
Q4: How do I choose the right GDPR plugin for my WordPress site?
When selecting a GDPR plugin for your WordPress site, consider factors such as the plugin's features, customization options, compatibility with your existing plugins and themes, user support, and reputation. Read reviews, explore demos, and evaluate the documentation and support provided by the plugin developer.
Q5: Do GDPR plugins automatically make my website GDPR compliant?
No, GDPR plugins do not automatically make your website GDPR-compliant. They provide tools and features to assist in the compliance process, but compliance requires a comprehensive approach that involves reviewing and adapting your data processing practices, implementing appropriate security measures, and addressing legal requirements.
Keep your business compliant with WordPress GDPR plugins
Implementing robust GDPR compliance measures is crucial for any WordPress website owner who values data privacy and wants to ensure a trustworthy online presence. Fortunately, there are several outstanding GDPR plugins available that can significantly enhance compliance efforts.
These plugins offer a range of features, including real-time stats, a conversion tracking for popular advertising platforms, auto-configuration based on site setup, cookie consent management, privacy policy generation, user consent record keeping, and more.
Utilize the power of these best WordPress GDPR plugins to streamline your overall compliance processes. With the right WordPress GDPR plugins in place, you can confidently navigate the complexities of data privacy regulations and provide your users with a secure and transparent online experience.
Subscribe To Our Newsletter
Don't miss any updates of our new templates and extensions
and all the astonishing offers we bring for you.