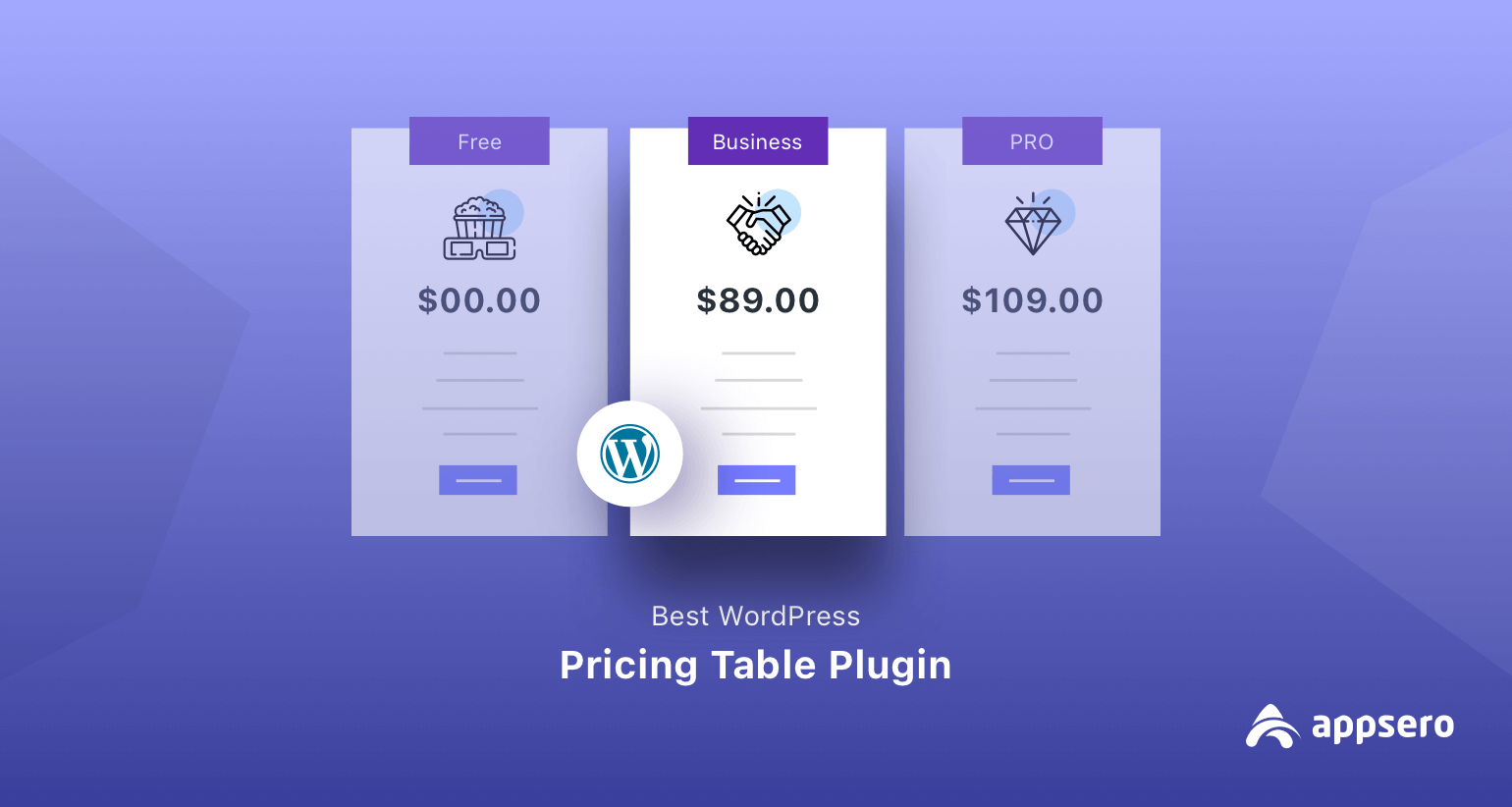 7 Best WordPress Pricing Table Plugin to Select in Late 2023
Hello dev, are you organizing your pricing table for your customers? A properly oriented pricing page is necessary when you need more engagement.
Building, managing, and improving a site will take a lot of effort, but everything will go in vain if you can't get enough response from the customers.
So, you can leave the sell-management to a WordPress pricing table plugin.
Pricing tables handle the purchase data, represent product features, and concisely display information through multiple packages. Moreover, it also assists prospects in completing the "buyer's journey."
Creating a WordPress plugin from scratch may require a lot of investment and time. That is why choosing a premade one will be the best fit. And, in this blog, you will find a complete discussion on a handful of best pricing table plugins for your WordPress site. Let's follow through.
Why a Pricing Table Plugin is a Must for WooCommerce and Subscription Business Strategy?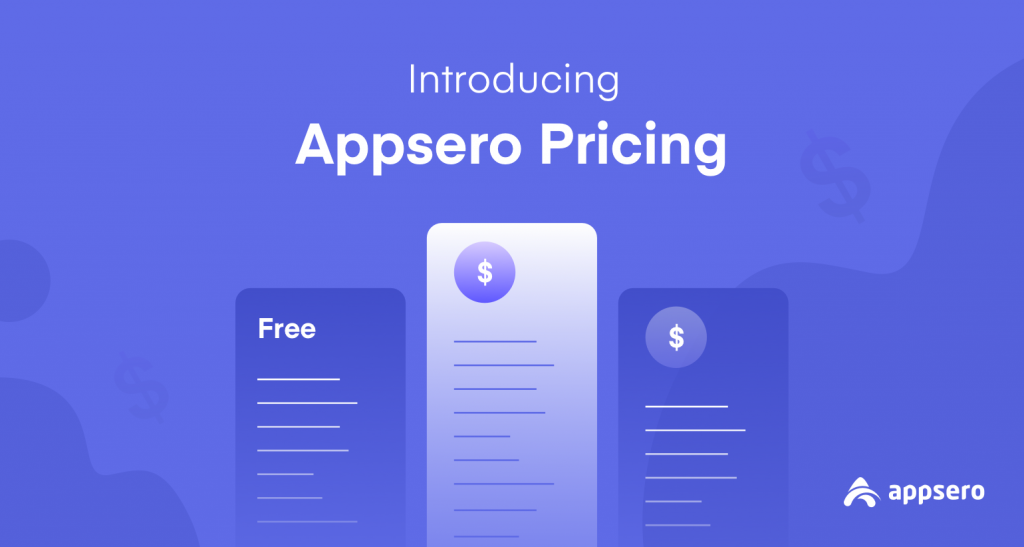 Other than representation, a pricing table plugin offers a lot of features. Some of the most remarkable features are –
Perfect Offer Display
Pricing tables clarify the offers and all the aspects of the product or service. Moreover, it can explain many other incentives of the company.
Offer Comparison
Visitors will love to compare the offers and features of a product. A WordPress pricing table plugin can instantly assist to compare various products at once. If an audience sees reasonable prices, then chances are they will become loyal customers later.
Help the Prospect to Conclude in a Decision
A perfect representation of prices and features will acknowledge and influence a prospect to purchase if the product serves all of their needs.
The modern online marketing system is all about the presentation of data. Any ultimate purchase decision or selection of a subscription plan will be based on experience, reviews, and clarity. Even a slight mistake in the representation can entirely change the result.
Dove's racist marketing campaign can be a perfect example. In 2017, they posted a 4-panel photo for their product on Facebook. The picture contained 4 women applying Dove products.
The weird thing about this photo is 3 women in the first half of the picture are black, and the last woman is white. Many people thought this picture represented racism, and the marketers faced criticism for their foolishness.
However, Dove's representatives claimed that the 4-panel picture was a display of the variety of beauty.
7 Best WordPress Pricing Table Plugins in 2023 
Below we have listed some of the best pricing table plugins that can go with any website's style.
| | | | | | | |
| --- | --- | --- | --- | --- | --- | --- |
| Plugin Names | Active Installations | Last Updated | Free Version | Premium Version | WordPress Version | Languages |
| Ninja Tables | 60,000+ | June 29, 2021 | None | Starts from $49 | 4.5 | English (US), Spanish (Guatemala), and Swedish |
| Supsystic Tables | 40,000+ | June 29, 2021 | Available | Starts from $46 | 1.9 | Chinese (China), French, and English (US) |
| WP Table Builder | 30,000+ | July 23, 2021 | None | Starts from $39 | 4.9 | Chinese (Taiwan) and English (US) |
| Darko Tables | 20,000+ | July 23, 2021 | None | Starts from $19 | 3.6 | Dutch, English (Canada), English (US), Russian, and Swedish |
| Easy Pricing Tables | 20,000+ | July 29, 2021 | Demo Available | Starts from $29 | 3.6 | English (US), French (France), Spanish (Spain), and Swedish |
| Tiered Price Table | 9,000+ | December 30, 2021 | None | Starts from $79 | 4.9 | Chinese (China) and English (US) |
| Pricing Table | 3,000+ | July 15, 2021 | Available | Starts from $15 | 4.0 | Chinese (China), English (US), Spanish (Spain), and Spanish (Venezuela) |
1. Ninja Tables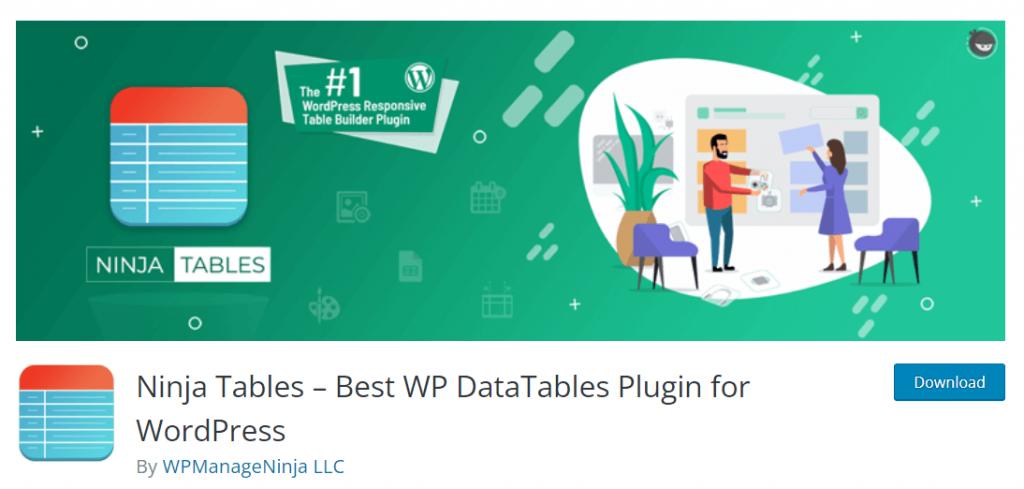 Ninja Tables, by WPManageNinja, is a CSS-based WooCommerce pricing table for product showcasing. This pricing tool is best for customizing any pricing system to be symmetrical or vertical. Ninja Table is SEO-friendly and influences search results
If you have an eCommerce business that has to showcase thousands of products, then Ninja Tables should be the best pricing tool for you. You can customize your products in any possible order.
Moreover, Ninja Tables supports fast rendering of data for both frontend and backend. This process eliminates any issues in loading massive amounts of data.
Pros
Built-in 100+ table styles.
Unlimited color options.
Table styles support Footables, Bootstrap 3 and 4, and Symmetries.
Efficient pagination, sorting, or filtering for tables.
Minimal use of JS and CSS ensures fast loading.
Chart integration.
Improved search bar with special characters.
4kb frontend javascript table file.
Cons
Incompatible with the new WordPress update.
Glitchy search process.
2. Supsystic- Fast Pricing Table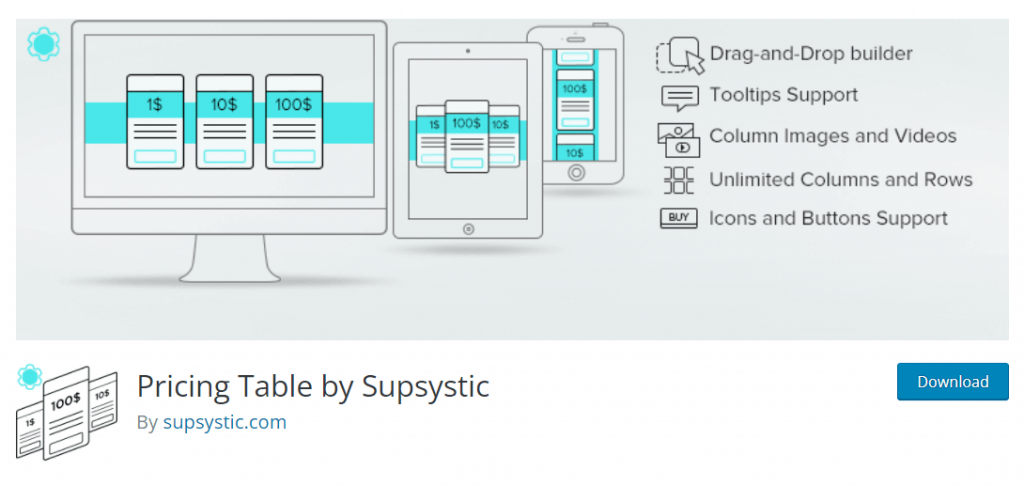 The drag-and-drop pricing table plugin, by Supsystic, is an all-rounder CSS-based customizable tool. Supsystic is an impressive company for WordPress plugin development. They create tables for data, pop-ups, and photo galleries.
However, their best development is this responsive pricing table that can offer tons of features in the free version. Some of the highlights can even beat premium versions of other plugins.
What You can expect is customizable buttons, waver animations and built-in preset templates. Moreover, there are export and import options for data. Without any further ado, you can add this plugin to your must-have developer tool.
Pros
Drag and drop options for simplification.
Beautifully represented tables.
Multiple responsive elements.
Pre-added visual icon pack.
Toggle options switching.
Built-in hover animations for more attractiveness.
Supports images and videos.
Over 100 pre-customized tables, rows, and columns.
Renderable in different screen sizes.
Cons
Some customers reported several bugs.
Complex navigation over the product.
3. WP Table Builder- WordPress Pricing Table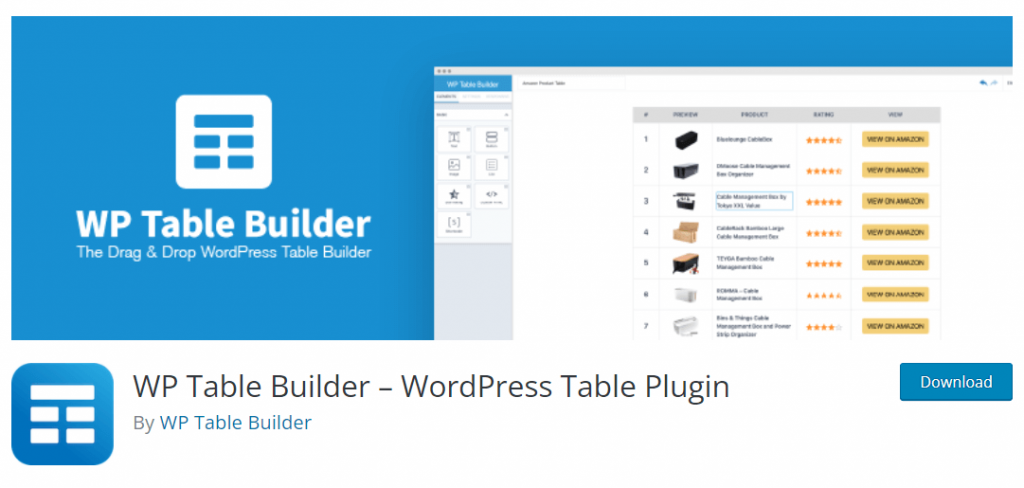 WP Table Builder, by WP, is a price table plugin that is pretty simple to use and easily deployable. You can create multiple types of tables such as comparison, pricing, and list-view tables.
Moreover, this plugin has a fixed amount of builder elements that can be used to build the table. Drag and drop options make it more quite perfect and effortlessly usable.
The best part is all options are customizable in their own way. You can even change the numbers, the height of the table, cell width with ease.
Pros
7 customizable elements.
Supports CSV and XML files.
50+ pre-built table templates are available.
Changeable fonts sizes and colors.
Addable elements.
100+ changeable table options.
No code is needed.
Employee and schedule table.
Simple interface.
Fast loading and less space required.
Supports Gutenberg integration.
Cons
Un-customizable color transparency for elements.
Less dynamic features
4. WP Darko- WordPress Pricing Table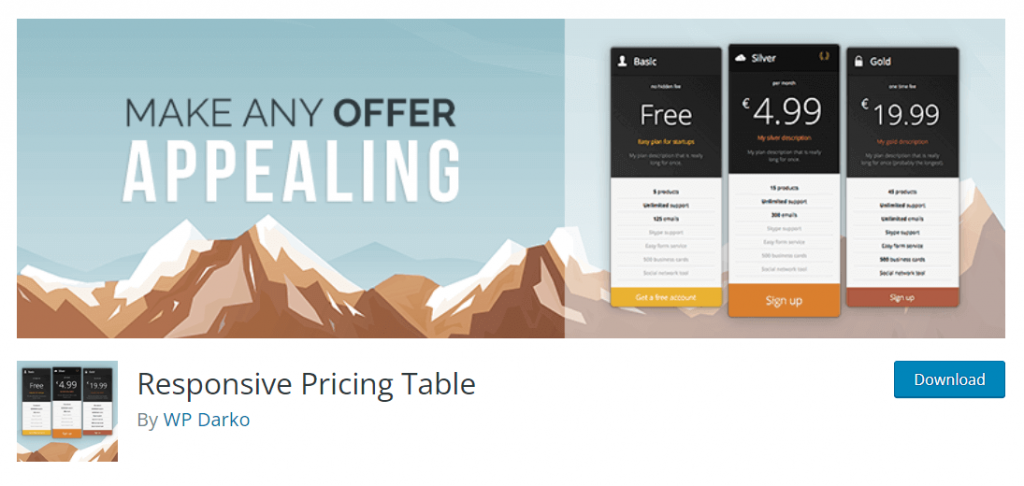 If you are looking for color, order, and perfect synchronization of tables, then you should choose WP-DRAKO's fastest responsive WordPress pricing table.
This pricing table makes the offer packages more appealing and vibrant by 2 specific color mixes.
Moreover, the table section has custom animations to click, which makes the table more attractive. Customers can see small tooltips by pointing their cursor in a single feature.
That's not all, WP-Darko's superior customer support helps with any problem with the product, 24/7 active, and fast response, which makes this product more reliable.
Pros
PH 8 compatibility.
Shortcode for features.
Multiple pre-added currency signs.
Buttons are customizable.
Link eligibility for buttons.
Equalizer option in plan settings.
Cons
The UI system is pretty poor on the front end.
5. Easy Pricing Tables Plugin- Simple Yet Powerful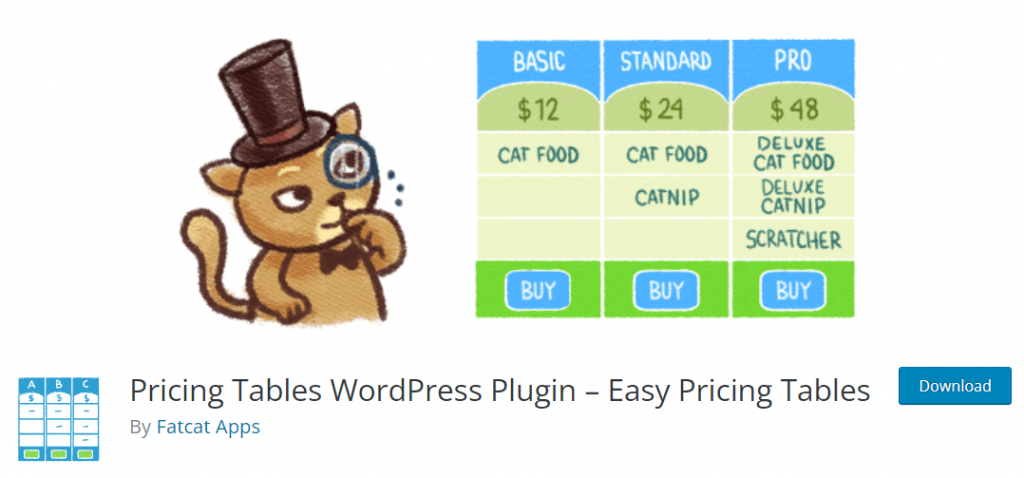 The Easy pricing table plugin, by Fatcat Apps, is an efficient and customizable first subscription management tool that is specially developed for block editors.
This pricing table plugin is pretty simple compared to other complex plugins.
The installation process is a 3 step process,
Attach the table.
Fill in the values and necessary features.
Publish.
Moreover, there is no additional coding needed for further customization. One of the best parts of the Fatcat pricing table is, it is compatible with WordPress 5.0.
Pros
6 available options for designs.
Supports comparison tables.
Built-in and customizable 15 fonts.
Fast integration for WooCommerce.
Compatible with numerous WordPress themes.
Point and click editing options.
Options for editing links in the table.
Built-in conversion rate optimization (CRO) for products.
Automatically adjustable column.
Cons
A bug can cause auto-renewable for pro versions.
Bad development.
6. WooCommerce Tiered Price Table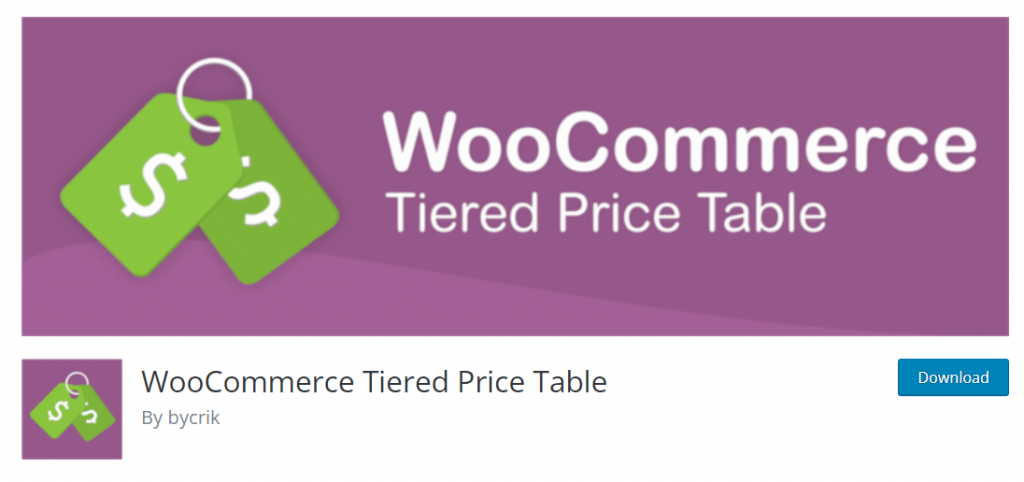 The separated line table plugin, by Bycrik, is a WooCommerce product pricing tool like ninja tables. This pricing table plugin gives you the ultimate solution for an effective and perfect product showcase.
Sometimes you need to create various fields of multiple sections such as size, color, quantity, price, and types. The tiered price table plugin can create a perfect structure and fit all these elements in separated sections.
You can also set a range of prices, customize colors and zoom icons to observe the product. There is even a variation tag for sorting.
Pros
Addable discount features.
Separated tiers for multiple roles.
Modifying options for table elements.
Sort out the prize for highest to lowest.
Review table for the product.
Bulk category options.
Effortless setup.
Cons
Some users reported inadequate customer service from the developers.
7. Pricing Table- Easy and Responsive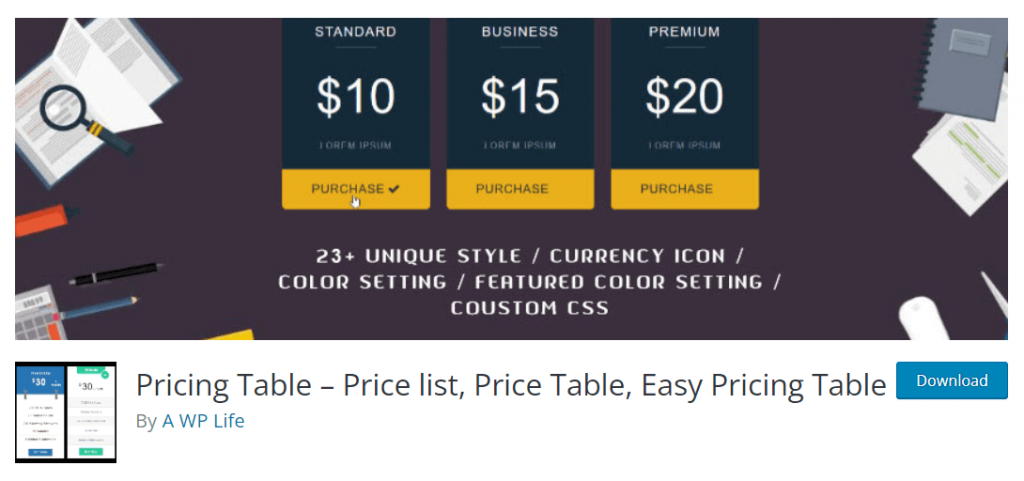 Pricing Table, by A WPA Life, is a fully HTML and CSS3 coded plugin that efficiently represents information and price packages.
The overall setup is pretty straightforward. All you have to do is activate it from the WordPress plugin's repository. Later, you can customize it in any way.
Moreover, this plugin also helps the user to create and publish comparison tables. Pre-installed 4 styled templates can blend with any WordPress theme.
Pros
Eliminator Page Builder compatibility.
Encoded based on CSS & JS.
Customizable style.
Icon selection settings.
Supports different web-browsers.
Newest Bootstrap model-based.
Variant color options.
CSS-based design and structure.
Built-in column, header, and button options.
Short-code eligibility.
Cons
Missing save options for any modified changes.
The Setup interface is poor.
Relatable FAQs to Help You Out
1) Question: How to add a pricing table plugin to a WordPress site? 
Answer: Follow the below instructions, 
– Go to the pricing table menu. 
– Create a new page. 
– Select a suitable template. 
– Now, enter the table contents by clicking the content tab. 
– Add other elements according to your needs. 
2) Question: What is the price table plugin in the WordPress site?
Answer: The price table is a WordPress tool to showcase, set, and compare prices and offers. This plugin adds a table builder for the representation. After installation, you can add many elements to make it more vivid and attractive for customers. 
3) Question: What are the 5 pricing strategies of marketing? 
Answer: The 5 pricing strategies are, 
– Price Rising. 
– Market perception pricing strategy. 
– Premium approach. 
– Commercial pricing. 
– And, Bundle pricing. 
Final Thoughts
As we are closing up, you should remember one golden rule- always try to pick a plugin by reviewing the customer feedback & reviews, and expert experience.
Also, don't forget to check the speed of your website after downloading a plugin. Sometimes new plugins can slow down your site's performance.
The above-priced plugins, on the other hand, are some of the best, tested bug-free (in the new updates), and fully functional tools in 2023. So, you can choose them without any hesitation. 
We hope you find the right plugin according to your need. See you soon.
Subscribe To Our Newsletter
Don't miss any updates of our new templates and extensions
and all the astonishing offers we bring for you.