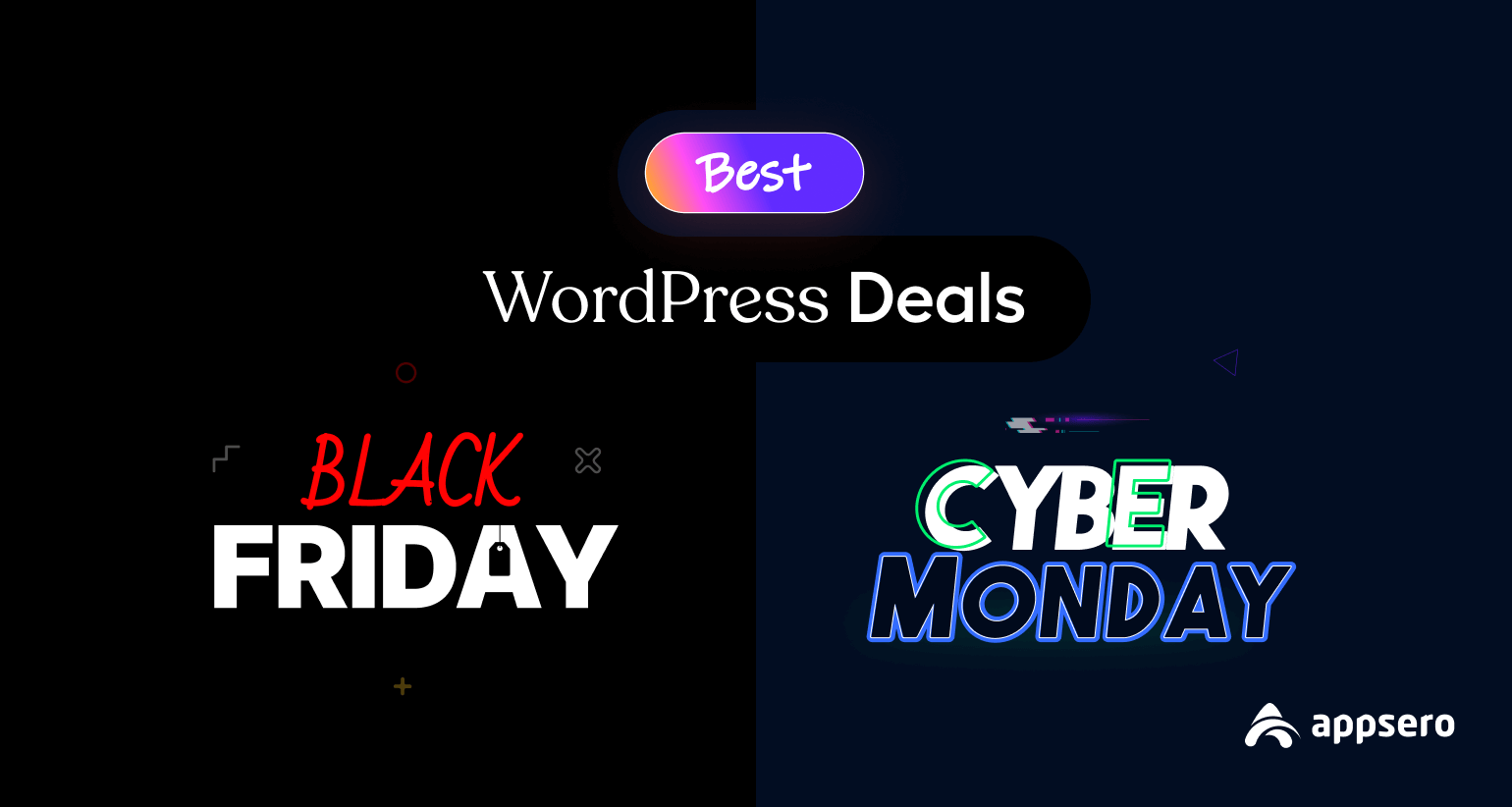 Best WordPress Black Friday Deals and Cyber Monday Offers in 2022
Hello Developers, this is the biggest sale time of every year. In the WordPress community, there are deals in plugins, themes, hosting, and domains.
It's quite a tiresome job to find out the offers. Thus, we have listed out the best WordPress Black Friday deals and Cyber Monday discount 2022 specially for you.
Just two weeks ago we have enjoyed the Halloween party. Now, it's time to fill in your bags with a bunch of profitable deals.
In 2022 Black Friday starts on the 25th of November and Cyber Monday is on the 28th of November.
If you want to grab the discount in WordPress town then don't miss our list.
What Appsero is Offering This Year
Appsero is one of the best WordPress analytics, licensing, and deployment tools. In a nutshell, it's a complete package for WordPress developers.
Generally, we offer both FREE and Premium versions. Right now, Appsero is offering a huge 55% discount to celebrate the Black Friday and Cyber Monday carnivals.
This discount will apply from the 17th to the 30th of November. So, what are you waiting for?
Go to our Pricing page and grab a 55% discount on premium plans.
Best WordPress Black Friday Deals & Cyber Monday Treats in 2022
This year Appsero comes with a great collection of WordPress Black Friday & Cyber Monday Deals to help you streamline your business. If you are in search of solutions for your business, be it e-commerce site launch & management, project management, email marketing, ERP, content management, or anything else related to WordPress– this roundup blog has got you covered.
Dokan- Up to 45%
Dokan is one of the renowned Multi-vendor WordPress plugins in the WordPress community. To enhance your eCommerce business there is no better option than Dokan.
Get up to 45% discount on Dokan and run your online store like a pro. Grab the deal before it expires.
Discount Amount: Up to 45%
Coupon: No coupon is required
Offer Validity: 22 Nov 2022 to 06th Dec 2022
Dokan Apps- Flat 45% Off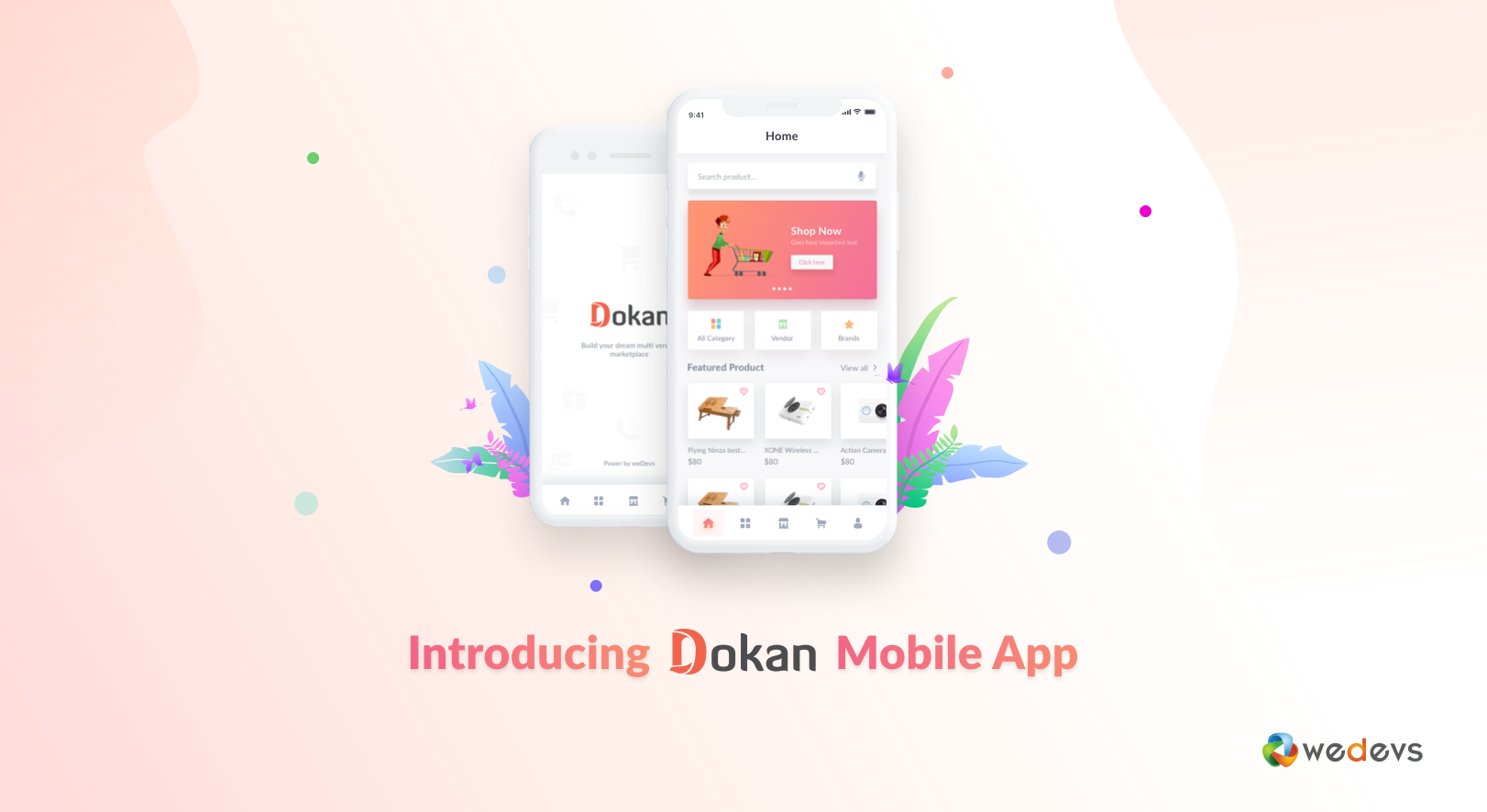 For making your customer journey more convenient Dokan has launched Dokan Mobile App. From now on you won't miss mobile online shop users.
Discount Amount: Flat 45%
Coupon: No coupon is required
Offer Validity: 22 Nov 2022 to 06th Dec 2022
WP ERP- Up to 40% Off
Now get introduced to WP ERP, the revolutionary ERP solution by weDevs. It is specially manufactured for WordPress-powered websites. This will assist you to manage all business-related tasks like HR, CRM, Project Management, Accounting, and other departments that are needed to run and coordinate an entire business structure.
Get up to 40% discount this festive season on all the extensions of WordPress ERP.
Discount Amount: Up to 40%
Coupon: No coupon is required
Deal Validity: 22 Nov 2022 to 06th Dec 2022
WP Project Manager- Up to 45% Off
For WordPress users, weDevs has built a robust project management plugin. WP Project Manager is quite affordable and easy to understand at a glimpse. It's 70% less pricy compared to other WordPress project managers. 10,000 companies are successfully getting aid from this plugin.
In this BFCM season, you can avail of up to 45% discount on diverse plans.
Discount Amount: Up to 45% OFF
Coupon: No coupon is required
Offer Validity: 22 Nov 2022 to 06th Dec 2022
Happy Addons- UP TO 50% OFF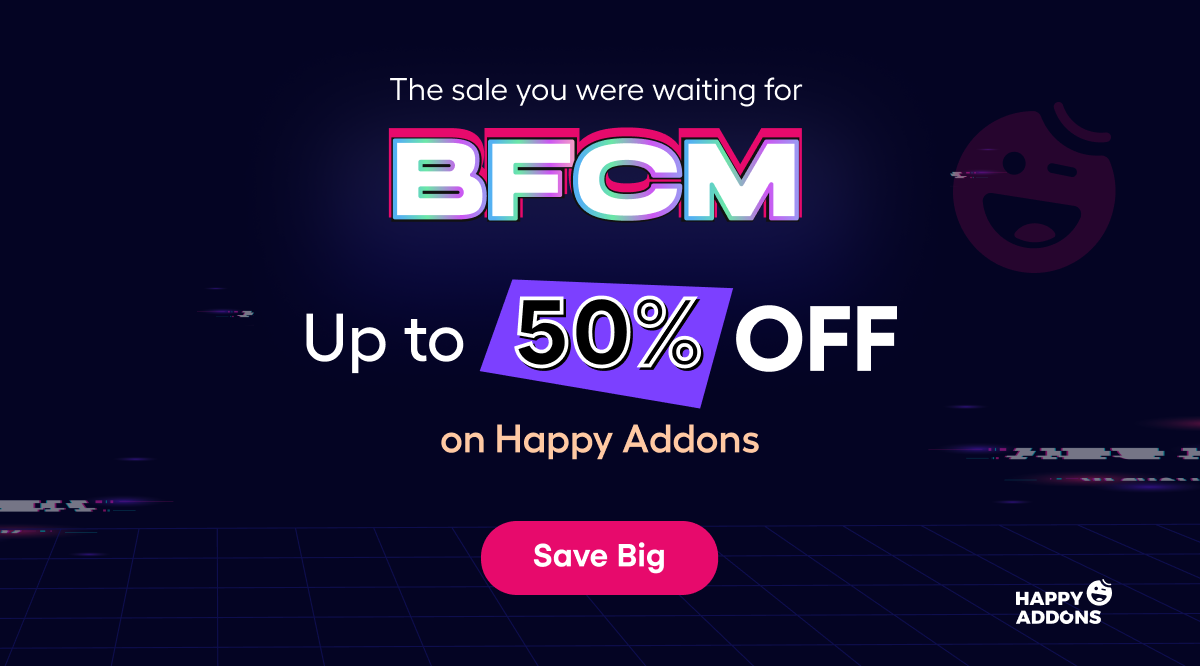 Are you willing to design your website with Elementor? Then you must install add-ons to get a stunning view. In that case, HappyAddons can be your best fit without any doubt.
This Elementor Addons became popular due to its unique collection of widgets and handy features. It comes with 110+ widgets, 25+ features, and 500+ readymade templates. HappyAddons offers up to 50% off on their premium plans this BFCM.
Discount Amount: Up to 50%
Coupon: No coupon is required
Deal Validity: 21 Nov 2022 to 06th Dec 2022
WP User Frontend- Up to 45%
Managing a Membership website won't be a hassle with WP User Frontend PRO. You can build incredible registration forms, contact forms, or frontend pages for your visitors. Currently, it has 30,000+ active installations as an ultimate all-in-one front-end companion. In this BFCM offer, you are getting up to 45% discount on the plans. Pack it up while it's still hot!
Discount Amount: Up to 45%
Coupon: No coupon is required
Offer Validity: 22 Nov 2022 to 06th Dec 2022
weMail- Flat 40% Off
weMail is a killer compound of email campaigns with an email-sending API. You can start email marketing with just a few clicks. Surprisingly, after using weMail you don't have to generate templates. You will have both Free and pro templates with this incredible WordPress plugin.
Again we must add, other email marketing plugins are high-priced in WordPress. On that view, weMail is quite affordable for small business entrepreneurs.
To be in a win-win situation grab a flat 40% Off on this email marketing WordPress Plugin this Black Friday.
Discount Amount: Flat 40% Off
Coupon: No coupon is required
Offer Validity: 22 Nov 2022 to 06th Dec 2022
wePOS- Flat 50% Off
With wePOS, customize your WooCommerce features and take orders. Moreover, you can track your customers. Isn't it an outstanding plugin for WooCommerce users?
This single-page tool operates super actively. You can complete your WooCommerce task without much effort.
Now celebrate your Black Friday event with more joy by availing of the flat 50% OFF on wePOS.
Discount Amount: Flat 50%
Coupon: No coupon is required
Offer Validity: 22 Nov 2022 to 06th Dec 2022
Woostify- Up to 40%
1. Product Addons for WooCommerce and Custom Product Options is a simple-to-use WooCommerce product addon plugin. It helps you add custom product options and allows customers to personalize their purchases. Let your customers choose the product options and then place the order.
2. The Checkout Field Editor and Checkout Manager plugin allow you to add custom fields to capture additional information from the customers during the checkout process. It includes a drag-and-drop Checkout Field Editor to edit the default checkout fields in WooCommerce.
Coupon Code: Not required
Date: 25th November to 2nd December
WPManageNinja- Up to 40%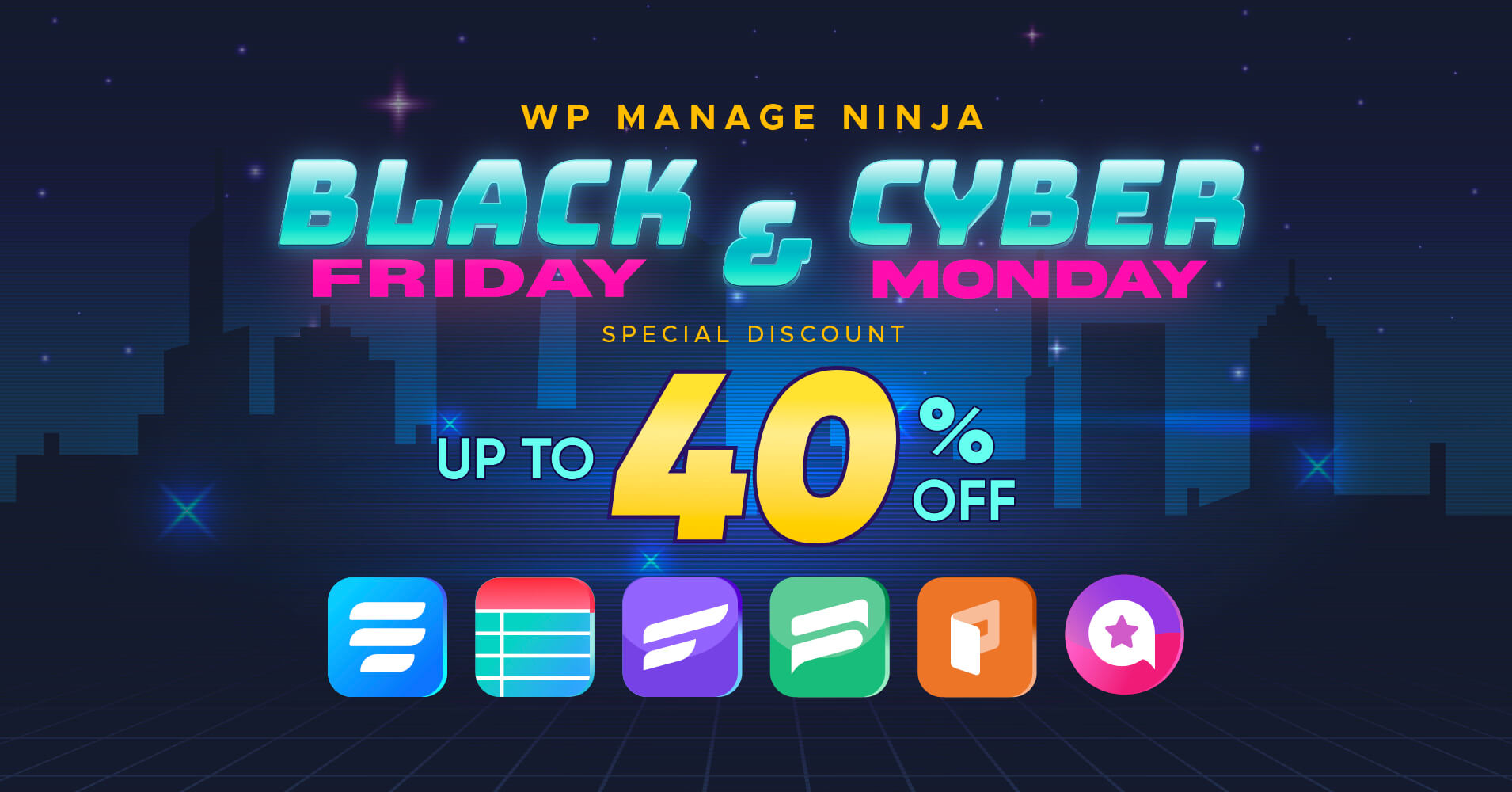 WPManageNinja is offering up to 40% discount on all of its premium WordPress plugins and themes this Black Friday-Cyber Monday sales season. The deal includes their top-rated products:
Fluent Forms – The fastest form builder plugin
FluentCRM – The complete email marketing automation plugin for WordPress
Ninja Tables – The most popular WordPress table plugin
WP Social Ninja – The best social reviews, feed, and chat plugin
Discount Amount: Annual: 40% Off LTD: 30% Off
Coupon: No coupon is required
Deal Validity: 15 Nov 2022 to 2nd Dec 2022
Themesgrove– Up to 60%

Take advantage of Themesgrove's Black Friday offer, up to a 60% flat discount on their Agency bundle including WidgetKit for Elementor, Tutorque Theme, and many more. No coupon is required. Themesgrove is a recognized WordPress themes and plugins developer company with unique and fresh-looking WordPress themes for niches with maintaining the latest technology and coding standard.
Discount Amount: Up to 50%
Coupon: BF50/BF60
Deal Validity: Until further notice.
Codexpert- Up to 70%
Codexpert is a team of talented developers that works mainly on WordPress-based products and projects. They created CoDesigner, CoSchool, WC Affiliate, Share Logins, and some other amazing plugins that help thousands of users across the globe. You will get up to 70% discount on all their products from the following list.
CoDesigner
CoSchool LMS
WC Affiliate
Share Logins
Restrict Elementor
Discount Amount: Up to 70%
Coupon: Auto-applied
Deal Validity: 23rd November to 7th December
Filter & Pick the Best WordPress Black Friday Deals
Thousand of discounts are offered in different WordPress plugins. To pick the best one for your business (small/large), you should be tricky and know which one fits better.
Moreover, you won't get that many discounts. In the previous years, we have got tons of support from you guys. Thank you all for choosing our products and one of us.
If you have any suggestions about WordPress Black Friday discounts for 2022 please hesitate to share them in the comment section below.
Subscribe To Our Newsletter
Don't miss any updates of our new templates and extensions
and all the astonishing offers we bring for you.