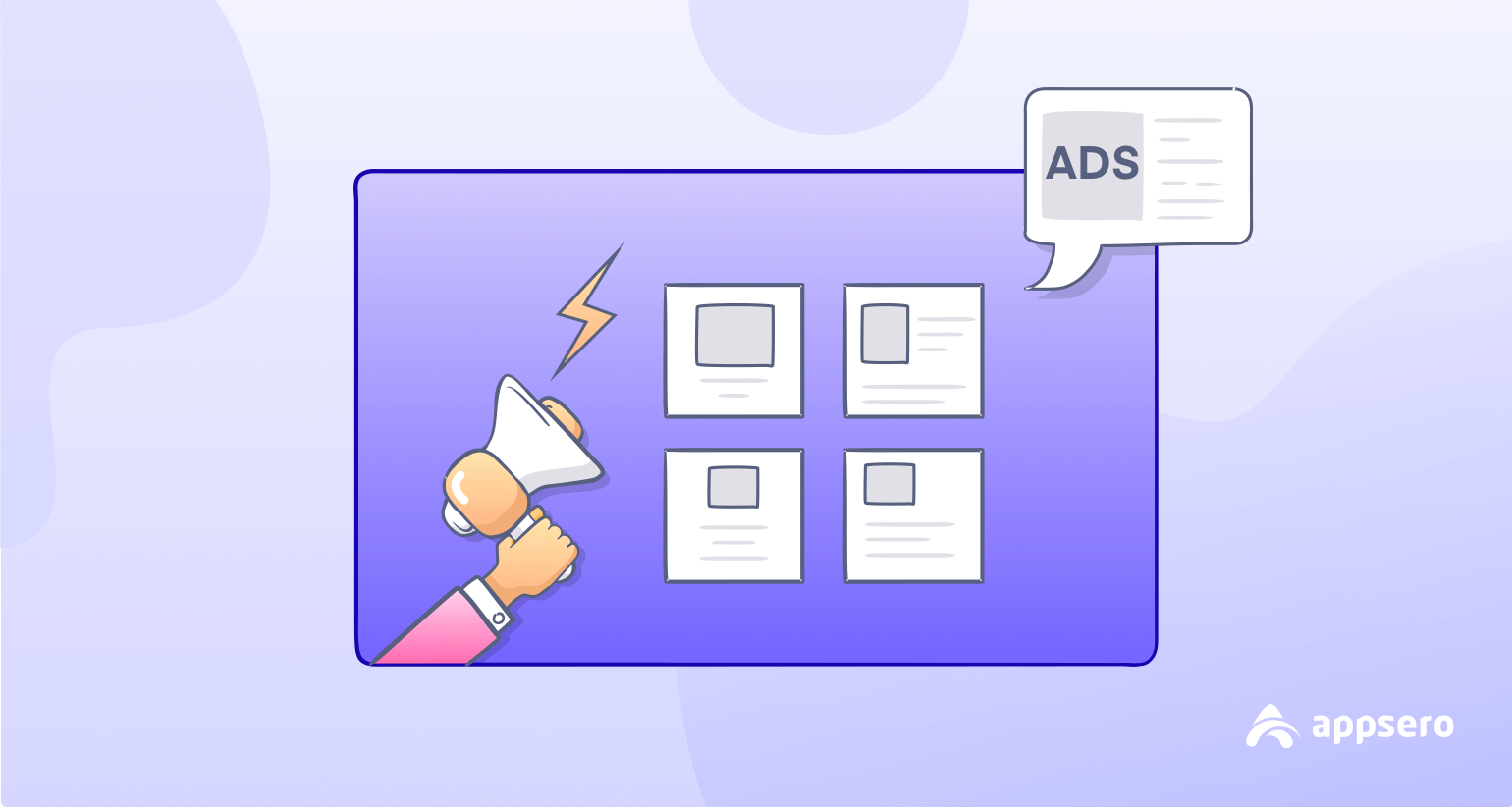 10+ Tips For Making Your Online Ads Stand Out From the Crowd
Which should be the first step after you create a plugin? It's all about marketing. If you are going to sell your product, you must let everyone know about it. Hence, you ought to make innovative online ads that let you stand out amongst your competitors.
WordPress is getting bigger all the time. Millions of developers are trying to make a profit out of their plugins. And everyone is marketing and advertising their product on the internet. As a result, you must make your ads stand out from the crowd.
Don't worry. In this blog, you will find a handful of proven tips that can help you create effective ads for your WordPress plugin, and increase conversions. Keep reading.
Why You Need Unique Online ads for WordPress Plugin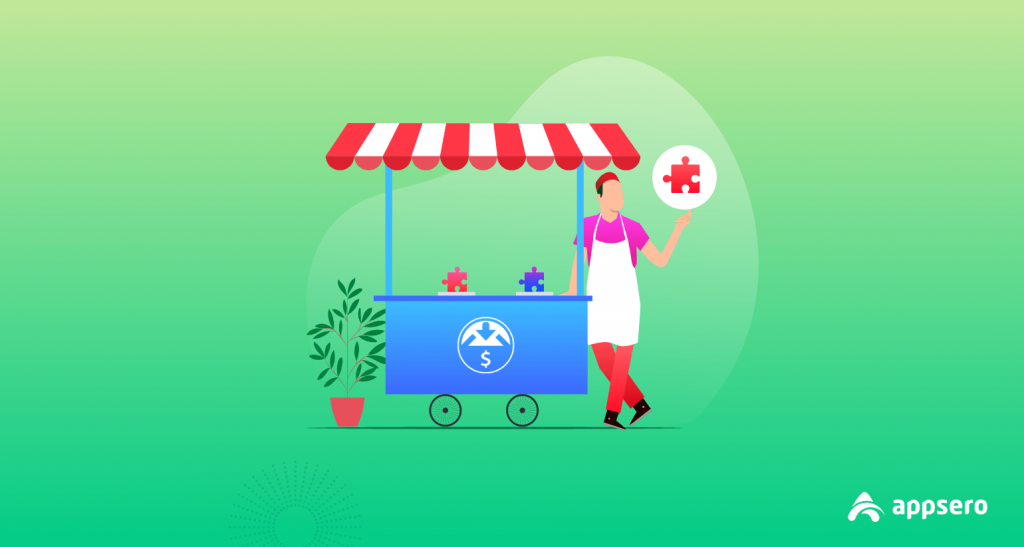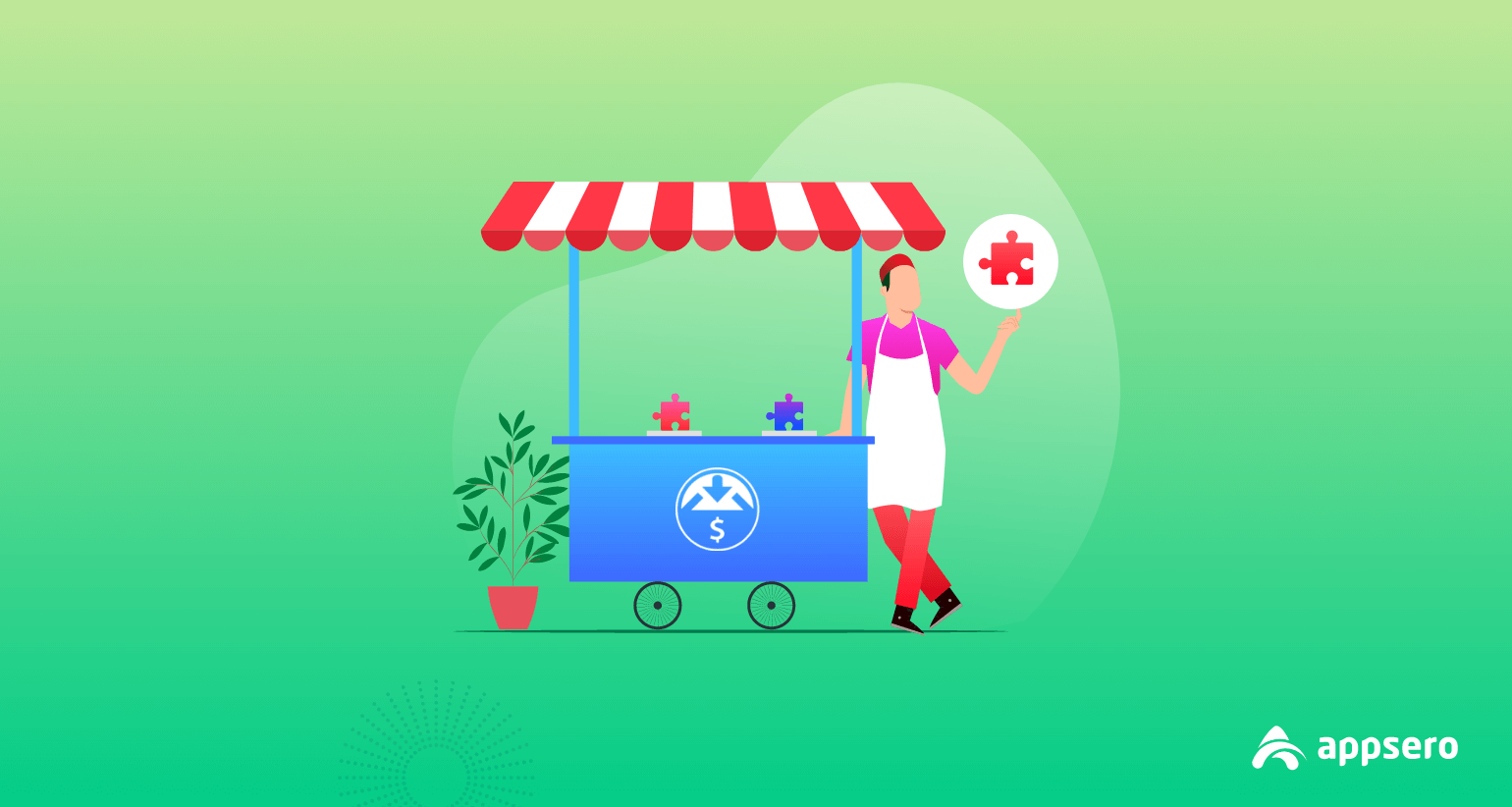 Right now, 75 million websites are WordPress based. Almost 15% of the top 100 websites are using this CMS around the world. This big number shows both the chances and the risks of your WordPress product. The big opportunities inevitably draw immense competition.
Everybody wants their plugin to be a success. But it's not that easy to get their attention so soon. There are more than 55,000 plugins available in the WordPress repository. Top plugin developers are constantly taking the initiative to persuade people about their products. Hence, online ads turn into the most reliable weapons.
A good advertisement is one which sells the product without drawing attention to itself.

David Ogilvy
But, the internet is oversaturated with those advertisements. An estimated $375 billion will be spent on digital advertising by 2023. On the other hand, 74% of marketers failed to utilize behavioral data for online ad targeting. Will you allow that to happen to your approaches as well? Not likely.
Therefore, only if you are careful and tactical enough, your ads may prevail in the midst of all the chaos. You need to make ads that sell, not bother people. Furthermore, the best ads are destined to help customers. As a result, the question remains, "how to create such unique online ads?" So do the solution impending.
Best Tips to Make Your Online Ads Win Over the Customers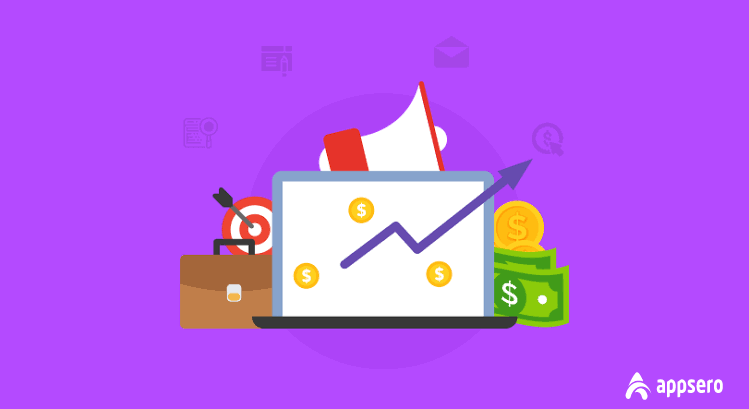 Whenever you start to watching a YouTube video, reading an article, or scrolling through social media, you must see a lot of different online adds in between. Let's start with yourself. What types of advertisements grab your attention most?
Allow us to guess. Some ads make you annoyed because they failed to evoke the message nothing but pushing their product. Some of them are too much wrongly designed that torture the visitors' eyes. Some ads are so funny that you can't take yourself away. Then there are some with too much relevancy so they hooked you in.
Well, while you are craving to find the best online ads tips, the solution starts from your very understanding of this: how an advertisement works, and why most of them failed to convert people. After you make your mind clear about these questions, you can proceed with the tips effectively.
1. Target the Right People for Your Advertisements
Suppose, you are a video game marketer. What does it matters if you send the ads of the latest version of your action game to a middle-aged mom? However, age or gender demographics tell us too little. Find out the target people is way more than that.
Look at this traditional sales funnels of content marketing below.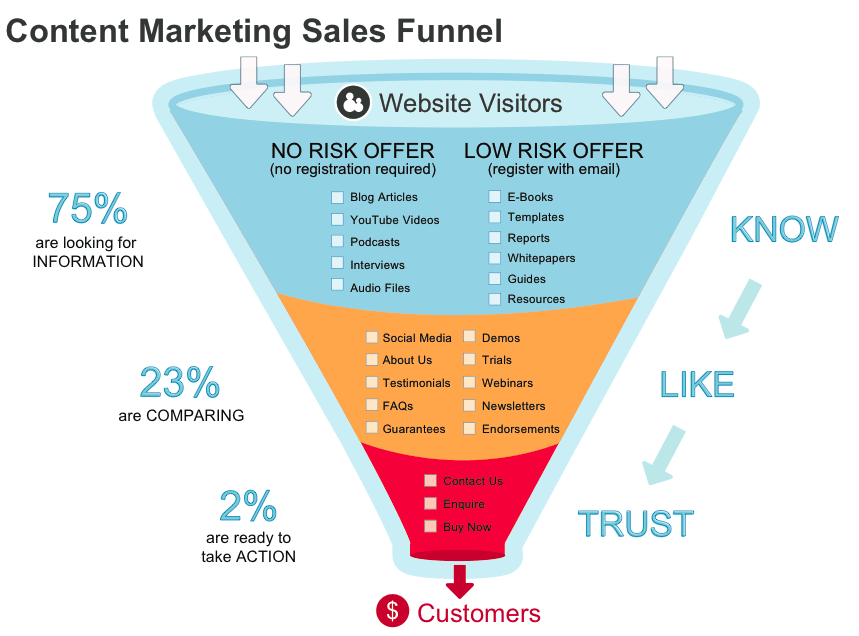 In each stage of this funnel, people want something different. Those who want to know your plugin, you should help them learn. Then you build trust by providing valuable information. Eventually, you earn a customer then.
Well, here we are mentioning some ways to find out your target audience at best. Hence, you must dig deeper nonetheless.
Start with demographics of the customers like age, gender, profession, spending nature, and capabilities, etc.
Research on website activities and social media analytics of your target people.
Analyze the competition.
Be totally aware of your service. Then find out who will be going to like it.
Keep conducting customer research.
So whenever you are planning to run an online ad campaign, segment your target audience as the first measure. That would suffice, don't you think?
2. Write Attractive Headlines for Your Online Ads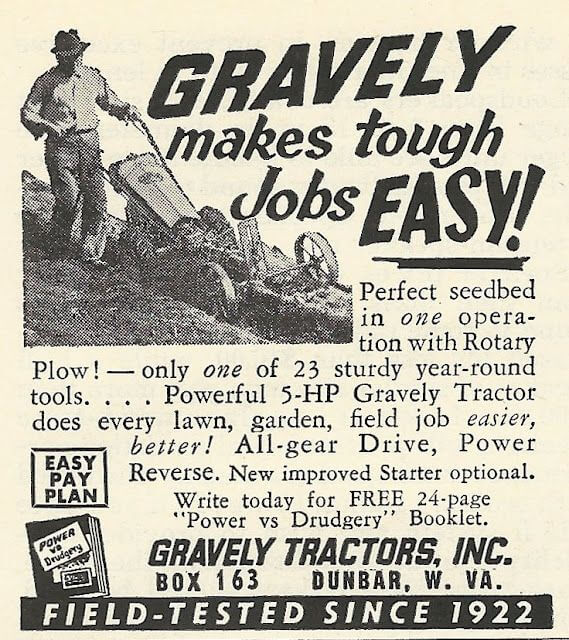 Almost 8 out of 10 people read headline copies. Headlines are the first and maybe the most important catch of any content. A visitor or reader first attracted by it. It attracts a visitor or a reader first. So headlines are attention maker. Therefore great headlines are bound to give you these things –
It can help to develop an instant relationship with customers
If your headlines manifest more relevancy and excitement, you are likely to stand out over others
Search engines crawl to the most relevant headlines before analyzing the rest of the content
So, it's necessary to write highly converting headlines. Let's break-down of things that make a noticeable headline-
Write something about your WordPress plugin that people would love to hear.
Create Scarcity and urgency.
Trigger the need for knowledge.
Deliver your message.
If you know what you have to offer, and understand how people may perceive your service, you will do better.
3. Trigger Pain Point with Your Ad Copy
A pain-point means a problem your target audience often experience. Hence, you are going to trigger such problems in your ad copy. Then show promise to solve them. It's that simple and complex at the same time. However, we prefer simplicity.
You can find out several pain points of your customer. For example, if you are selling an ERP plugin, you can address the two most hurdles a business manager always face. It's handling agents and customers. Look at this online ad of WP ERP.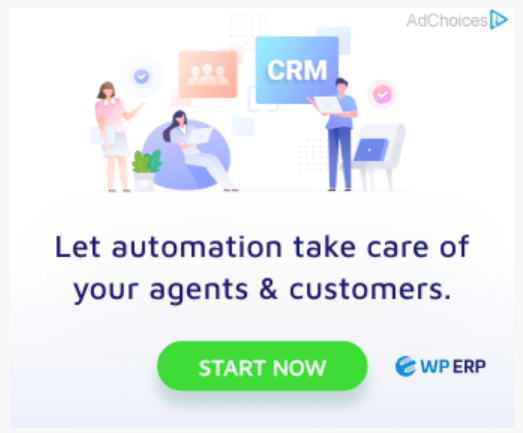 Let us examine this ad a bit. WP ERP is a WordPress ERP system. It automates your CRM, HRM, and Accounting. By using two words "take care" you can manifest how this plugin will take care of business process with automation.
4. Pitch Your Offer and Show Benefits
85% of salespeople forget to ask for sales while interacting with clients. That's shouldn't be the case. Keep this in your mind when you are creating an online ads campaign. If you tell people you have a solution to their problem, also tell them what to do next and why should they take action on your side.

After you make promises to solve the problem of your potential customers, the next thing is to pitch your offer. Show them what you have hidden under your sleeve.
The frequent mistakes most of the marketers often do is to pitch offers vaguely. It gives the wrong message to your audience. If you don't know well about the offer, you other people should bother?
Show benefits and advantage with utmost clarity and preciseness. It will game nonetheless.
5. Use Some Humour in Your Online Ads
People who watched a funny video clip before a task spent approximately twice as long on a tiresome task compared with people who watched neutral or positive (but not funny) videos.

David Cheng and Lu Wang, Australian National University
In 2018, KFC change their regular chicken suppliers. And, suddenly the fast food chain suffers from chicken shortages. Backlash started to rise, and they started even loosing customers.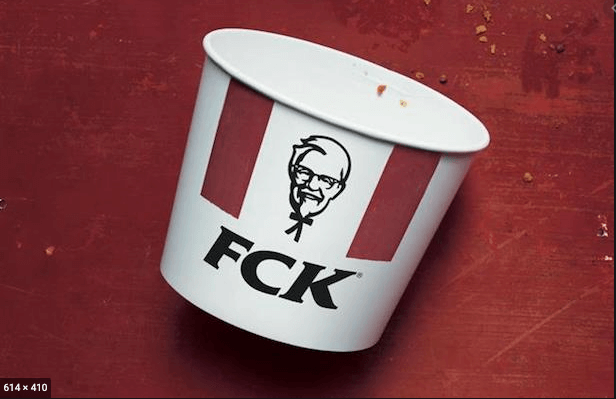 In such situations, they publish apologies in newspapers and online media. They use the ads above. Just altering their initials as FCK, they tell people that they are F**, and never going to let such trouble happen. Hence, the result was phenomenal. People granted the apology and starts to love the brand even more.
Humour brings freshness to our life and thoughts. So, when the other plugin developers are rushing to sell their product bluntly, why shouldn't you put some effort to entertain your potential plugin user?
6. Visuals Means a Lot of Things
You only get a few seconds to make people impressed through your ads. So, you need to use visuals that can grab instant attention. Hence, it is proven that people interact more with images than words. Only 10% of people remember a thing after hearing or reading about it, where 65% of people can recall it in the same period if they see it.
So, if you want your ads to stand out from the crowds, use highly relevant images or playful visuals. Put those visuals in the first place that can make your ads interesting and deliver your message at the same time.
It's inevitable that you are going to run your ads in social media platforms like Facebook and Twitter, images plays a vital tole there. As, evidently, images get 20% more engagement than videos, and 352% more than links.
7. Interactive Ads are More Converting
The very goal of interactive online ads are to make instant conversions. An interactive ad is something that tends to engage people with any action towards your offers.
Rather than telling and showing about the effectiveness of your plugin/products, interactive ads invite the audience to act. Evidently, these types of ads are 30% more engaging than traditional ads.
Take a look at this twitter ads of Verizon Wireless. Why this is a proven example of interactive ads?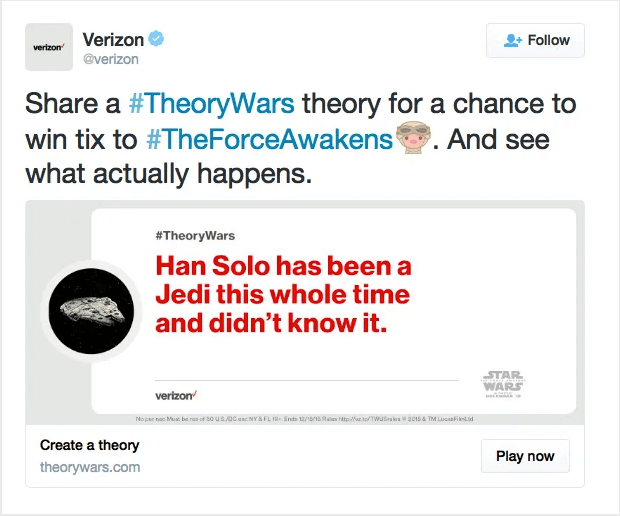 Verizon had made a partnership with the Star Wars franchise. In this ad, they ask their audience to share a theory about the movie and win prizes. As a fan, if it were you just before the release of the movie, won't you feel an urge to participate? That's how interactive ads really work.
8. Be Personal and Precise
Do you think it's too hard to be personal as a marketer for your WordPress product? When composing your ads, try to address people in a friendly manner. As if, your ads are only tailored to those who are seeing it. It's a mindset of a great marketer.
Personalization is not a trend, it's a marketing tsunami.

Avi Dan
After you've consumed this mind-set and applying to your online ads, you can go for your target audience. We have already discussed the target audience for advertisements. Personalization is one of its main branch.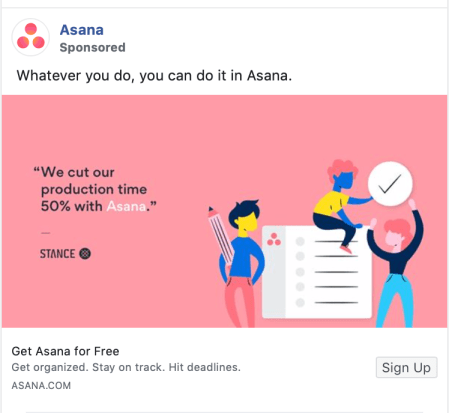 This is a personalized ad example. If you are searching for a project management tool, you are very likely to see these types of ads in your Facebook newsfeed.
One more thing, personalized advertisement help you to retarget your customer. Therefore, retargeting helps you to bring back your old clients and people who left any action incomplete. Well, You can check this guide for retargeting ads anytime to get in-depth knowledge and tips.
9. Create Multiple Online Ads for a Single Offer
Well, when you run an ad campaign for your software, don't make your audience bored. No one wants to see the same types of ads whenever they scroll through social media or an article. However, the best solution here is to create multiple ads for a single campaign or offers.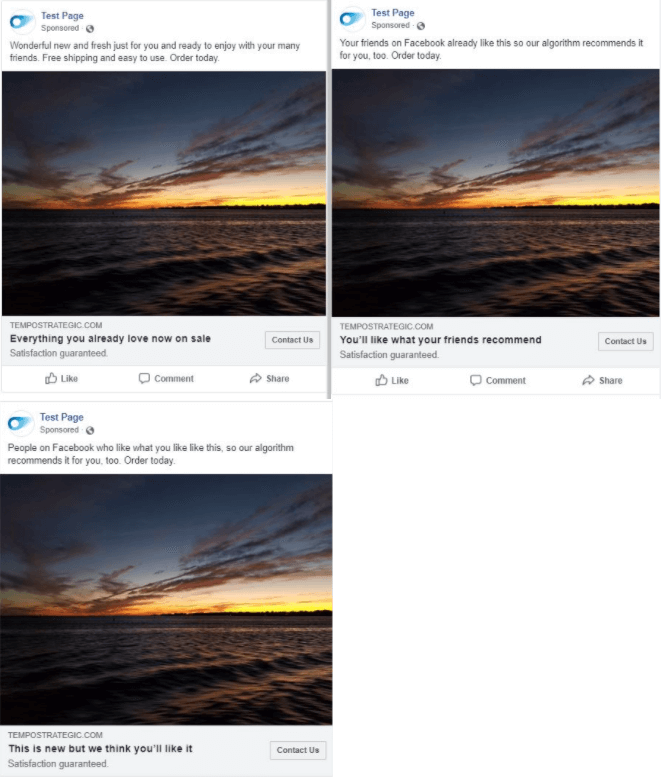 Tempo made this example to explain multiple ads for the same offer. at first, they seem similar. But if you look closer, you can comprehend the different approach, tone, and changes of ad copies applied to them.
Moreover, you should create several ads based on the ad platforms also. We want you to remember, try to use different copy and make them more innovative each time.
10. Use Clever and Engaging CTA

A call to action button in your ads help people to make an action. It possesses the ability to create certain excitements and emotions. More than 90% of your audience read your CTA copy besides the headline of your online ad. According to HubSpot, CTA increases your conversions by up to 121%.
So, here we want you to follow some hacks before adding a CTA in one of your ad campaigns. Take a look-
Use text that triggers a certain action. For example – Try Now, Book Your Position, Download the eBook, etc.
Color plays a vital role here. Choose a CTA color that works most.
Chose the design and shape of your CTA button. Keep testing to know which shape is more engaging.
Use Large Text.
Maintain visual hierarchy in your CTA.
One more thing CTA hacks needs continuous development. Hence, you need to keep A/B testing you call to actions whenever you get time.
11. Apply the Right Add Size
Though, many marketers underestimate the size while creating ads. But, how you can know which size fits more appropriately? Engaging online ads always use a size that aligned well with the other content of a page.
Moreover, your logo, banner, and ad copy should determine which size is best to convey your message. For example, if you need to use long text in an ad, make sure that it use proper space and scope to become readable. In some cases when you need to place ads beside your logo, you need to set the size following the ratio of the logo.
However, you can get help with the ad size guideline provided by Google.
Bonus: Try a Different Approach to Sell Plugin Through Appsero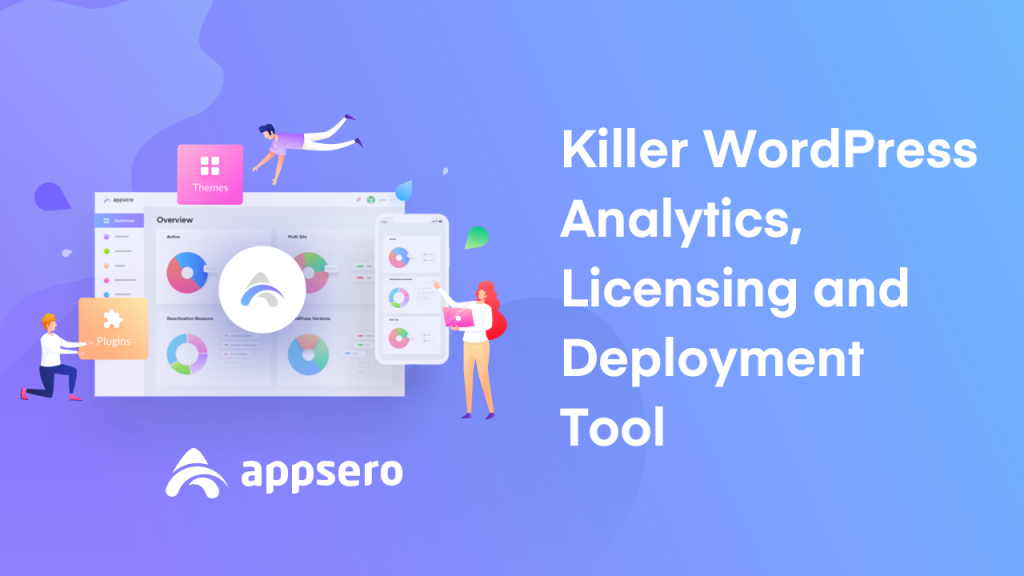 Ads are essential to let people be aware and ready for your plugin. You have your product page, the social media marketing team, and various ad platform to keep your marketing going on. But besides all of this approach, you can use the help of WordPress professionals to sell plugins.
Appsero is such a remarkable WordPress platform for WordPress professionals. And, it is absolutely free. If you have appsero in your side, it can make your plugin flawless with continuous development and support. Then you can start selling your plugin directly from here.
Moreover, it will get your commendable commission compared to any other third-party selling platform. Maybe it also saves your time and money too.
Final Thoughts on Creating Online Ads that Converts
You already know that. As we all do. Selling plugin or any product is always challenging, even for the big brands. So, your online ads need to be innovative and better than others to stand out a chance.
But when you are craving for success, be consistent, and keep your door open for creativity, whose going to stop you from reaching your goal? Therefore, if you follow the proven ad tips we've mentioned above, we believe you can have a growing conversion rate for your WordPress plugin anyway.
So, tell us, which online ads tips seems more striking to you?
Subscribe To Our Newsletter
Don't miss any updates of our new templates and extensions
and all the astonishing offers we bring for you.