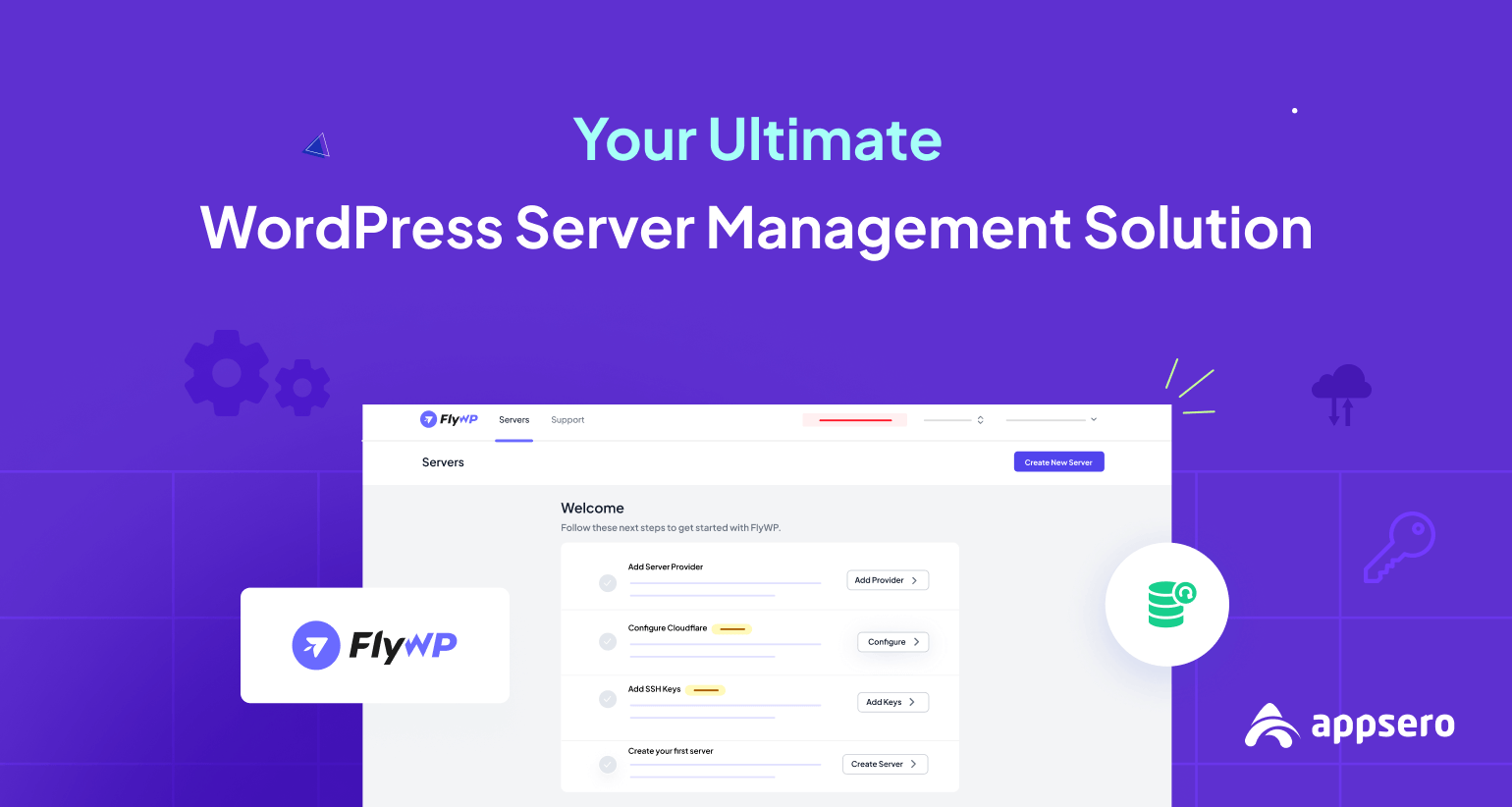 Introducing FlyWP: A Revolutionizing WordPress Management Service
Are you in search of a complete solution to effortlessly manage your WordPress sites and servers? We have one solution to tackle a wide range of server-related tasks. Let us introduce FlyWP, the latest innovation from weDevs, designed to enhance your website and server management with great precision.
Navigating the complexities of managing a WordPress website can be daunting for busy website owners. From optimizing performance to handling updates and ensuring security- it's a series of mundane tasks.
This is where FlyWP comes into play. It offers a centralized platform to efficiently handle all server management tasks, allowing you to invest more time in business growth.
This article provides a short overview of FlyWP, highlighting its standout features and the abundant possibilities it unlocks for you. Let's explore!
Why WordPress server management solutions matter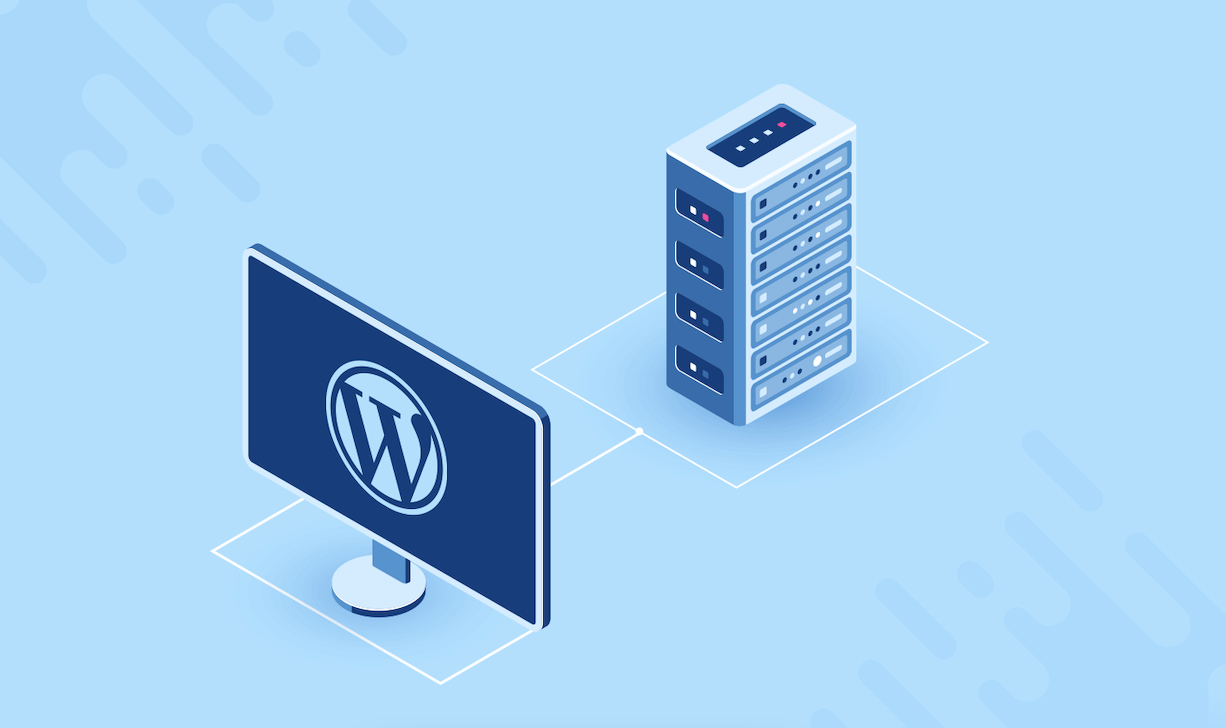 WordPress, as a powerful content management system (CMS), has to rely on any server to function seamlessly. The implementation of an effective server management solution is essential for ensuring the efficient and secure operation of WordPress sites.
A server management solution enhances your WordPress experience by handling backups, monitoring, and optimizing server performance. You can make sure your website runs seamlessly, saving time and money through efficient server management tools.
Here's a breakdown of the key reasons highlighting the significance of employing a server management solution:
a. Resource monitoring: Tracking resource usage ensures the server can handle current and upcoming workloads, preempting any technical issues affecting site speed.
b. Scalability and load balancing: Distributing incoming traffic across multiple servers during traffic spikes, automatically adjusting resources to meet increased demand.
c. Software update and maintenance: Regularly updating software like Apache, Nginx, MySQL, and MariaDB ensures compatibility with the latest WordPress versions, addressing vulnerability issues.
d. Performance optimization: Implementing caching mechanisms to store frequently requested data reduces server loading time and enhances responsiveness.
e. Security measures: Conducting regular security audits, configuring firewalls to prevent attacks, and employing multi-layer security protocols to safeguard your site.
FlyWP: A great tool to streamline your WordPress server management
FlyWP emerges as a cloud-based, powerful, and comprehensive server management system designed to enhance and optimize the performance of WordPress websites. Whether you're using a popular or custom server, FlyWP caters to all your needs. It offers a user-friendly experience for deployment, optimization, security, and control.
You'll get a specialized cloud server control panel tailored for PHP, MySQL, and Nginx. The easy onboarding steps for new users make it suitable for collaborative work. It enables users to quickly set up and connect to the servers in a hassle-free manner.
If you're a developer, you'll fall in love with FlyWP for its developer-centric tools. It supports automatic deployment from Git, WordPress CLI support, easy MySQL database management, and many other features. Let's know what are the features it brings to the table for WordPress users.
Unlocking excellence: The distinctive features of FlyWP
While many server management systems exist, FlyWP stands out with extraordinary features that set it apart. Let's delve into what makes FlyWP exceptional:
1. Extensive server compatibility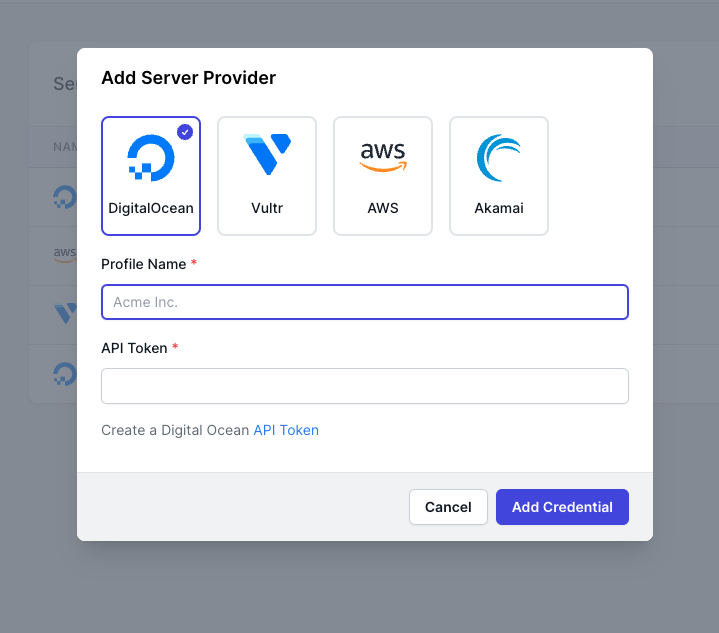 You'll get excellent flexibility with FlyWP. It supports a variety of servers, including well-known providers like DigitalOcean, Google Cloud, AWS EC2, Vultr, and custom servers. This flexibility empowers you to select the server that aligns best with your needs, allowing unparalleled control over your WordPress environment.
2. WordPress optimization
Fully tailored for WordPress, FlyWP simplifies site management. Automatic updates for plugins and themes ensure your site is always current and secure. The WP Config Editor offers complete control over your site's settings while support for WordPress multisite and WordPress CLI streamlines intricate tasks.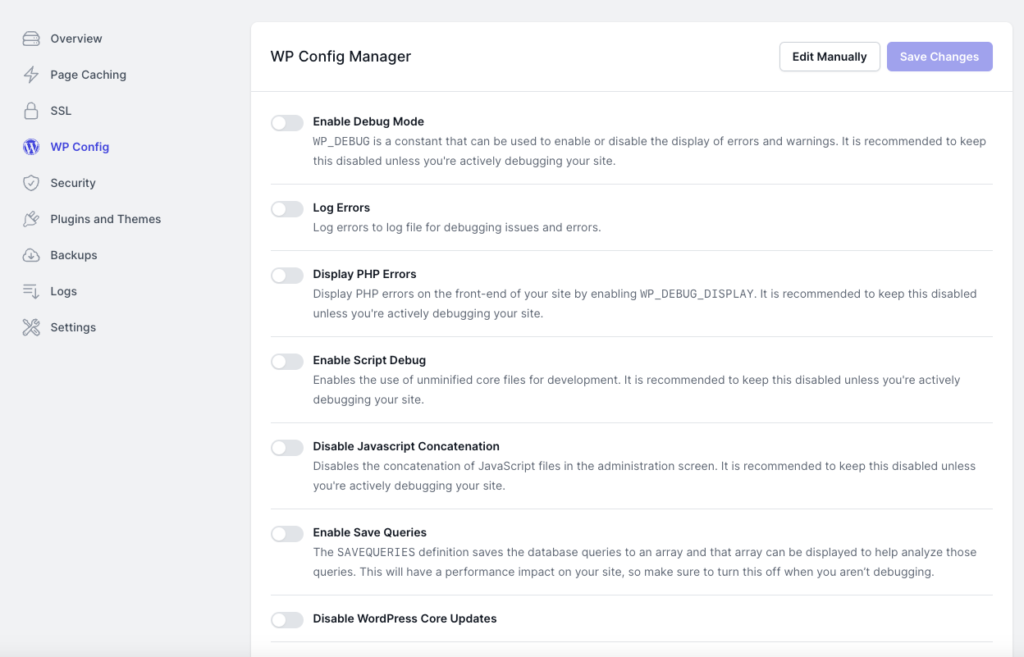 Explore the advanced capabilities of FlyWP's Control Panel tailored for WordPress:
Take command with FlyWP's WP Config Editor: Fine-tune your WordPress experience with features like debug mode, error logging, PHP error tracking, script debugging, and the ability to disable core updates.
Empower your multisite management with FlyWP: Whether overseeing multiple sites or building a network of blogs, our platform provides the flexibility and control you need for seamless operation.
Optimize your workflow with WordPress CLI Support: Leverage the command line for streamlined and automated WordPress management tasks, enhancing the efficiency and flexibility of your development process. FlyWP puts the power in your hands.
3. Effortless staging
FlyWP makes creating and managing staging sites a breeze. It facilitates experimentation with test sites without jeopardizing live content, making it ideal for onboarding new team members and ensuring hands-on experience without impacting the production site.
4. Team collaboration feature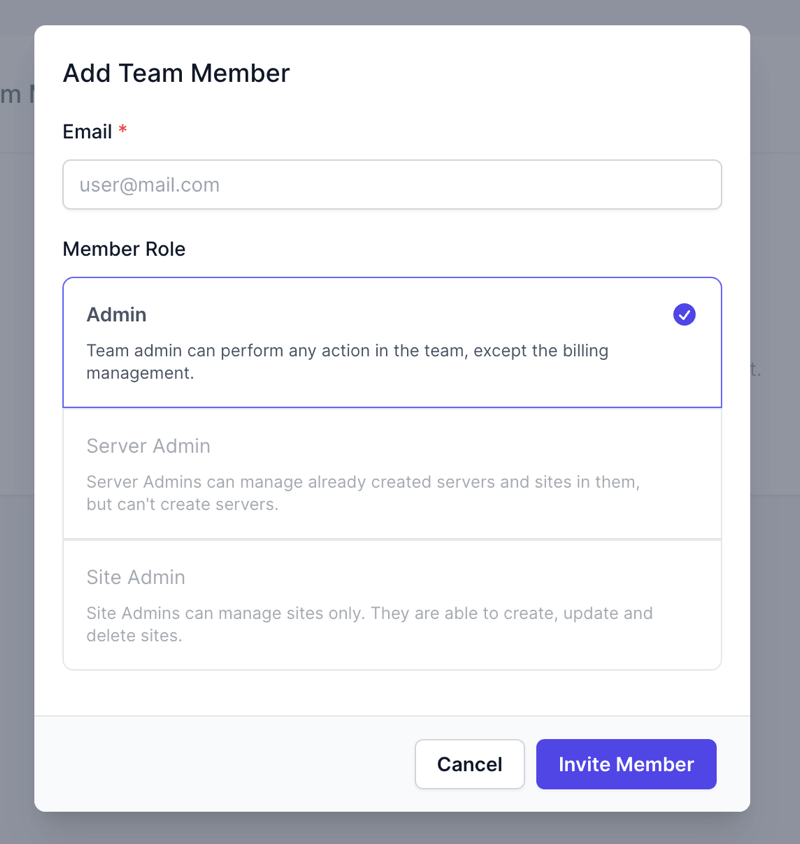 Simplify team management with FlyWP's integrated team management option. Under one tab, enjoy complete freedom to manage team members with different roles, such as Super Admins, Server Admins, and Site Admins.
This collaborative approach streamlines website management, ensuring each team member has the appropriate level of access and control. Let's have a quick look at all administrator roles:
Super Admin: Exerts complete control and authoritative management over all settings and permissions.
Server Admin: Empowers you to oversee existing servers and sites. However, note that the ability to create new servers is not included.
Site Admin: Holds the capability to manage specific sites but lacks access at the server level.
5. Centralized management
FlyWP lets you streamline your workflow with its user-friendly central dashboard. It incorporates all site management tasks in one place. So, bid farewell to juggling multiple interfaces and logins. With FlyWP, you can now effortlessly manage all your sites from one centralized location and save valuable time.
6. Advanced caching to boost performance
Elevate site performance with FlyWP's advanced caching options. This includes full-page caching, Redis caching, and seamless integration with popular caching plugins. Experience lightning-fast site loading and a seamlessly smooth user experience with the following optimized Caching Solutions:
Static Site Simulation: Activate Full Page Caching to transform your site into a static entity, eradicating the necessity for PHP and database queries.
Efficient Database Management: Employ Redis Caching to significantly minimize database requests, resulting in a substantial acceleration of your WordPress site's speed.
Plugin Integration: Ensure compatibility with a variety of WordPress caching plugins, allowing for smooth and effortless integration into your site.
7. Cloud-based reliable backups
FlyWP provides dependable backup solutions, including scheduled and manual backups. For enhanced security, FlyWP allows you to host backups on trusted cloud providers, including AWS S3, Digital Ocean, Cloudflare R2, and Google Cloud. This additional layer of protection ensures secure storage and easy retrieval of your data.
8. Powerful security and monitoring
FlyWP comes with a pack of built-in security measures, including full SSH access, automatic firewall, isolation of sites with Docker, and free SSL certificates. It also offers Cloudflare integration and an optimized Nginx server focused on security. Most importantly, it enables automatic updates to ensure your environment stays up-to-date with the latest security patches.
Here are the list of security measures FlyWP take to keep your sites secure.
Automated 7G Firewall
Docker-Isolated Sites
Complimentary SSL Certificates
Cloudflare Integration
Nginx Security Optimization
Automatic Updates for Continuous Protection
9. Developer-centric tools
FlyWP deals with everything in a developer-centric approach. You can accelerate loading times, simplify debugging, and use upcoming features like automatic deployment from Git to streamline the workflow.
As a developer, you can benefit from FlyWP's features like "Push to Deploy" and "Easy Switching of PHP Versions,". It allows developers to gain direct access to the MySQL database and logs for total control over the development environment.
You can also explore Appsero features for developers.
Pricing plans of FlyWP: Regular and LTD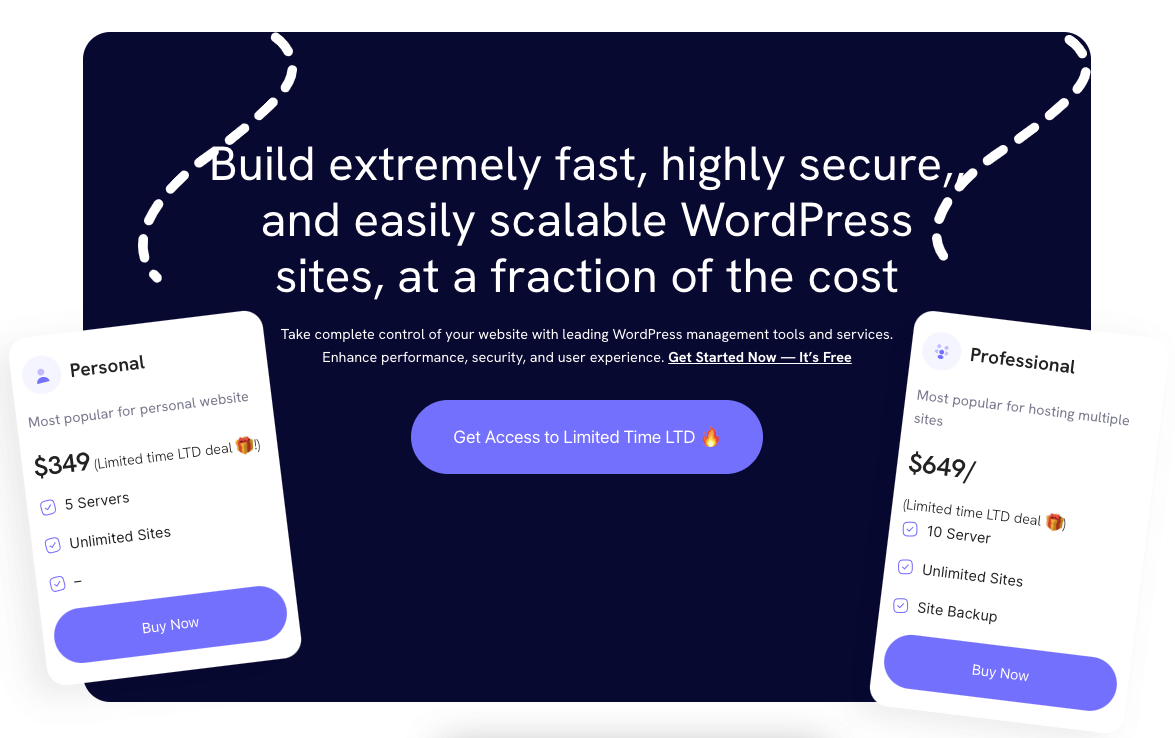 FlyWP offers a 14-day free trial, allowing you to explore the platform's capabilities. Following the trial, nine pricing plans are available: Explore FlyWP's plans:
Monthly:
Hobby Plan: $9/month – 1 server, unlimited sites.
Growth Plan: $19/month – 10 servers, unlimited sites, backup.
Business Plan: $39/month – Unlimited servers, sites, backup, and team features.
Yearly:
Hobby Plan: $90/year – 1 server, unlimited sites.
Growth Plan: $190/year – 10 servers, unlimited sites, backup.
Business Plan: $390/year – Unlimited servers, sites, backup, and team features.
Promotional LTD plans:
FlyWP is offering special discounts as introductory deals. It has limited lifetime plans available with different server options:
$349 (5 Servers) with unlimited sites.
$649 (10 Servers) with unlimited sites and backup feature
$949 (15 Servers) with unlimited sites, site backup, and team collaboration.
FAQ on FlyWP server management solution
As a new entrant to the server management market, FlyWP may spark numerous questions. Here are some potential queries and their answers:
Q1: How do I avail myself of the services provided by FlyWP? 
Simply register on the FlyWP dashboard and create an account to enjoy a 14-day free trial period. During this trial, you have full access to all the services FlyWP has to offer. Subsequently, to continue benefiting from FlyWP's services, you can upgrade to a paid plan after the trial period expires.
Q2: Is 24/7 customer support available?
Absolutely, it provides round-the-clock customer support for any issues you may encounter.
Q3: Is technical experience necessary to utilize this service?
While a certain level of technical understanding is beneficial for grasping its workings, using this service is designed to be beginner-friendly. You can check FlyWP docs for well-written user guides.
Q4: Is support provided for hosting-related issues?
Unfortunately, we focus solely on providing support for FlyWP-related issues.
Q5: Does FlyWP work with all types of servers?
Absolutely, FlyWP seamlessly integrates with all servers. Now, feel free to choose any hosting provider you prefer and effortlessly manage your websites without any additional hassles.
Ready to elevate your WordPress experience?
We hope you now know that FlyWP stands as a versatile and powerful ally in WordPress website management. Whether you're a developer seeking efficiency or a team leader aiming for seamless collaboration, FlyWP delivers a comprehensive solution.
So, elevate your WordPress experience today with FlyWP – where flexibility, optimization, and user-friendly management converge for a superior website management journey. We know trusting a server manager is not easy. That's why we highly suggest taking advantage of a 14-day trial to explore FlyWP's user-friendly interface and invaluable features.
Take it for a spin and see firsthand how FlyWP can enhance your server management experience and contribute to the growth of your online ventures. If it lives up to your expectations, you can buy a plan from FlyWP's pricing page.
Subscribe To Our Newsletter
Don't miss any updates of our new templates and extensions
and all the astonishing offers we bring for you.